This post may contain affiliate links, see my Affiliates Disclosure.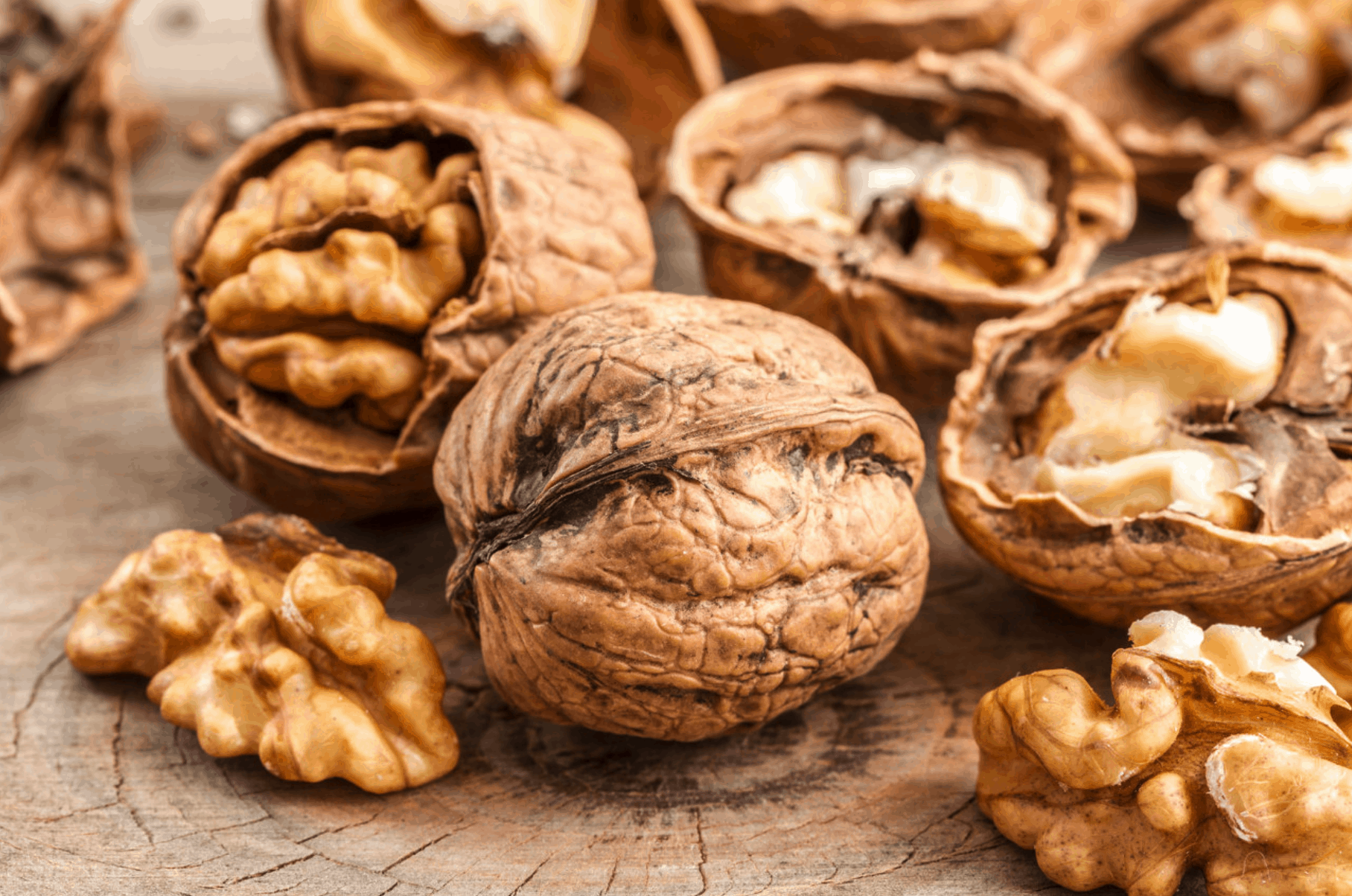 Walnuts are a healthy and nutritious snack that is a great source of omega 3 fats and antioxidants.  They can be used in baking, but are also great on their own.  They can help lower LDL cholesterol and boost HDL cholesterol.  Shaped much like our brains, walnuts are also a brain health superfood!
Improve Heart Function
Walnuts are rich in amino acid l-arginine, omega-3, and monounsaturated fatty acids (72%) like oleic acid. It also contains EFAs like linoleic acid, alpha-linolenic acid (ALA), and arachidonic acids. The inclusion of walnuts in any diet helps prevent coronary heart diseases by favoring a healthy lipid supply. Their consumption lowers the LDL (bad) cholesterol and increases the level of HDL (good) cholesterol. Consuming walnuts daily also helps lower the risk of high blood pressure.
Brain Health
Have you noticed that the walnut actually looks like a little brain? They closely resemble a left and right hemisphere, upper cerebrums and lower cerebellums. Even the wrinkles are similar to those of the neo-cortex. Walnuts help in developing over three dozen neuron-transmitters within the brain enhancing the signaling and encouraging new messaging link between the brain cells. Walnuts also help warding off dementia. They also extract and break down the protein based plaques associated with Alzheimer's diseases.
Antioxidant Power
Walnuts rank second in the list of 'antioxidant-rich' foods, after blackberries.  The rare powerful antioxidants such as quinone juglone, the tannin tellimagrandin, and the flavonol morin present in walnuts have remarkable free-radical scavenging power. These antioxidants also help prevent liver damage due to chemicals.
Weight Management
Walnuts are one of those nuts that helps you feel full, which means that it increases satiety. The rich source of protein and fiber makes it a healthy snacking option, especially for vegetarians.
Improve Male Fertility
Walnut has a positive impact on male fertility by improving sperm quality, quantity, vitality, and motility.
Prevent Cancer
Walnuts have the capability of controlling the growth of cancer cells in the body. The phenolic compounds, omega-3 fatty acids, gamma-tocopherol, and other antioxidants found in them recorded a control on human cancer cells, including breast, prostate, and pancreatic cancer.
Boost Bone Health
EFAs from walnuts secure the bone health of the body. These increase calcium absorption and deposition, while reducing urinary calcium excretion.
Improve Metabolism
One of the health benefits of consuming walnuts is that it improves the body metabolism. They, along with EFAs, provide minerals like copper,  potassium, calcium, iron, magnesium, zinc, and selenium to the body. These minerals help contribute to metabolic activities like growth and development, sperm generation, digestion, and nucleic acid synthesis.
Control Diabetes
People suffering from diabetes can have walnuts on a regular basis without any significant weight gain, since they contain a high amount of polyunsaturated and monounsaturated fats.  The intake of nuts is inversely proportional to the risk of developing type-II diabetes.
 Reduce Inflammation
The polyphenolic compounds and phytochemical substances found in walnuts reduce the effects of inflammation in the body.
Skin Care
Rich in gamma-tocopherol, walnuts are also a good source of vitamin E, which is a strong lipid-soluble antioxidant. The vitamin E present in them helps in maintaining and protecting the skin from free radicals that are harmful in nature. They are also an important source of B-complex vitamins such as folate, niacin, riboflavin, pantothenic acid, and vitamin B-6.
Regulate Sleep
Want a good night's sleep? Eat some walnuts soaked in water before sleeping, or eat a salad or any dish using them as toppings. These nuts make melatonin, a hormone that helps induce and regulate sleep, and is available to them in a bio-available form. Thus, they help make a perfect dinner that leads you to a great, restful sleep.
Mood Booster
A scientific study indicates that lack of omega-3 fatty acids (provided by walnuts) causes hyperactivity, irritability, and tantrums. Supplementing a child's diet with these nuts compensates the deficit in EFAs and alleviates their mood. This is even applicable to adults who are battling depression and stress.
Astringent Properties
Walnut oils have significant astringent properties. Walnut oil has a rich, nutty flavor that helps bring aroma and flavor to the food. This flavor gives a pleasant taste, but only when it is used in moderation. It is used as a carrier/base oil in various therapies like aromatherapy and massage therapy, as well as in the cosmetic and pharmaceutical industry. Walnut oils are terrific as dressings on chicken, turkey, salads, pasta, fish, and steaks. The uses of walnut oils in dessert recipes help bring a nutty flavor to the dish. A 35 gram serving of walnut oil provides the same nutritional benefits as 50 grams of walnuts. They also provide significant levels of vitamins B-1, B-2, and B-3.