Keto mock apple crumble made with Chayote squash as a low carb substitute for apples and topped with a gluten-free sweet cinnamon streusel crumble.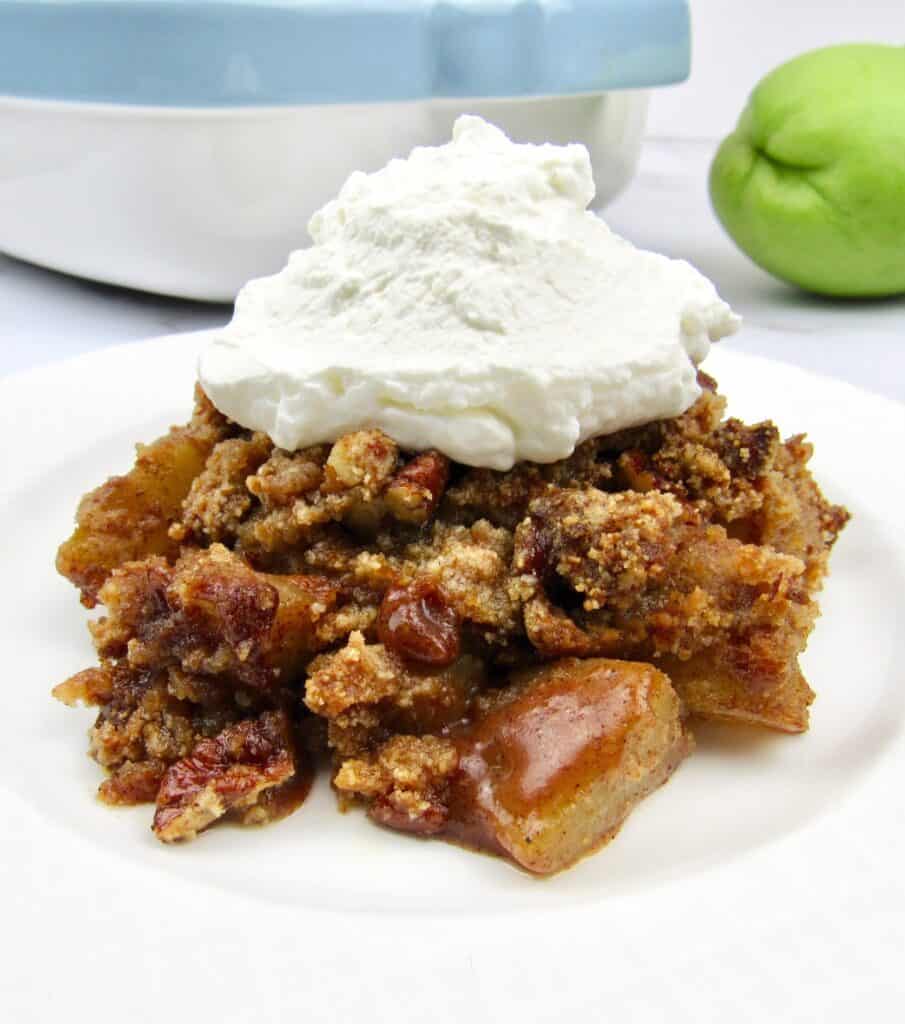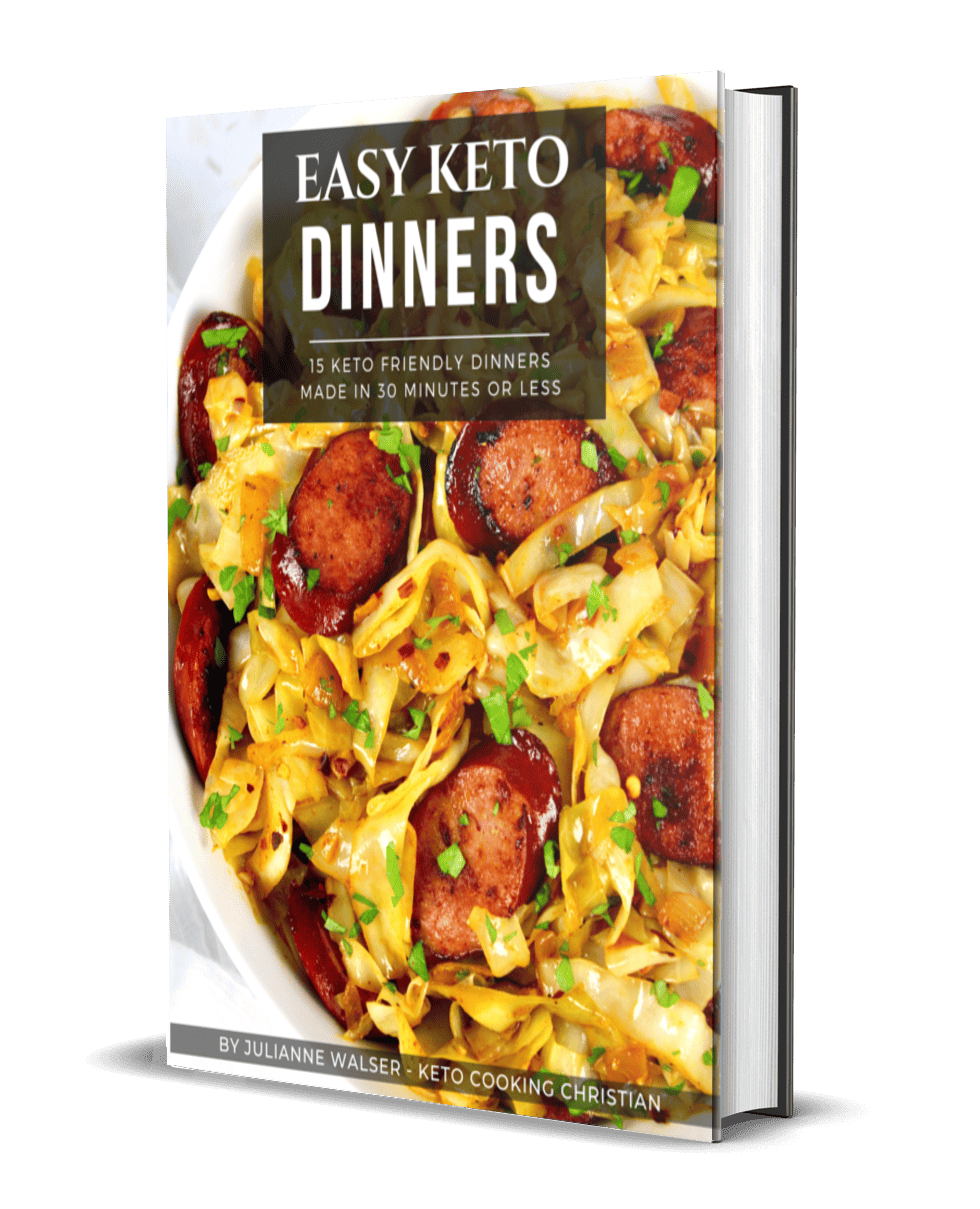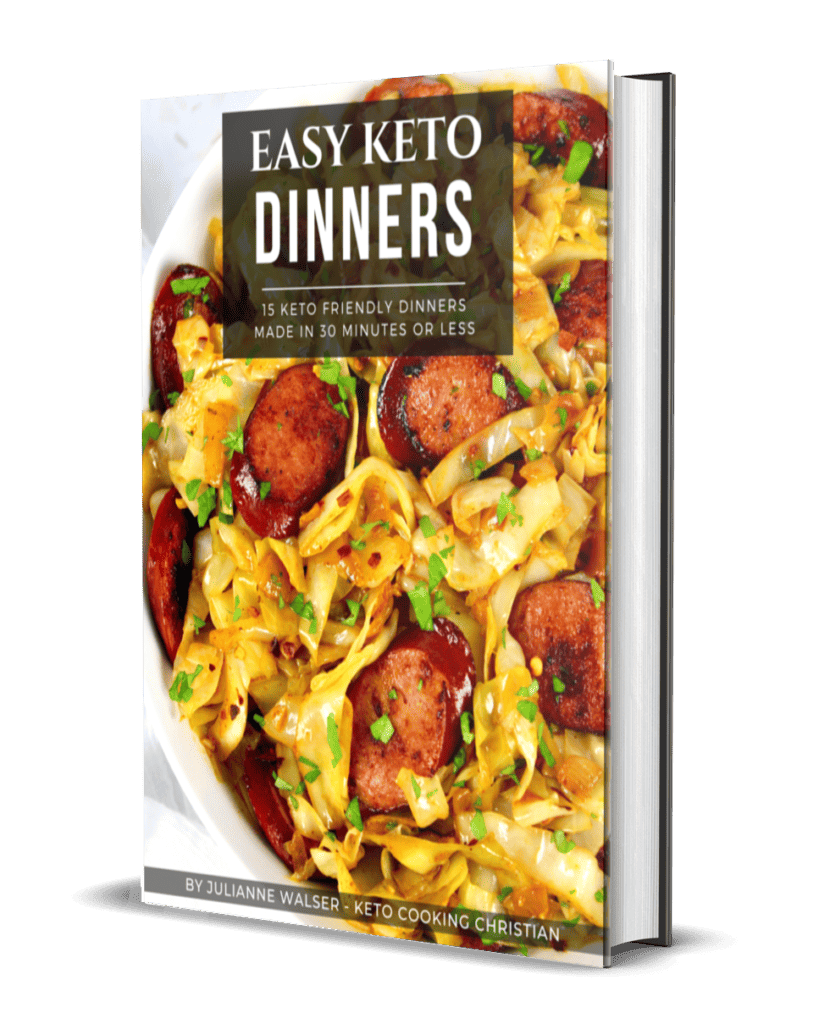 FREE EASY KETO DINNERS EBOOK
Jump to:
I'm so excited about this recipe, I can't even tell you how good it is! Before Keto, apple crumble and apple crisp were my favorite desserts!
I thought I'd never find anything that's Keto friendly and would even come close to apples, but I did! On top of using chayote squash in the place of apples, I made a low carb crumble topping as well, since apple crisps topping is typically made with oats.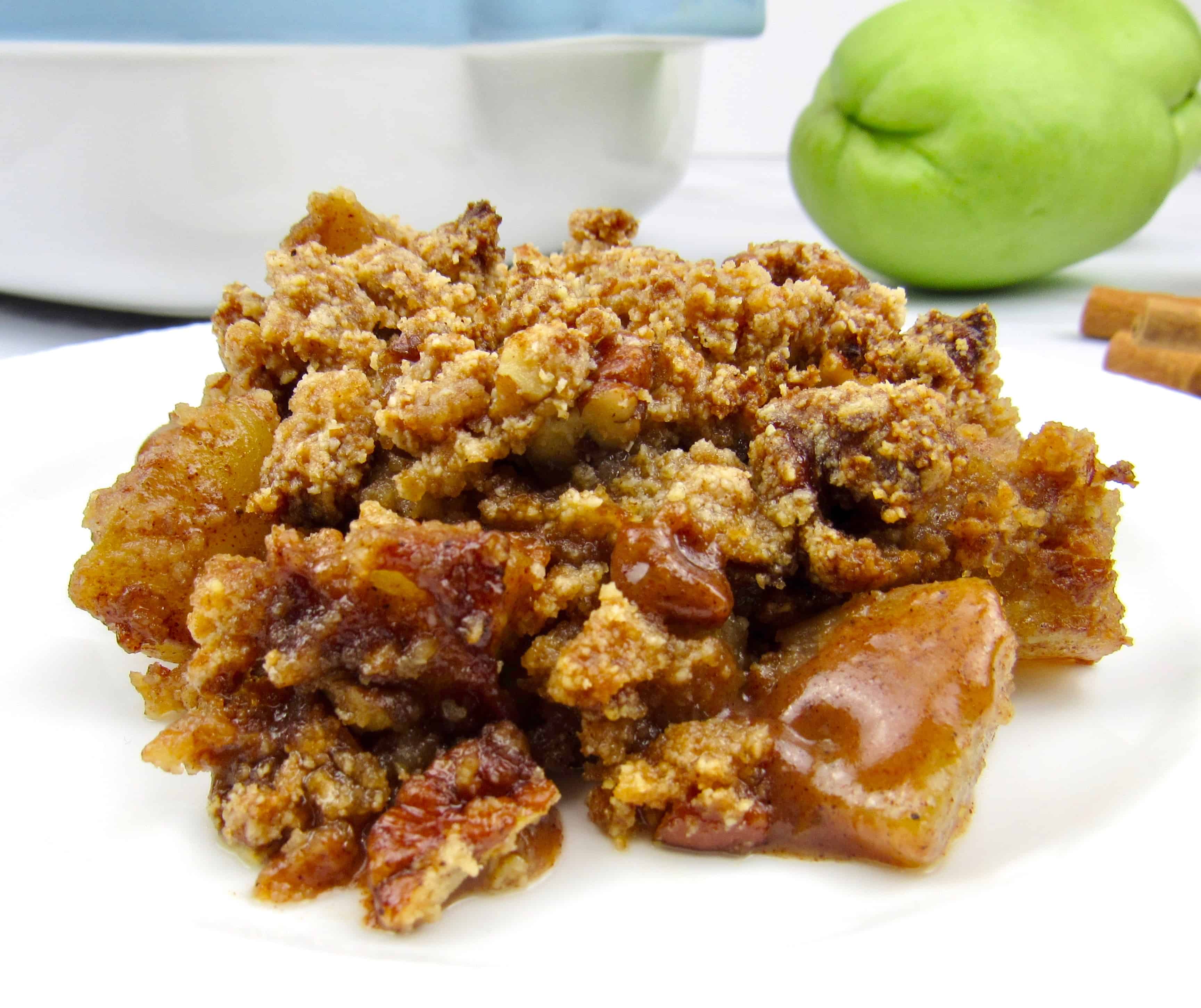 Chayote squash makes the absolute perfect Keto substitute for apples. They have a very similar texture and flavor, they even look a lot like apples.
In fact, they look like a cross between a granny smith apple and a pear, which is exactly how I'd describe the texture. What's great about this filling, is you can use it in your favorite Keto Pie Crust and make "apple" pie with it!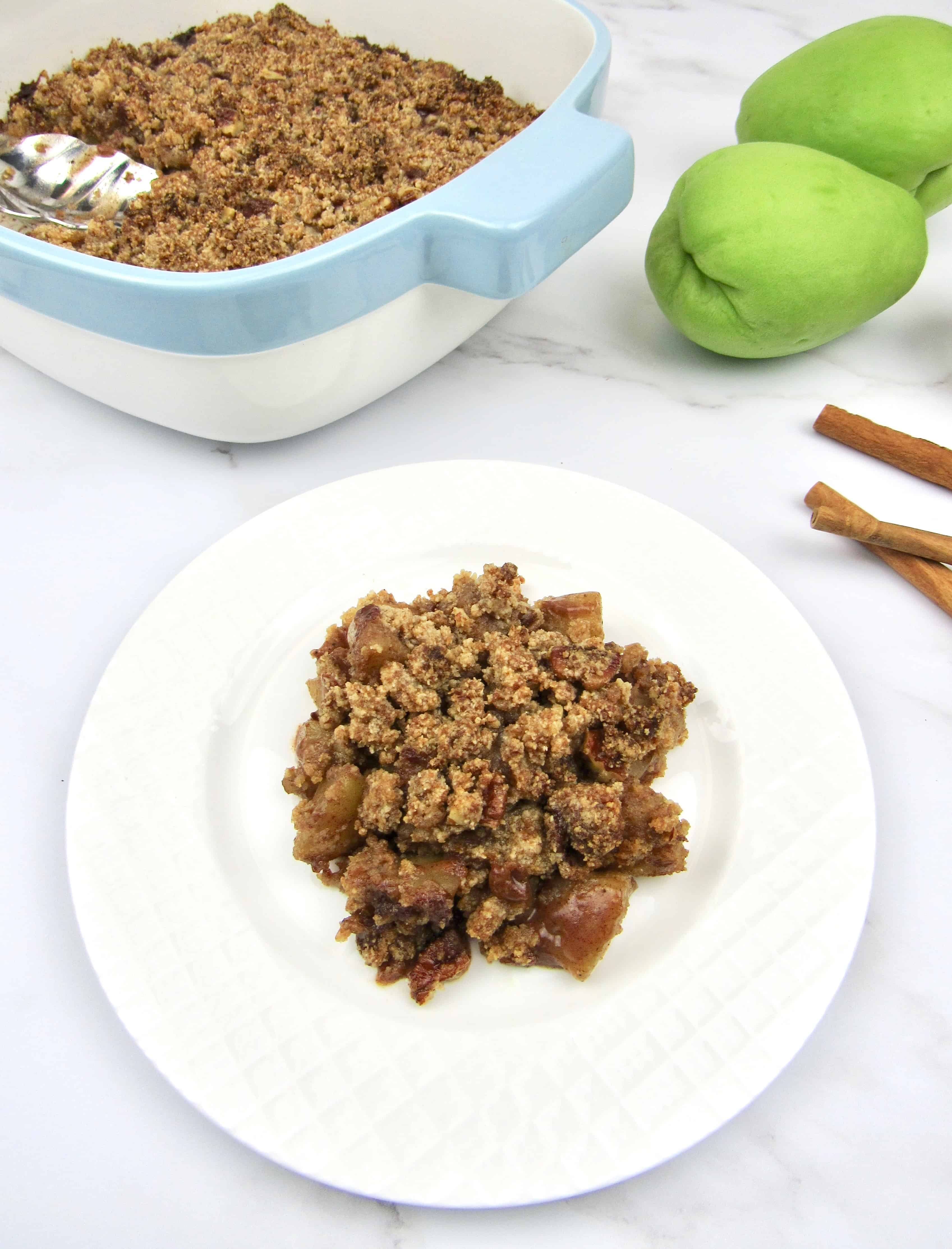 The flavoring comes from a homemade Apple Pie Spice, lemon juice for tartness and Natural Apple Flavoring that has an incredible apple scent and flavor!
I really can't say enough how much this tastes like real apple crumble. You honestly have to make it for yourself and you'll be so pleasantly surprised!
What's in Keto Mock Apple Crumble
Chayote Squash
Butter
Lemon (juice and zest)
Pecans
*Exact measurements are listed in the recipe card below.
How to Make Mock Apple Crumble
Wash, peel, core and dice the chayote squash.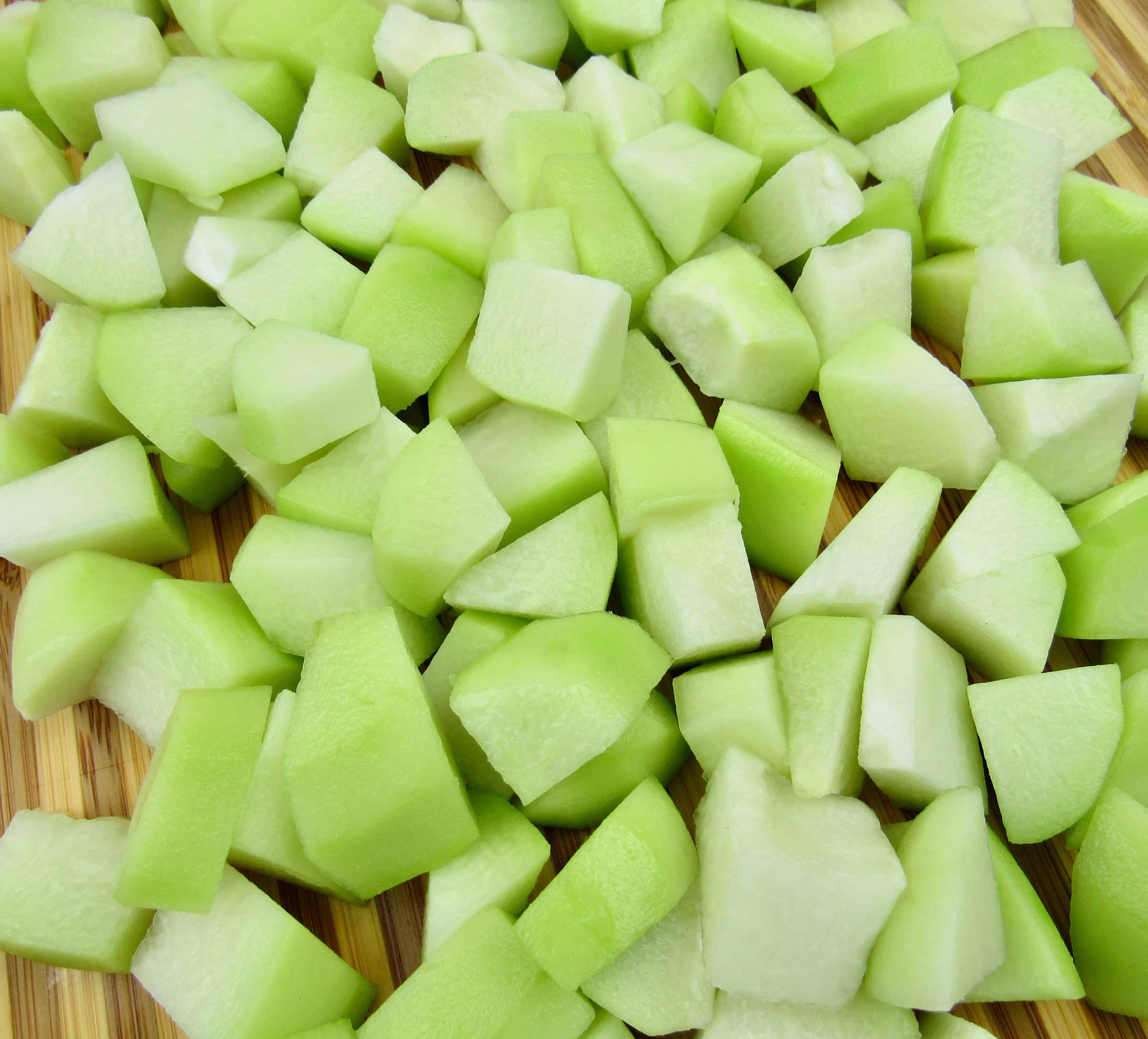 Heat a pot or large skillet to low and melt the butter. Add in the squash and toss to coat.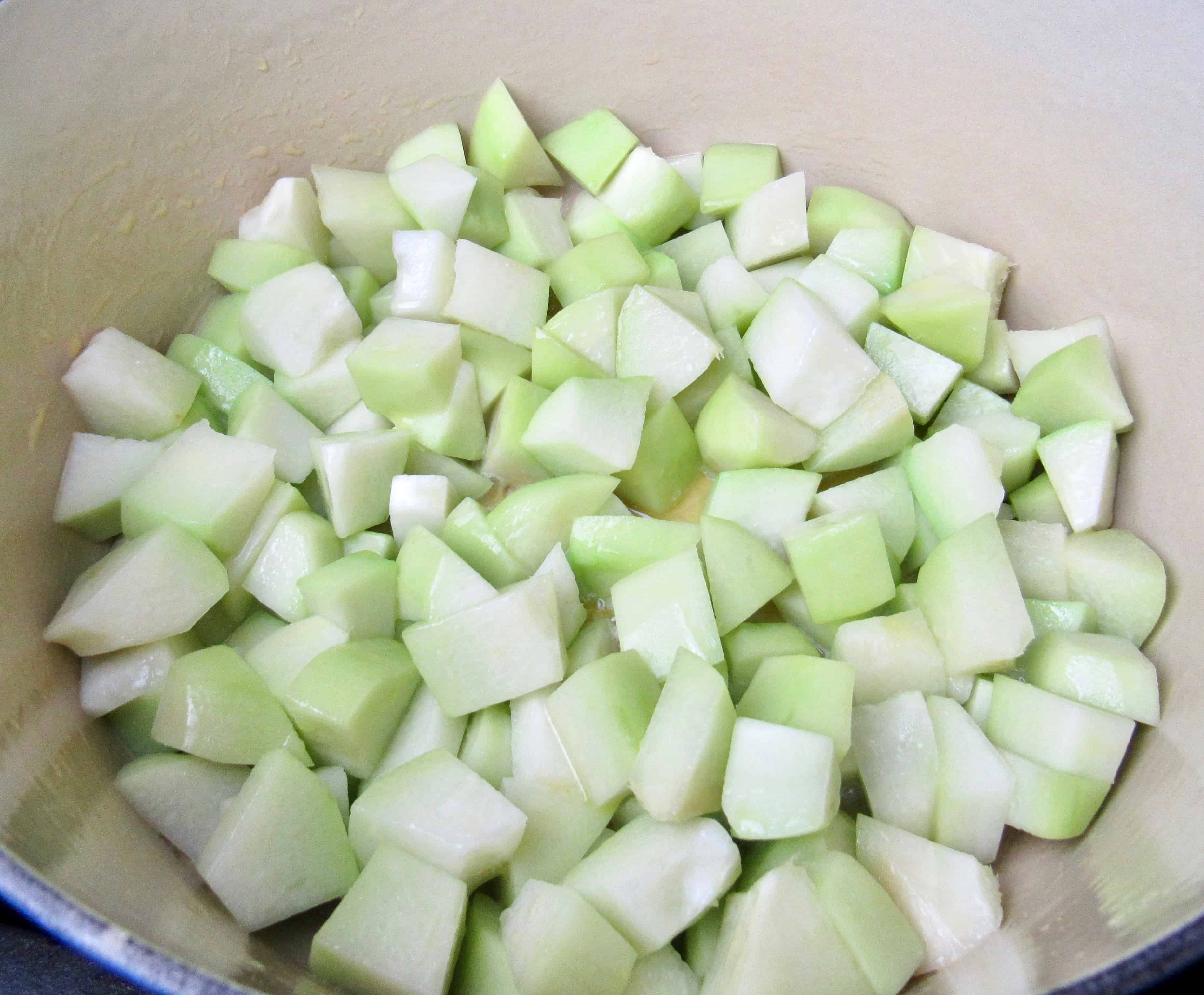 Cover with a lid and cook for 10 minutes.
Preheat oven to 350F. Add in the rest of the filling ingredients and stir to combine. I prefer using a silicone spoon, so nothing sticks to it! Continue cooking for 10 more minutes, covered or until fork tender.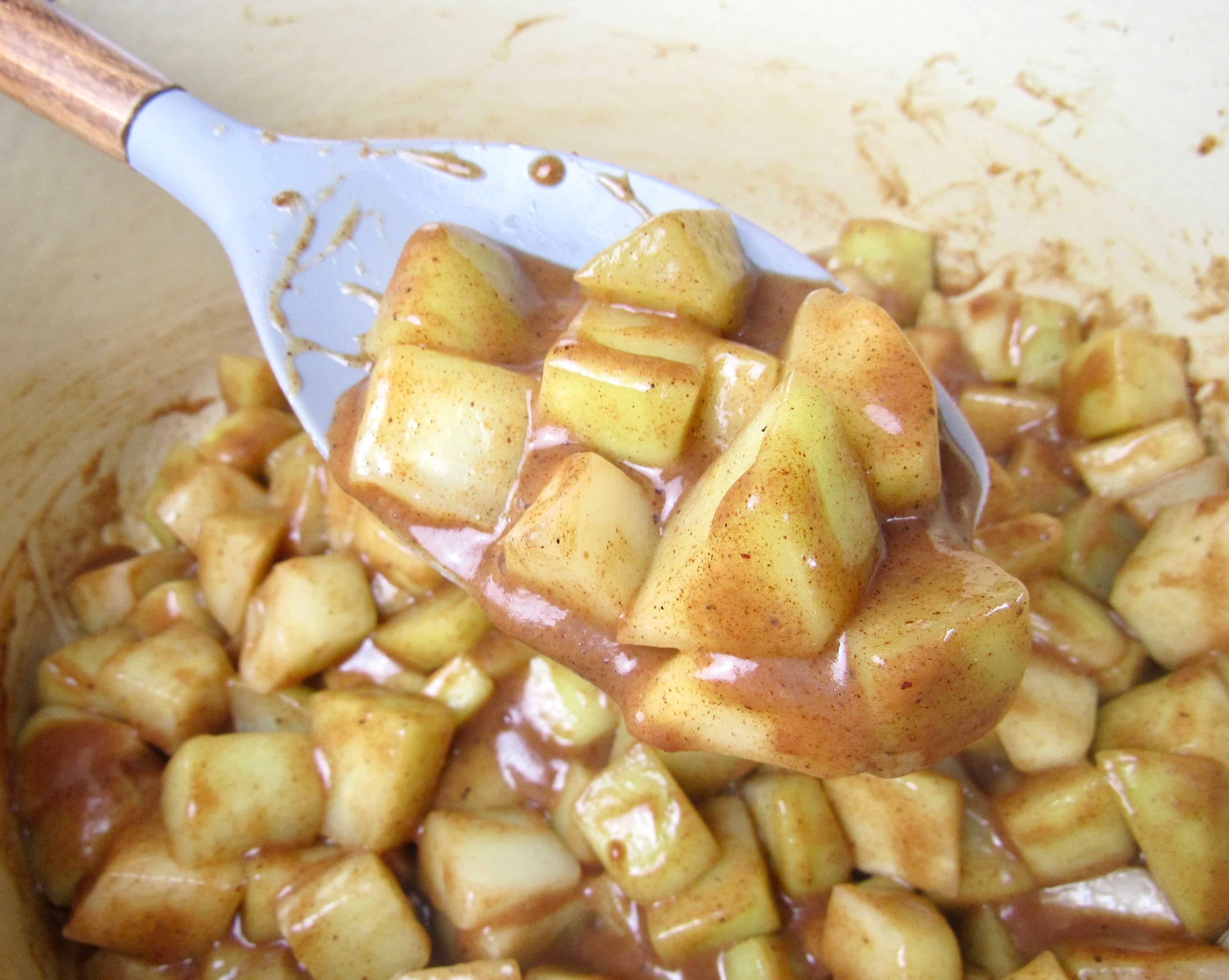 Before moving onto the next step, taste the filling mixture for sweetness. If you want it sweeter, add in more Swerve confectioners at this time.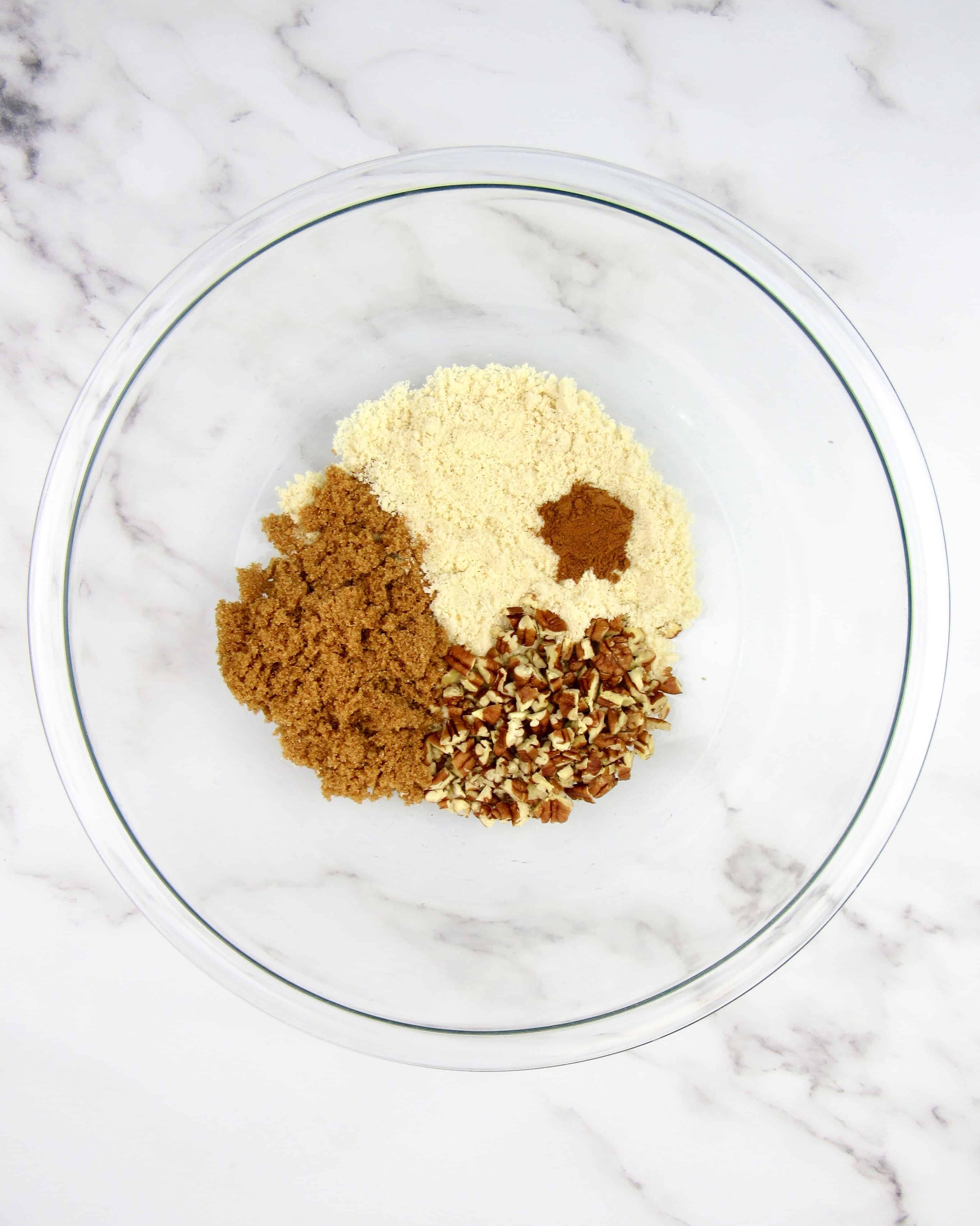 Add the almond flour, pecans, apple pie spice and Swerve into a mixing bowl and mix them together. Then pour the melted butter over the top and mix until well combined. Once you add the butter, you'll see the crumbles will start to form.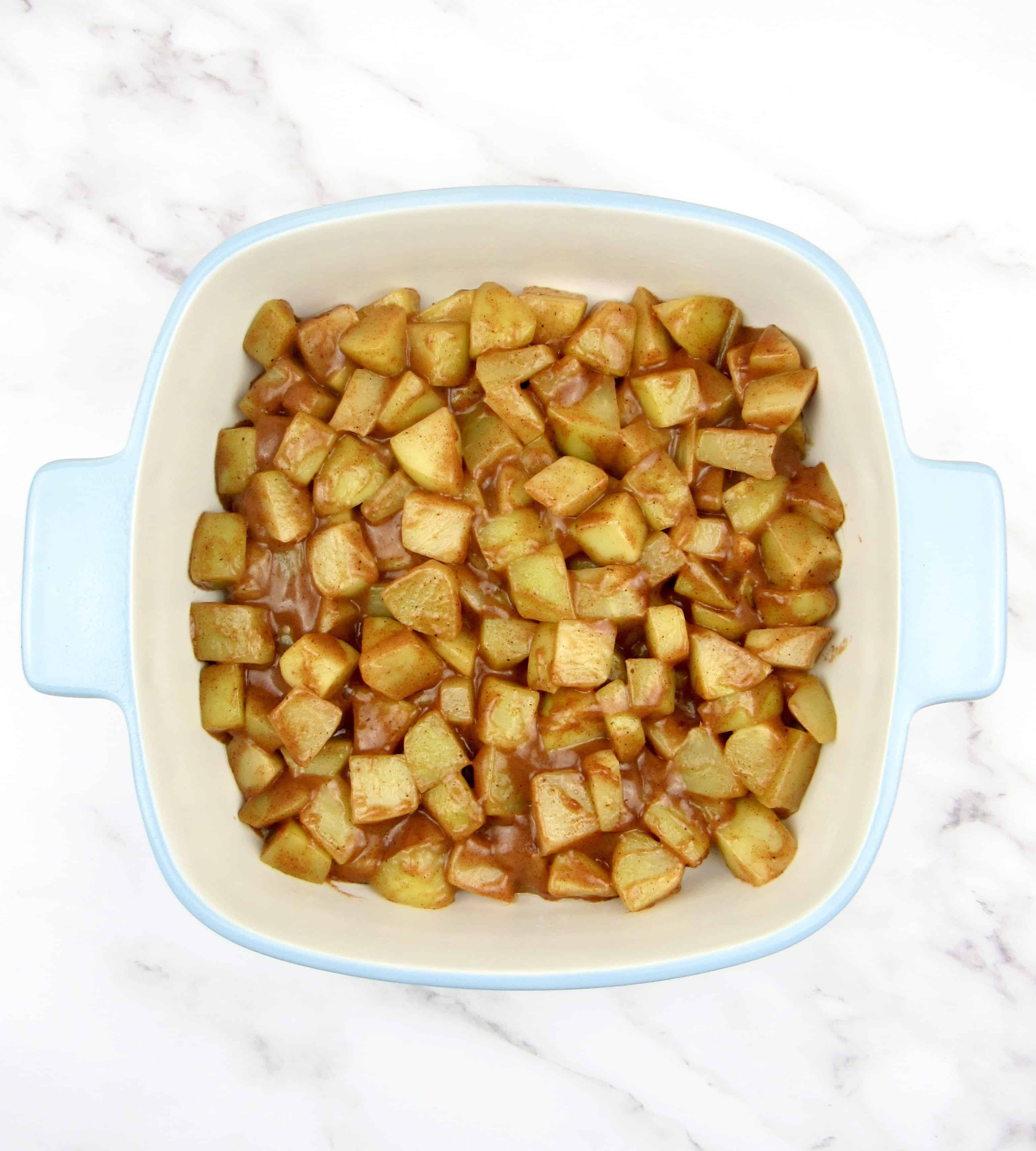 Pour the filling into a 9″x 9″ glass or ceramic baking dish that's been sprayed with nonstick spray. Smooth the filling out into one even layer.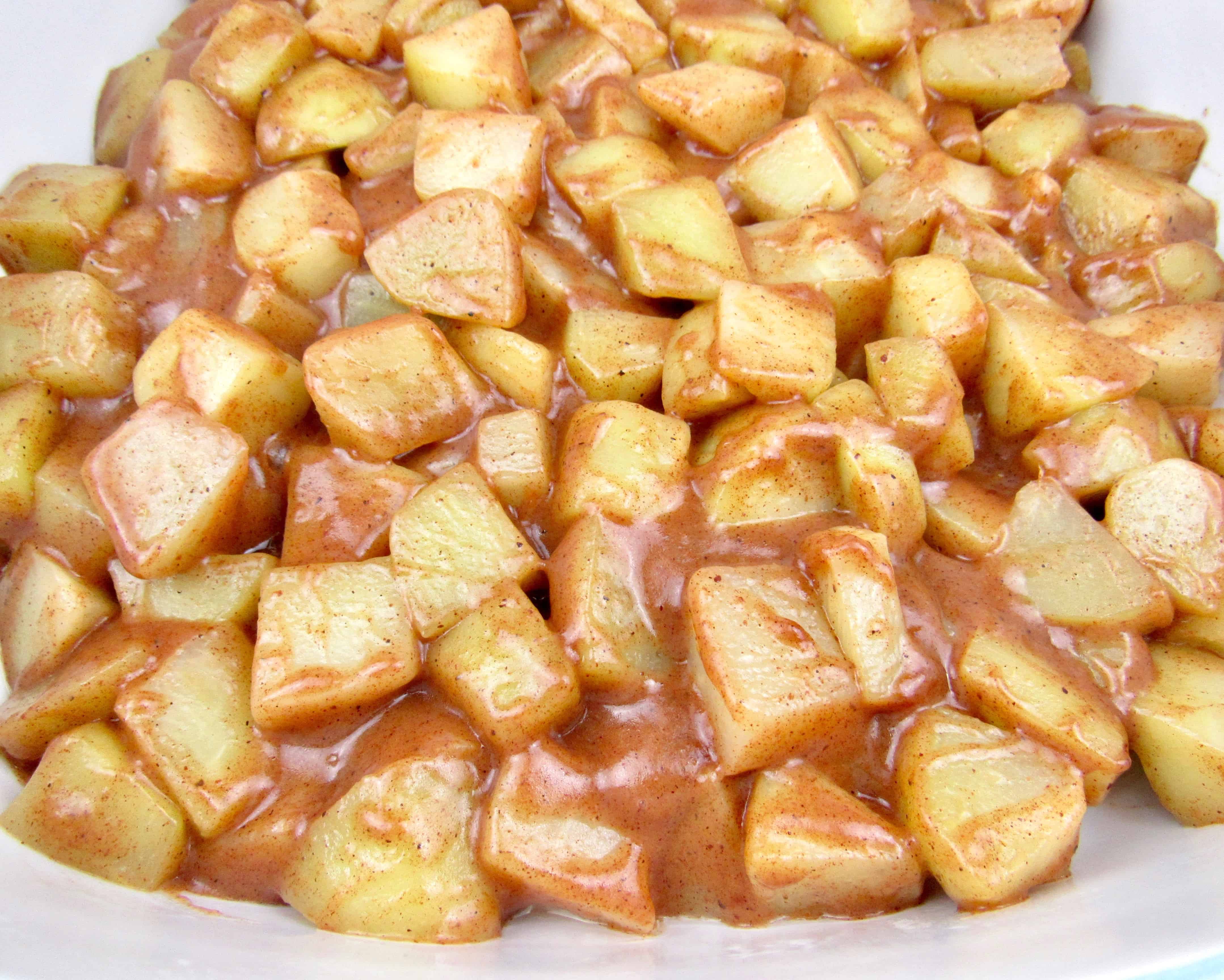 Add in the crumble topping over the top, distributing it evenly.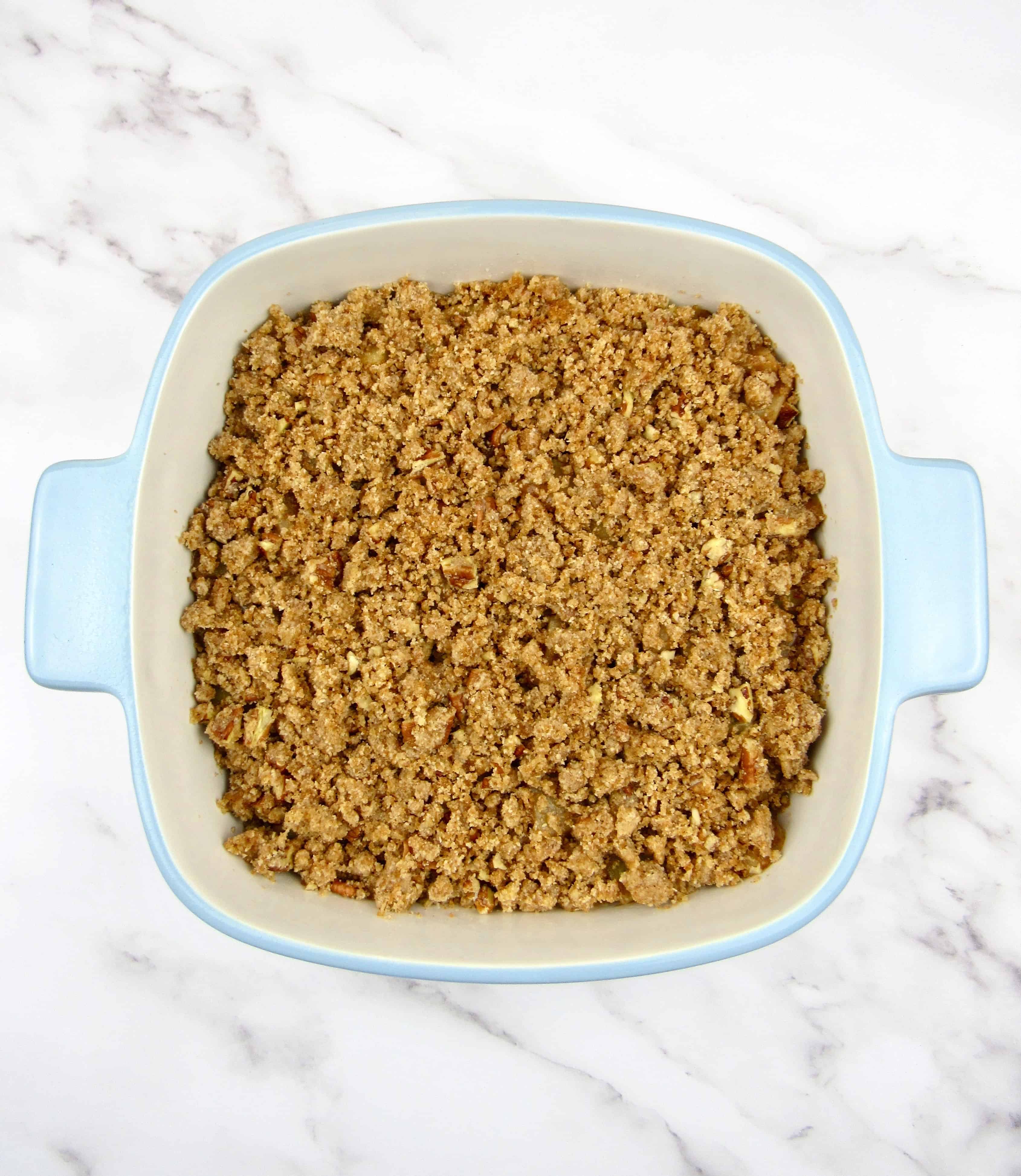 Place on the lower ⅓ rack of your oven and bake for 30-35 minutes or until the topping is slightly golden.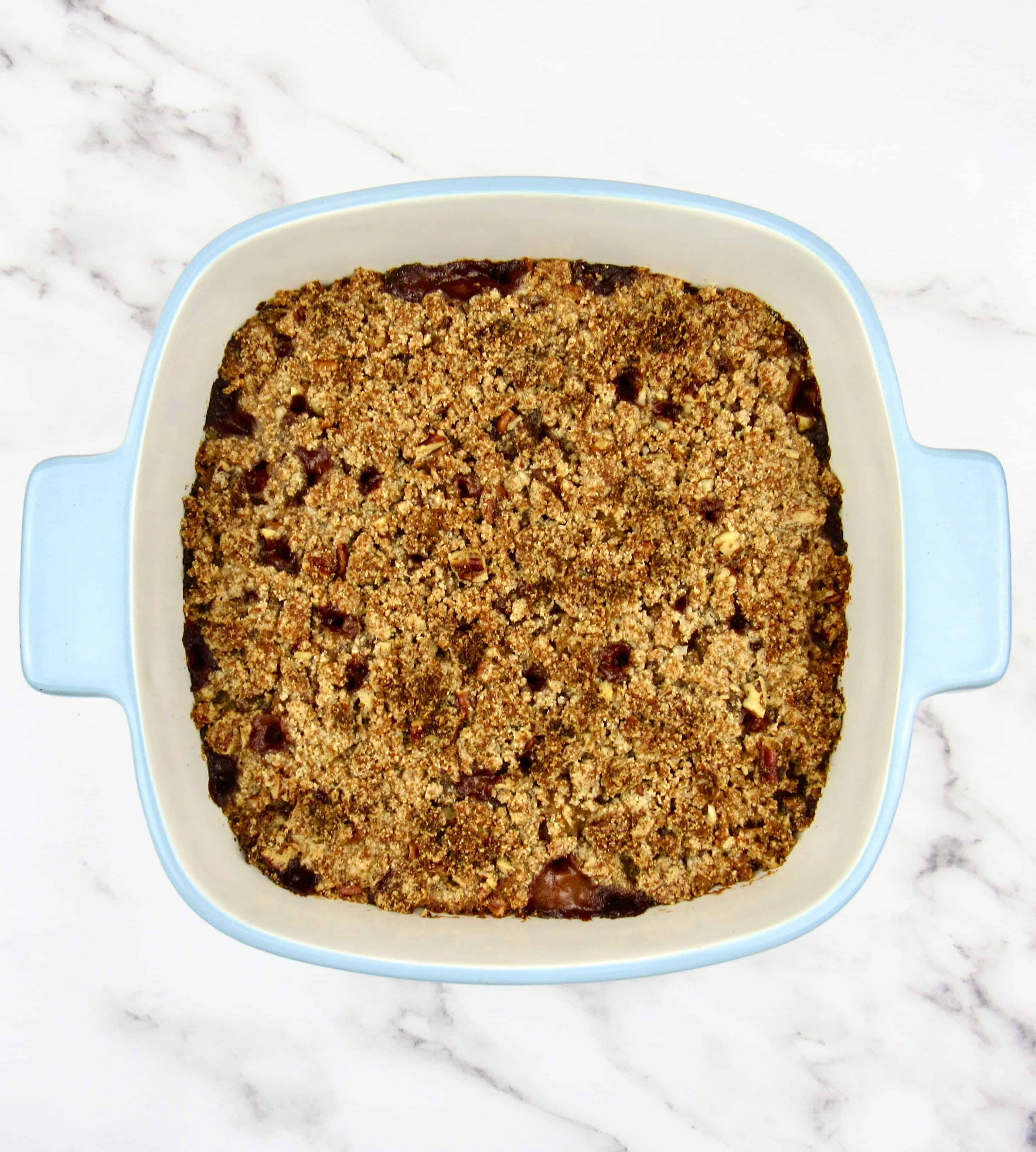 If the crumble topping starts getting too dark, tent it with foil and continue baking.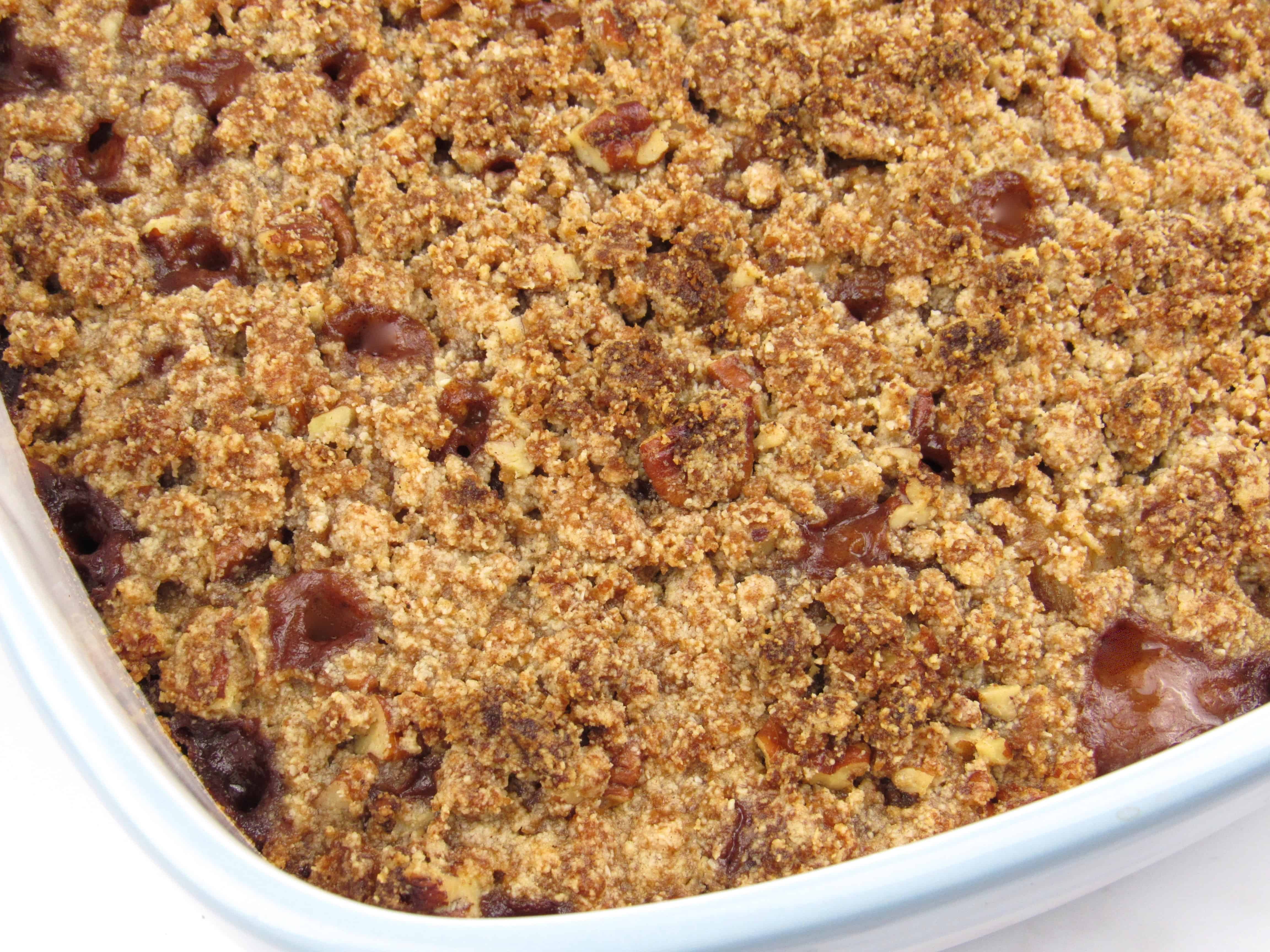 Store leftovers in the fridge for several days or freeze.
What is Chayote?
Chayote is a bright green fruit shaped much like that of a pear. Its flesh is mild and has a texture somewhat like a potato or cucumber. Even though is is a fruit, chayote can also be used more like a vegetable in some cuisine.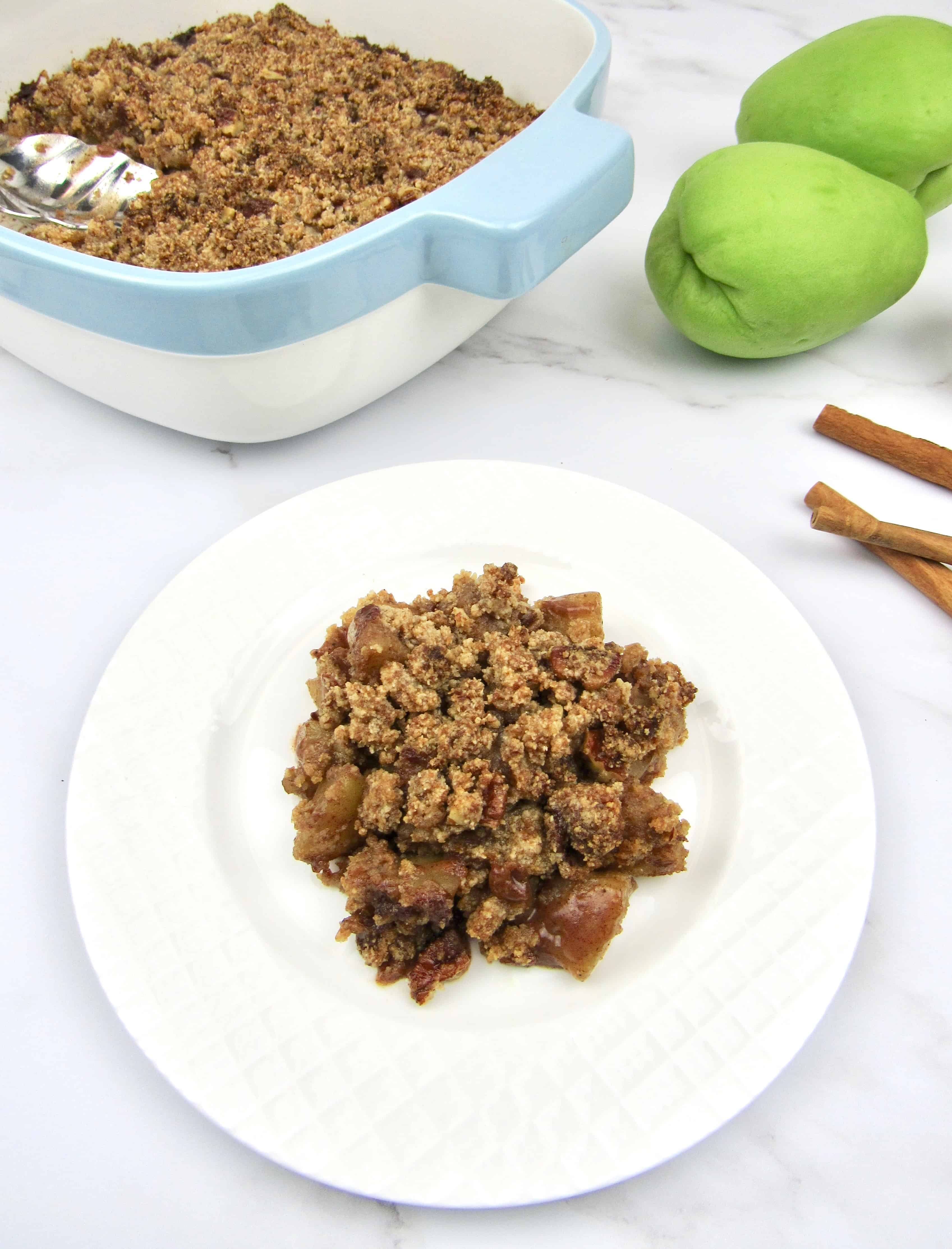 Tips for Making the Best Keto Mock Apple Crumble
What Are the Best Flavorings to Use in Low Carb Mock Apple Crumble?
The most essential ingredient is Apple Pie Spice mix. If you don't have all the ingredients needed to make it, and would rather just purchase a ready-made Apple Pie Spice, you certainly can. The measurements will remain the same.
Although the Natural Apple Flavoring is optional, it's highly recommended! The recipe will still be great without it, but this really takes it to the next level. Alternatively, you can use a good apple extract. I've tried a few and really didn't like the flavor, but the one I ended up with is really great! It's actually used to flavor beer and wine, so I thought I'd give it a shot and it's by far the best one I've ever used!
Brown Swerve is used to sweeten up the applesauce, which is really the best option. It has such a wonderful, almost molasses flavor to it that is just perfect in this recipe. It's much easier to find now, than it once was, they even sell it at Walmart. There are so many recipes you can use it in as well!
If you can't find Brown Swerve, you can use another Keto friendly brown sugar substitute instead. As a last resort, you could use Swerve Confectioners, but it won't have that same brown sugar-like flavor.
Fresh lemon juice and zest adds a really nice tartness, much like a granny smith apple has. Don't skip the lemon, it's important!
Xanthan Gum is used as a thickener for filling. You can omit it if you'd like, the juices will just be a little loose, but will still taste great without it.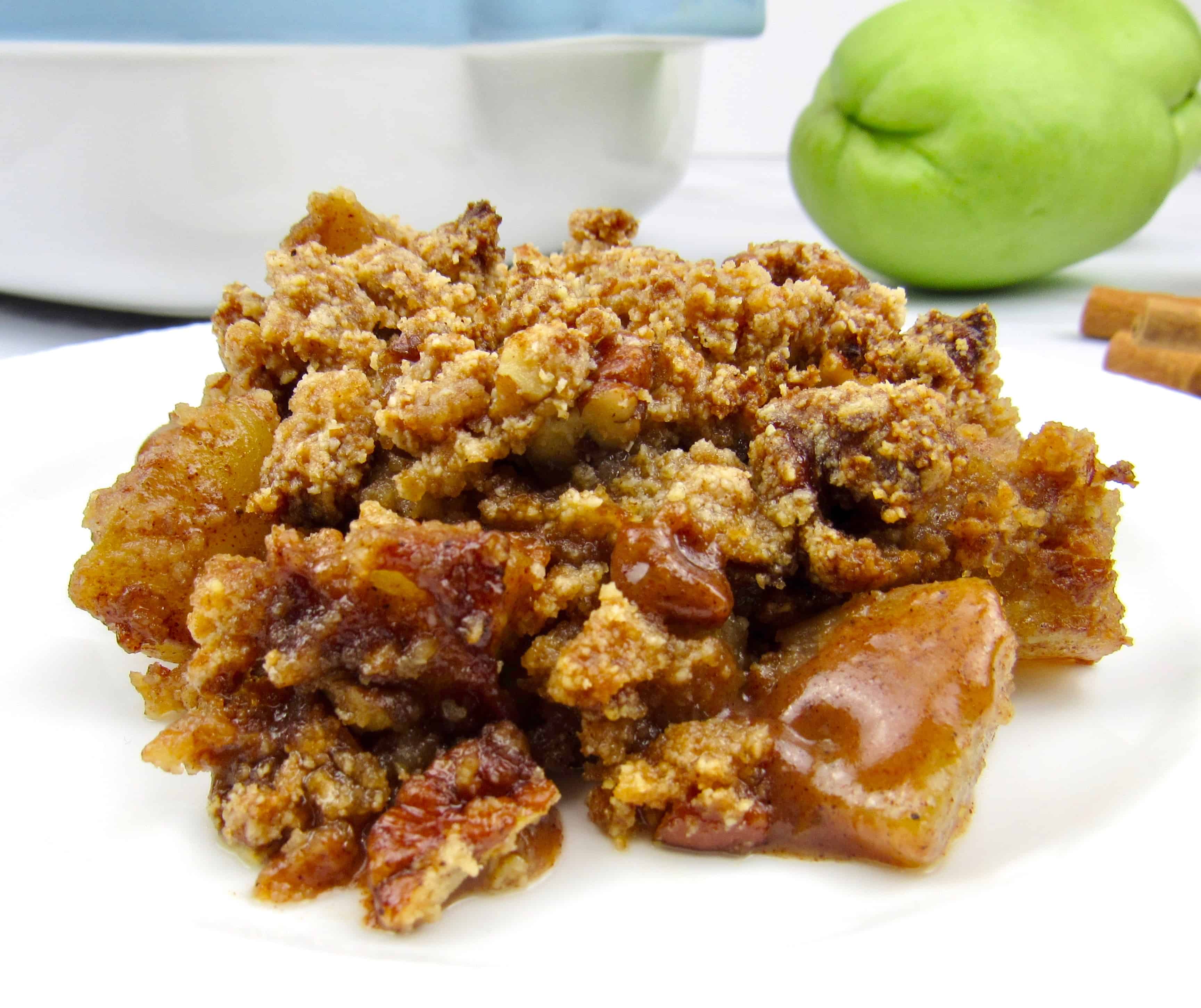 What is the Best Way to Make a Gluten-Free Streusel Topping?
I've made this same topping quite a few times and the combination of the Almond flour, texture of the chopped pecans, warm Apple Pie Spice, butter and both Brown Swerve (for that authentic brown sugar flavor and texture) and Swerve Confectioners (for added sweetness) works so perfectly together!
If you don't have the apple pie spice, you can use a combination of cinnamon, nutmeg and a little ginger.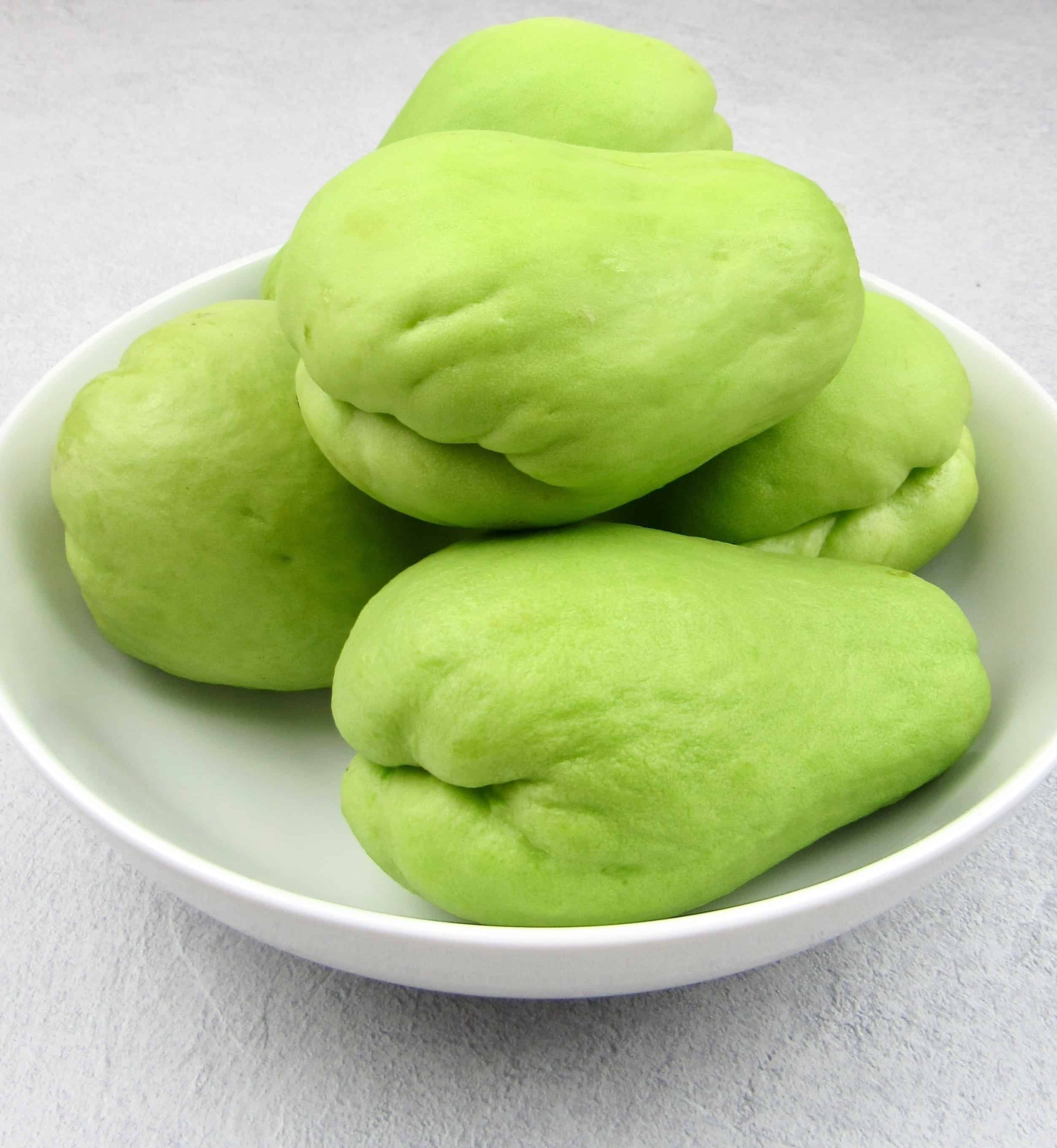 Is Chayote Squash Keto ?
As I mentioned earlier, it makes one of the best (if not THE best) substitutes for apples and because it's low in carbs, it's perfect for Keto! Chayote squash also has some impressive health benefits, you can read more about them in this article!
How many Carbs in Chayote Squash?
1 chayote squash has only 4g net carbs.

More and Low Carb Keto Dessert Recipes
If you'd like to know more about baking on Keto, this article, Keto Baking Made Easy, is loaded with tips and info that you'll find helpful. You might also check out my Keto Sweet Treats eBook that has 50 amazing Keto dessert recipes, all with color pics, macros and more! I'm offering it at 50% off when you subscribe to my free weekly emails here.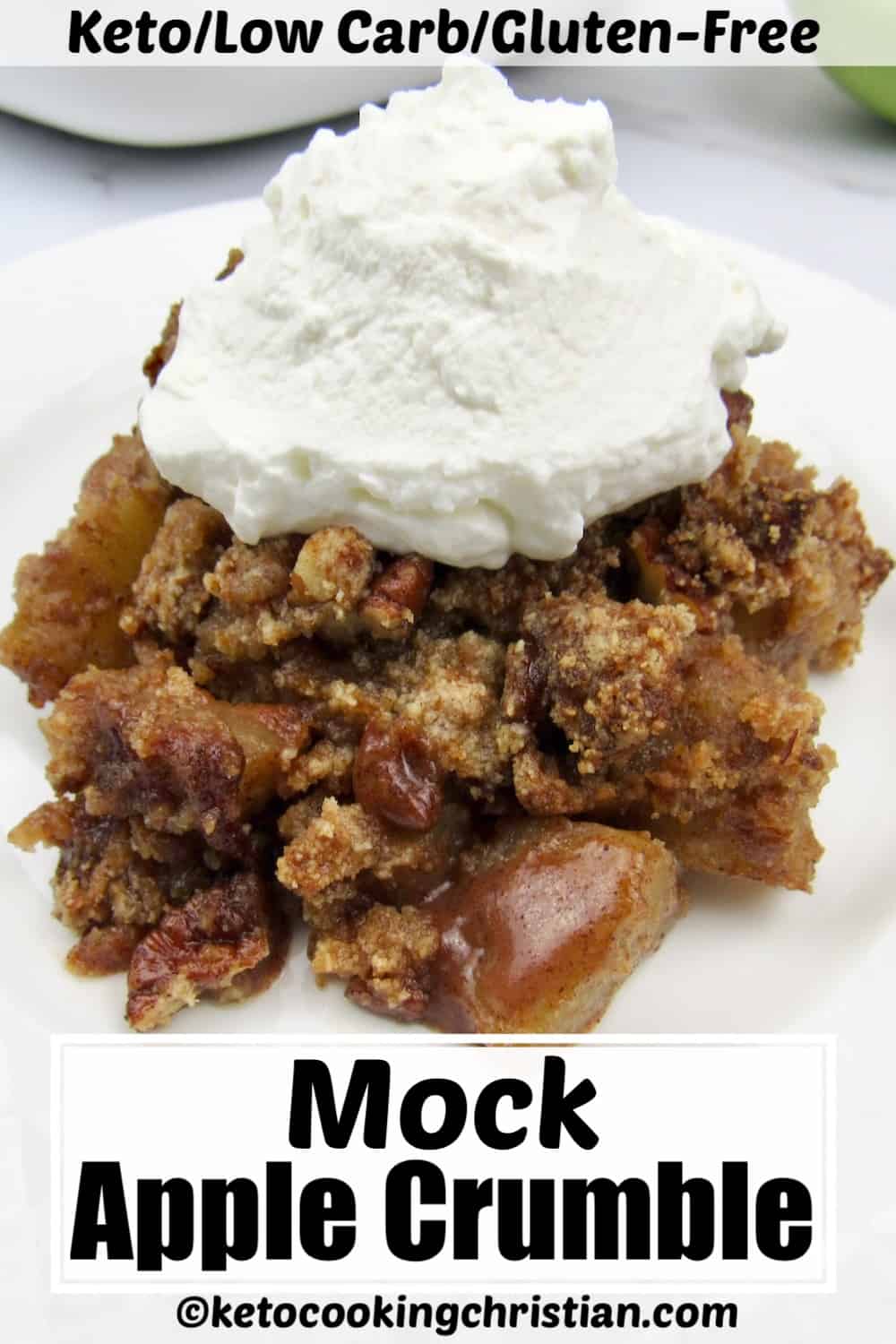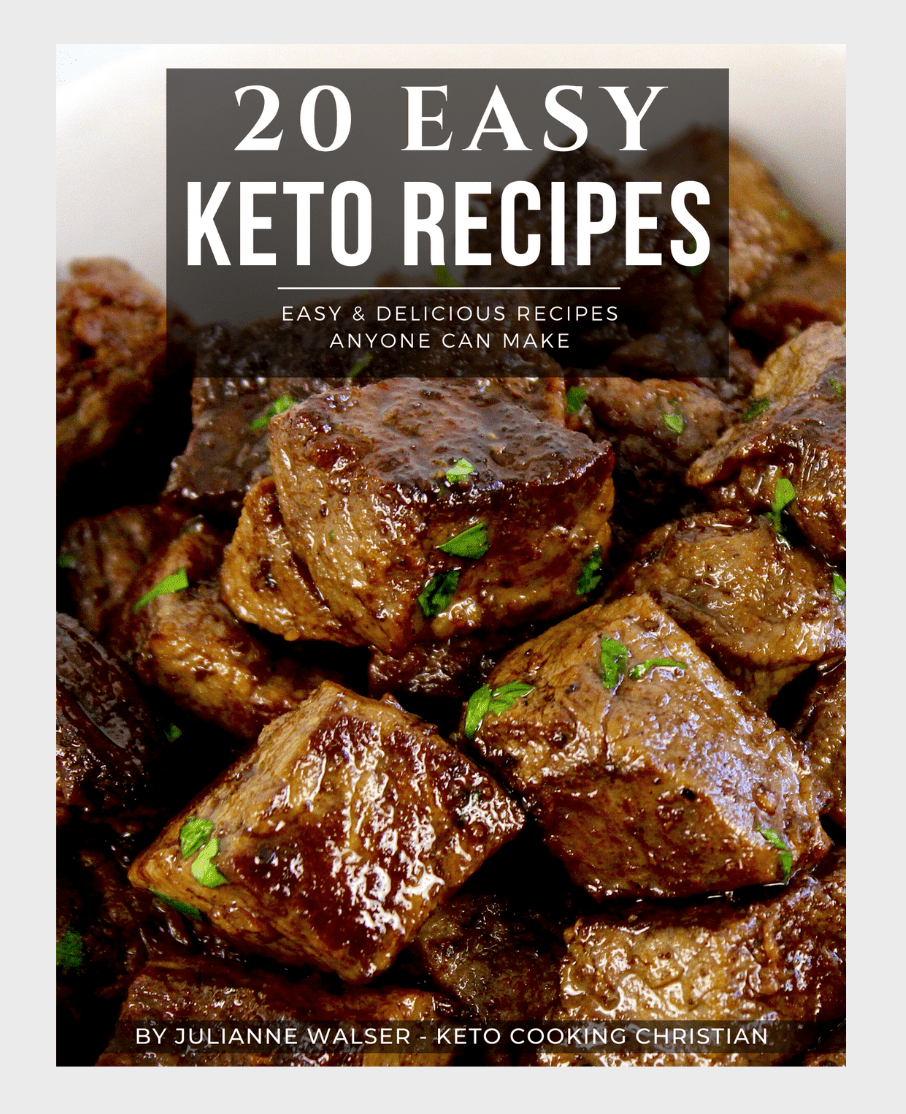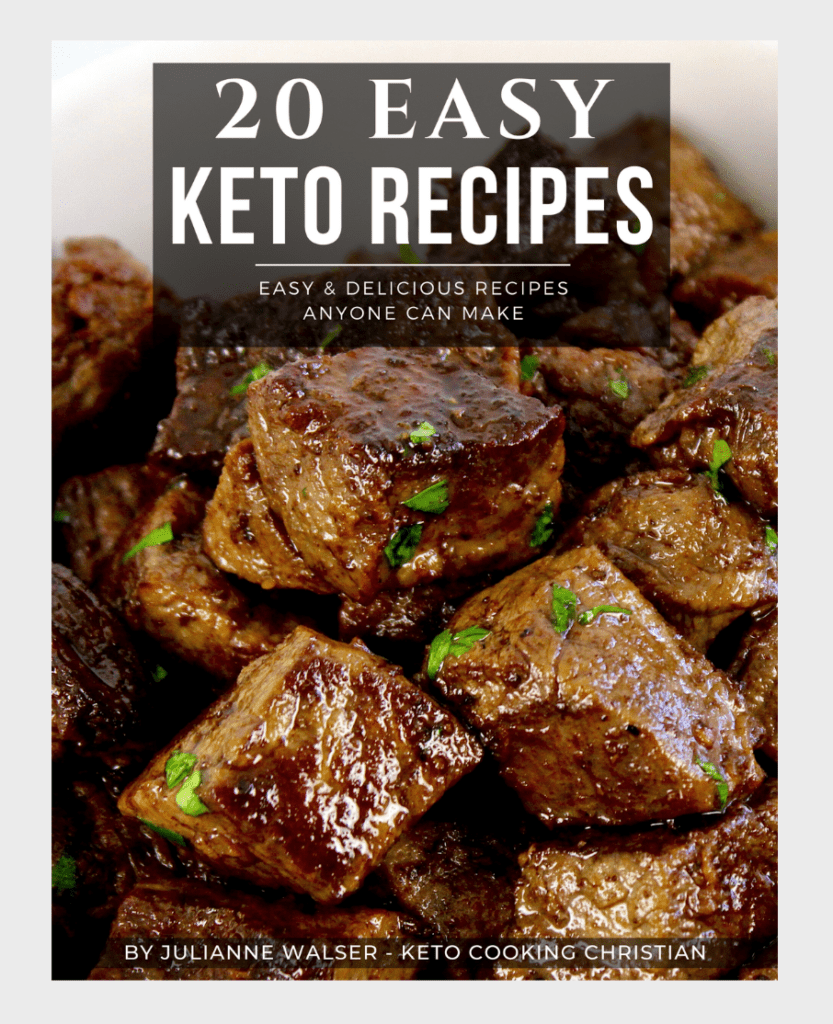 FREE 20 EASY KETO RECIPES EBOOK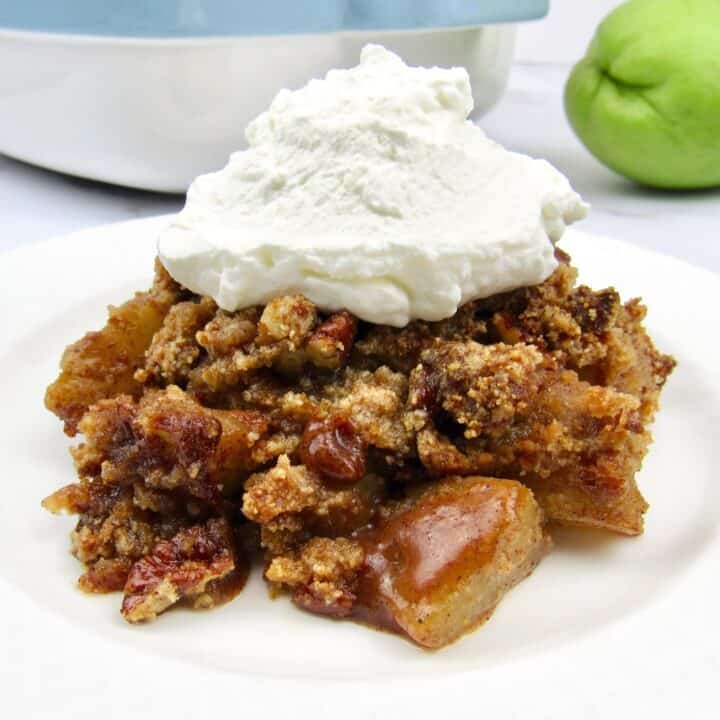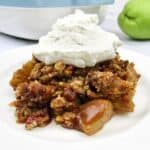 Keto Mock Apple Crumble (Gluten-Free)
Enjoy this Keto mock apple crumble and you'll never even miss the apples! It's made with Chayote squash as a Low Carb substitute for apples and topped with a gluten-free streusel crumble.
Servings 8
*Make sure to scroll up and read the post for substitutions, additions and helpful tips for making this recipe.
Nutrition Facts
Keto Mock Apple Crumble (Gluten-Free)
Amount per Serving
% Daily Value*
* Percent Daily Values are based on a 2000 calorie diet.
Rate this Recipe
*Nutritional data is provided as a courtesy and is accurate to the best of my knowledge. You can verify it using the nutrition calculator of your choice. All data is based on net carbs, without sugar alcohol: Swerve, Erythritol, Monk Fruit or Allulose.
© Copyright for Keto Cooking Christian LLC. Please use the share buttons to share on social media, but please do not copy/paste the recipe.