Chimichurri made with fresh garlic and herbs, drizzled over tender, juicy and mouth watering steak!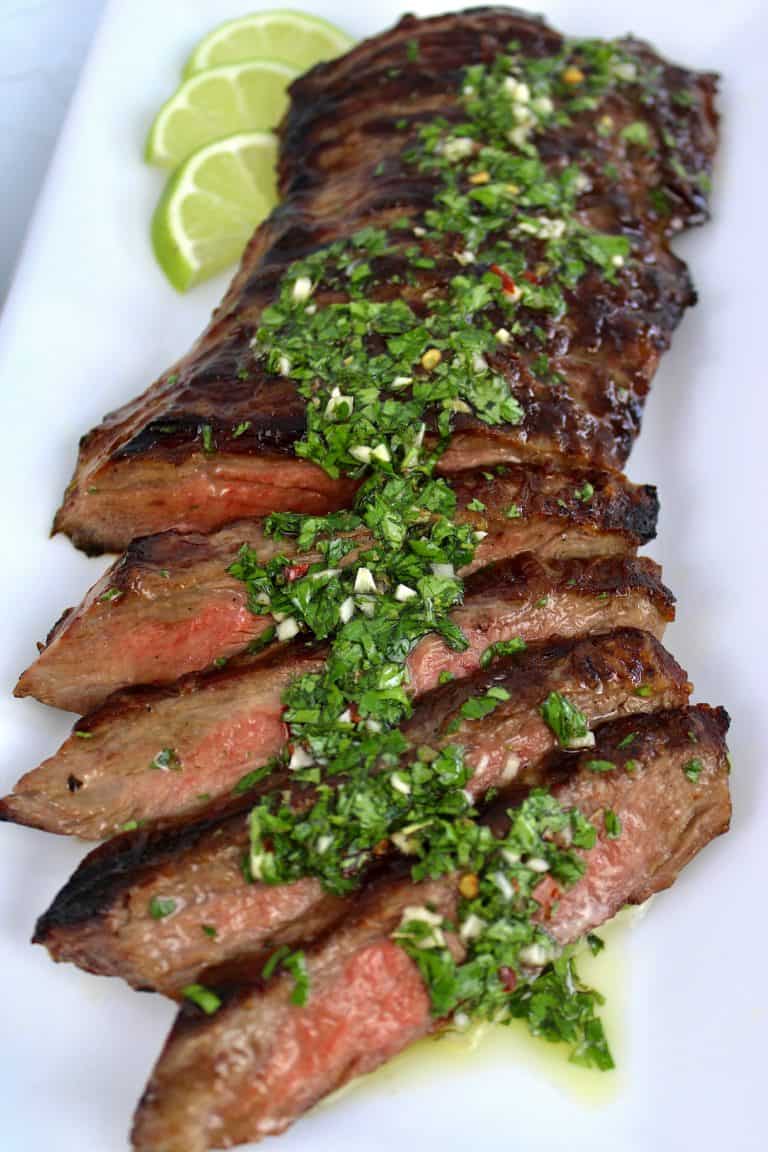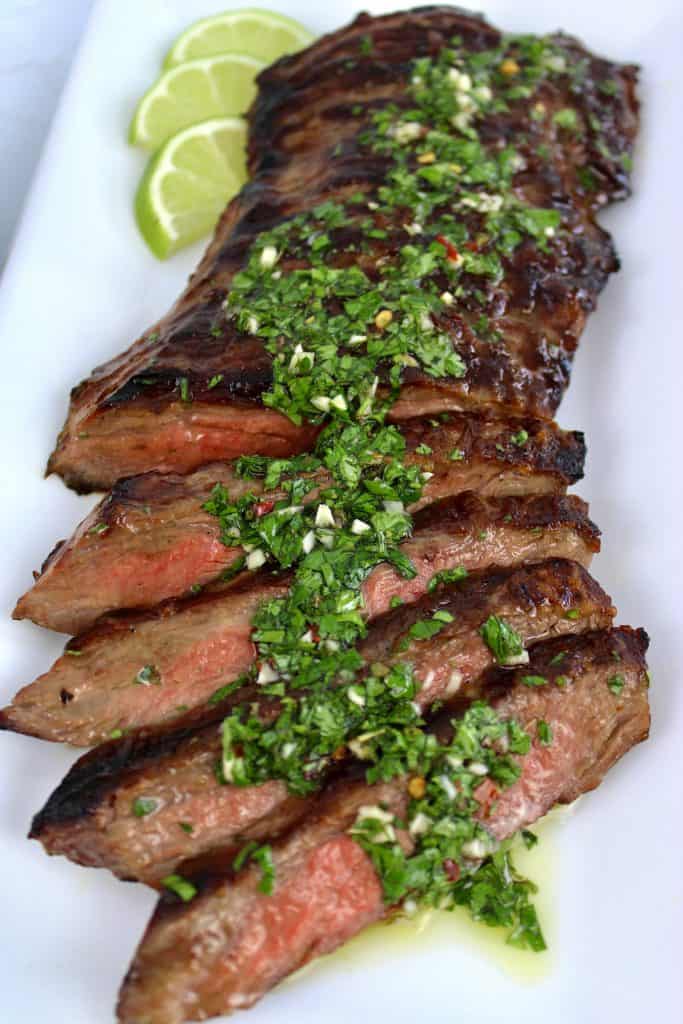 I lived most of my life in Miami, FL where there was a fair amount of Cuban food. One of my favorite things to order when eating in our favorite Little Havana restaurant was skirt steak with chimichurri. I honestly could not get enough of the sauce!
This is my own version, with the addition of a little cilantro. By no means is this the "official" version, it's just my take and it's really very good!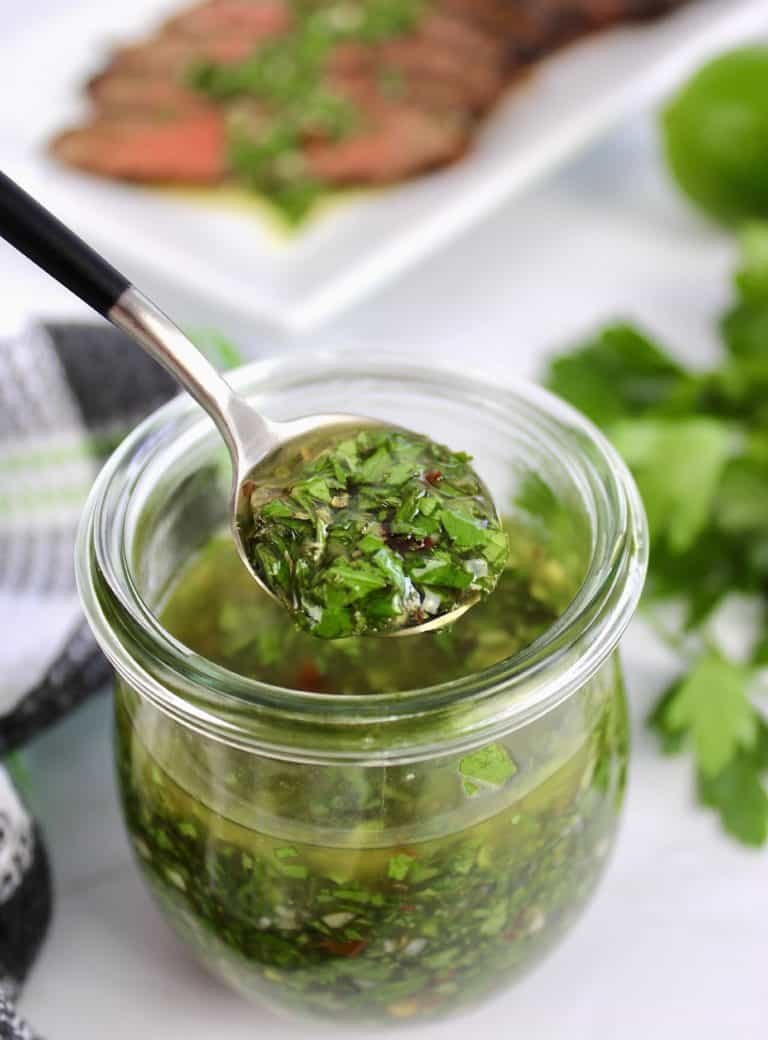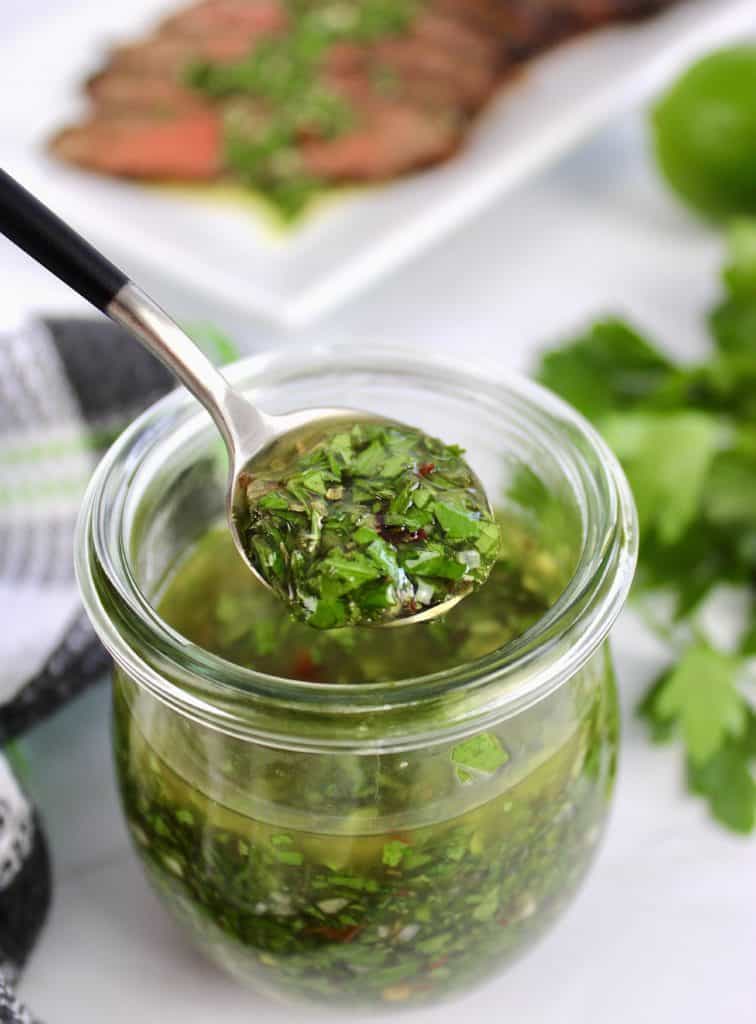 You may have seen a recipe for Chimichurri Sauce without cilantro, but combined with the other ingredients in this version, it isn't overpowering at all, I promise. I do love cilantro, but I don't like it to be front and center in a chimichurri sauce.
I have found there are two camps when it comes to cilantro. Those that LOVE it and those that do not like it at all. If you are in the "don't like it camp," no worries! Just add more parsley and leave the cilantro out. Either way, the sauce will still be totally delicious.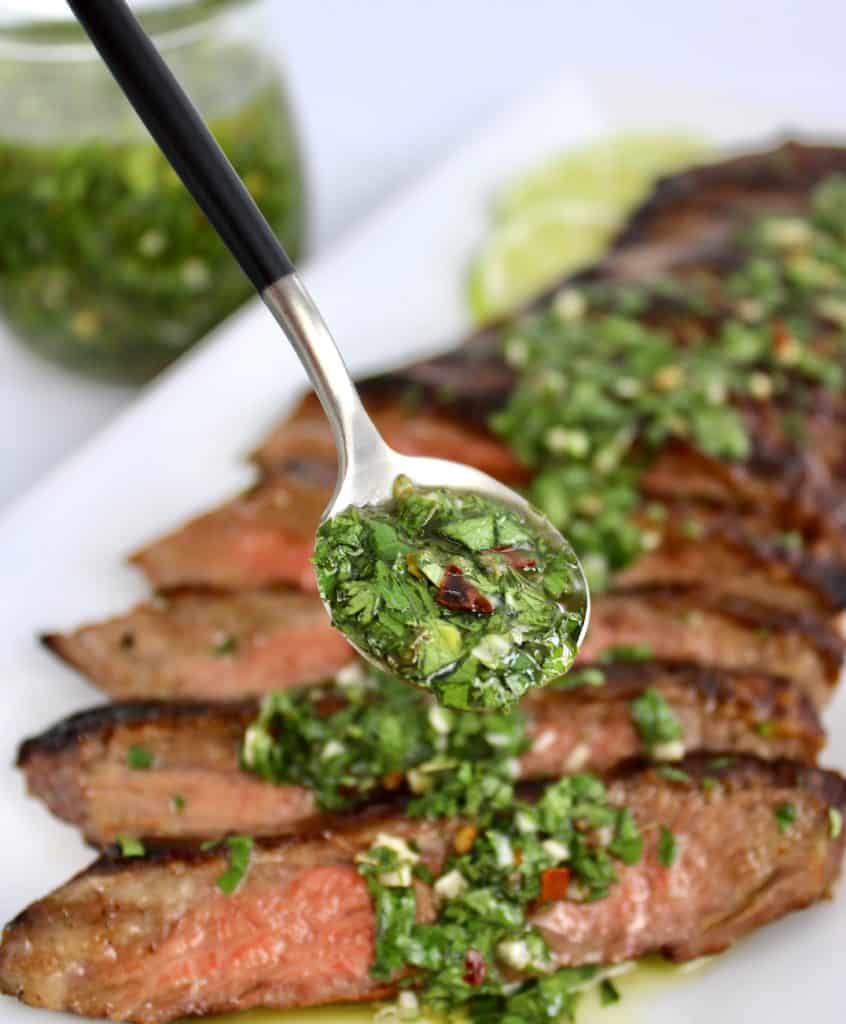 And just because you typically see it served with grilled steak, like I did in this Steak Chimichurri recipe, don't let that stop you from using it with other dishes. Give it a try...it is so good!
What's in Steak Chimichurri
Skirt steak
Parsley
Cilantro
Garlic
Lime juice
Salt
*Exact measurements are listed in the recipe card below.
How to Make Steak with Chimichurri Sauce
Heat up your grill while your steak is coming to room temperature. Drizzle some olive oil over the top, rub it all over the steak and sprinkle with salt.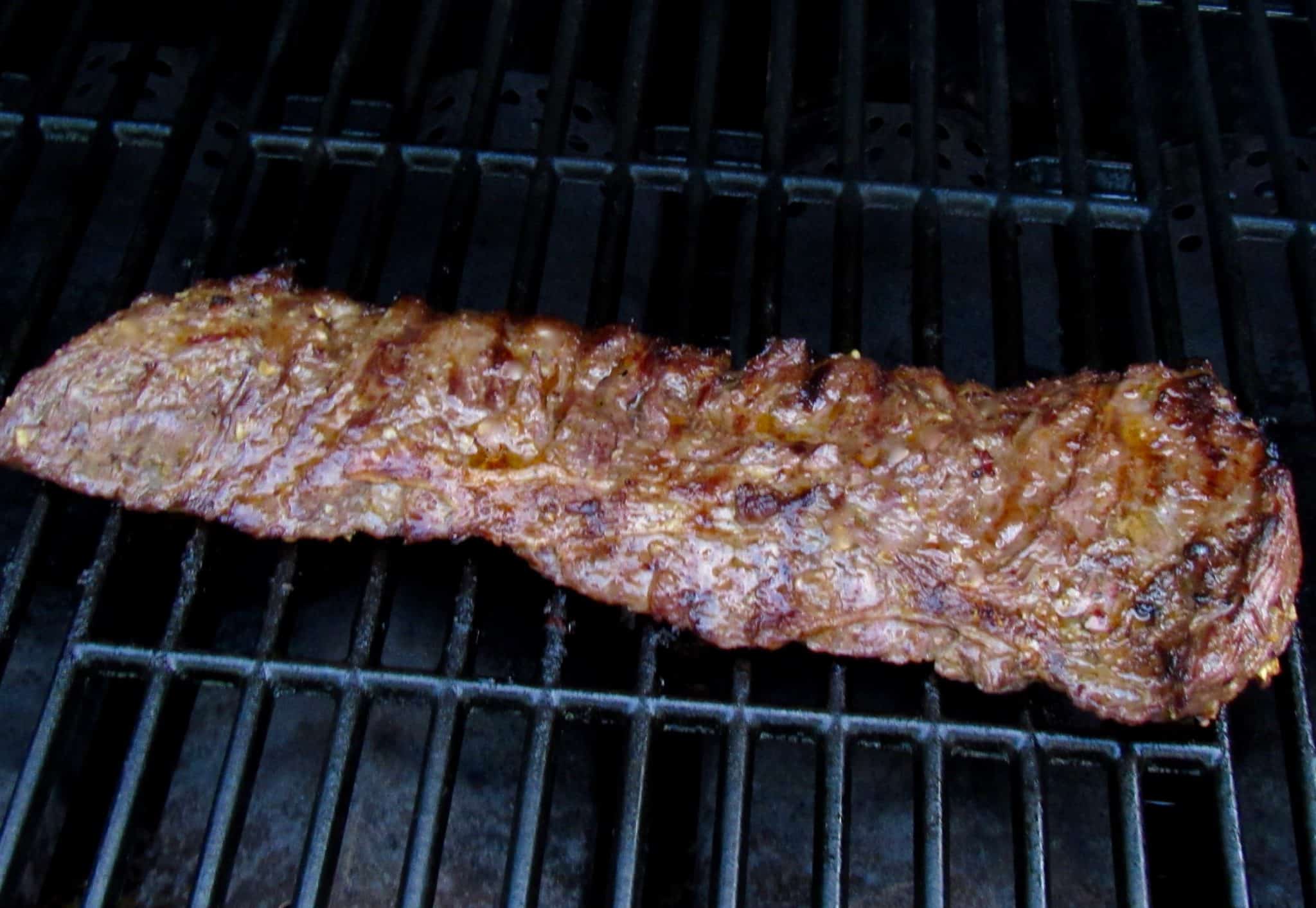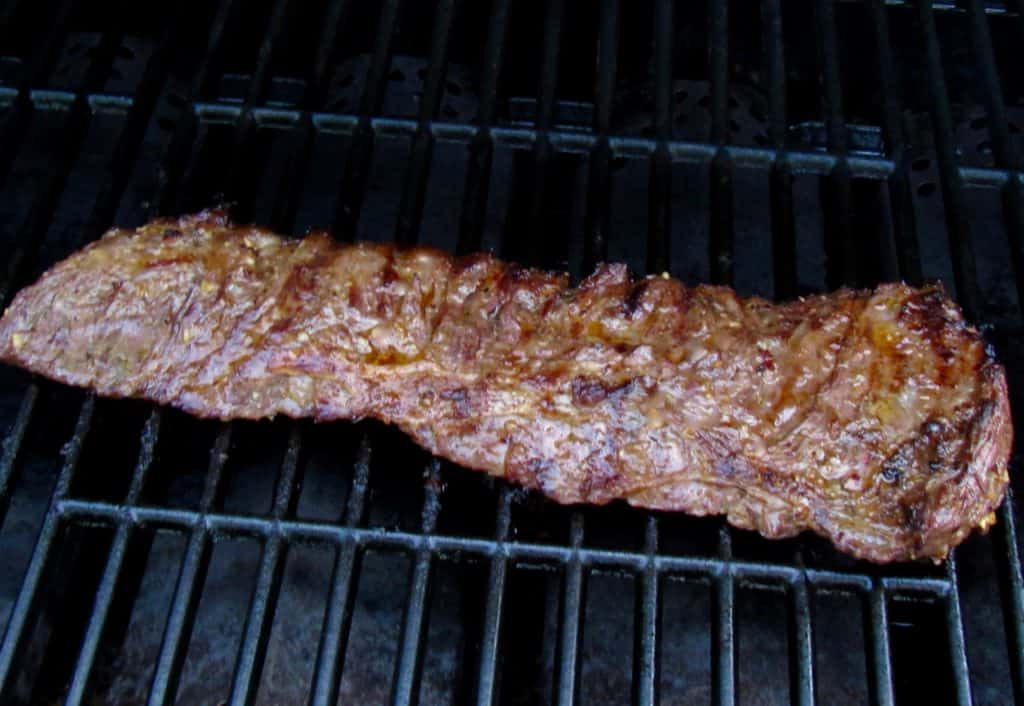 Grill the steak to the temperature of your liking, using a meat thermometer. I prefer mine between rare and medium-rare, so I pull mine off at 125F. While your steak is cooking, mix up the chimichurri sauce.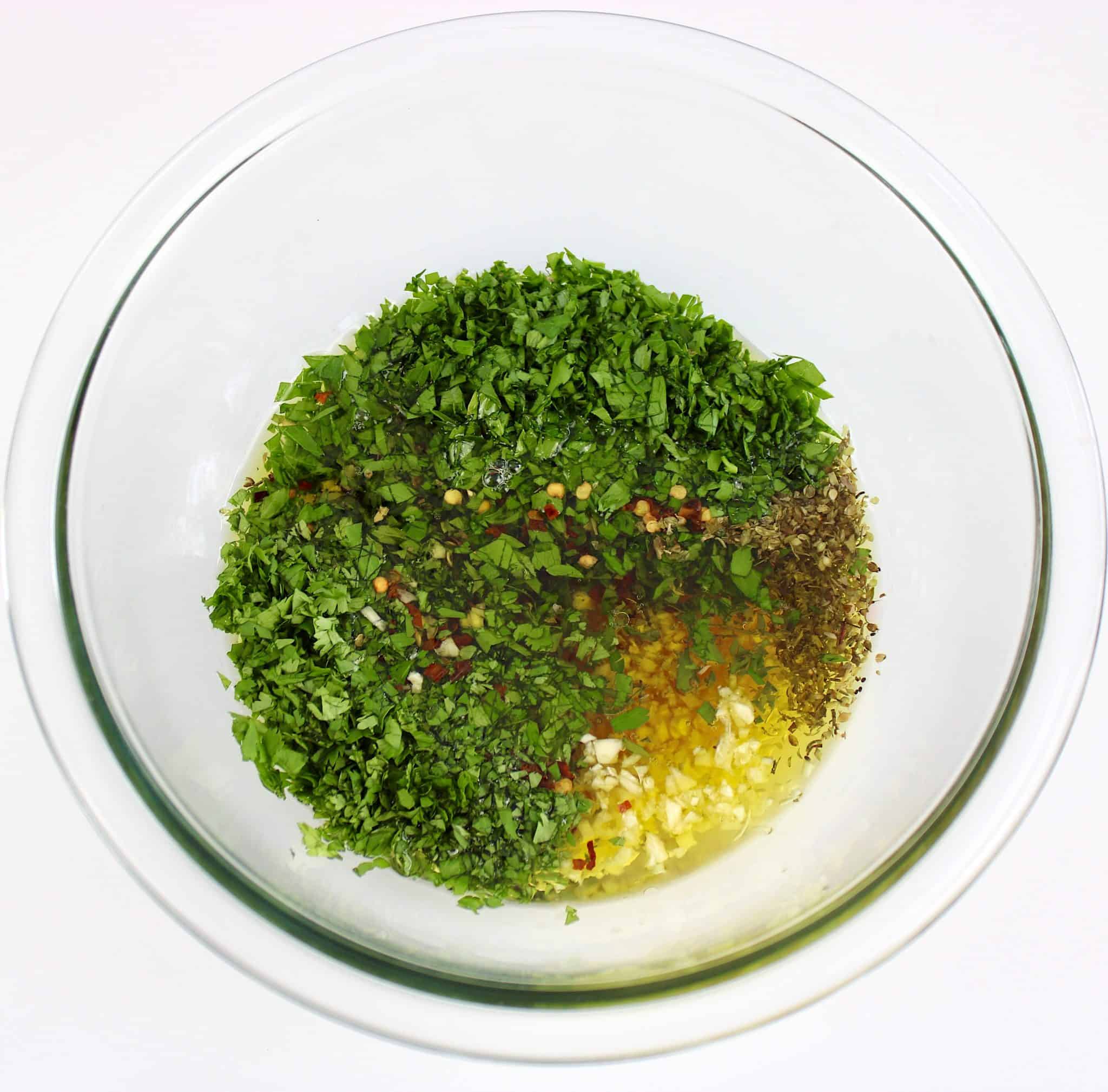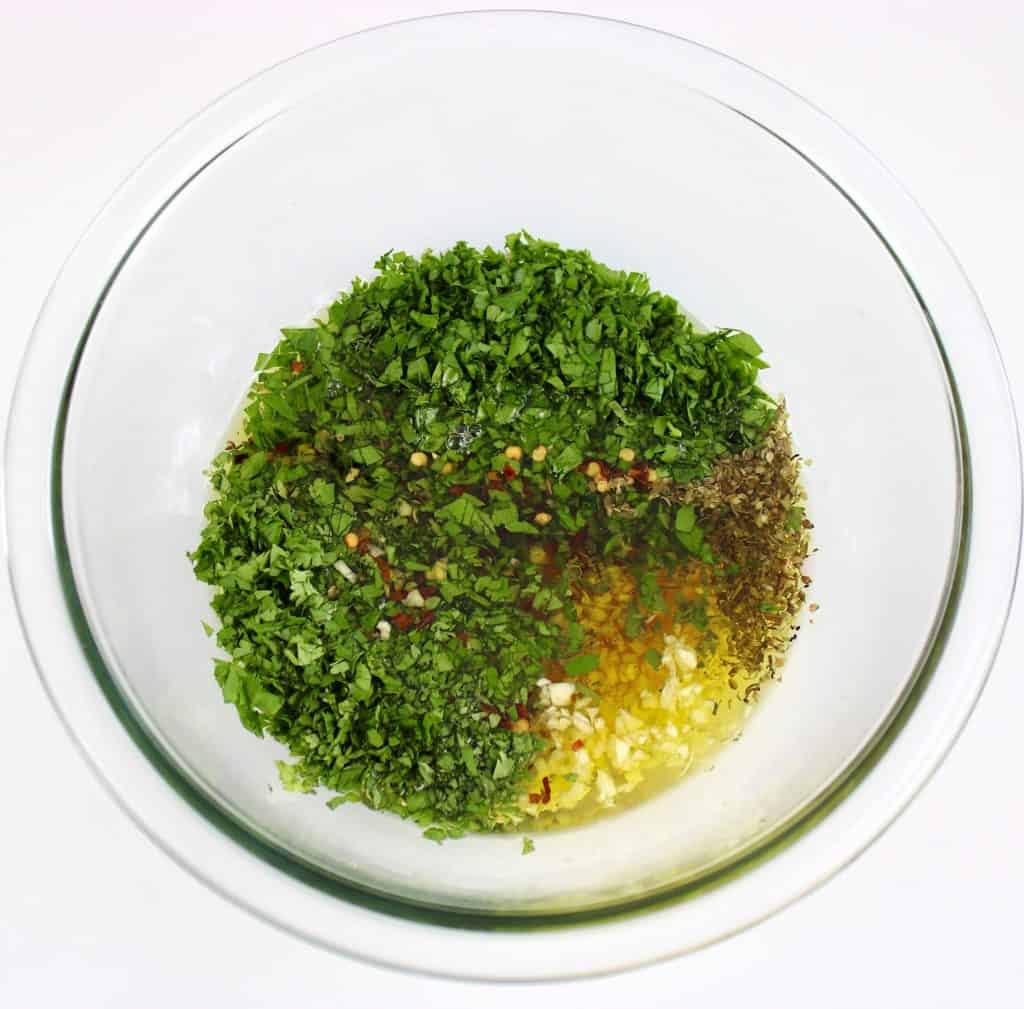 Add the chopped parsley and cilantro to a mixing bowl, along with the oregano, salt, garlic and red pepper flakes. Add the olive oil, red wine vinegar and lime juice over the top.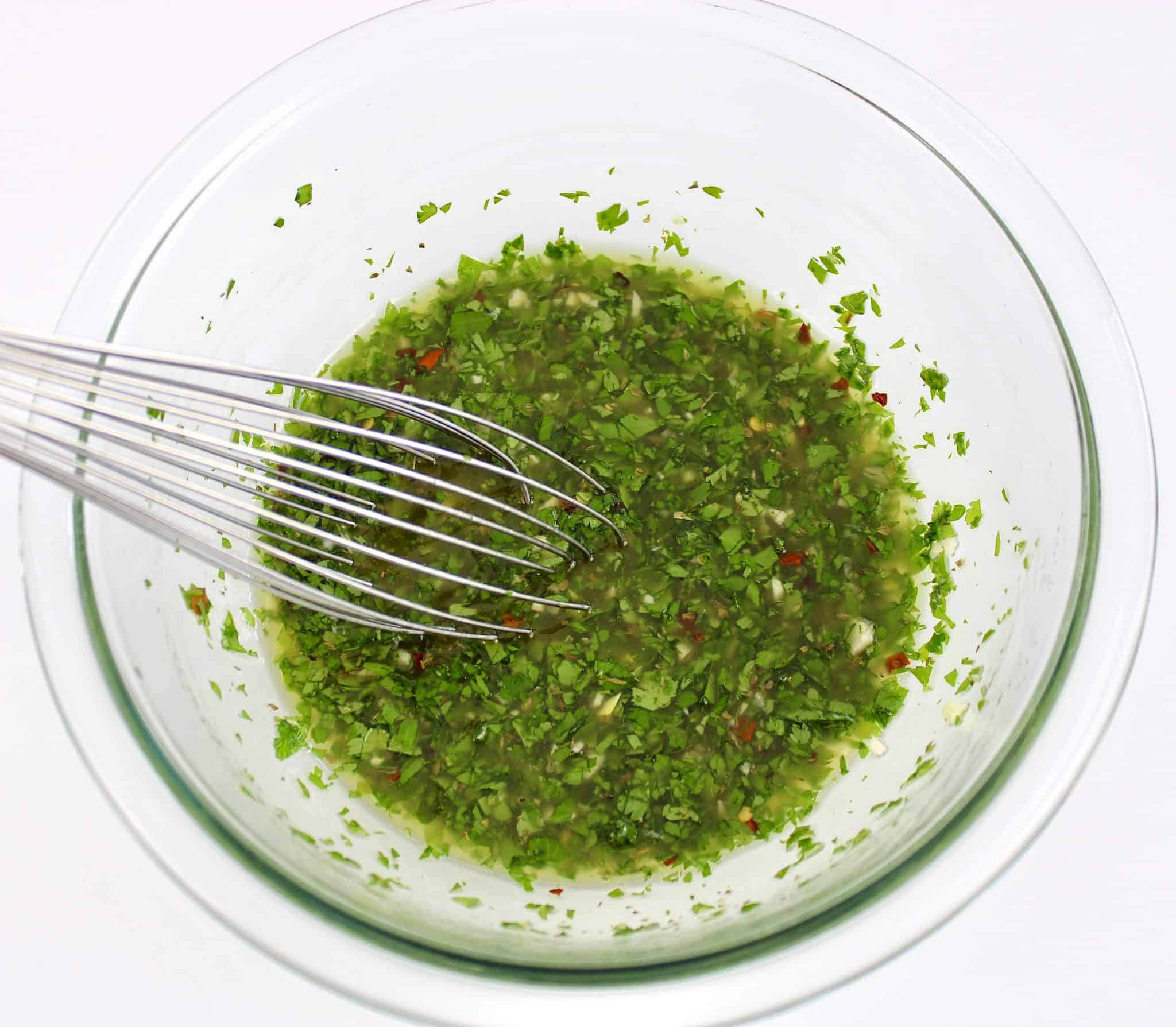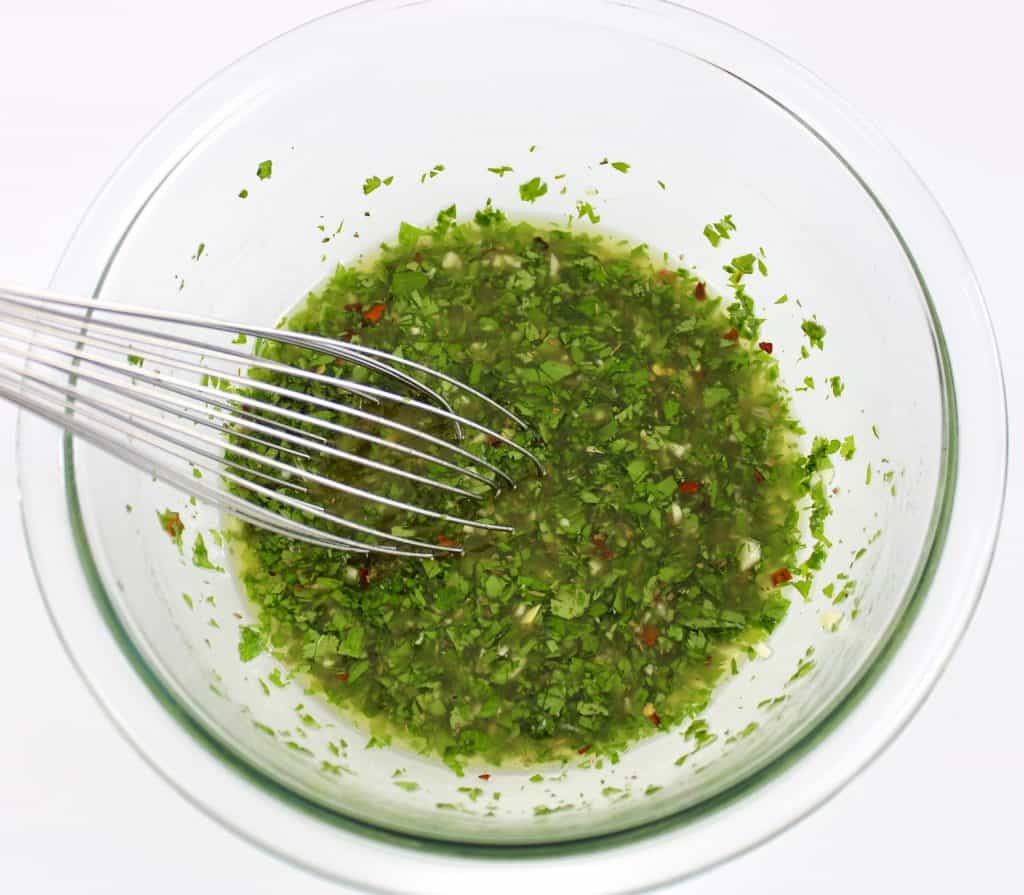 Whisk until well combined. Allow to sit at room temperature until your steak is cooked and has rested for 10 minutes.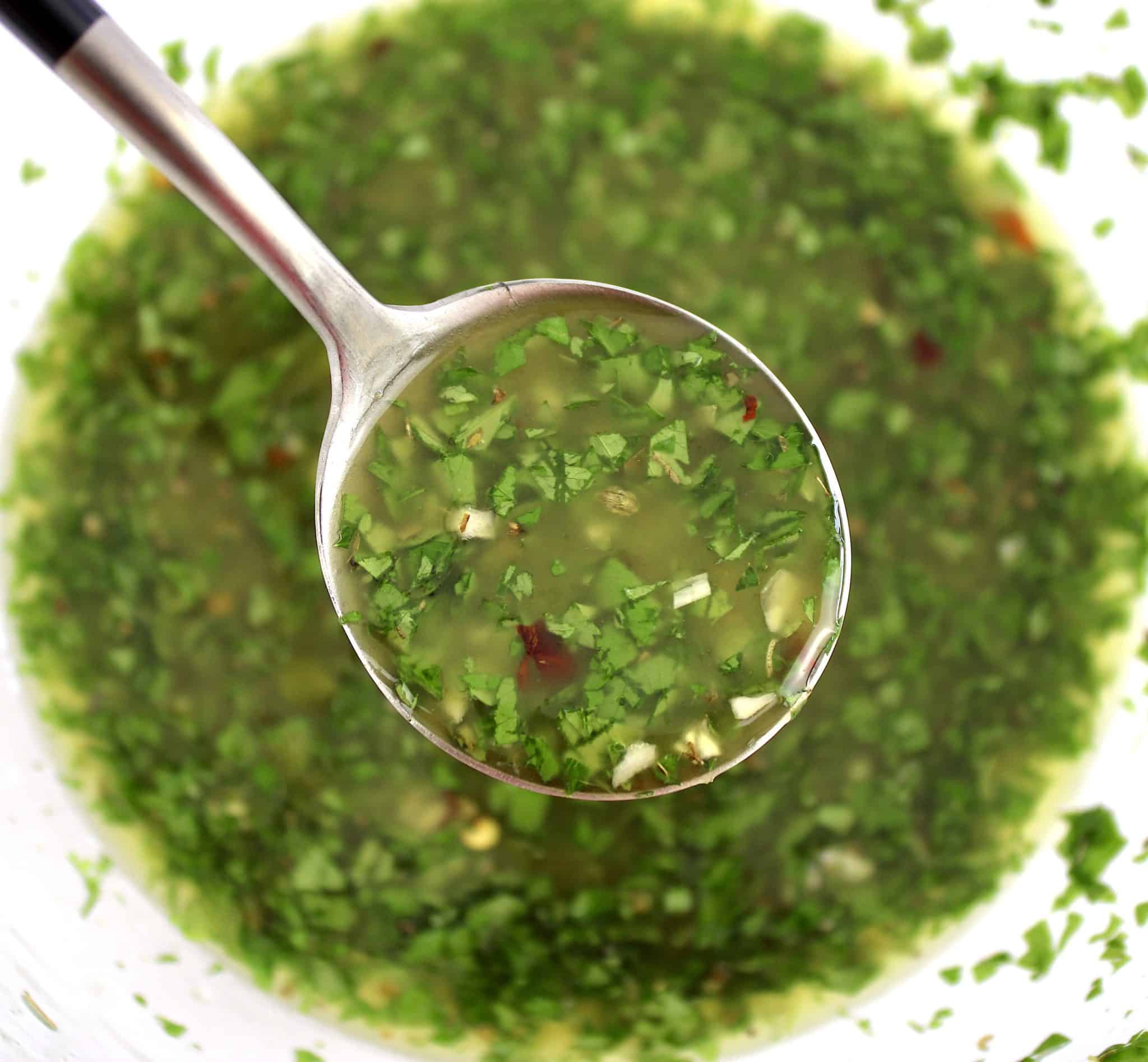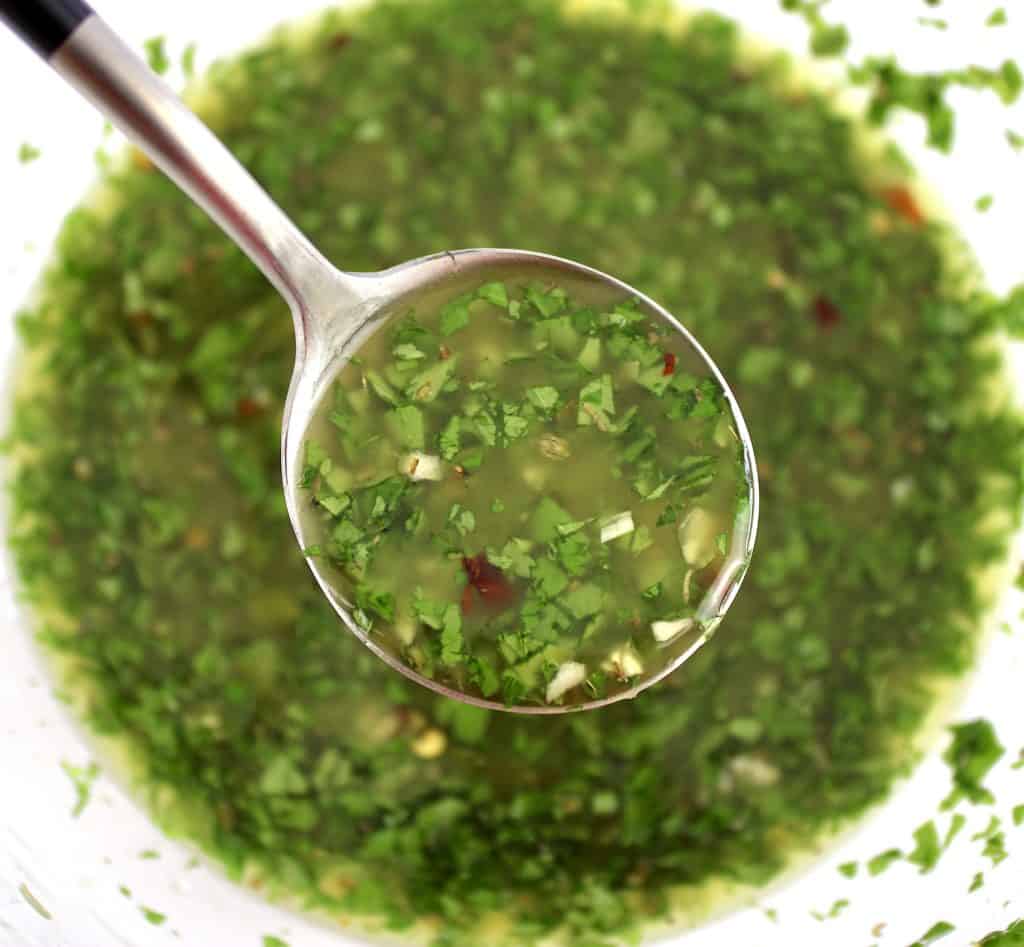 Slice up your steak, going against the grain. Pour a little (or a lot) of the chimichurri sauce over the top, then serve.
Steak Cooking Temperatures/Degrees of Doneness
Rare (cool red center): 120-130°F
Medium Rare (warm red center): 130-135°F
Medium (warm pink center): 135-145°F
Medium Well (slightly pink center): 145-155°F
Well Done (no pink): 155-165°F
I always recommend using a meat thermometer to be sure your steak reaches the perfect temperature.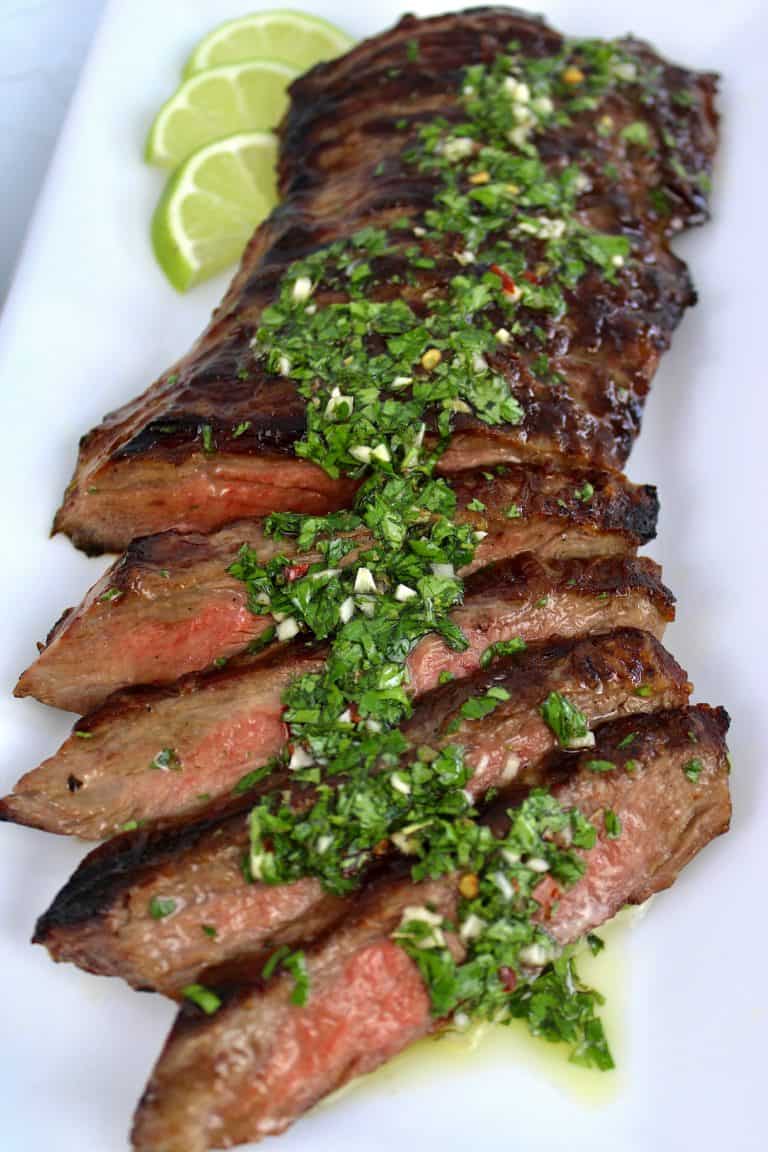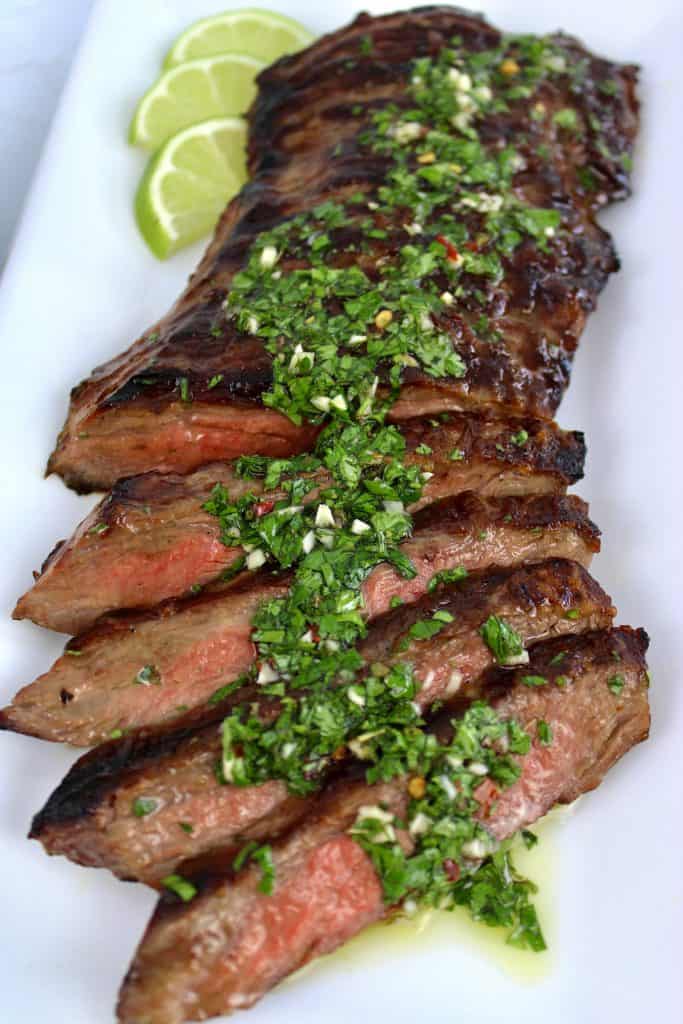 What is the Best Steak for Steak Chimichurri?
This question is commonly asked and it's so easy to answer. What ever kind of steak you like best. Having said that, skirt and flank steak is often used in traditional Cuban and Argentinean recipes because both cuts are so flavorful, cook fast and hot and can be done in minutes. As an alternative, you can use NY strip or sirloin and they will work well also.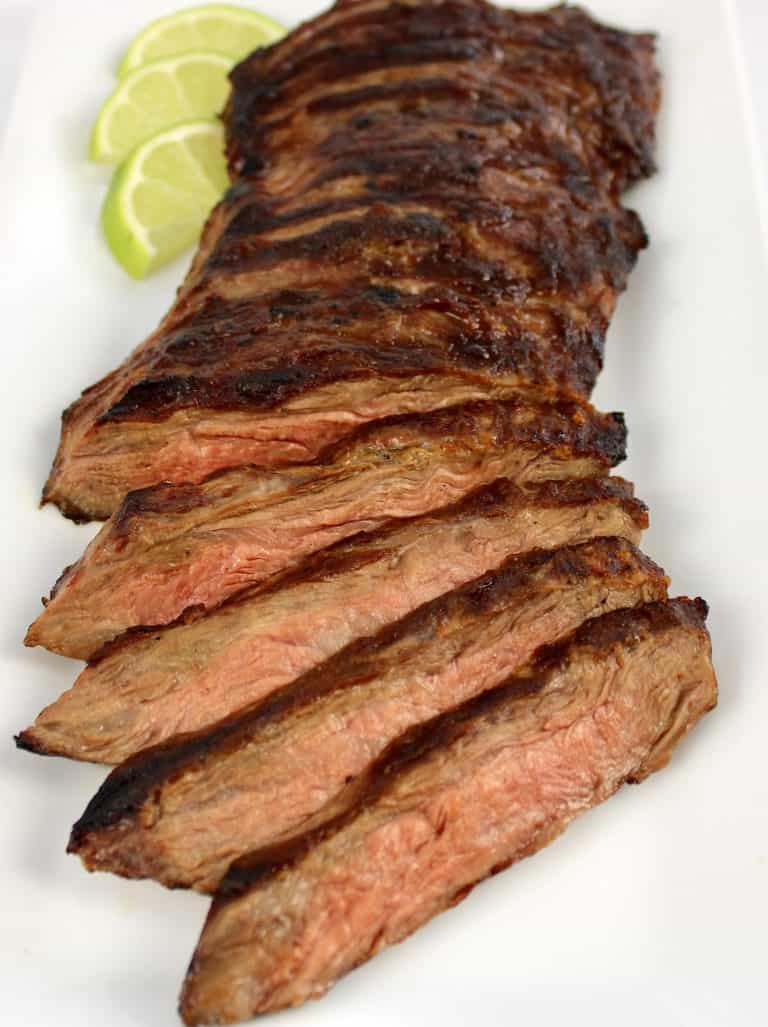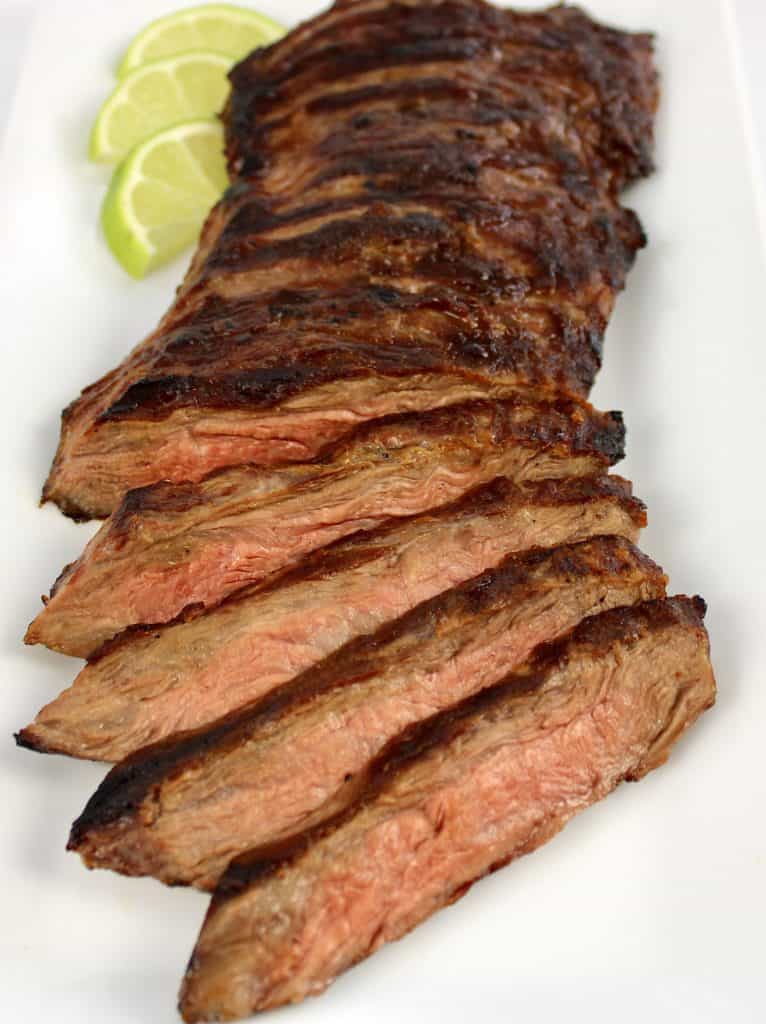 If you have leftovers, store the steak and the chimichurri sauce in the fridge separately. The steak will stay fresh for a couple of days and the sauce, when stored in an airtight jar for about a week.
Is Cilantro Chimichurri Sauce Spicy?
It can be depending on how much pepper you add. The heat in chimichurri sauce comes from the red pepper used. This recipe has mild heat but if you like things on the spicier side, just add more pepper!
Can I have Chimichurri Sauce on Keto?
You can certainly have THIS easy chimichurri sauce on Keto. It uses all fresh and low carb ingredients making it an excellent Keto condiment.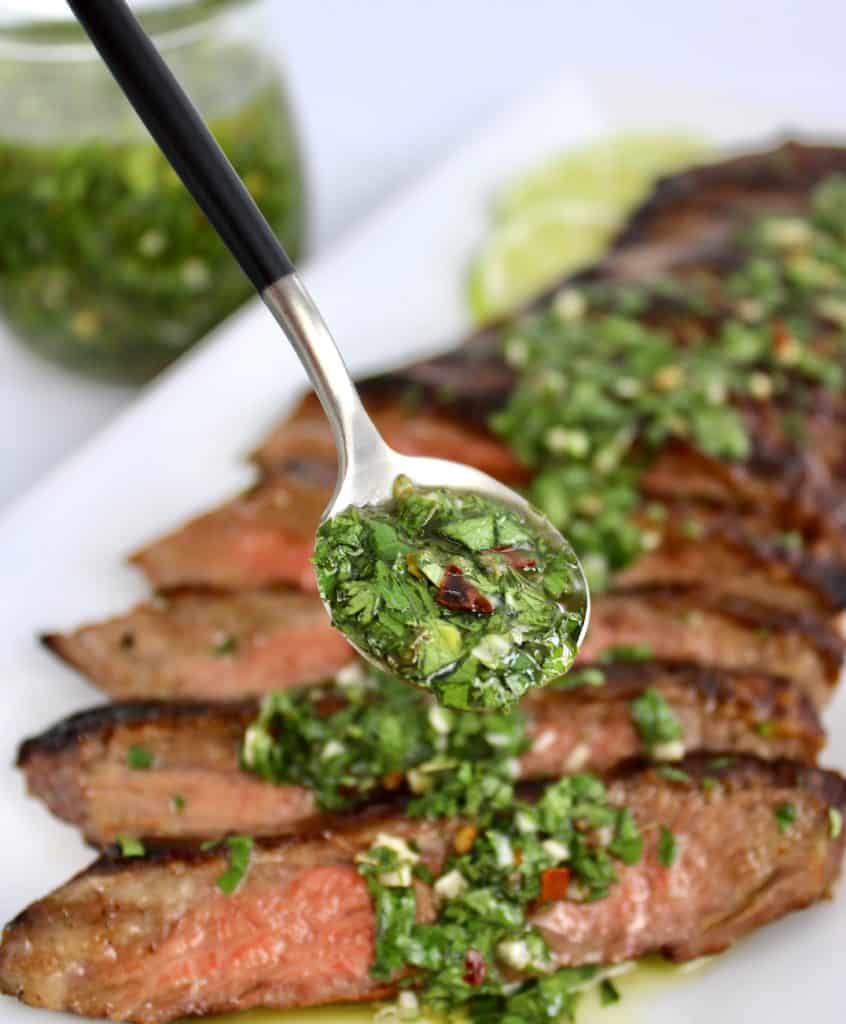 What Do You Put Chimichurri Sauce On?
When you make this homemade, easy Chimichurri Sauce, you will see why I fell in love with it. If you're looking for additional ways to add these flavors to other dishes, here are some ideas that may give you inspiration:
Drizzle a little over your next omelet or scrambled eggs. It can turn a regular breakfast into something really special!
Don't limit Chimichurri Sauce to steak. It's perfect over grilled chicken, shrimp or pork. The flavors are just amazing!
I love this sauce so much, I have even used it as a light salad dressing. You can add it to your favorite salad or use it with this Cobb Salad instead of the ranch for a nice change up.
Who says grilled veggies are boring? They certainly don't have to be. Serve grilled asparagus, zucchini or any of your favorite low carb veggies with a side of this Keto Chimichurri Sauce! Talk about a burst of flavor!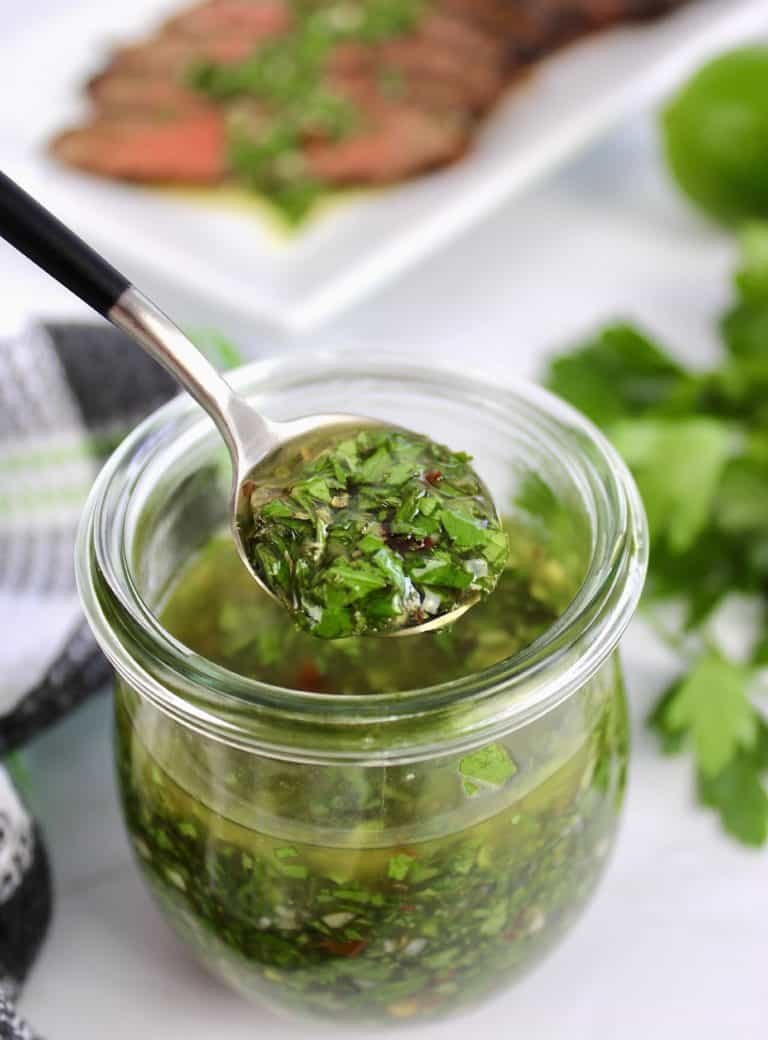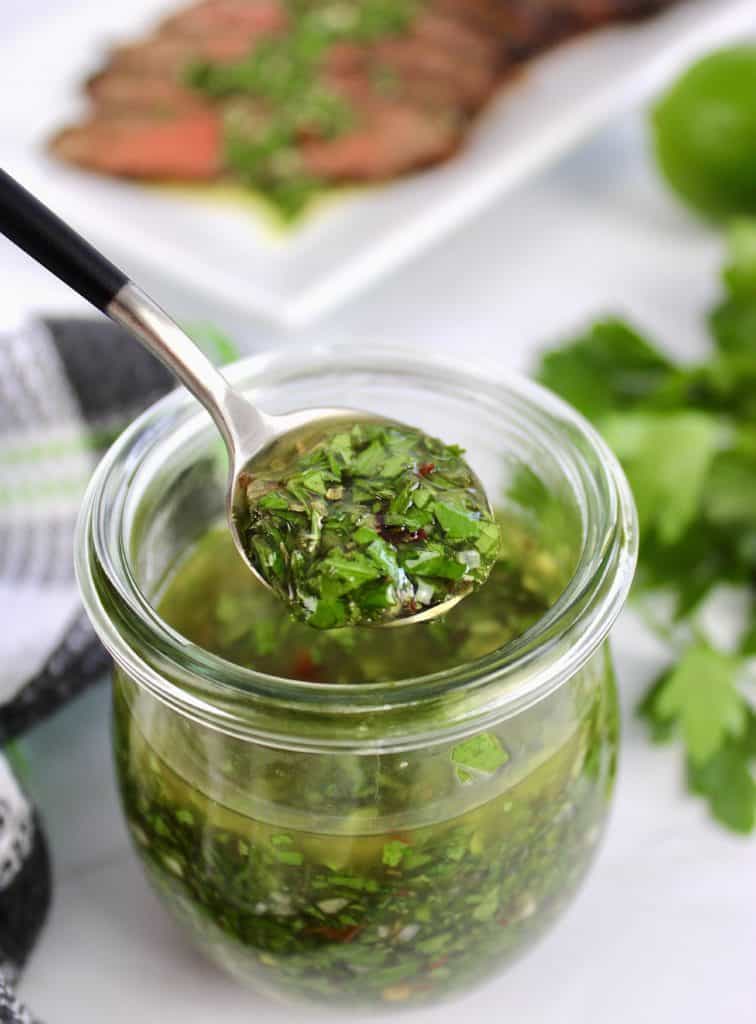 More Keto Sauces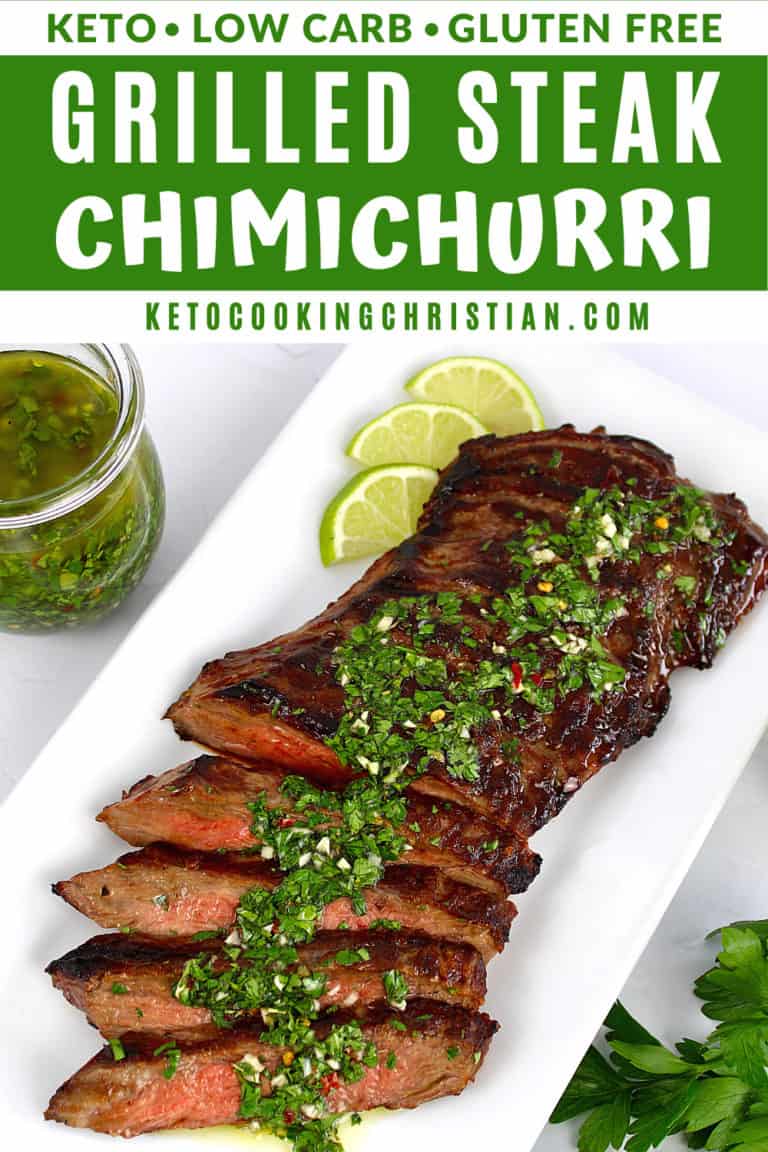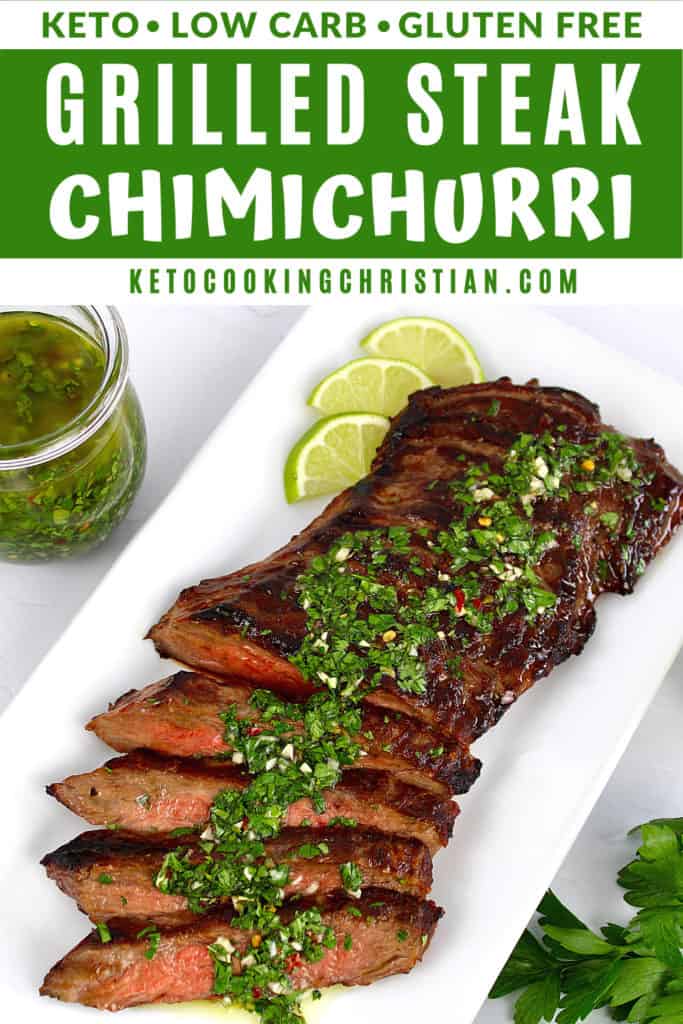 FOLLOW ME FOR KETO RECIPES POSTED DAILY
SHOP MY FAVORITE PRODUCTS ON AMAZON!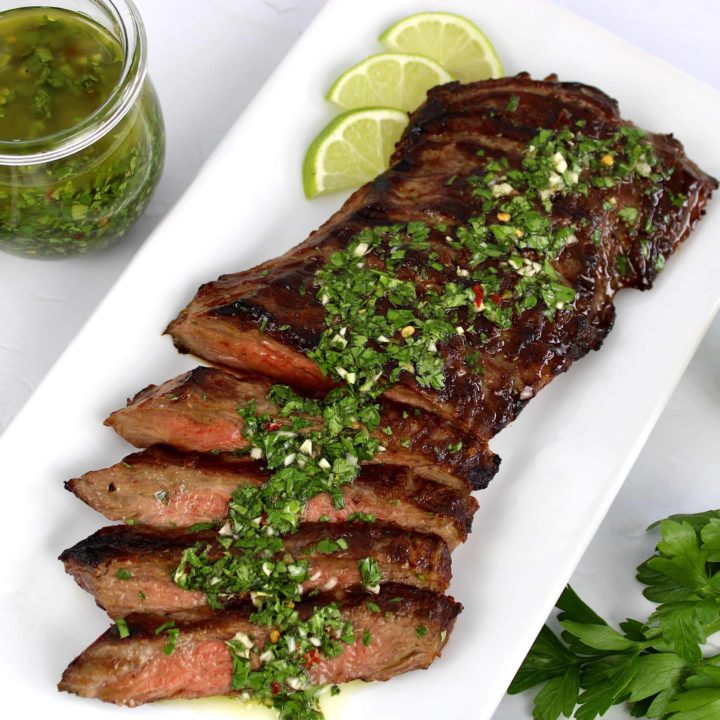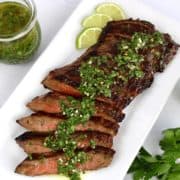 Grilled Skirt Steak Chimichurri (Churrasco)
Chimichurri made with fresh garlic and herbs, drizzled over tender, juicy and mouth watering steak!
Print
Pin
Rate
Calories: 465
Servings: 6
INGREDIENTS
1 ½ pounds skirt steak
¾ cup olive oil, extra virgin, use the good stuff!
⅔ cup fresh parsley, finely chopped
⅓ cup fresh cilantro, finely chopped
1 teaspoon dried oregano
4 cloves garlic minced
2 tablespoons red wine vinegar
2 tablespoons lime juice
½ teaspoon red pepper flakes
½ teaspoon salt
RECIPE NOTES
Serving size 4 ounces steak with ⅙th of the chimichurri sauce
SHARE ON FACEBOOK
© Copyright for Keto Cooking Christian LLC. Please use the buttons above to share on social media, but please do not copy/paste the recipe.
Keto Cooking Christian eBook Collection
Nutrition Facts
Grilled Skirt Steak Chimichurri (Churrasco)
Amount Per Serving
Calories 465 Calories from Fat 369
% Daily Value*
Fat 41g63%
Saturated Fat 10g63%
Carbohydrates 1g0%
Protein 23g46%
* Percent Daily Values are based on a 2000 calorie diet.
*Nutritional data is provided as a courtesy and is accurate to the best of my knowledge. You can verify it using the nutrition calculator of your choice. All data is based on net carbs, without sugar alcohol- Swerve, Erythritol, Allulose, or Monk Fruit.