Crispy Keto fried chicken tenders served with your favorite low carb dipping sauce makes the perfect appetizer. These tenders are sure to be family approved!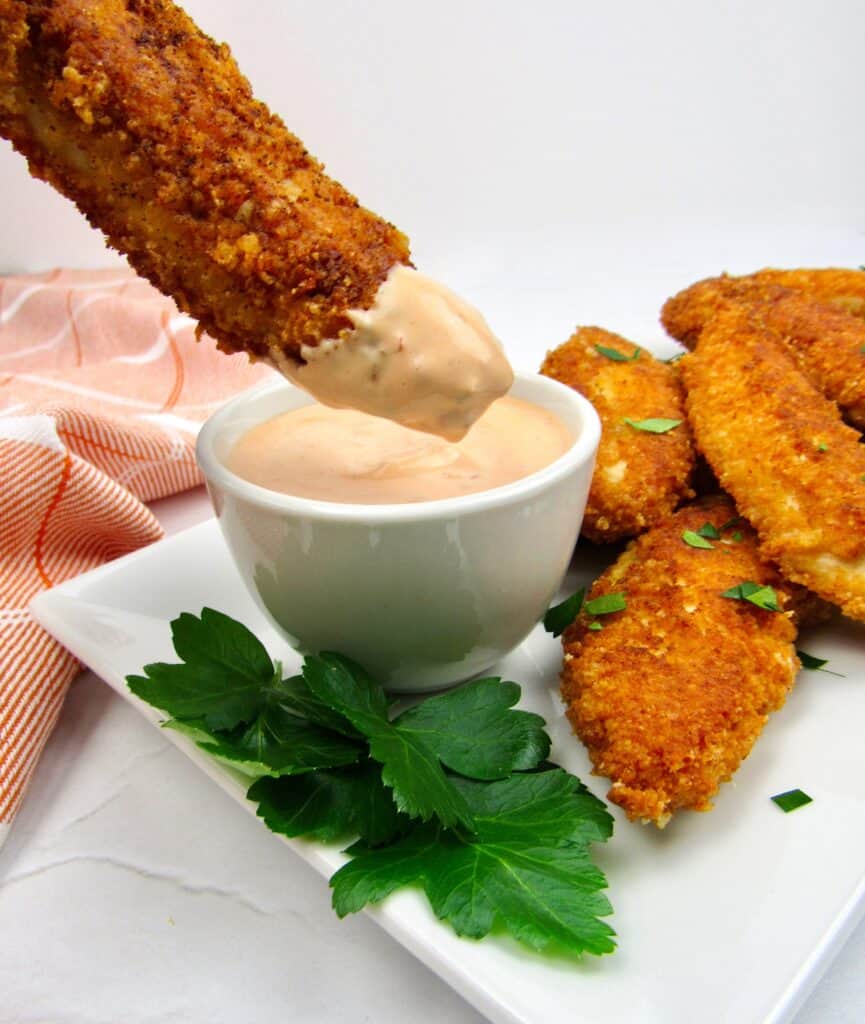 This post may contain Amazon or other affiliate links. As an Amazon Associate I earn from qualifying purchases, through links in this post. See my Disclosure.
These gluten free chicken tenders are so easy to make and the "breading" has an ingredient that you might not expect... pork rinds! But trust me, you'll never know it.

Let's face it, everyone loves crispy chicken tenders and I don't know about you, but when I first began Keto, I thought I'd have to miss out! That's not the case with this Keto chicken tender recipe.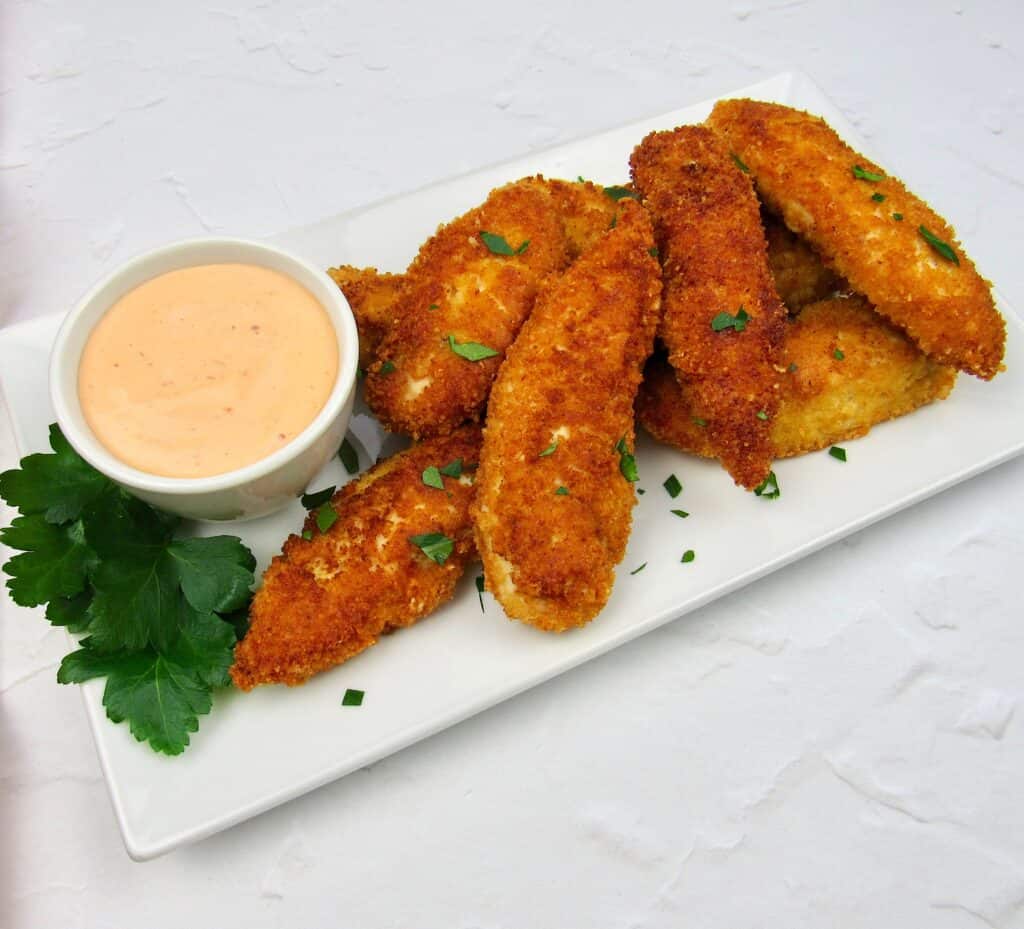 If you've been on Keto or a low carb diet a while or are just starting out, you're probably always searching for a healthier version of your favorite recipes. That's where the coating for these Keto chicken tenders comes in.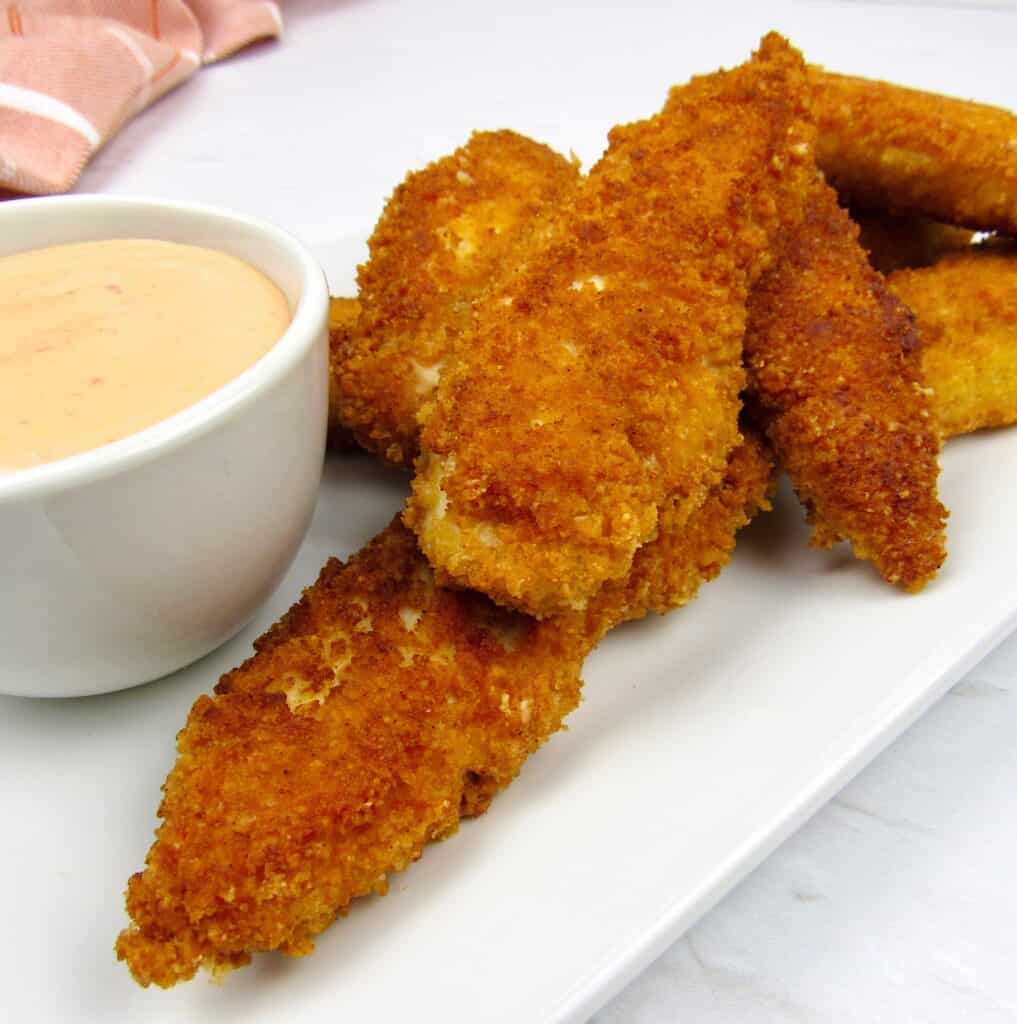 Comprised of almond flour, crushed pork rinds and just a few other simple ingredients, you don't have to search any further for the best crispy chicken tender recipe out there.
And the awesome thing about this low carb fried chicken recipe is, it doesn't matter if you're the only one that's Keto in the house because this recipe will please the whole family.

What's in Keto Chicken Tenders
Chicken tenders
Parmesan cheese
Eggs
Pinch of salt
*Exact measurements are listed in the recipe card below.
How to Make Keto Chicken Tenders
Mix the pork rinds, parmesan cheese, smoked paprika, salt and the almond flour in a food processor and grind to a fine powder.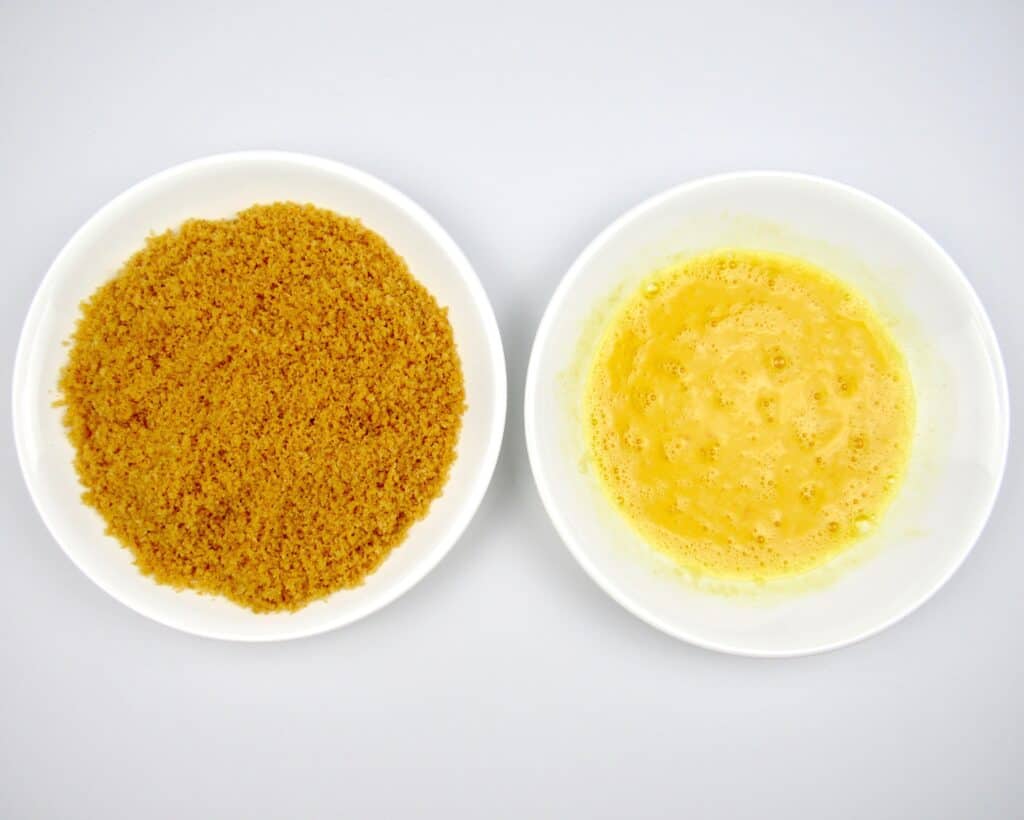 Set up a breading station with your chicken, beaten eggs and breading mixture.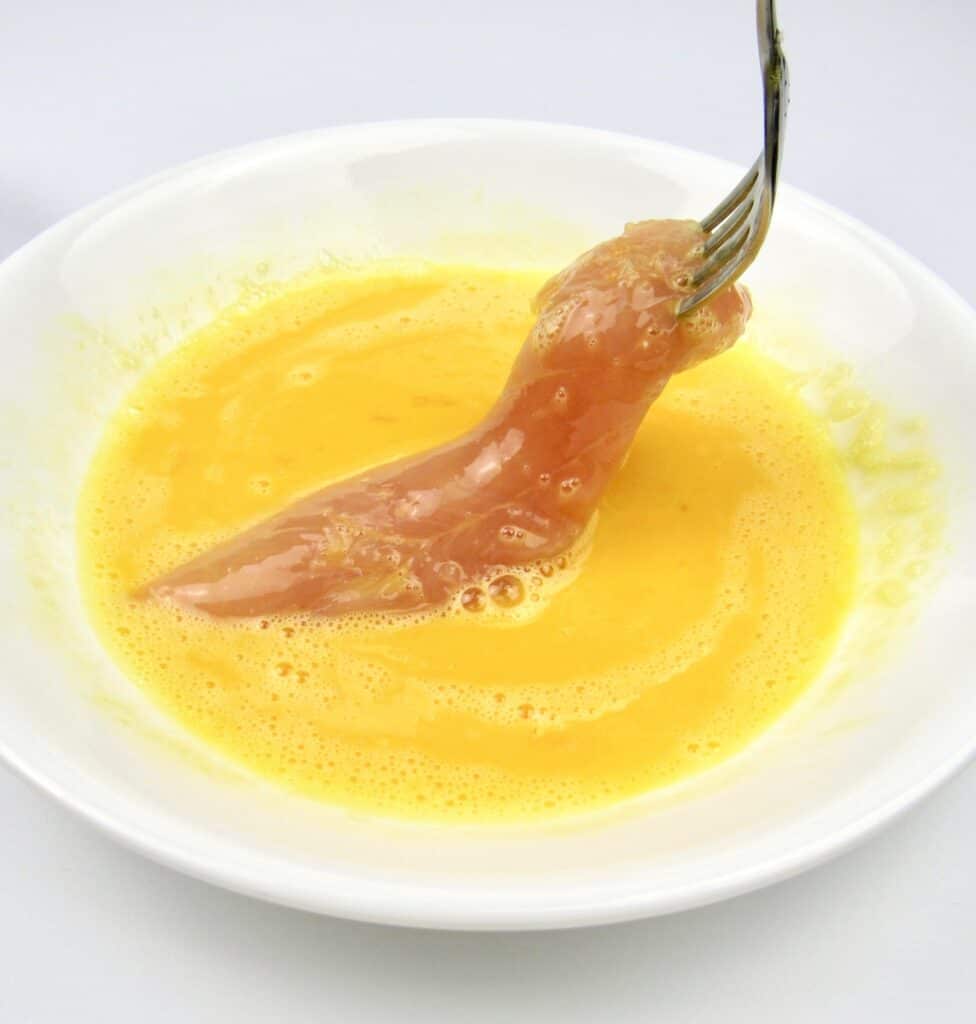 Dredge each chicken tender in the beaten eggs and shake off any excess.
Then place them into the breading. You don't want to press the tenders into the breading, just lightly coat each one.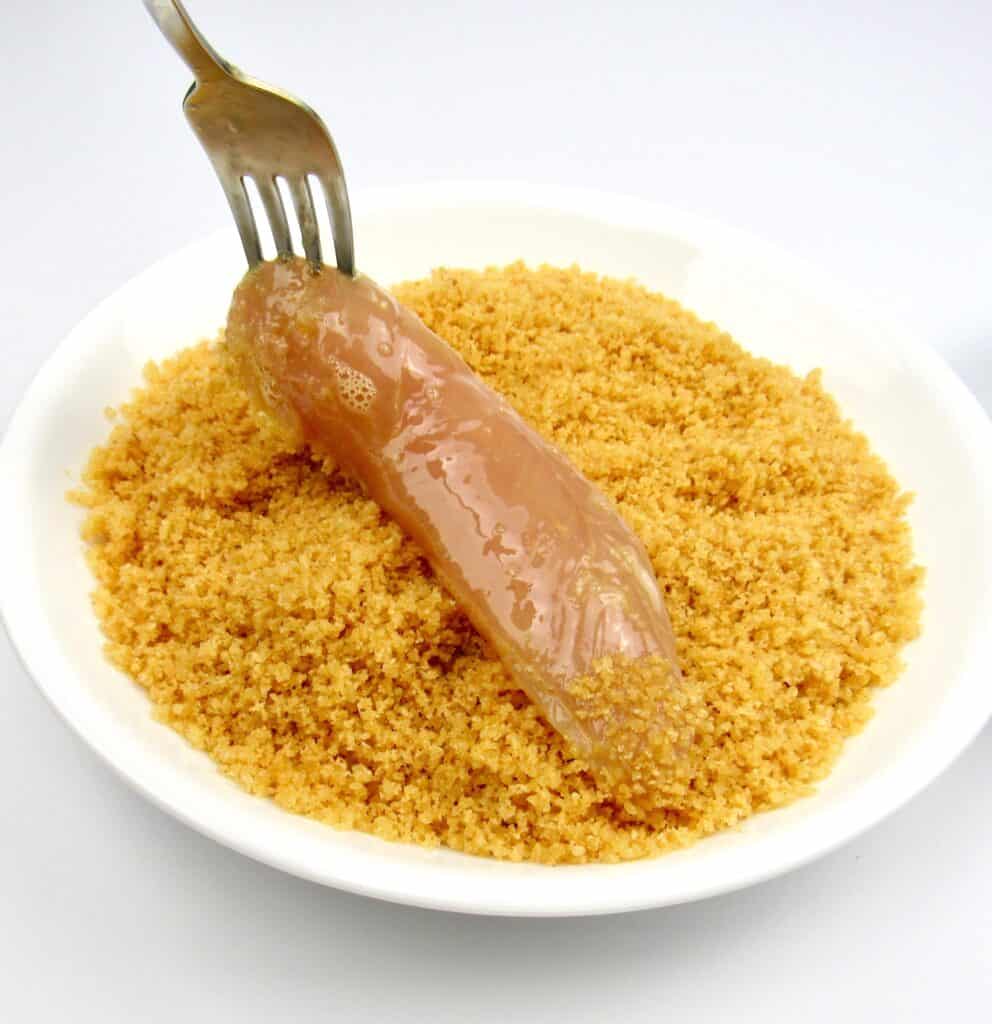 In a large skillet, sauté the tenders in light olive oil for about 4-6 minutes on each side or until they reach an internal temperature of at least 165F.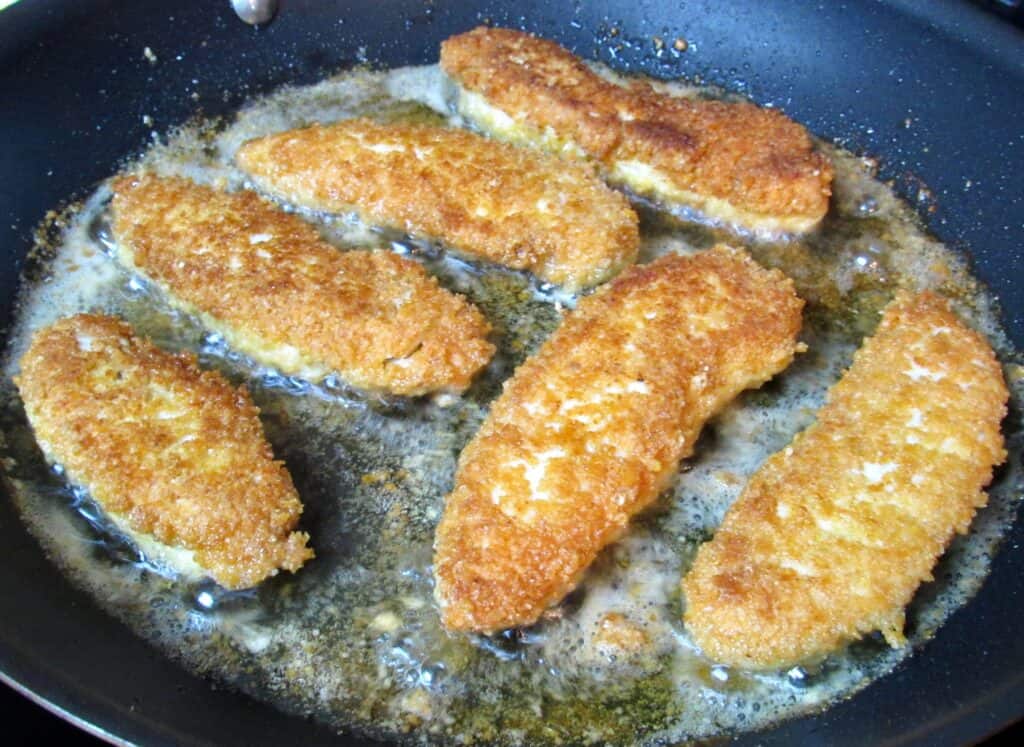 Allow to drain on paper towels, while you continue frying the remaining tenders.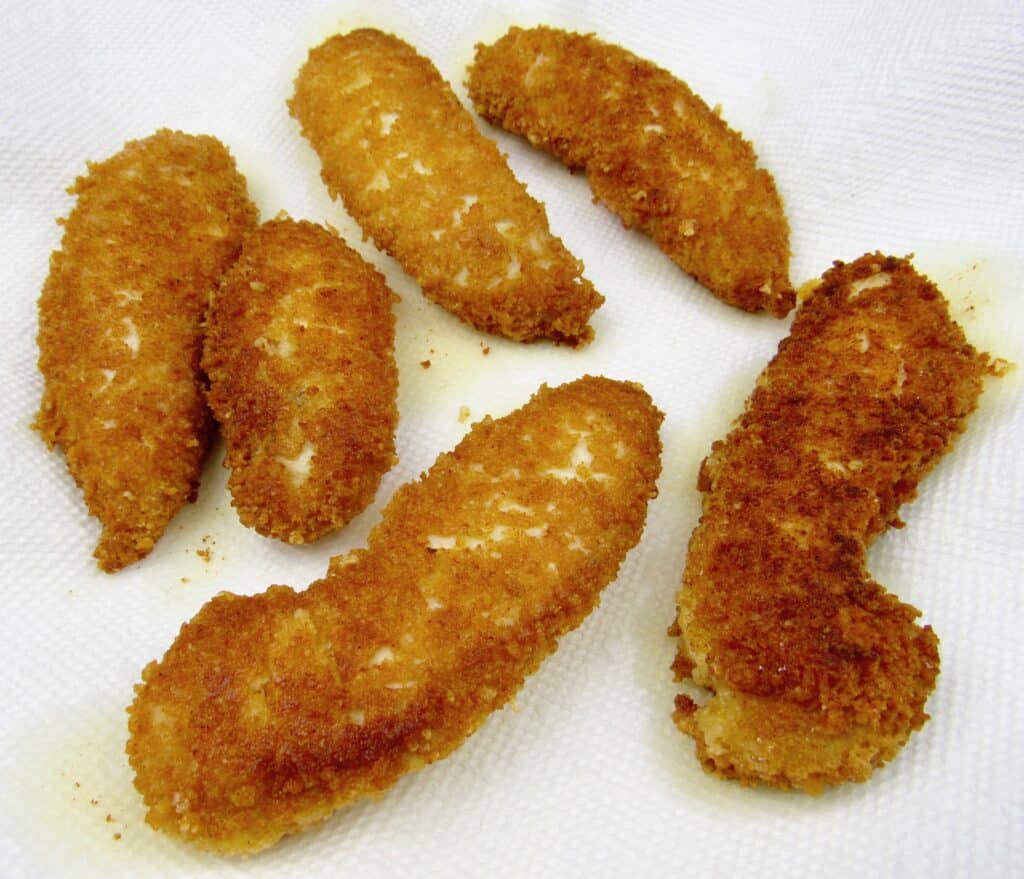 Serve with any one of these delicious Keto friendly dipping sauces: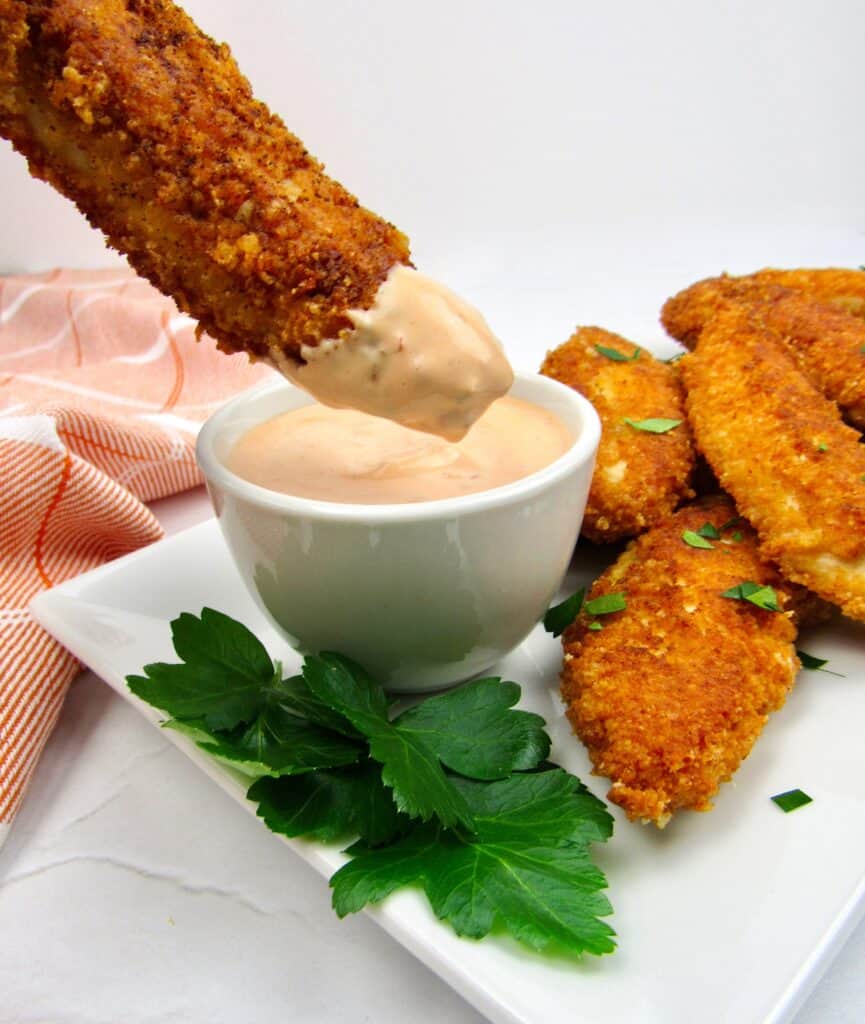 Are There Carbs in Chicken Tenders?
For these homemade Keto fried chicken tenders there are only 2 net carbs per 5 ounce serving. Since chicken tenderloins themselves do not contain carbohydrates, the minimal carbs in this recipe comes from the little bit of almond flour in the coating.
Are Fried Chicken Tenders Keto?
These gluten free chicken tenders certainly are! When eating chicken tenders out at a restaurant you should probably opt for grilled tenders opposed to breaded and fried. Most all restaurants use non-Keto friendly ingredients in their breading like sugar, cornstarch and even flour.
It's also well known that many places fry their chicken in canola oil or peanut oil. Those oils have been linked to inflammation, so grilled chicken tenders are your best bet when eating out. But even then, be sure and ask if they have been marinated in anything with sugar before ordering.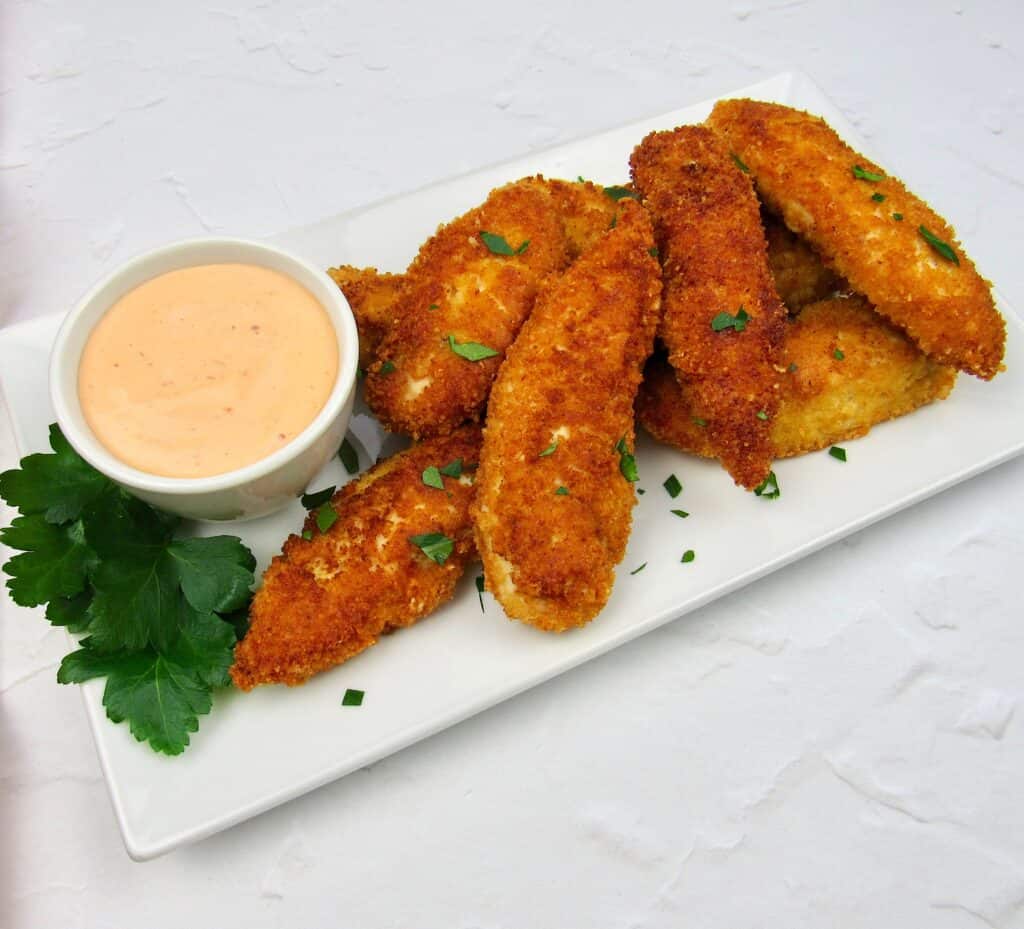 Substitutions for This Gluten Free Chicken Tender Recipe
You can use chicken breasts, cut into the strips, if you don't have tenders available. Tenderloins are the most tender and juiciest part of the breast, so they are the better choice if possible.
If you want to skip frying, these tenderloins can be baked in a 375F oven for about 13 minutes, flip and continue cooking until the internal temperature reaches 165F. Make sure to spray your sheet pan with an olive oil spray to keep them from sticking. Just as a note, oven baked tenders will lose some of the crispiness that frying provides.
If you like a little spice to your coating, you can add a teaspoon of cayenne pepper to the mixture.
You can use pork panko if you don't have pork rinds. Pork panko is just finely pre-crushed pork rinds with added seasonings.
These Keto chicken tenders are not only great appetizers. Throw in a good green salad or low carb vegetable and they make a complete meal.
More Keto and Low Carb Appetizers: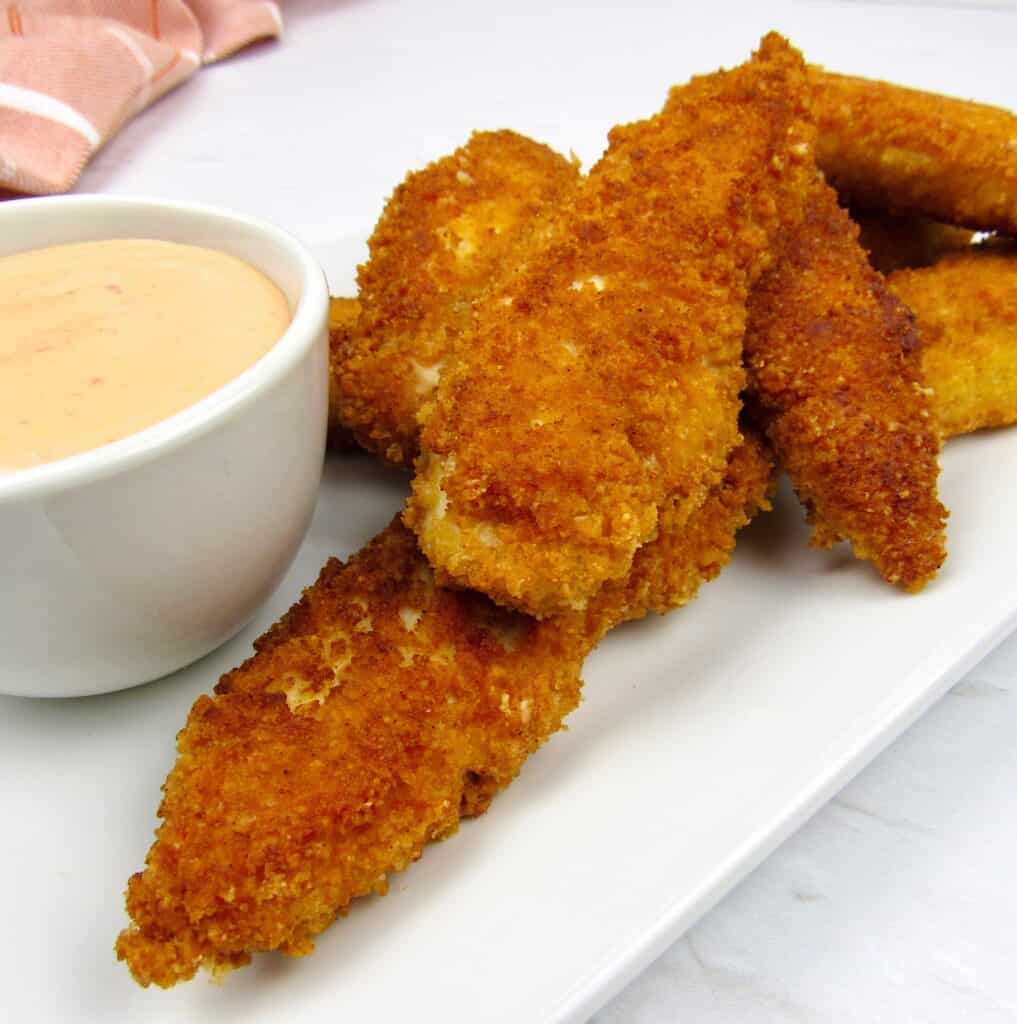 More Keto and Low Carb Chicken Recipes: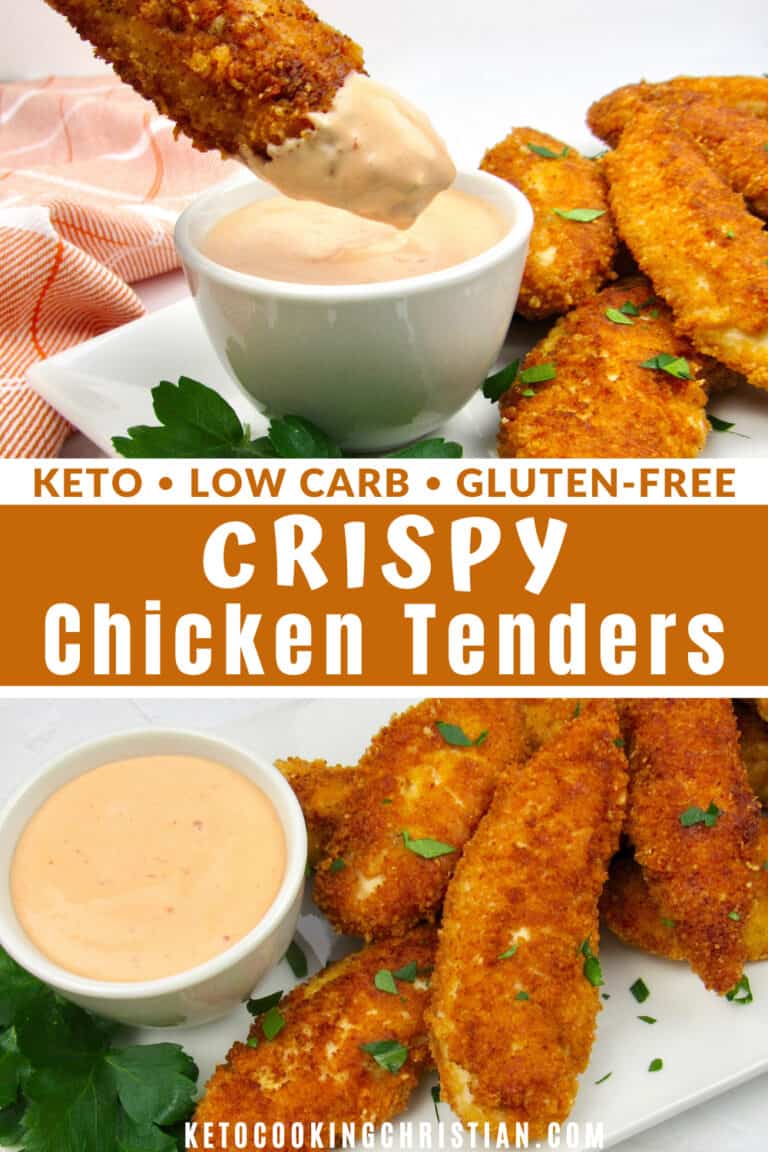 Shop my favorite products on Amazon and check out my Keto Pantry List!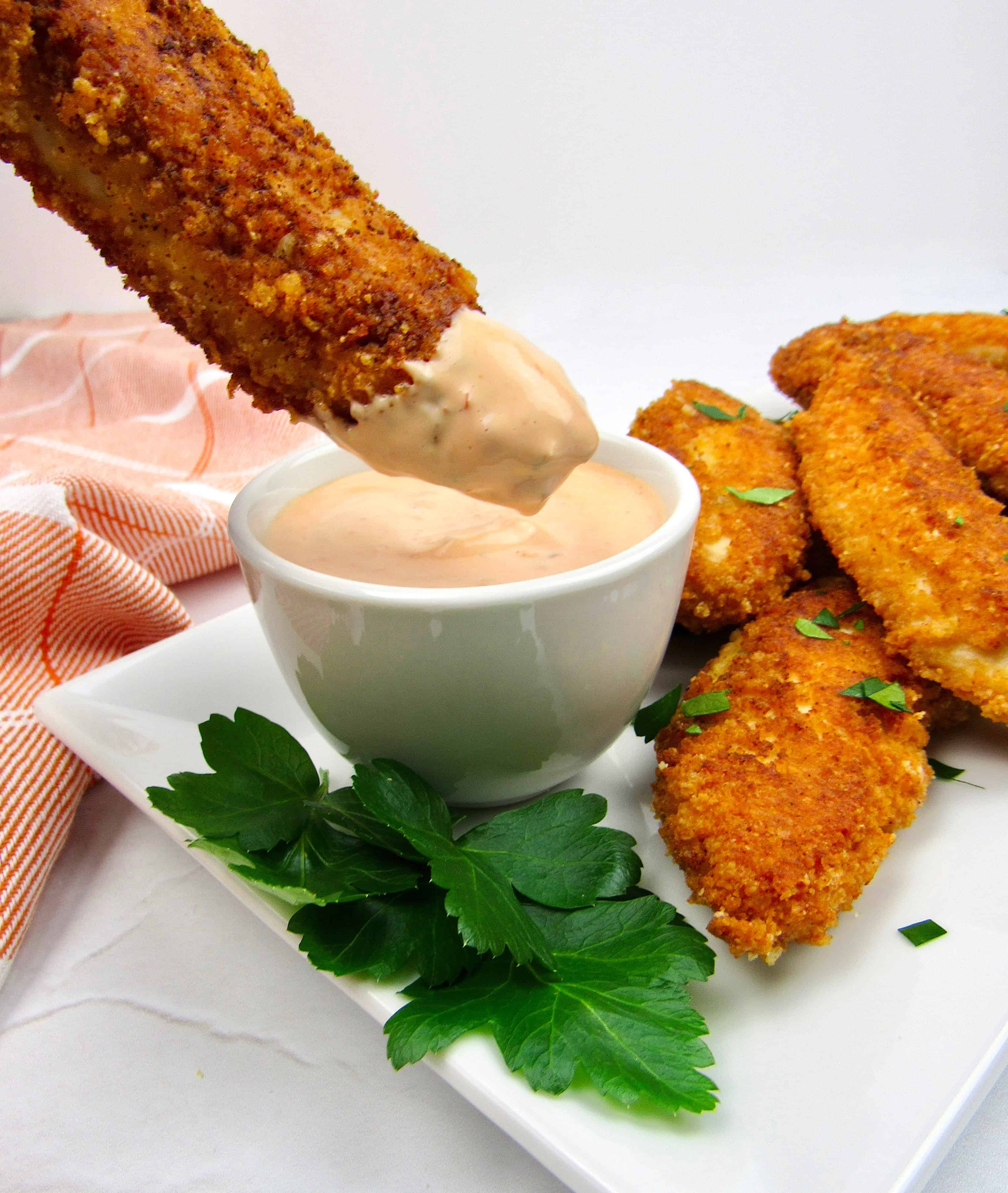 Keto Chicken Tenders - Gluten-Free
Crispy fried chicken tenders are a flavorful and juicy Keto appetizer. They're made with a gluten-free breading and served with the dipping sauce of your choice!
Print
Pin
INSTRUCTIONS
To make the breading, mix the pork rinds, parmesan cheese, smoked paprika, salt and the almond flour together in a food processor and grind it to a fine powder. Set up a breading station with your chicken, beaten eggs and breading mixture.

Dip the chicken tenders in the egg, then in the breading and sauté in light olive oil in a large skillet for about 4-6 minutes on each side or until they reach an internal temperature of at least 165F when using a meat thermometer.
Nutrition Facts
Keto Chicken Tenders - Gluten-Free
Amount Per Serving
Calories 288
Calories from Fat 99
% Daily Value*
Fat 11g17%
Carbohydrates 3g1%
Protein 39g78%
* Percent Daily Values are based on a 2000 calorie diet.
RATE THIS RECIPE
*Nutritional data is provided as a courtesy and is accurate to the best of my knowledge. You can verify it using the nutrition calculator of your choice. All data is based on net carbs, without sugar alcohol- Swerve, Erythritol, Allulose, or Monk Fruit.
SHARE ON FACEBOOK
© Copyright for Keto Cooking Christian LLC. Please use the button above to share on social media, but please do not copy/paste the recipe.