This homemade cool and creamy Keto Ranch Dressing is a tangy classic everyone loves. The flavors are perfect on salads or even used a dip!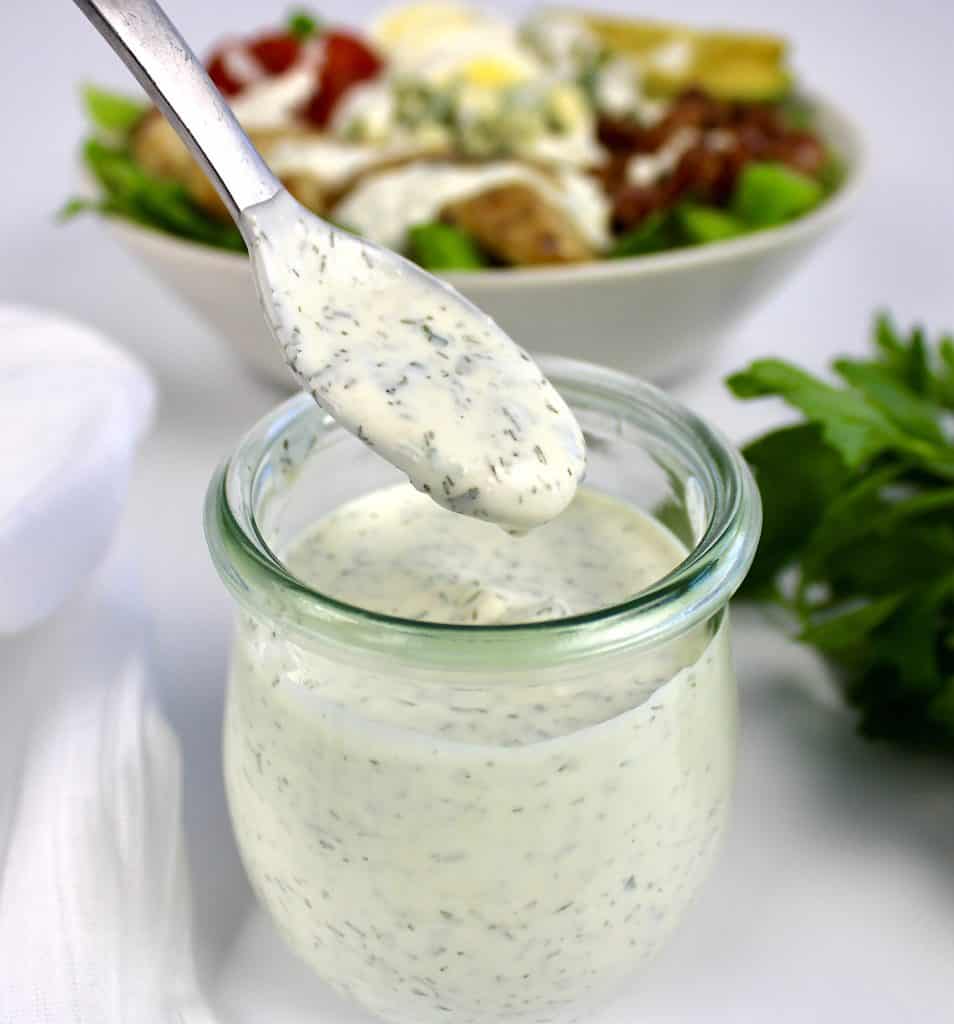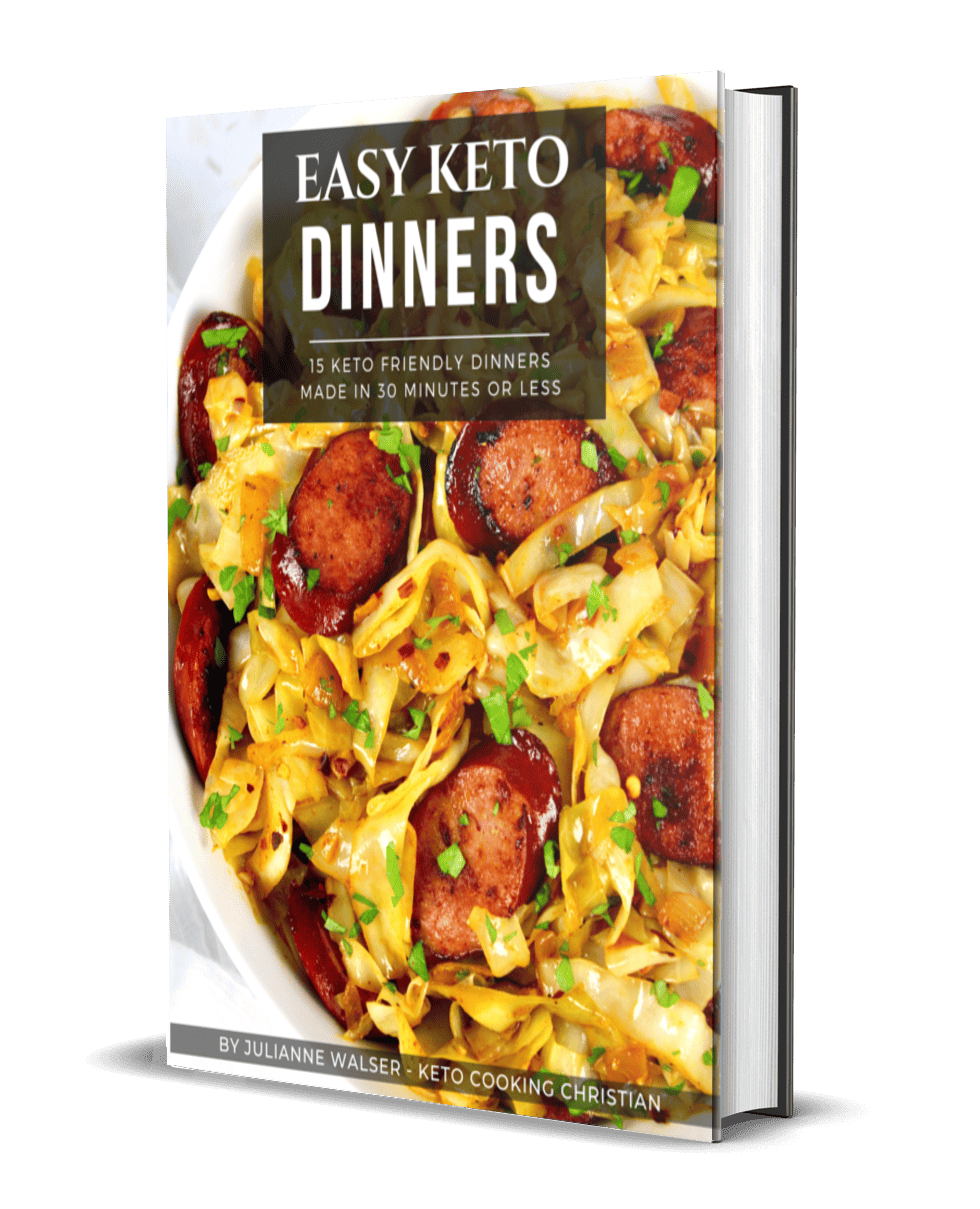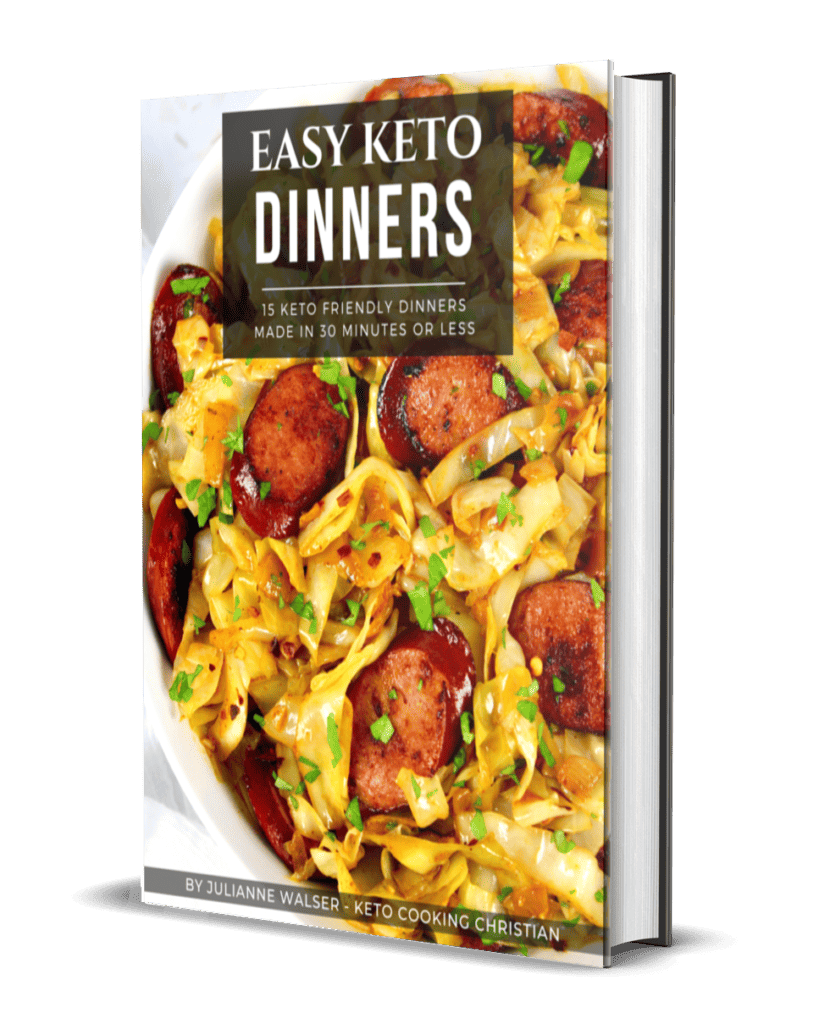 FREE EASY KETO DINNERS EBOOK
Jump to:
Ranch dressing has been a staple in homes for years. And it's really no wonder why. Because it's one of the most versatile dressings you can make, it's even been the secret for many moms for getting kids to eat their veggies! After all, who doesn't love raw veggies dipped in Ranch?!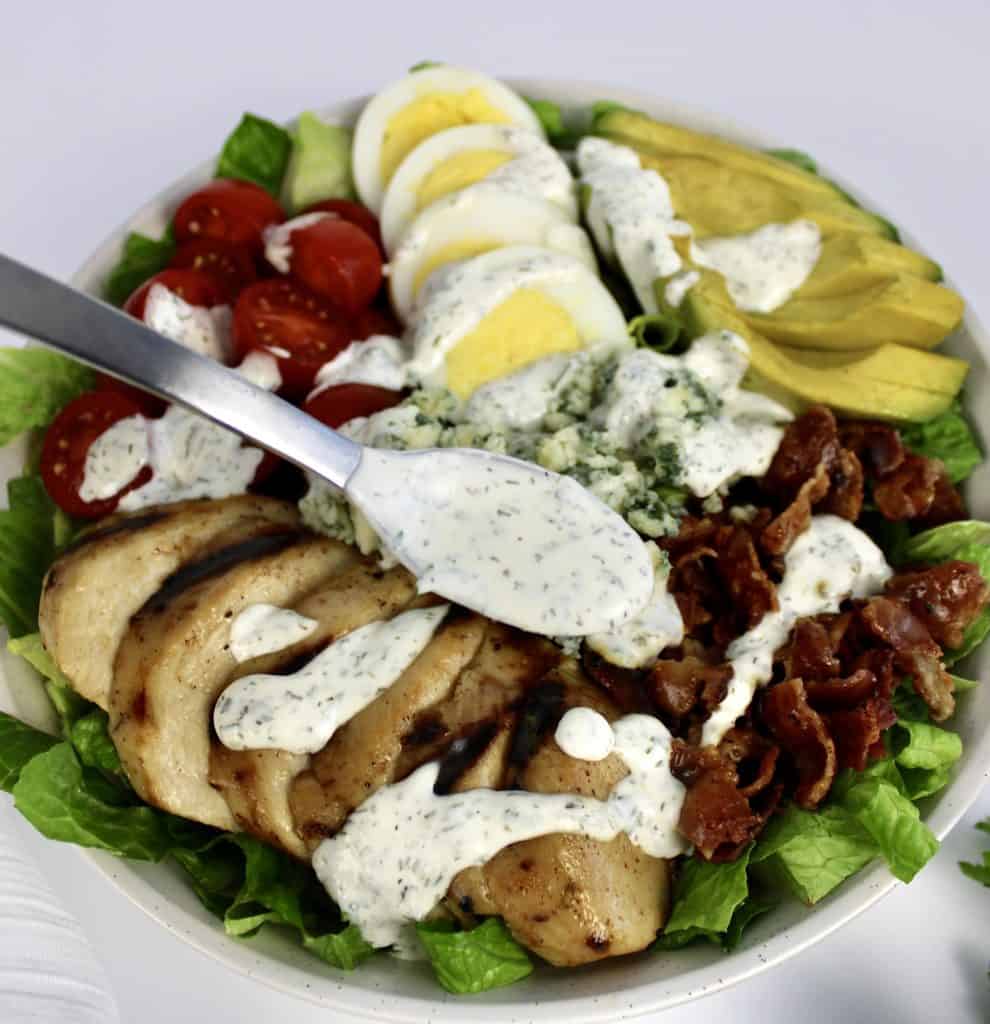 When following Keto or a low carb diet, it's especially important to keep a watch of hidden carbs like the ones you find in the store-bought bottles or even in the pre-packaged Ranch Seasonings. Canola oil and sugar are almost always listed ingredients and no one wants that!
No worries! With just a few simple and healthy ingredients you can whip up a batch of your entire family will love. You can now enjoy your favorite creamy dreamy Keto Ranch dressing or dip without the hidden carbs.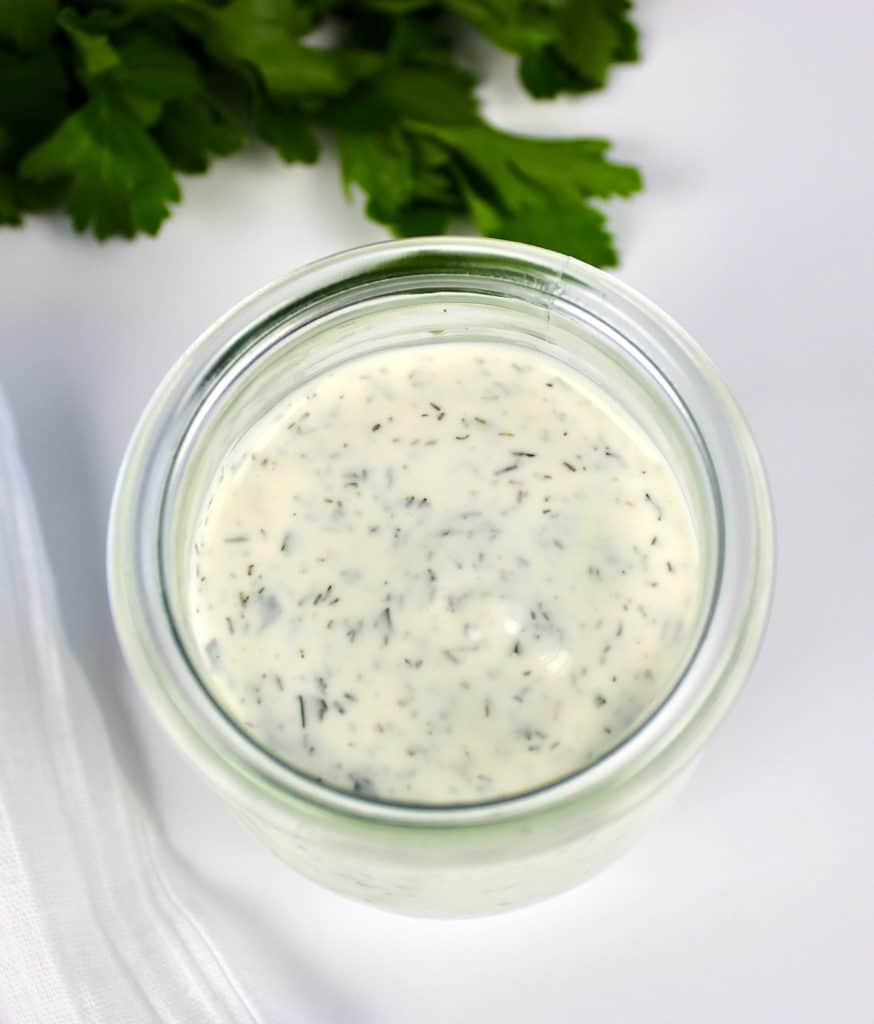 This Keto Ranch Dressing recipe doubles perfectly as a dip for Buffalo Wings, any low carb veggie, or for something really quick and easy keep a batch of these Keto Everything Crackers on hand. They make a great dipping vessel.
If you're like me, there are few things better than a fresh crispy green salad. With a simple garden side salad or with a salad entrée like the famous Classic Cobb Salad, Keto Ranch dressing wakes up the veggies with a burst of fresh flavor turning an ordinary salad into extraordinary!
What's in Homemade Keto Ranch Dressing
Sour cream
Heavy cream
Parsley
Lemon juice
Pepper
*Exact measurements are listed in the recipe card below.
How to Make Keto Ranch Dressing
Add all the ingredients to a mixing bowl and whisk until everything is well combined.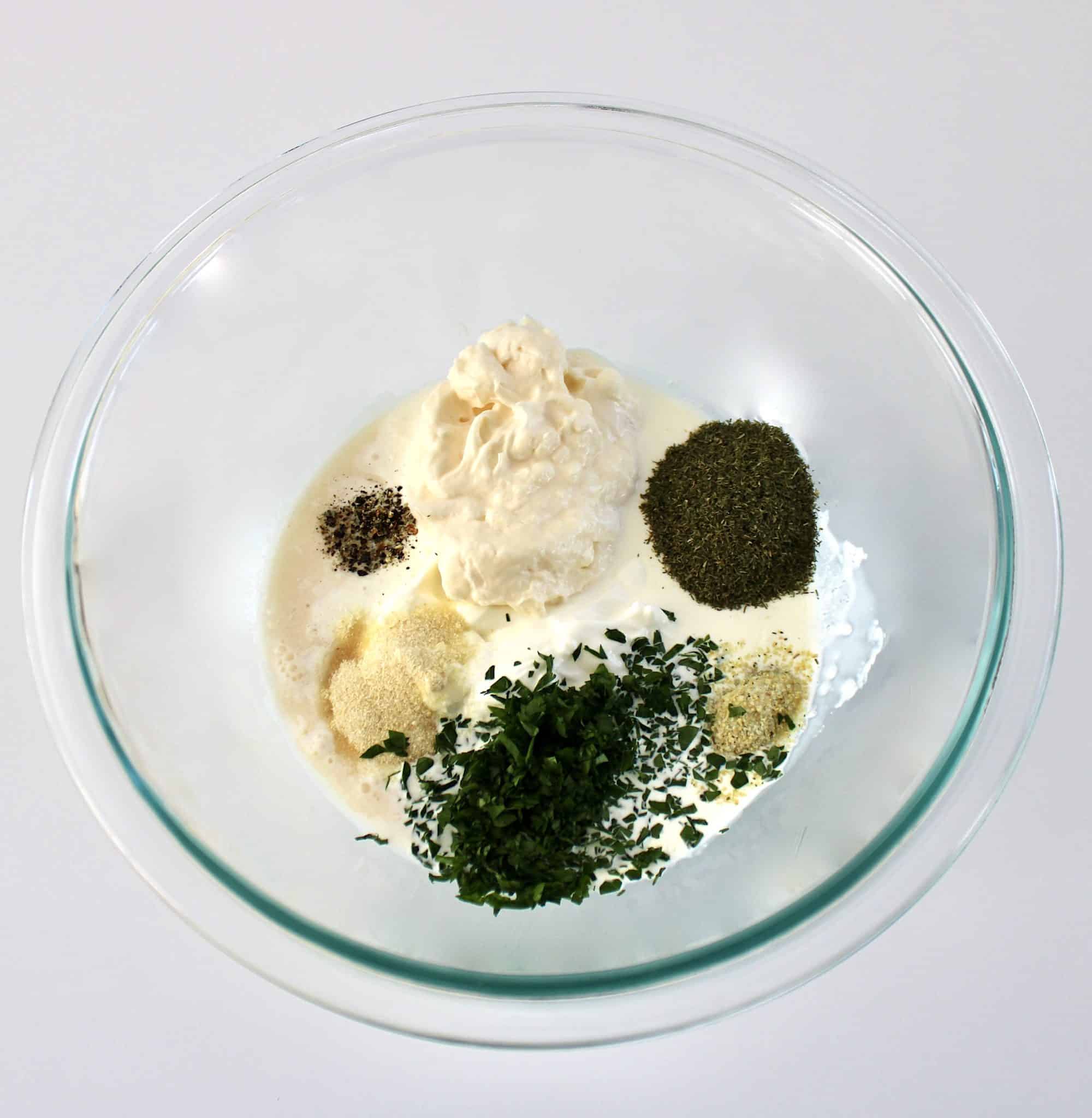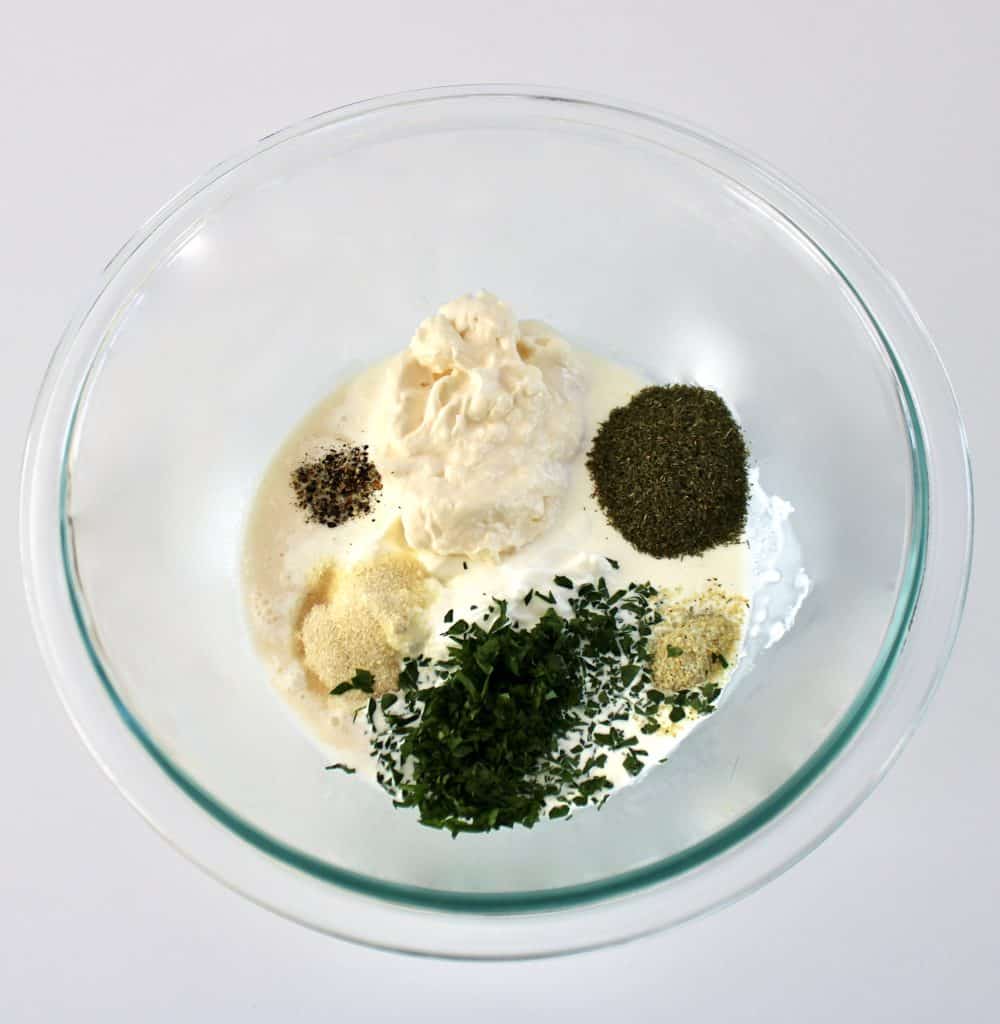 That's it. It could not get much easier than that!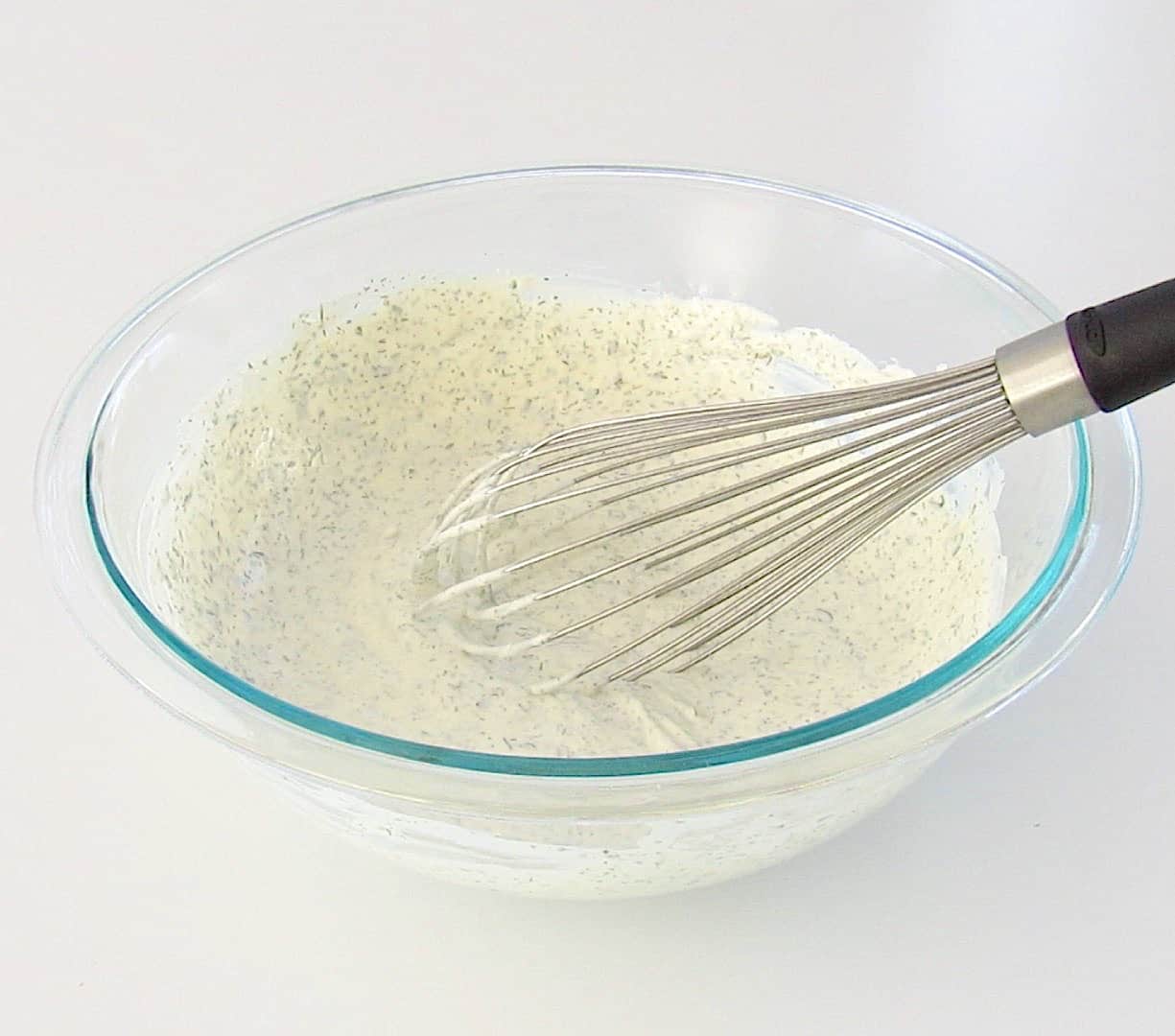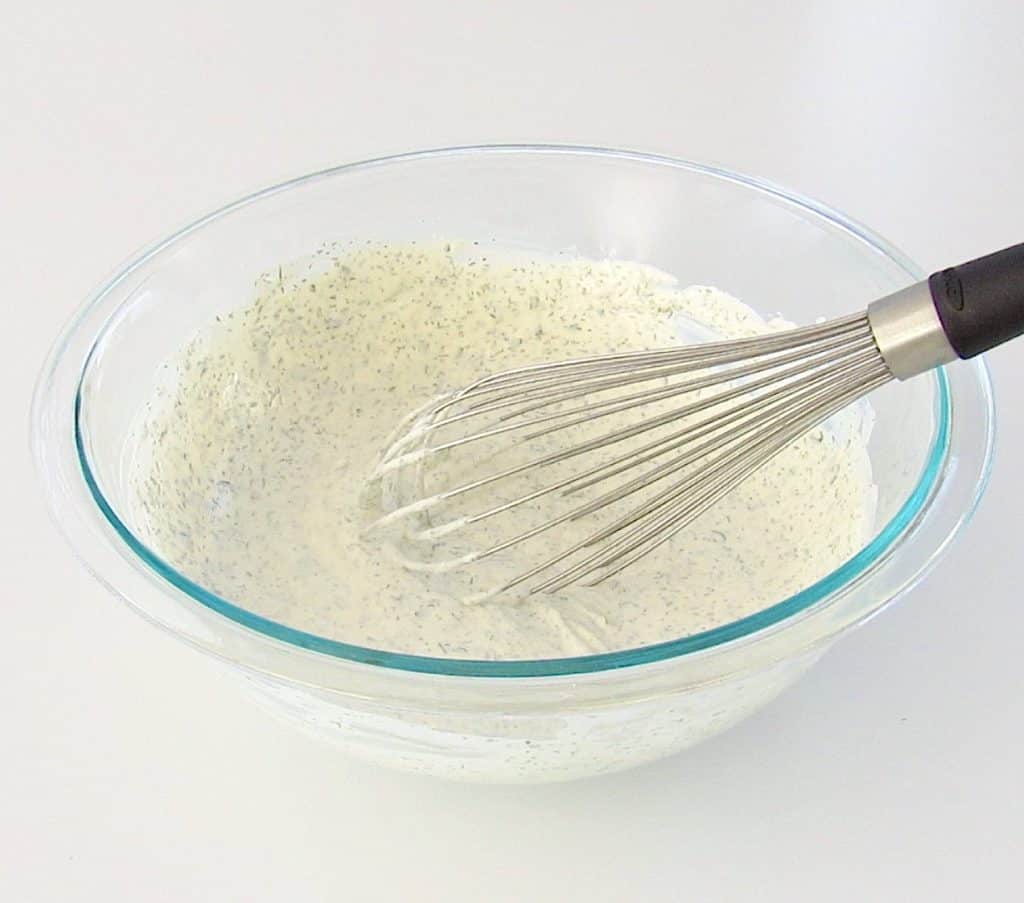 Note: If you'd like the dressing a little thinner, simply add a little more heavy cream to get the constancy you desire.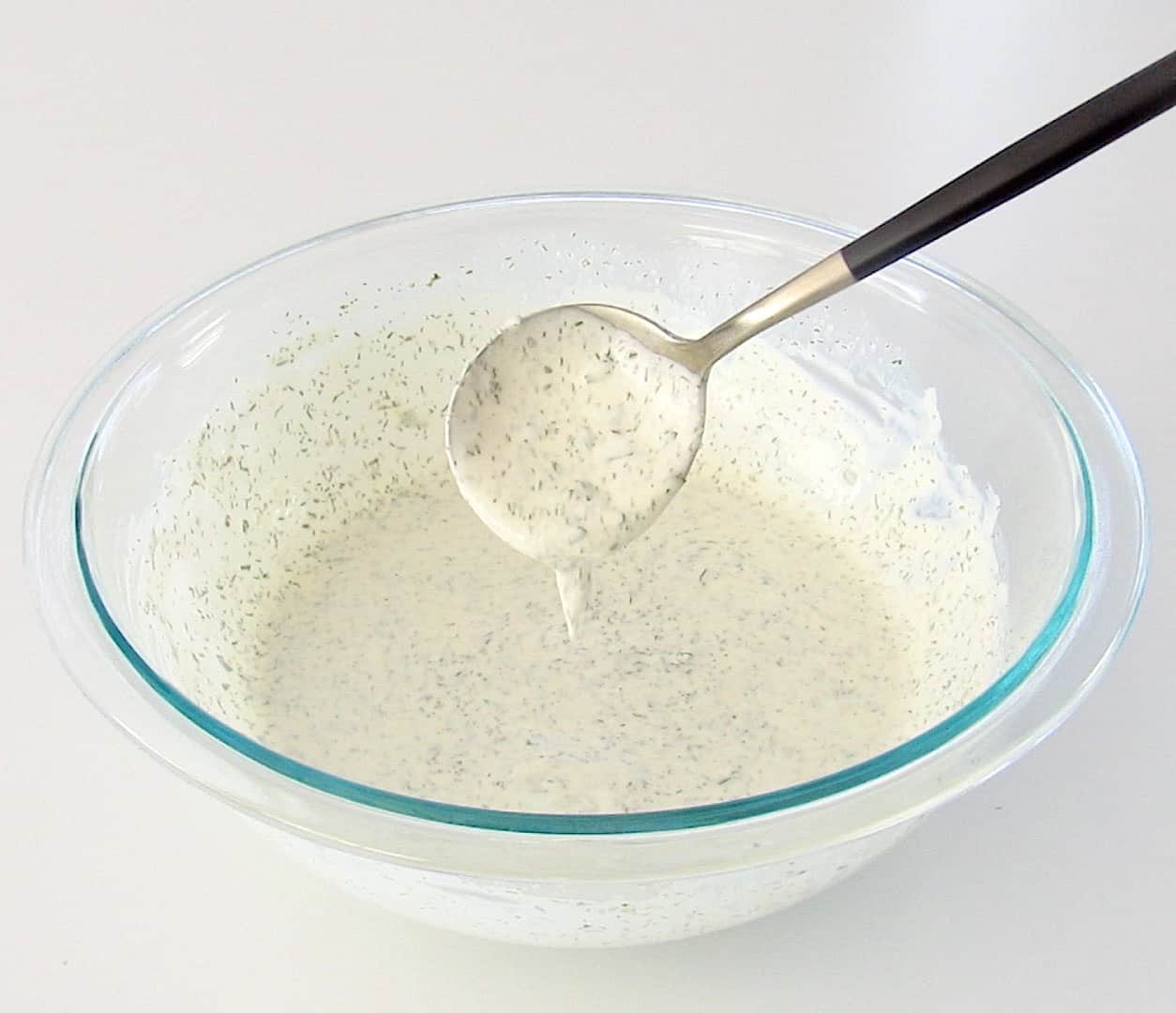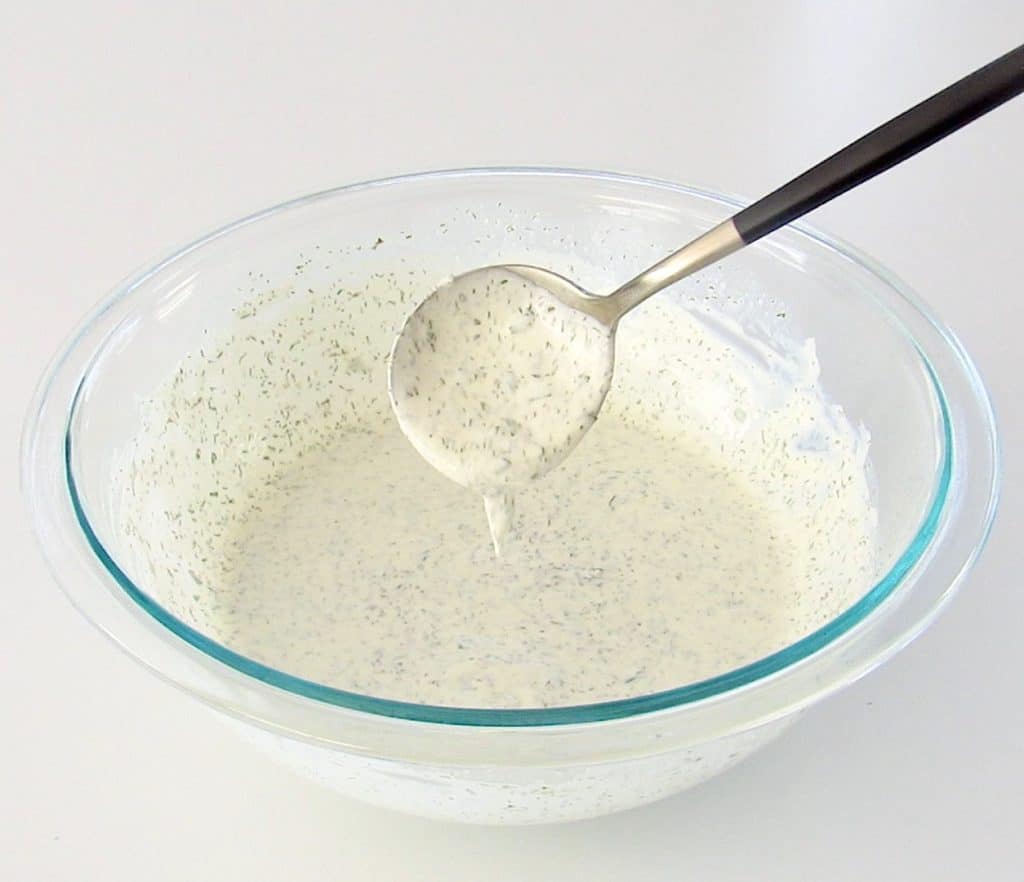 Store in the fridge an airtight jar to keep the Ranch dressing fresh.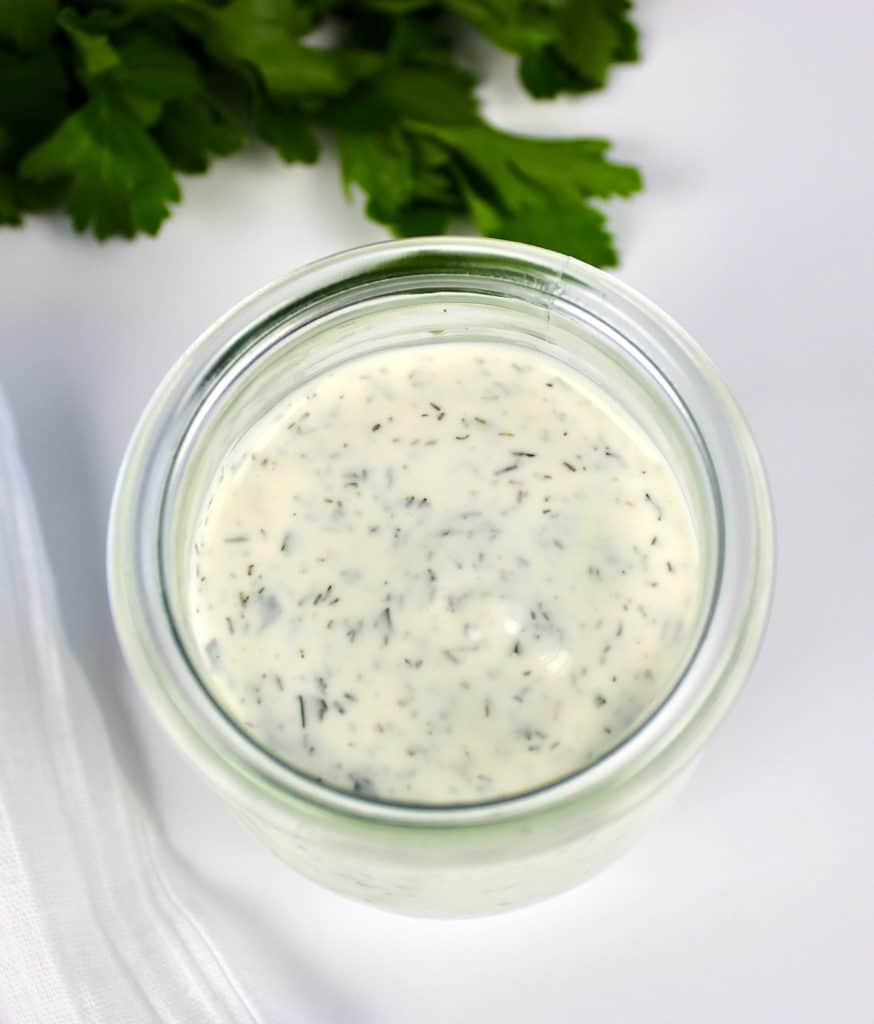 Can You Freeze Low Carb Ranch Dressing? How Long Does Ranch Stay Fresh?
The combination of ingredients used in this Keto Ranch dressing recipe does not freeze well. But it's so incredibly quick and easy to make, you can have it ready in minutes.
One of the ways to extend the shelf life of homemade salad dressing in the fridge is to look for the expiration date on the dairy products when purchasing them. Choose ones with a date the furthest out.
Ranch dressing will keep in the fridge for as long as the expiration date is good on the dairy products you used. So, for instance, if the sour cream has the shortest expiration date, that would be the date your low carb dressing would be considered fresh until.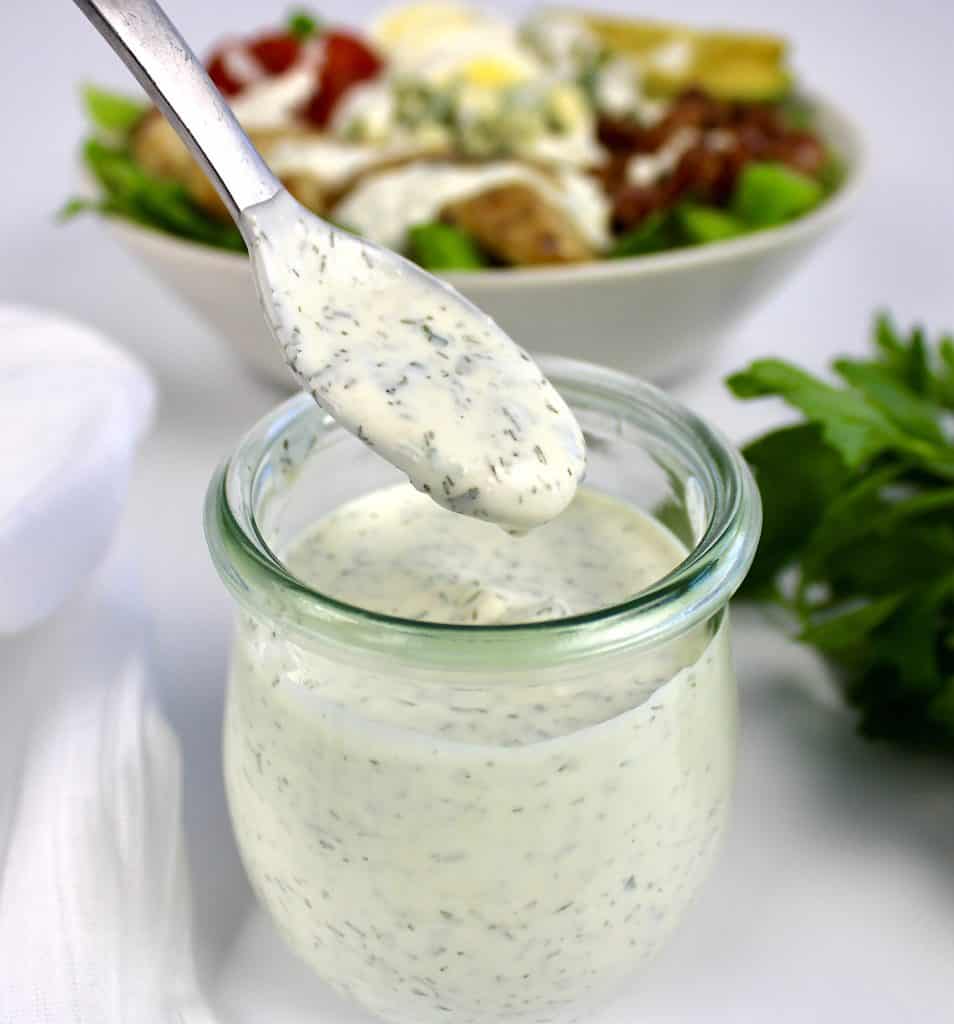 Is Ranch Dressing Keto? What are the Carbs in Ranch Dressing?
You are going to love this! Ranch dressing on Keto is PERFECT! Well, let me clarify, this homemade Keto Ranch dressing recipe is perfect for those on Keto or low carb diets. That's because there are no preservatives or added sugars you have to worry about. Plus, with the mayo, sour cream and heavy cream, you are adding a lot of heathy fats to your meal.
And talk about low carb! For one serving of this amazing Keto Ranch Dressing, there's only one net carb that comes from the fresh herbs and the lemon juice.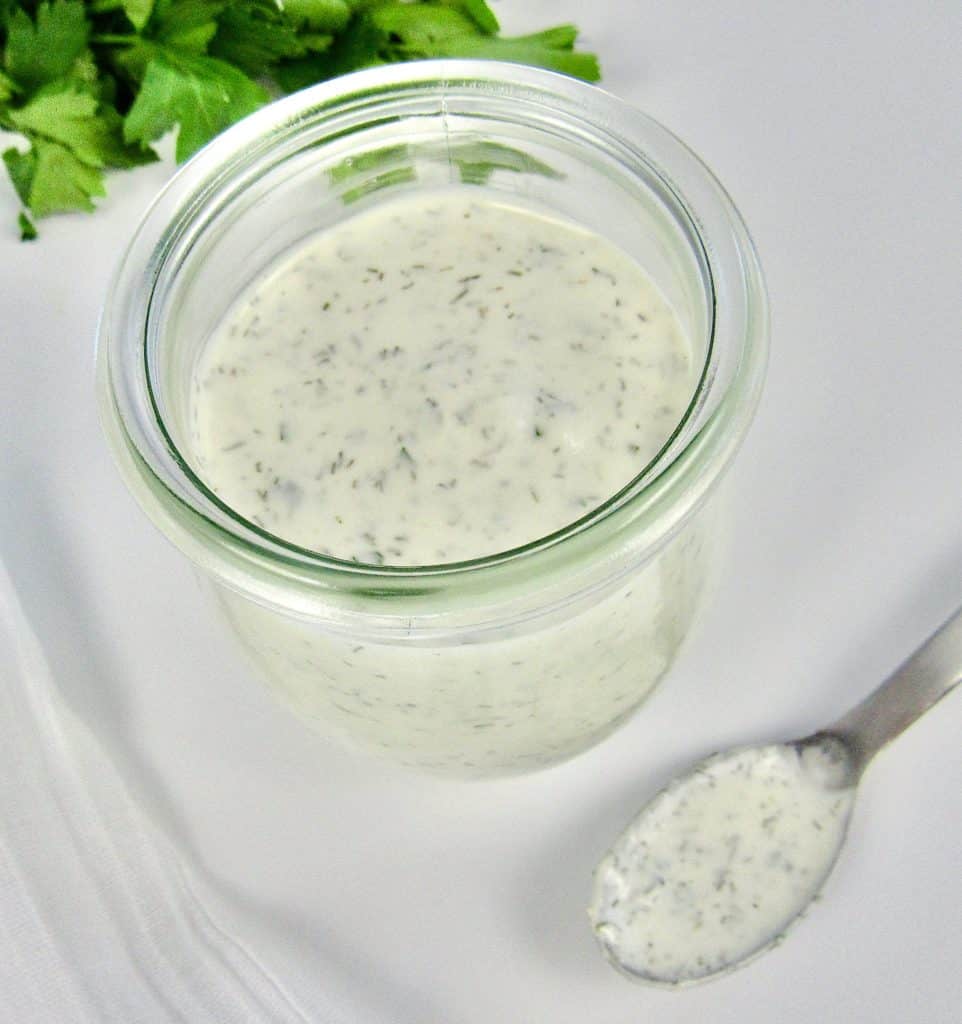 Ways to Use Ranch Dressing
Once you make this homemade Keto Ranch recipe you're going to be love it. Here's a tip! Make this recipe part of your weekly meal prep. I always make up a batch, or even double it, to have on hand throughout the week. You can use it in so many delicious and low carb ways. Take a look at these ideas:
Add even more flavor to your favorite Keto casseroles by replacing the mayo or sour cream with some of this Ranch dressing.
Drizzle some over grilled salmon chicken or shrimp! Oh yum!!!
Love to dip your pizza in Ranch? Me too! Try this gluten free, Keto Fathead Pizza recipe the next time your pizza cravings hit.
Maybe a super simple summertime Keto side dish. In a bowl, place freshly sliced cucumbers, crumbled feta or goat cheese, cherry tomatoes and finely sliced pieces of red onion. Mix in some Keto Ranch dressing, give it a good stir and set it in the fridge until chilled. Easy peasy and your guests will love it.
Homemade Keto Ranch acts as a wonderful base for many dipping sauces. Add a little sugar-free ketchup and its perfect for these Keto Chicken Tenders.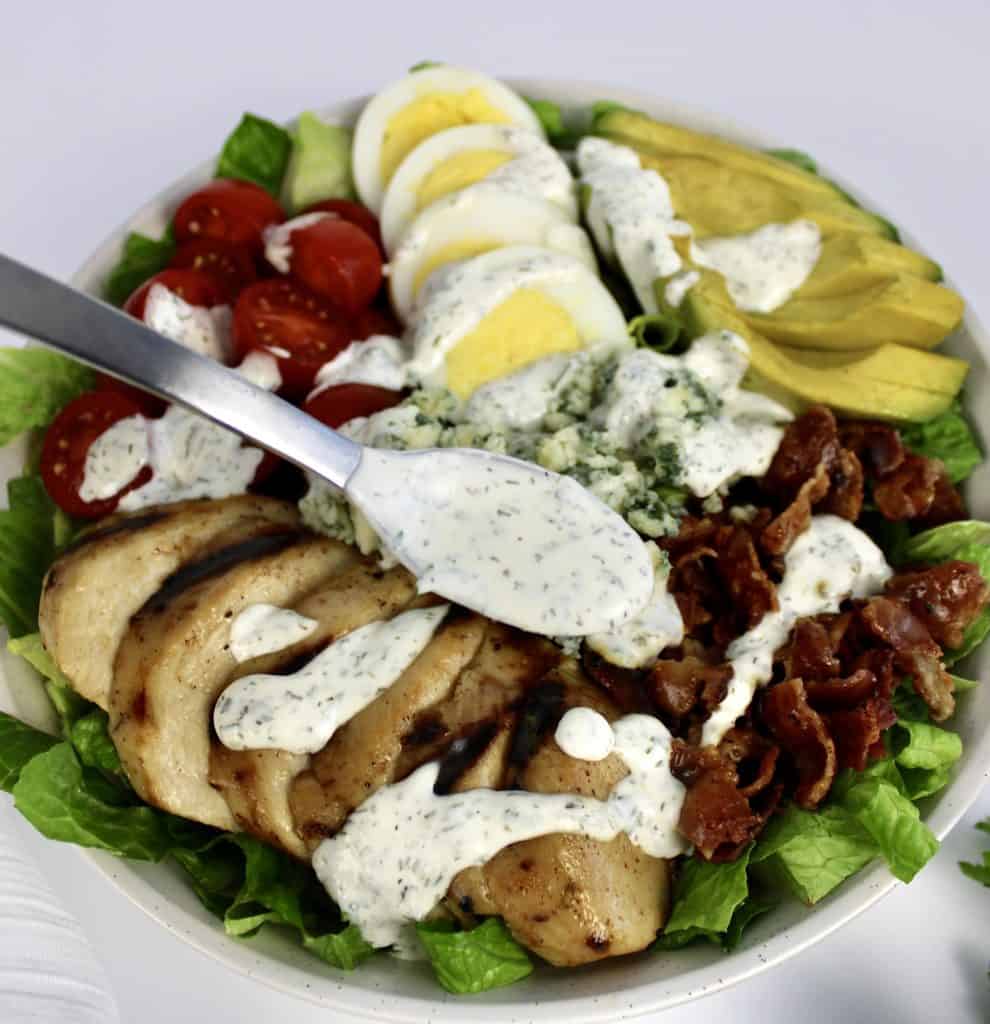 This low carb Ranch dressing recipe is as close to perfection as it gets and it will surely be a new staple in your kitchen!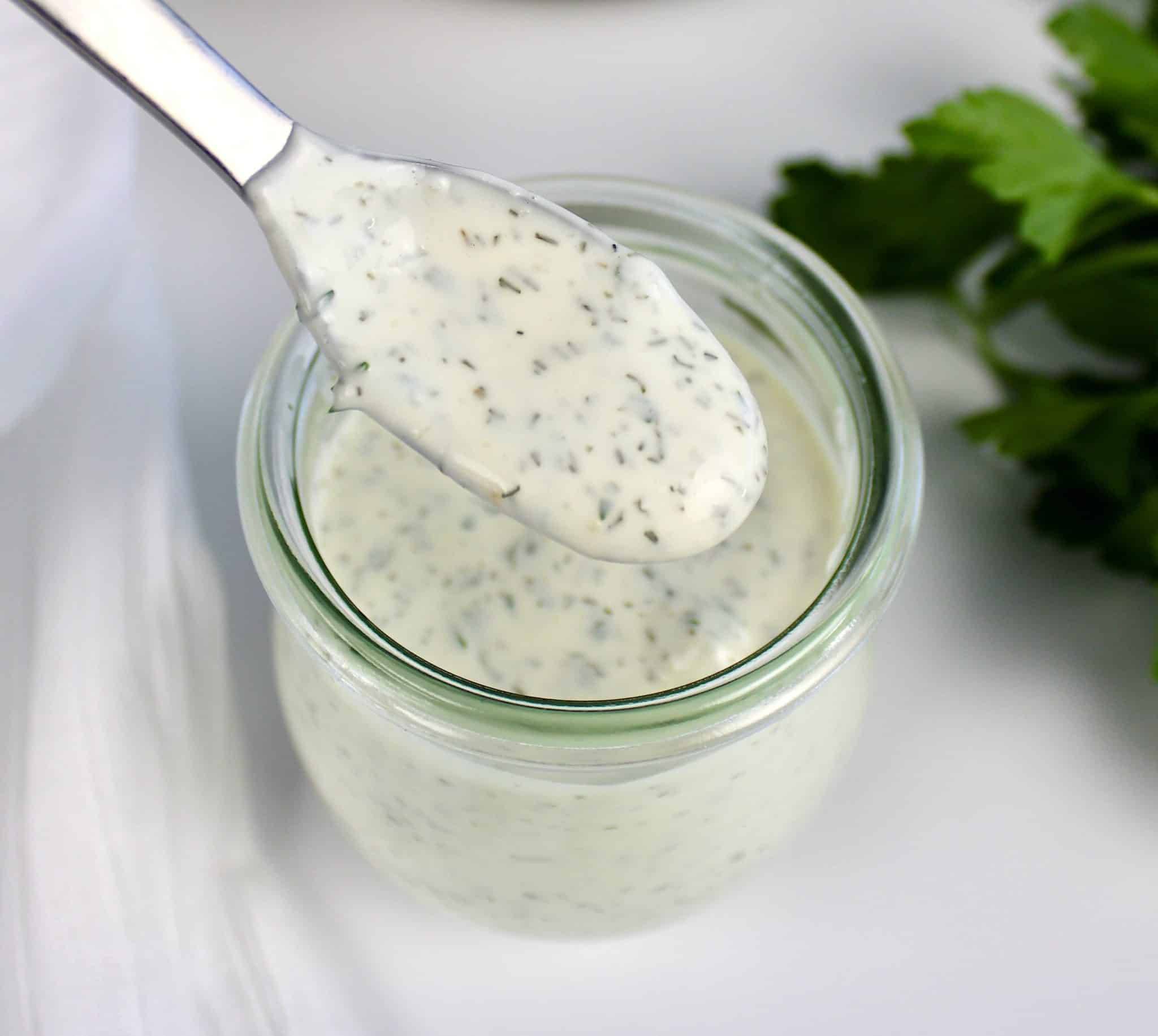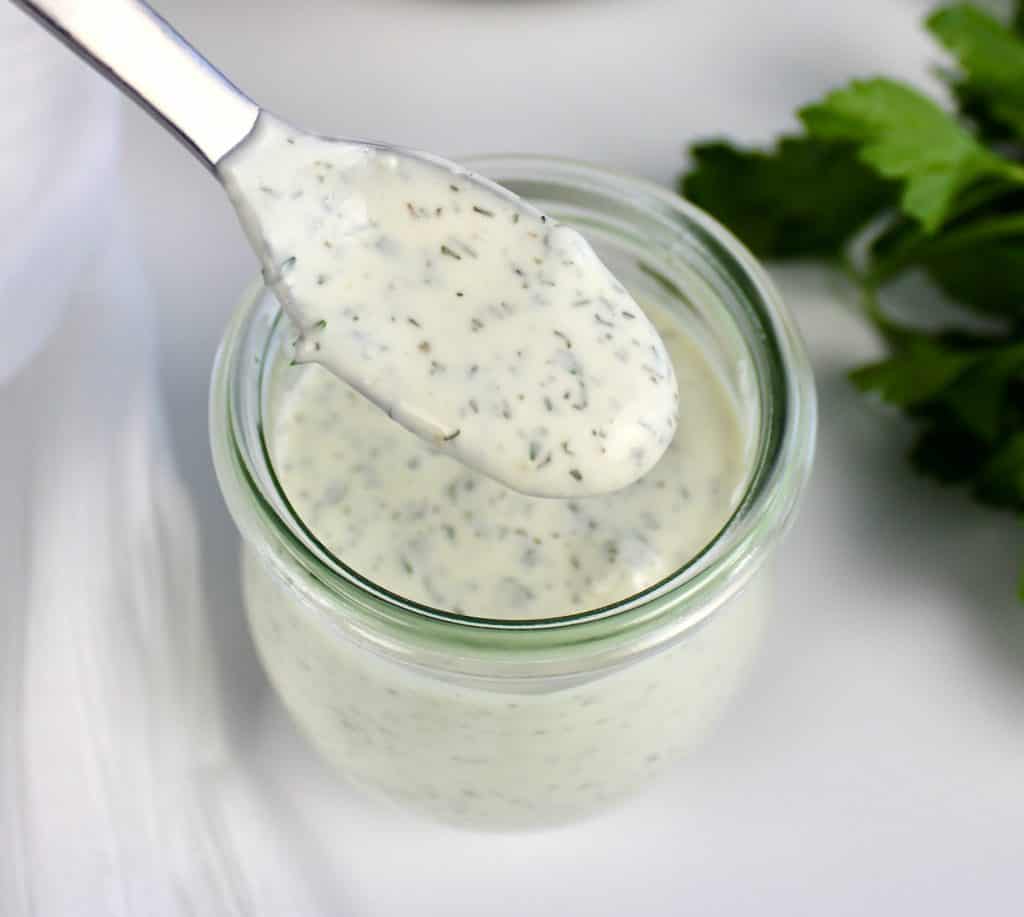 More Keto and Low Carb Dressings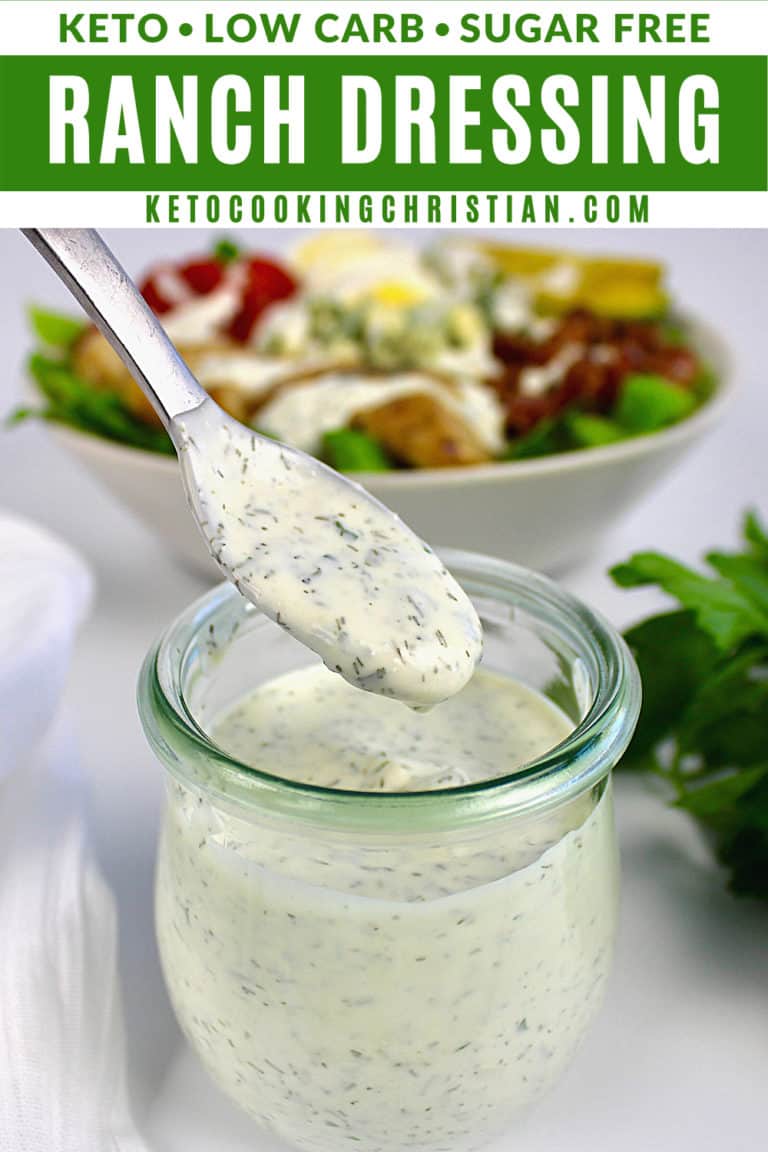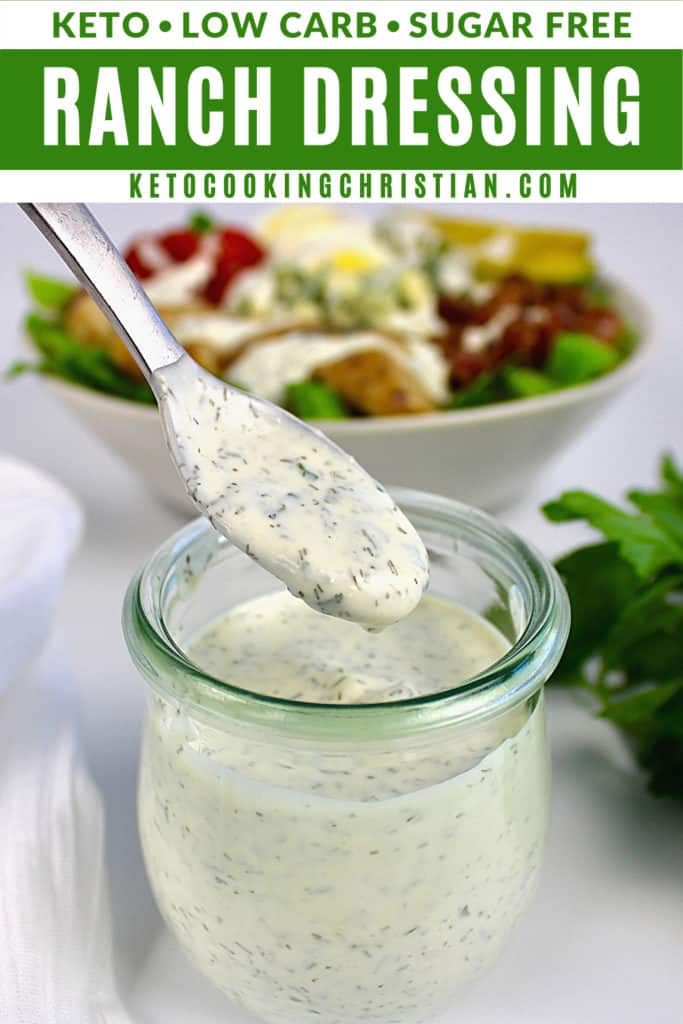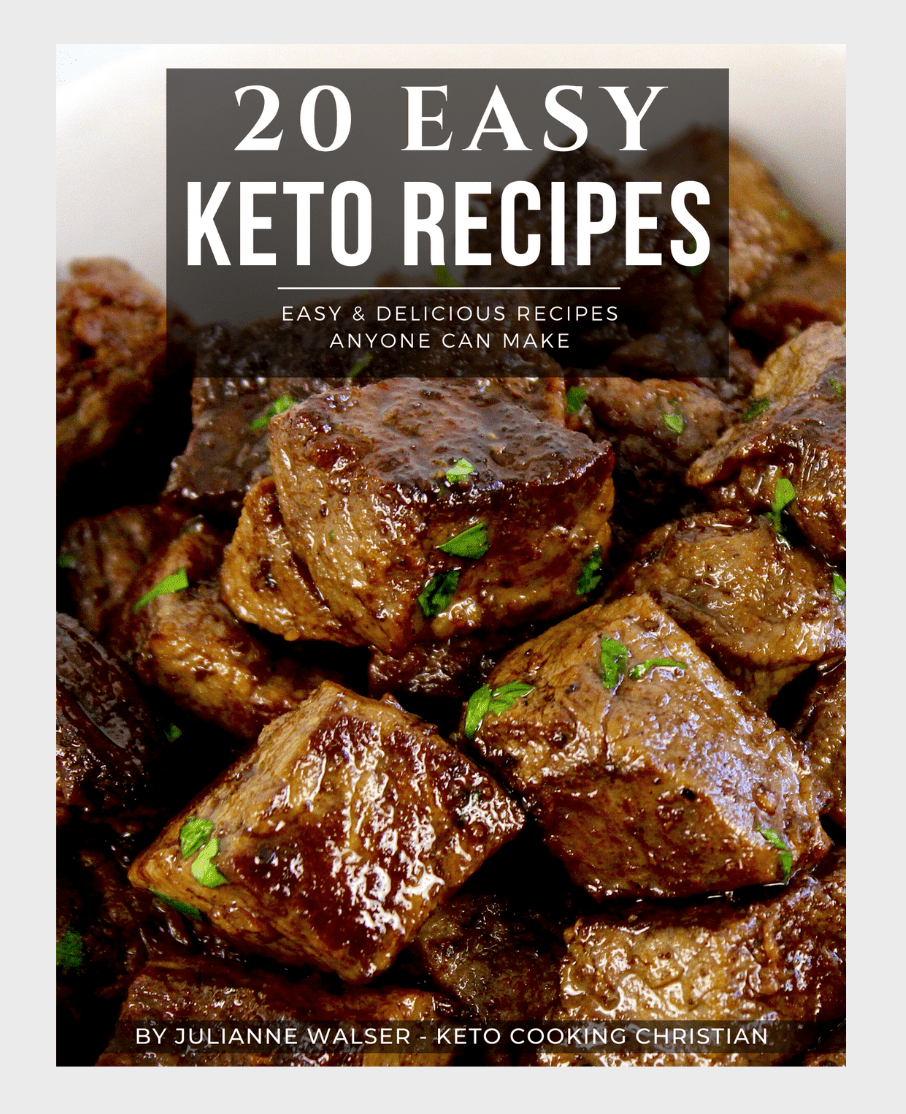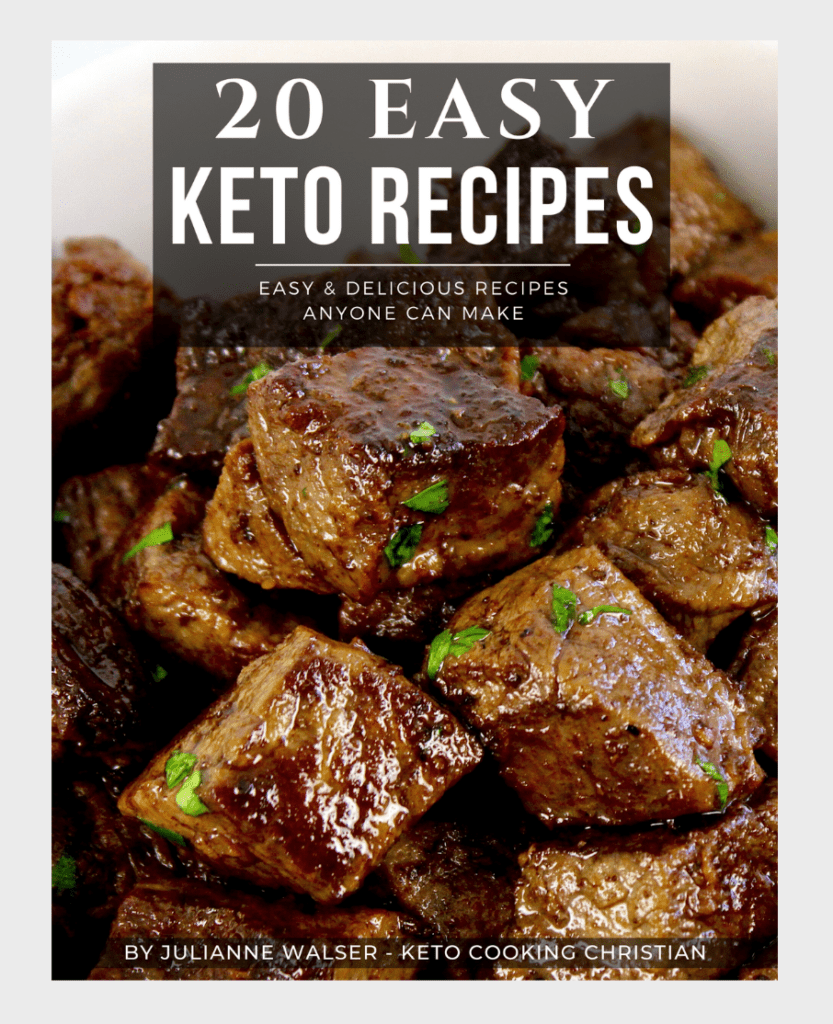 FREE 20 EASY KETO RECIPES EBOOK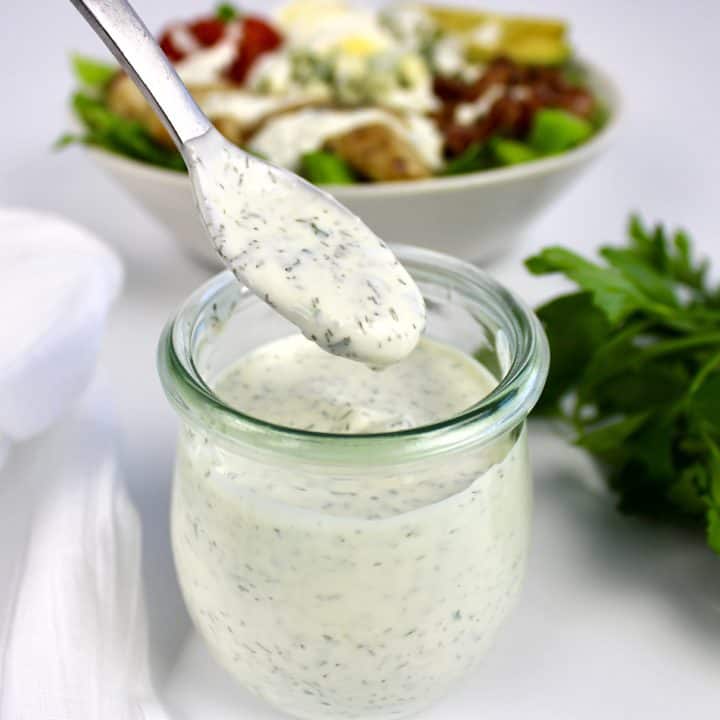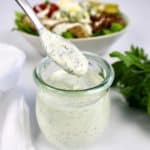 Keto Ranch Dressing
This homemade cool and creamy Keto Ranch Dressing is a tangy classic everyone loves. The flavors are perfect on salads or even used a dip!
Servings 8
Recipe Notes
Note: If you'd like the dressing a little thinner, simply add a little more heavy cream to get the constancy you desire.
Nutrition Facts
Keto Ranch Dressing
Amount per Serving
% Daily Value*
* Percent Daily Values are based on a 2000 calorie diet.
Rate this Recipe
*Nutritional data is provided as a courtesy and is accurate to the best of my knowledge. You can verify it using the nutrition calculator of your choice. All data is based on net carbs, without sugar alcohol: Swerve, Erythritol, Monk Fruit or Allulose.
© Copyright for Keto Cooking Christian LLC. Please use the share buttons to share on social media, but please do not copy/paste the recipe.
*Originally published on June 11, 2018, updated on May 4, 2021 with new photos, new video and helpful tips.