Looking for an easy low carb pizza recipe to satisfy your cravings? This pizza is made with fathead dough, which is also a gluten-free pizza dough!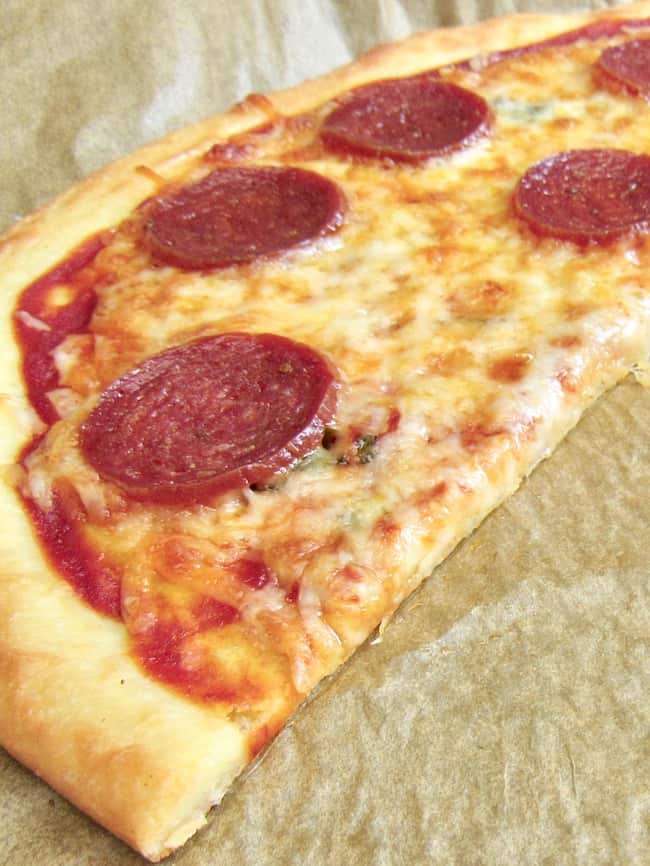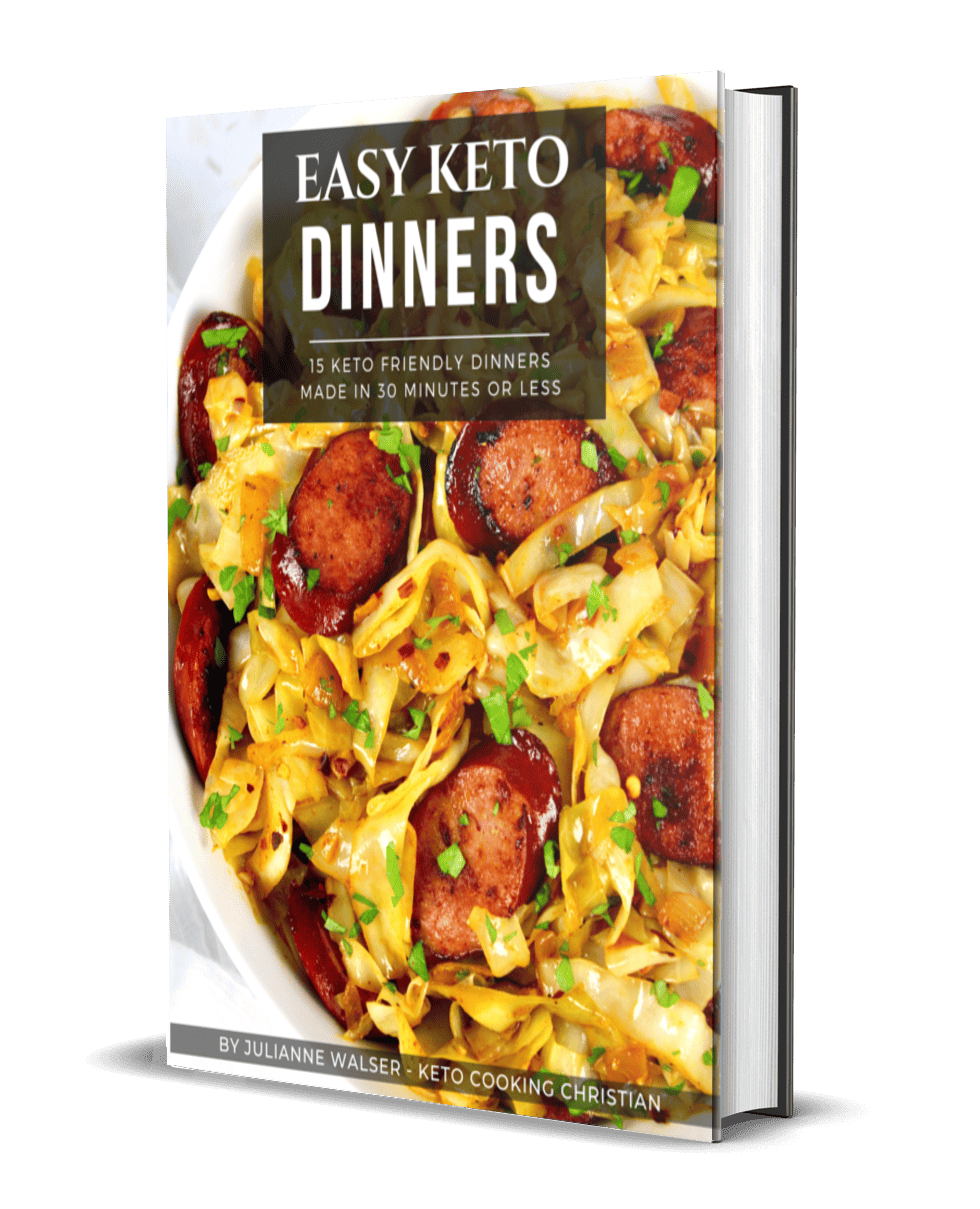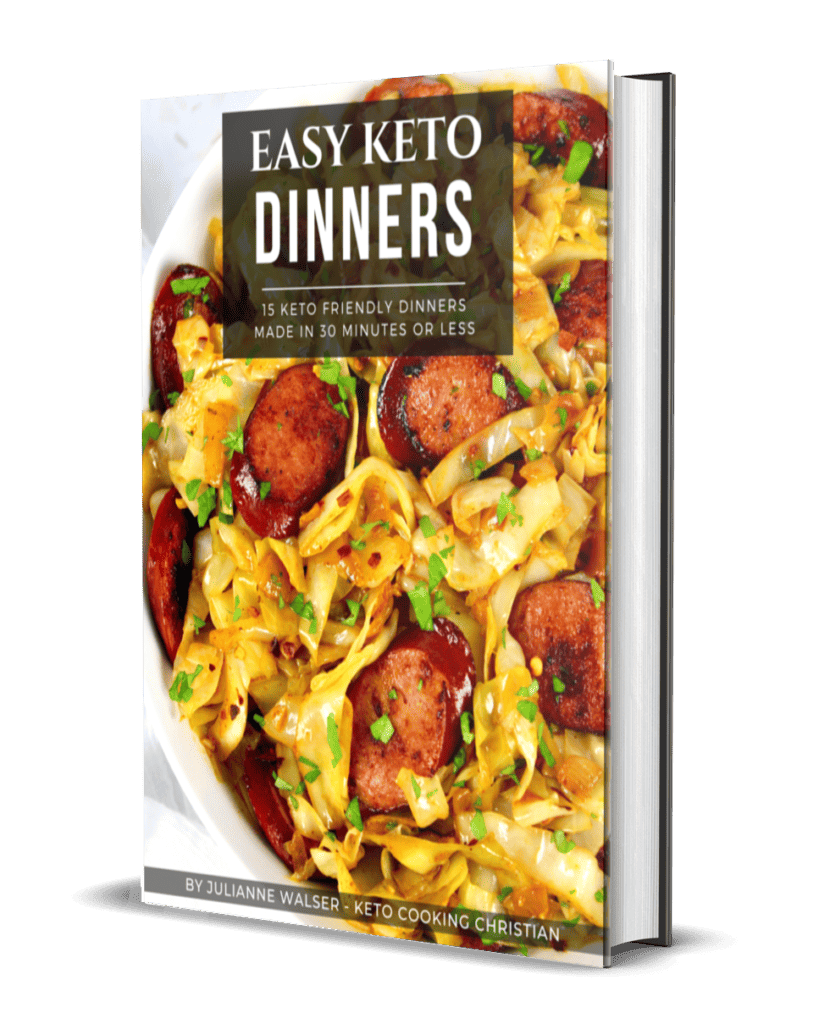 FREE EASY KETO DINNERS EBOOK
Jump to:
❤️ Why You'll Love this Keto Fathead Pizza Recipe
Satisfies your cravings for pizza, without all the carbs
Only takes 20 minutes to make
Add whatever toppings you like
Gluten-free and family friendly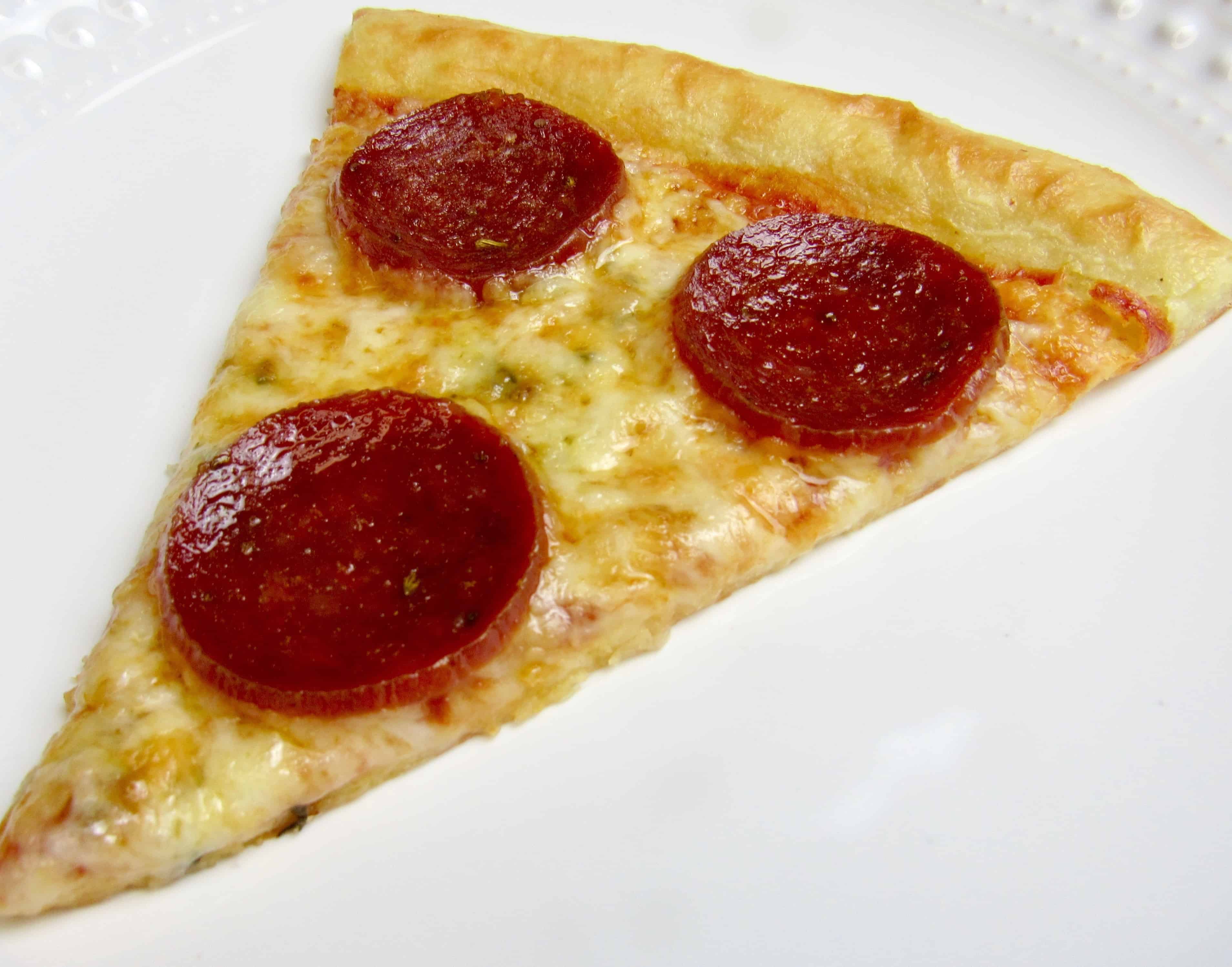 If you like a thin Keto pizza crust, you will love this one! If you don't, you can certainly make it as thick as you like. That's the great thing about this fathead pizza is, you can tailor it to your liking.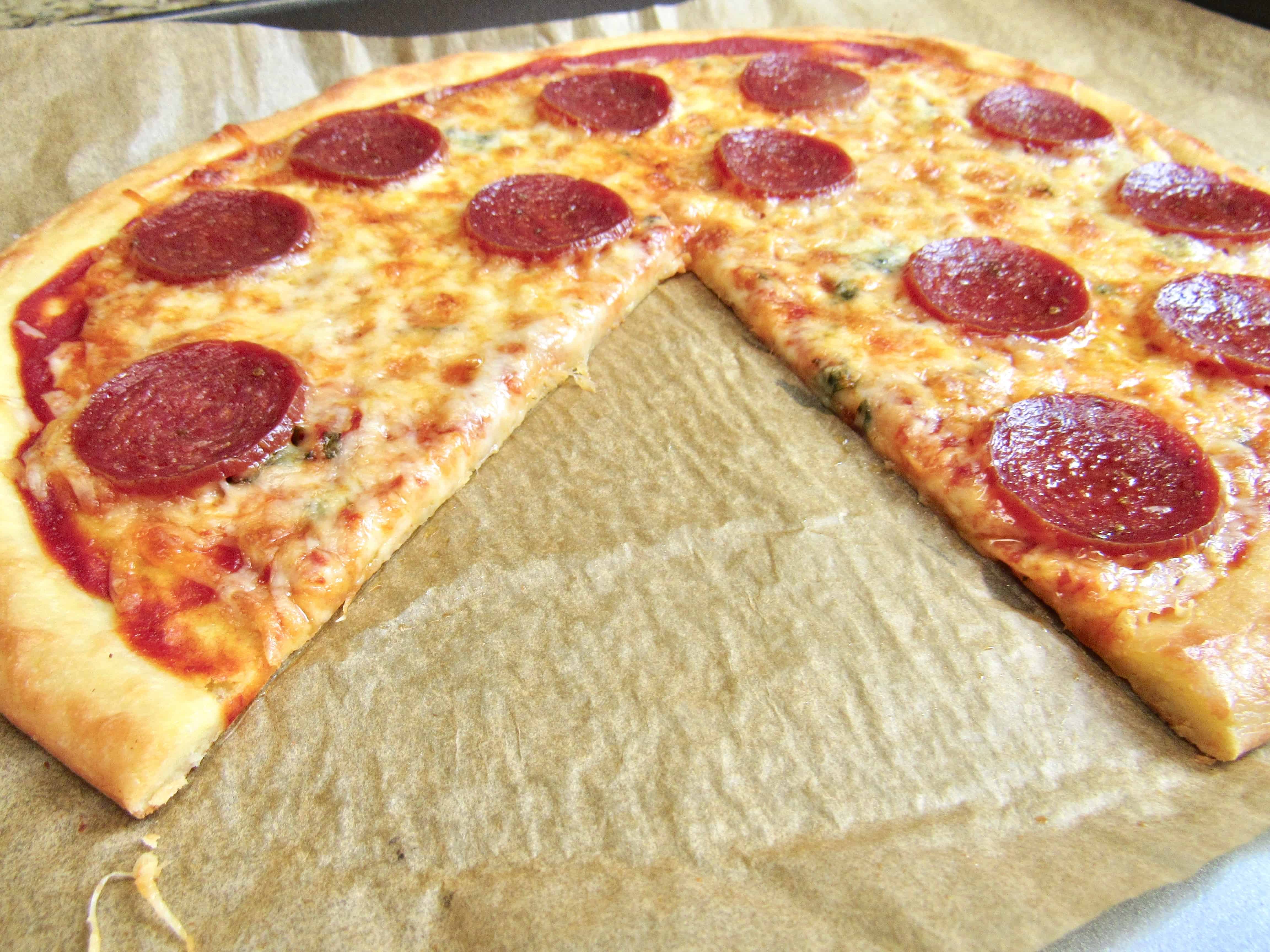 This is the best gluten-free pizza crust around! You can also make this into 2-3 personal size pizzas, then everyone can add the toppings they like.
You really won't believe just how easy this is! Trust me when I tell you, you will be making this often, because it is really just that simple!
🛒 What's in the Best Keto Pizza with Fathead Dough
Shredded mozzarella cheese
Cream cheese
Parmesan cheese
Egg
Fresh basil
Fresh garlic
Uncured pepperoni
*Exact measurements are listed in the recipe card below.
🥣 Recommended Tools
How to Make Almond Flour Pizza Crust
Preheat your oven to 425°F. Then add 1 ¼ cups of the mozzarella and the cream cheese to a microwave safe bowl and microwave for 35 seconds, until melted.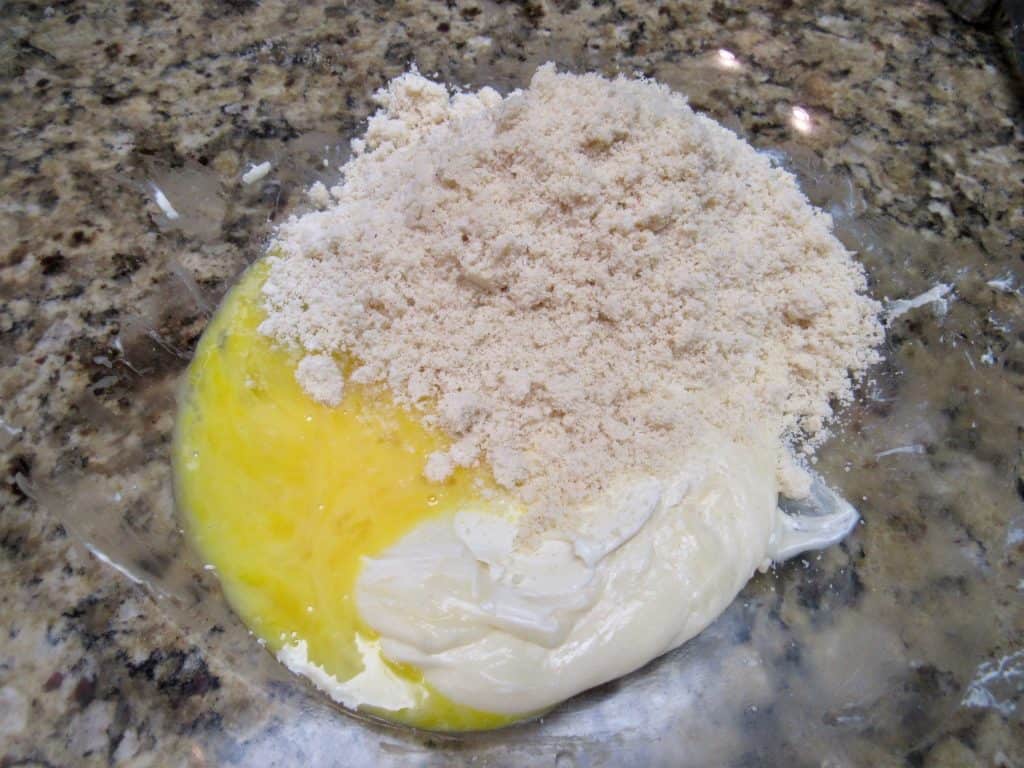 Then, mix in the egg, then the almond flour. You'll want to knead the dough till it's well combined. You don't want streaks running through it so if you need to, you can microwave it for another 10-20 seconds .
Tip: This will make the dough more pliable and easier to work with. Keep mixing until it looks like this photo.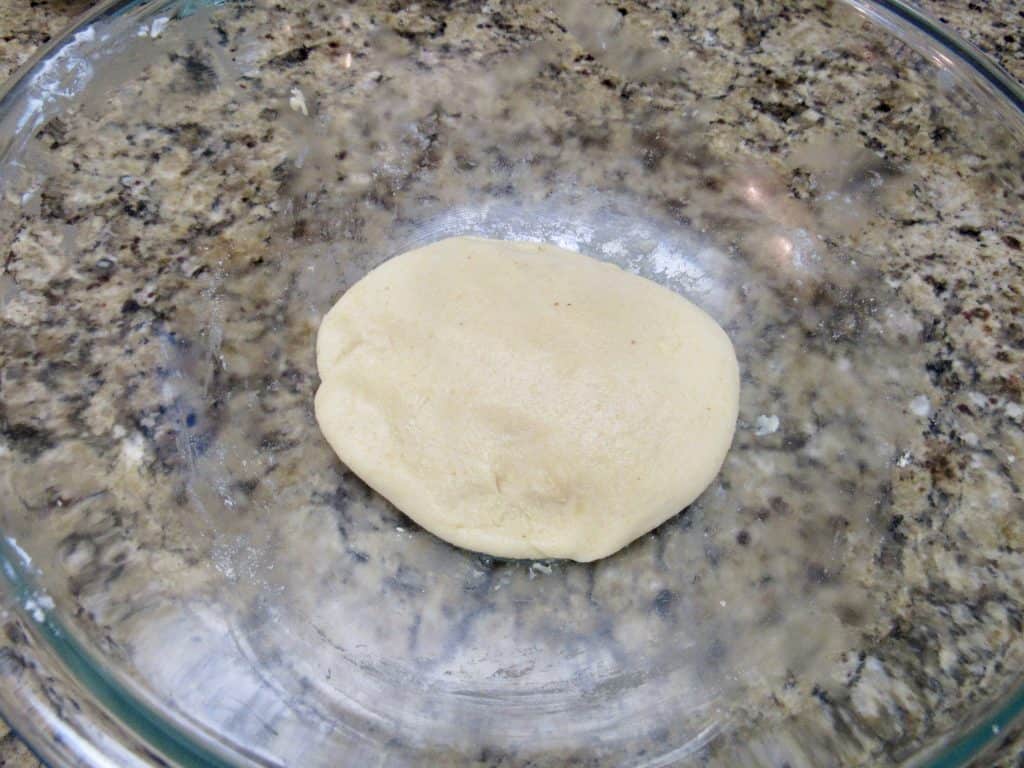 Ok, here's the messy (but fun) part! Put some oil on your hands, this will make spreading out this sticky dough MUCH easier! If you make fathead bagels, you will want to do the same thing.
Then, spread the dough out onto a parchment paper lined sheet pan or pizza pan and bake in the oven for 8 minutes.
Mix all the pizza sauce ingredients together and have it ready to spread on the pizza crust, once you remove it from the oven.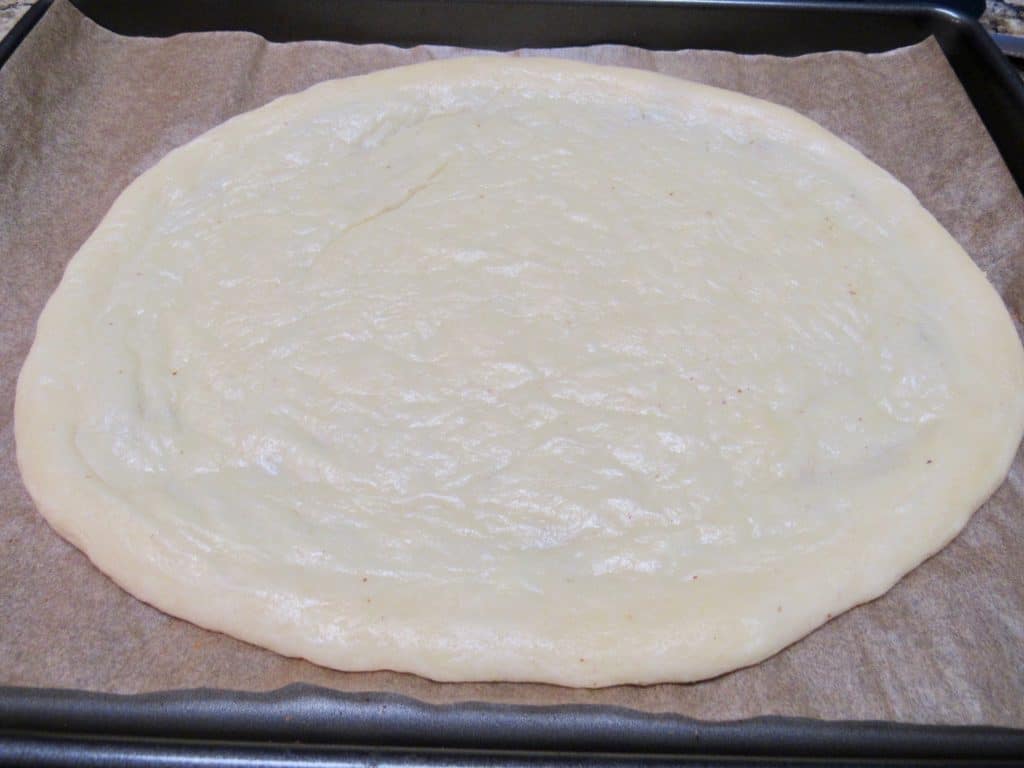 Remove the dough from the oven and add the sauce, or this homemade Low Carb marinara sauce. Then the best part, decorate this baby with the toppings of your choice!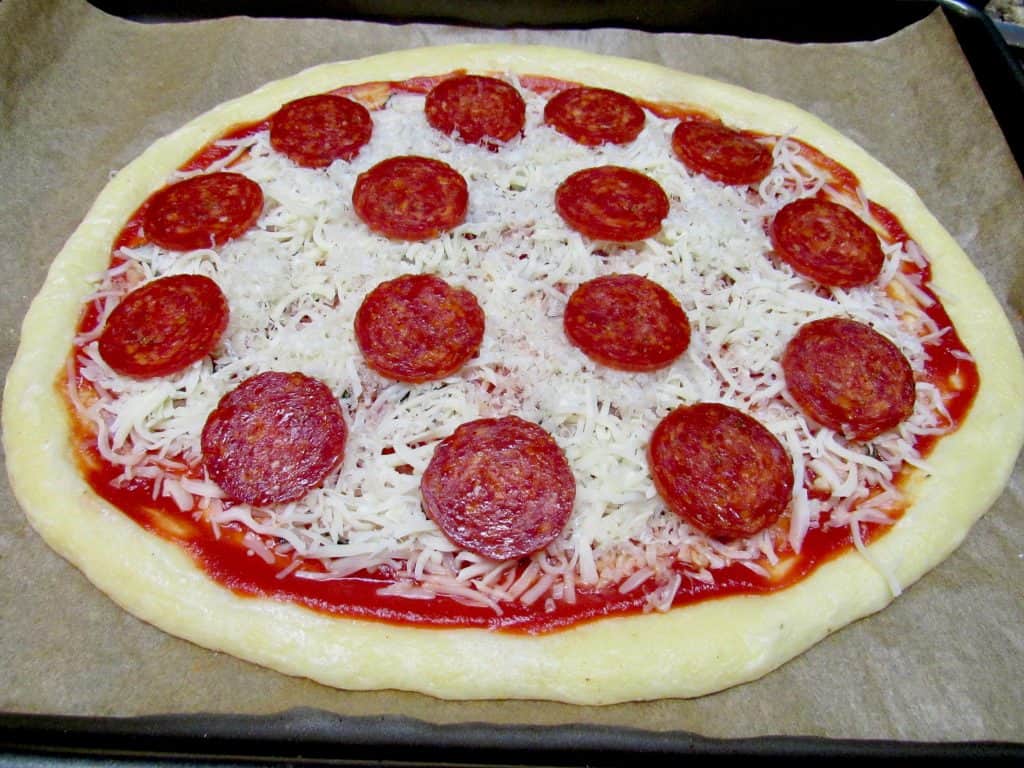 Put it back in the oven for another 6-7 minutes. Once it has that beautiful golden color from the melted mozzarella you're good to go!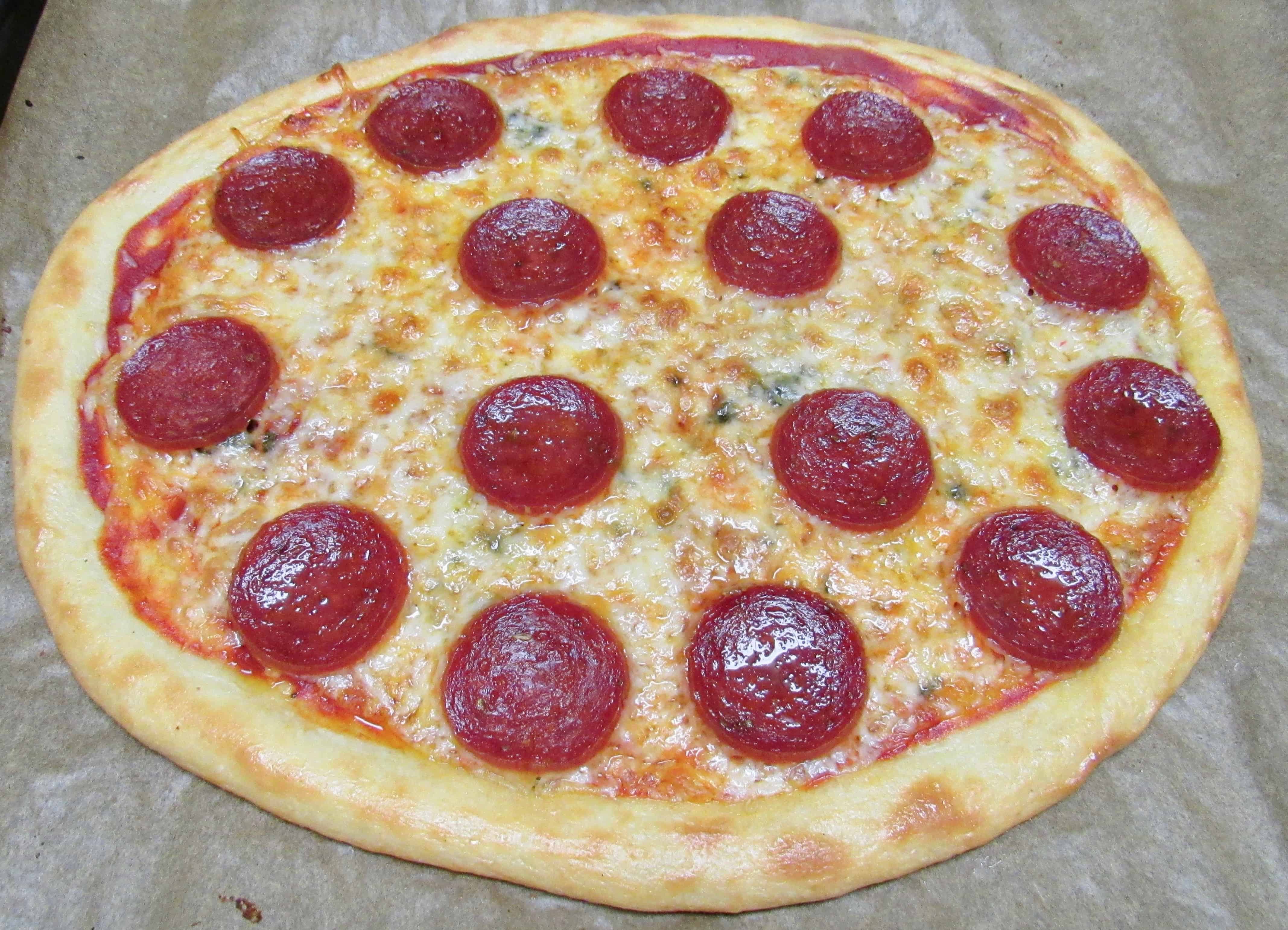 Wait a few minutes before cutting into it. I know this is the hard part, but it is SO worth the wait! Store leftovers in the fridge or freeze.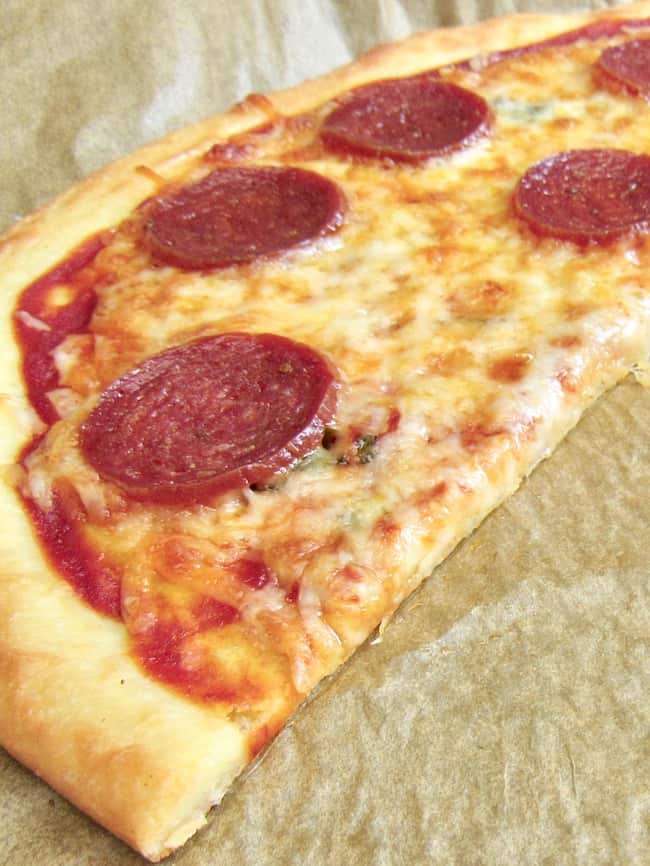 Can I Eat Pizza on Keto?
The answer is absolutely! You just need to make a few adjustments to the ingredients. The toppings for the most part, can be the same.
This low carb pizza is the next best thing to the traditional version. Fathead dough is really easy to work with and has a great chewy texture to it. You can even use it to make bagels, they are super easy and make a great low carb replacement!
What is Fathead Dough?
A traditional fathead dough is made of mozzarella cheese, cream cheese, egg and typically almond flour.
Why is it called Fathead Pizza?
Interestingly enough, the name fathead comes from a documentary "Fat Head" directed by Tom Naughton, that explores the benefits of a low carb, high fat diet.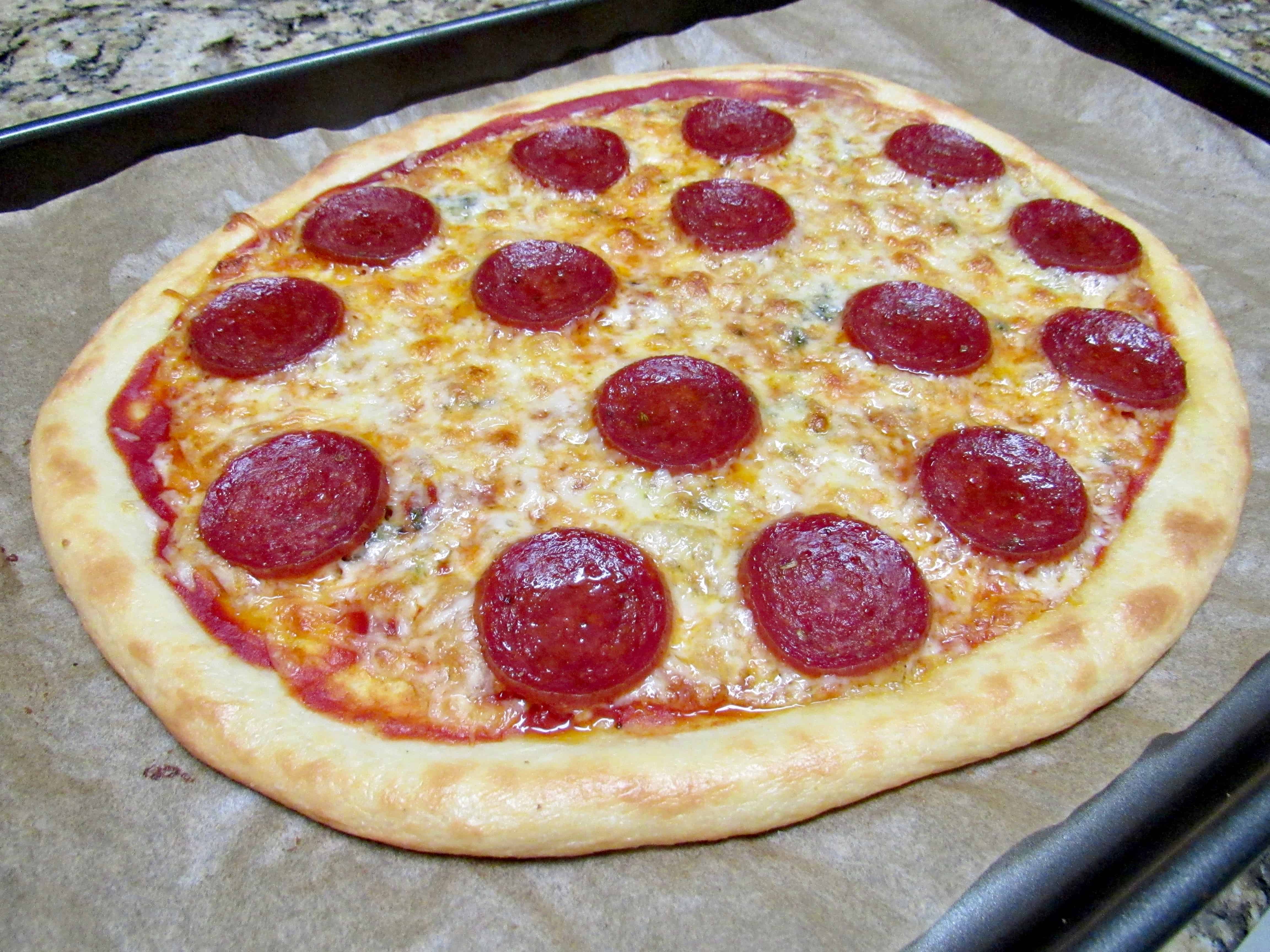 Is Fathead Dough Easy to Make?
It's unbelievably easy! You are essentially mixing in a handful of ingredients, baking the crust, adding the sauce, cheese and toppings and bake a little more.
Easy peasy and takes about 20 minutes from start to finish! This makes for a great low carb weeknight dinner, when you're pressed for time!
Tips for the Best Gluten-Free Pizza Dough
Be sure to use the prepackaged, preferably part skim, shredded mozzarella cheese in this recipe. Fresh mozzarella contains too much water and your pizza won't turn out as it should.
Super Fine Almond flour works best for fathead dough, because it will blend much easier. If you only have regular almond flour, you can certainly use it instead and it will still be a great gluten free crust.
If you have someone that is allergic to nuts, you can use this Nut-Free Keto Pizza Crust instead!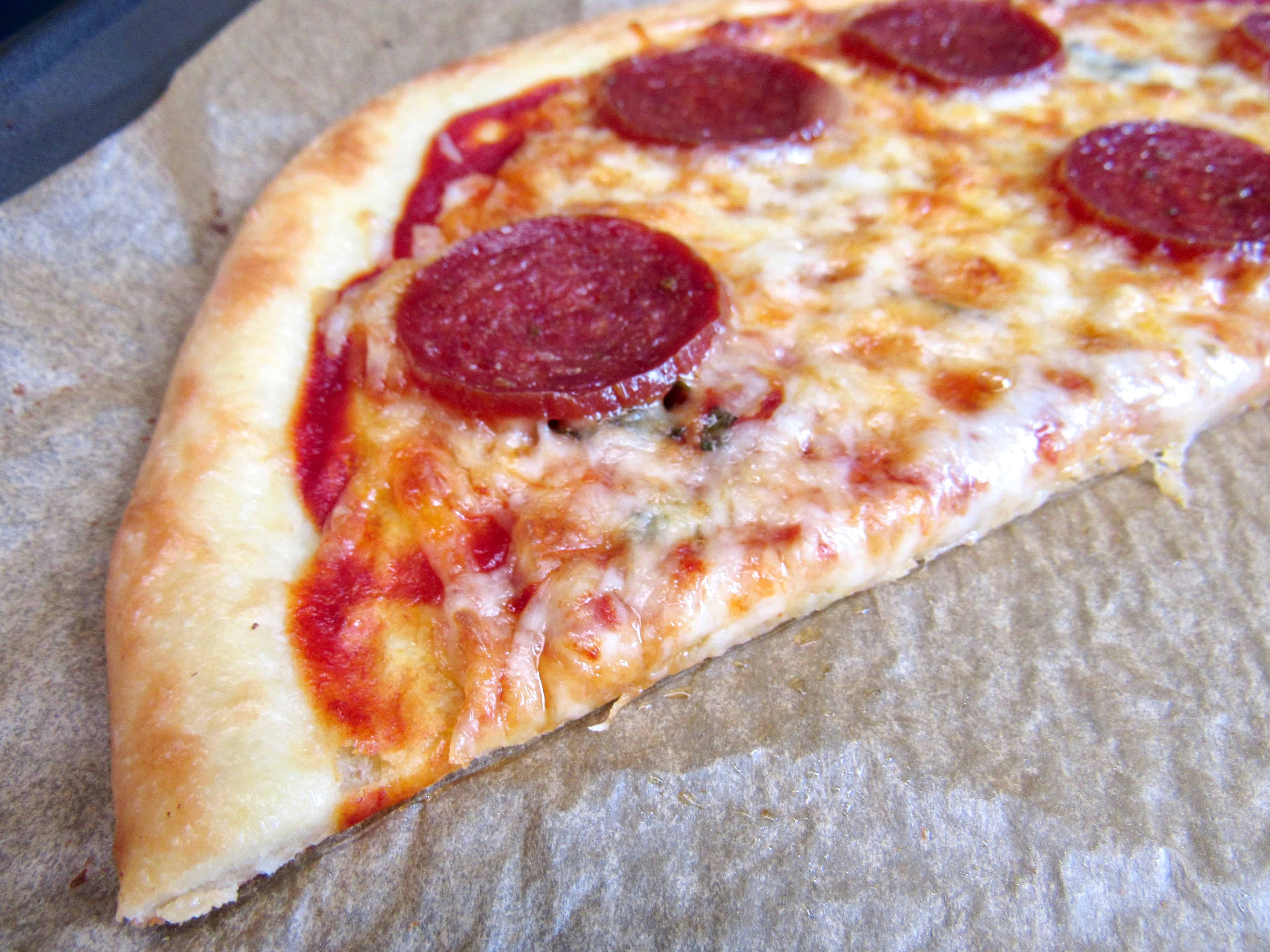 What Low Carb Pizza Sauce Can I Use?
To make this sauce, you can use tomato paste, thinned out with a little water. If you make it on the thicker side, you will get that sweet concentrated tomato flavor that is just perfect on pizza. If you don't have tomato paste, you can use any low carb tomato sauce and add in the garlic and herbs per the instructions.
There's no need to cook this sauce, it will cook as the pizza bakes. If you prefer a prepared sauce, try to find one that is very low in sugar and carbs. Or you can make your own Keto Pizza Sauce!
If you really want to cut down on the carbs or don't care for tomato sauce, you can use a Low Carb Alfredo Sauce and make a white pizza! Crumbled feta or goat cheese, spinach and mozzarella would be great as toppings!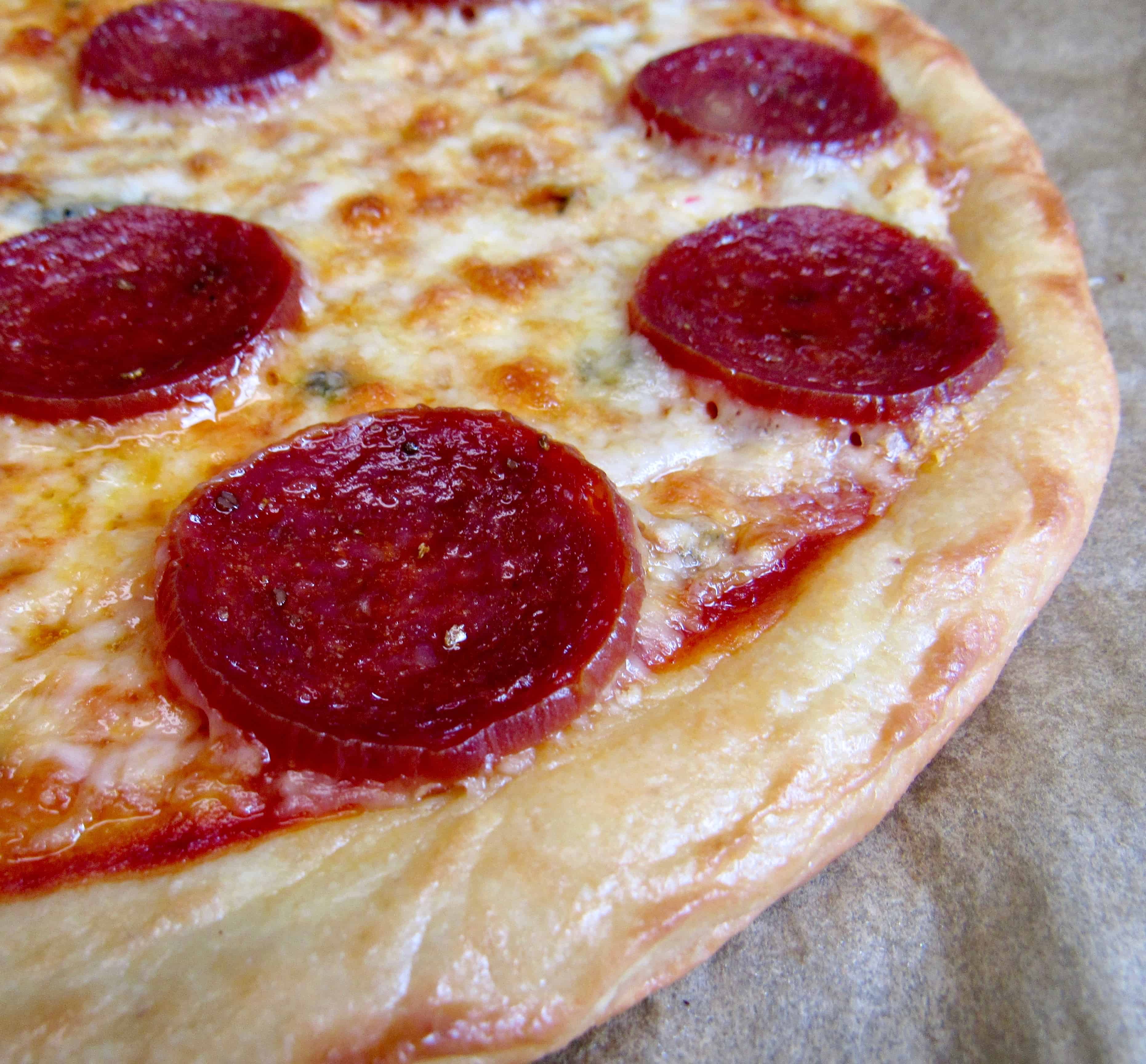 Best Keto Friendly Pizza Toppings
You can use any variety of meats and low carb veggies. Here are some of my favorite pizza topping ideas:
sausage
ham
ground beef
bacon
spinach
mushrooms
anchovies
black olives
onions
peppers
artichoke hearts
You can also forego the traditional tomato based pizza sauce and instead us an Alfredo Sauce or olive oil, spinach, ricotta, parmesan and mozzarella cheeses for a classic white pizza!
Special Equipment Needed for Keto Pizza Dough
You only need a few things to make this pizza. Any large sheet pan will work, or you can use a round pizza pan, if you have one. Be sure to line it with parchment paper. This is an important step that you cannot skip.
Otherwise the dough will probably stick the pan and you will have wasted your time and ingredients. So please trust me on this! If you don't have parchment paper, you can use a Silpat (silicone baking mat) instead.
When you're ready to serve it, you can use a pizza cutter to slice it up. If you don't have a pizza cutter, any sharp knife will do just fine!
How Many Carbs in Fathead Pizza?
If you split this entire pizza into 4 servings, each serving has 5 net carbs, which is really not bad and a LOT less than traditional pizza!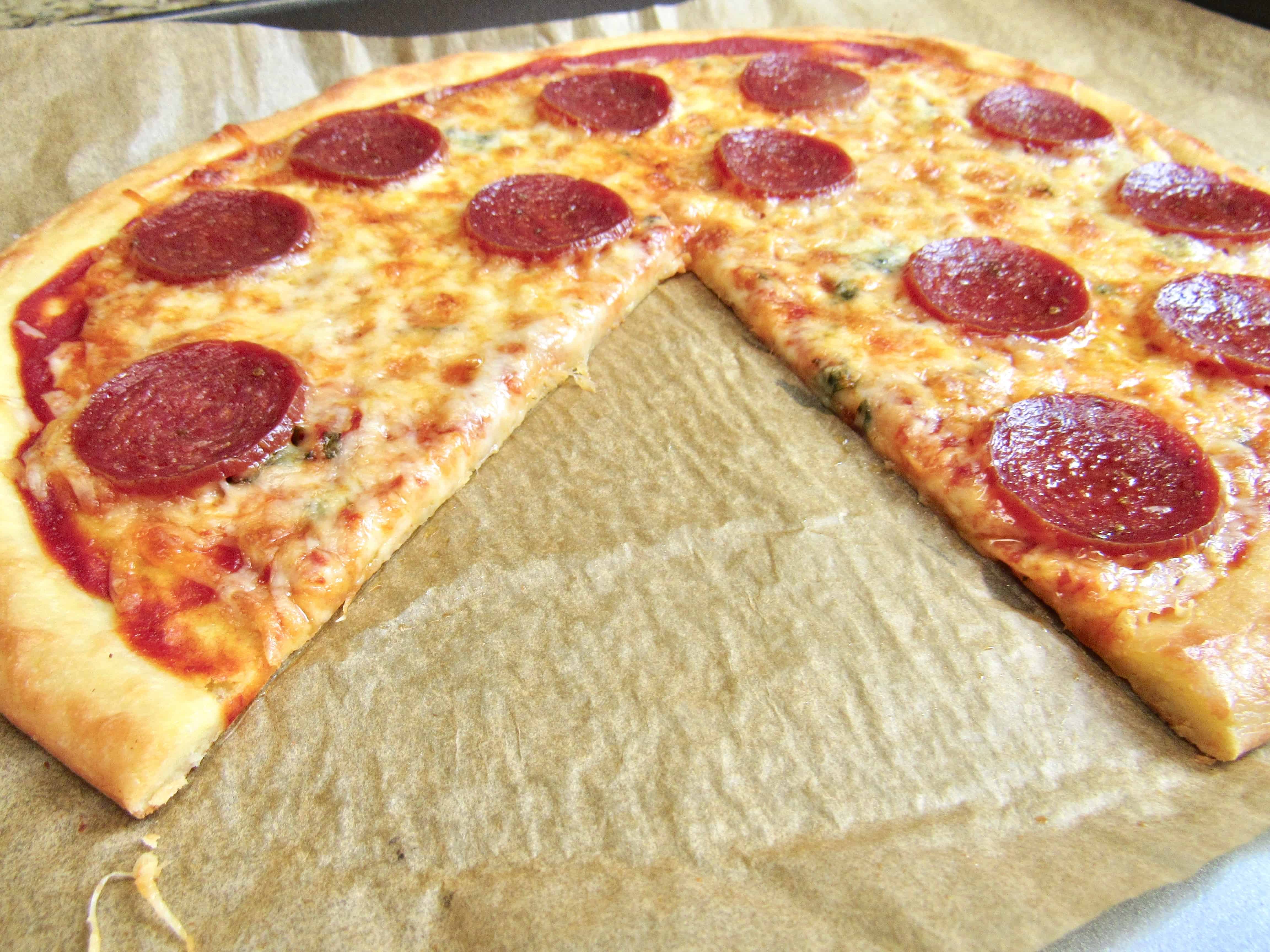 More Keto Pizza Recipes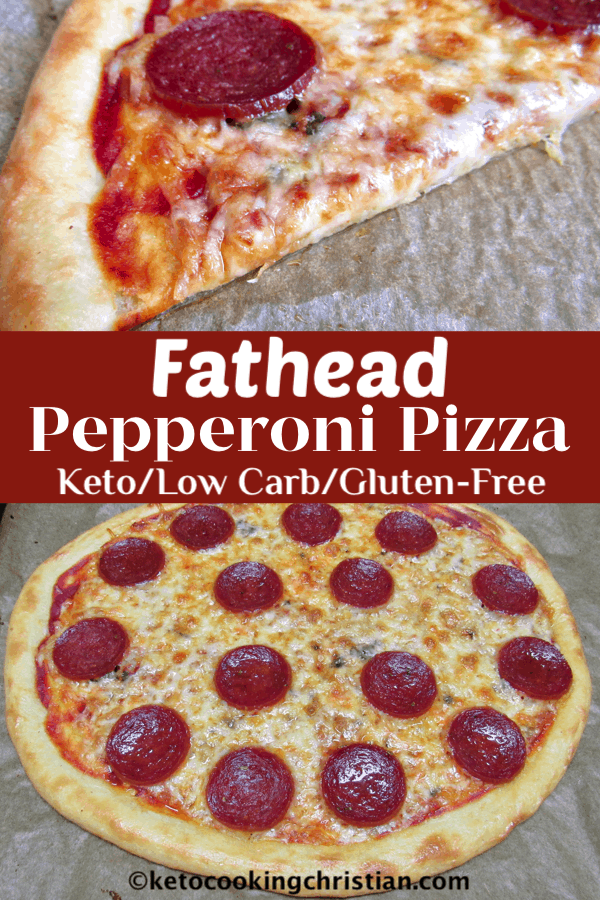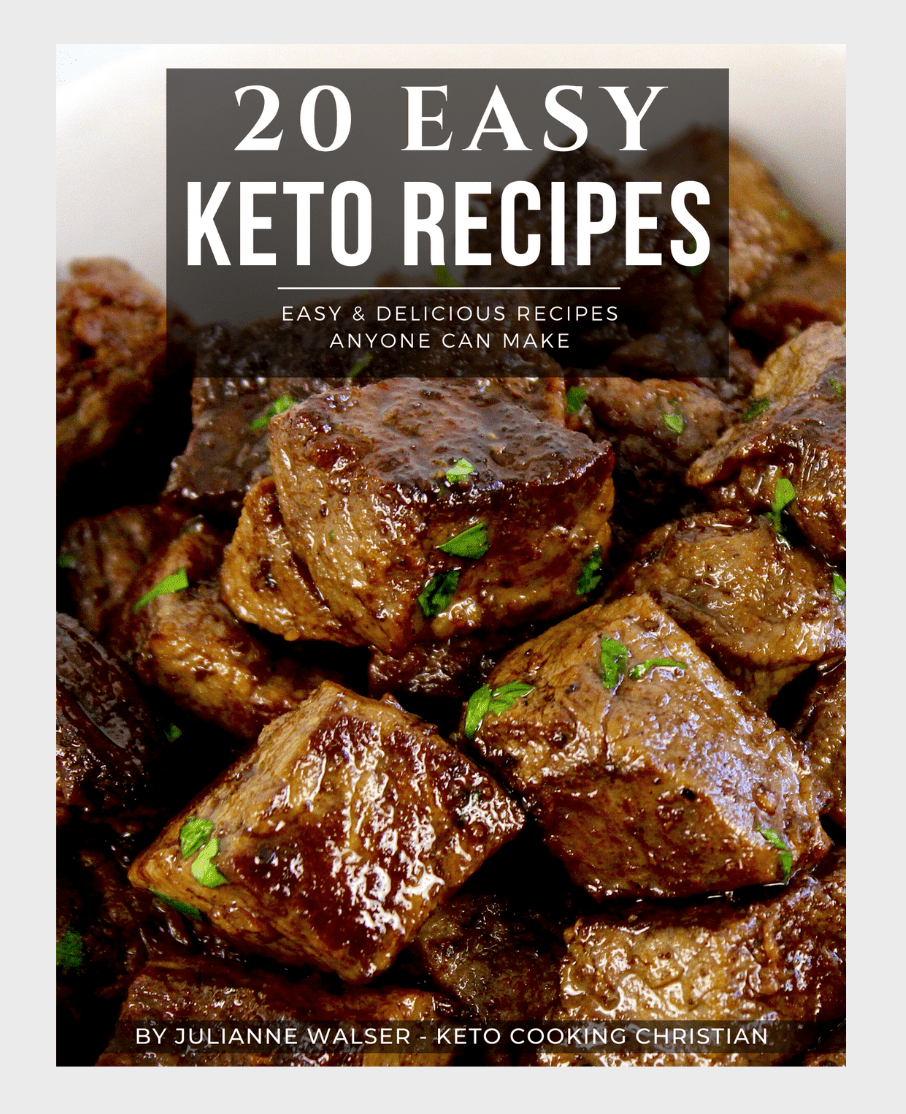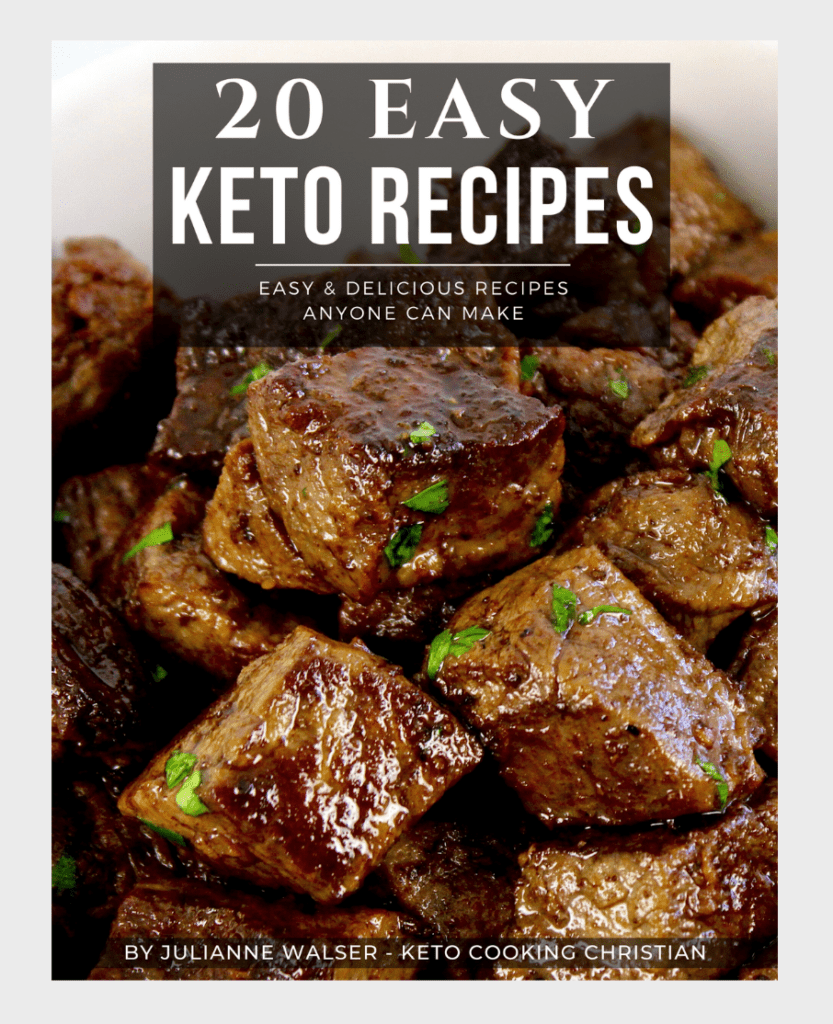 FREE 20 EASY KETO RECIPES EBOOK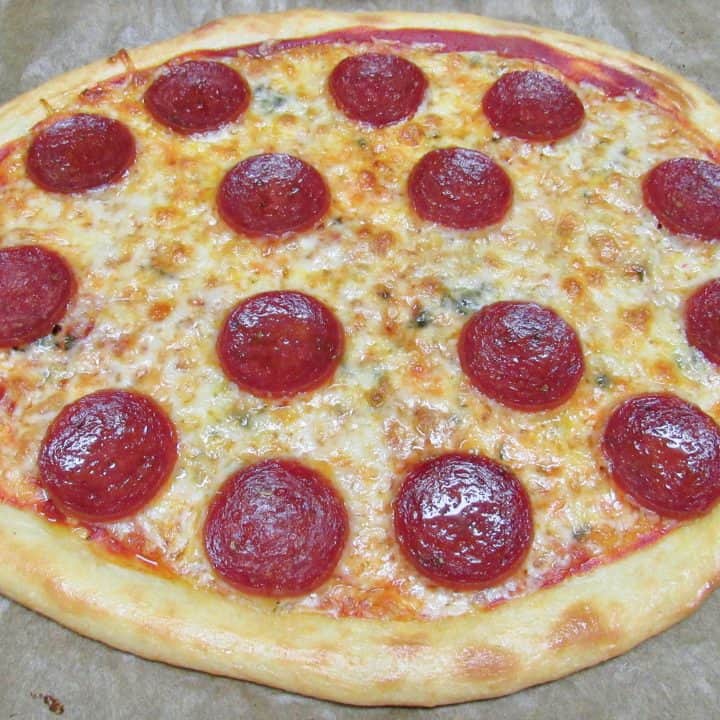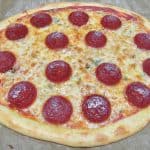 Keto Fathead Pepperoni Pizza
This pepperoni pizza made with fathead dough, is the next best thing to the real deal and satisfies your pizza craving!
Servings 4
Ingredients
For the Crust
1 ¼ cups shredded mozzarella cheese
2 tablespoons cream cheese
1 whole egg
¾ cup almond flour
2 tablespoons parmesan cheese, grated
For the Toppings
2 tablespoons parmesan cheese
½ cup shredded mozzarella cheese
2 tablespoons Kalamata olives
20 slices uncured pepperoni
Instructions
Preheat oven to 425F

Microwave shredded mozzarella cheese and cream cheese for 35 seconds, until melted. Mix in the egg, then almond flour. Knead the dough till it is well mixed. You may need to microwave it for another 10-20 seconds to be able to blend it thoroughly.

Mix all the sauce ingredients together while the pizza crust is baking. Pull out the pizza dough, add the sauce and your desired toppings. Bake for an additional 6-7 minutes. Allow to cool slightly, cut and serve. Enjoy!
Recipe Notes
I recently updated the pictures, but in the original video, it shows me adding Kalamata olives as part of the toppings. The recipe is the same, you can choose to use whichever toppings you like! Be sure to use the prepackaged, preferably part skim, shredded mozzarella cheese in this recipe. Fresh mozzarella contains too much water and your pizza won't turn out as it should.
Nutrition Facts
Keto Fathead Pepperoni Pizza
Amount per Serving
% Daily Value*
* Percent Daily Values are based on a 2000 calorie diet.
Rate this Recipe
*Nutritional data is provided as a courtesy and is accurate to the best of my knowledge. You can verify it using the nutrition calculator of your choice. All data is based on net carbs, without sugar alcohol: Swerve, Erythritol, Monk Fruit or Allulose.
© Copyright for Keto Cooking Christian LLC. Please use the share buttons to share on social media, but please do not copy/paste the recipe.