This delicious baked salmon is smothered in a fresh, creamy dill sauce. It's a decadent and yet super easy Keto recipe that's full of flavor!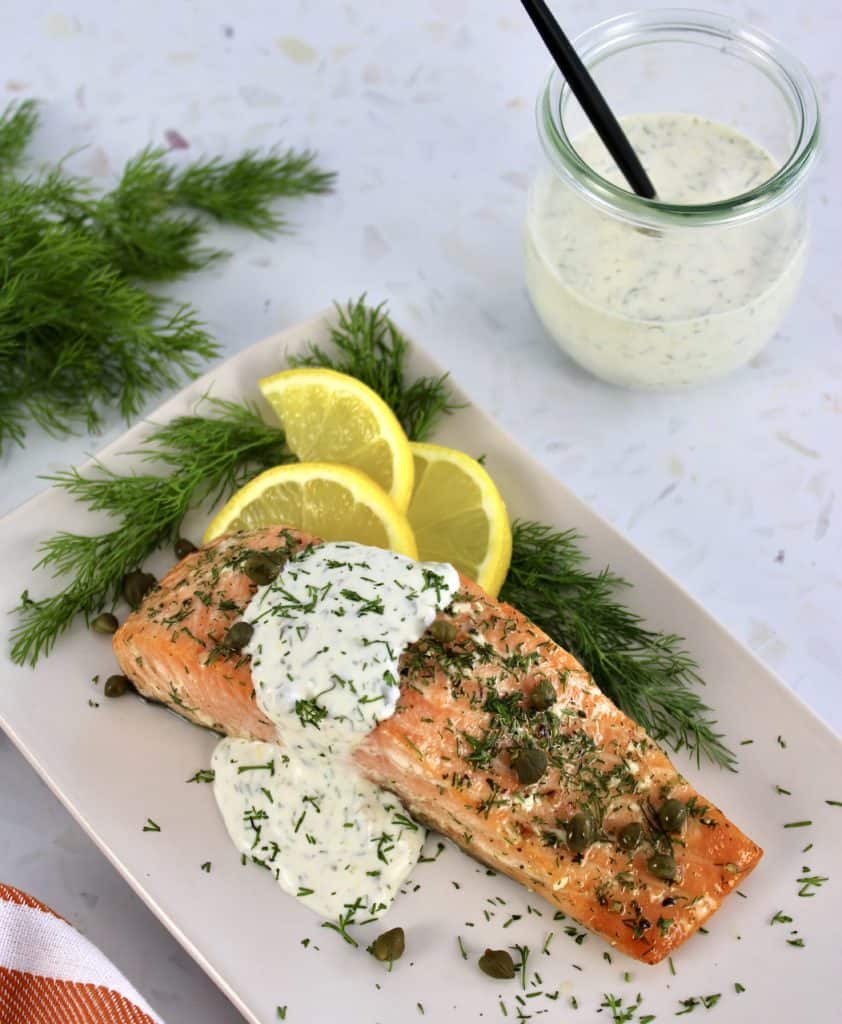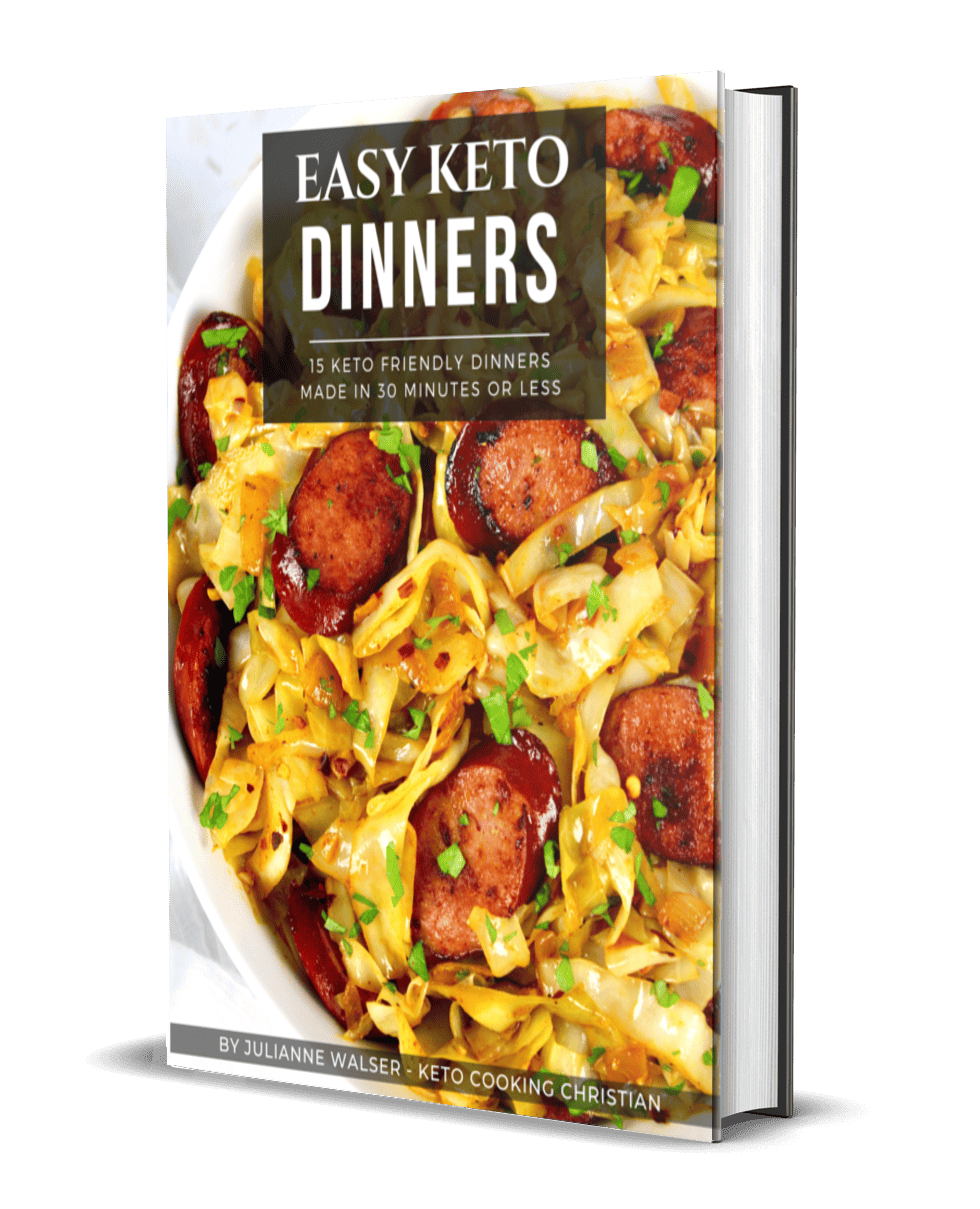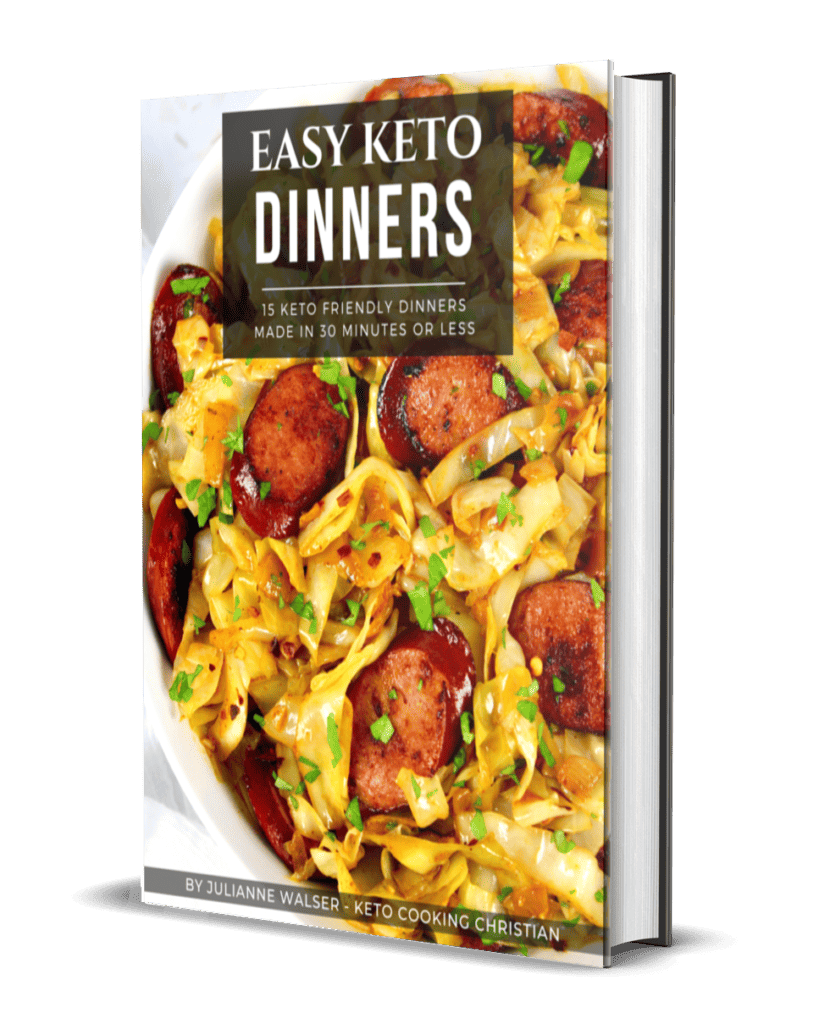 FREE EASY KETO DINNERS EBOOK
Jump to:
❤️ Why You'll Love this Baked Salmon Recipe
Tender fillets of salmon baked until flakey
Topped with an easy creamy dill sauce with wonderfully briny capers
Made with just a handful of simple healthy ingredients
Perfect for busy weeknights and elegant enough to serve guests
Made in under 25 minutes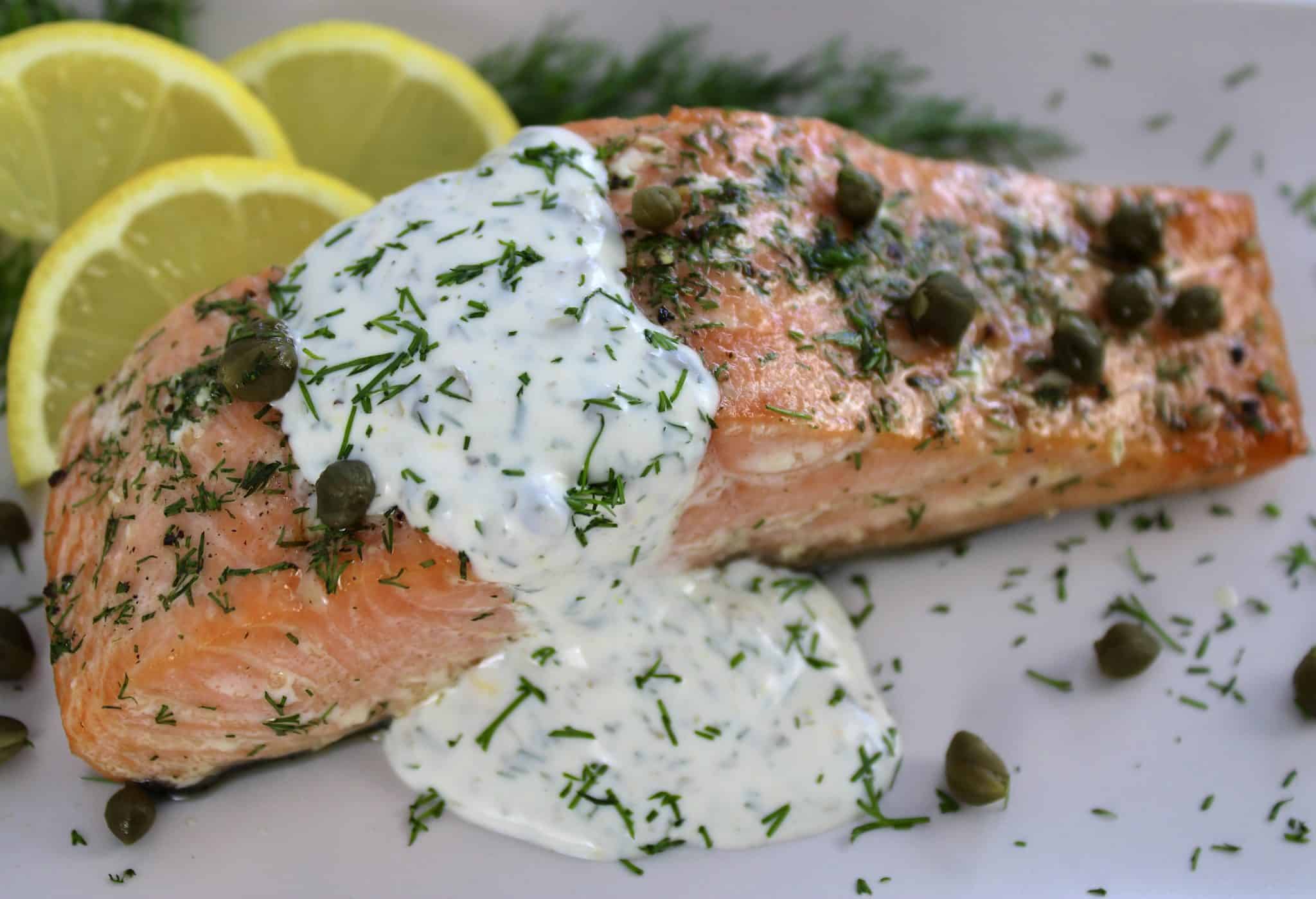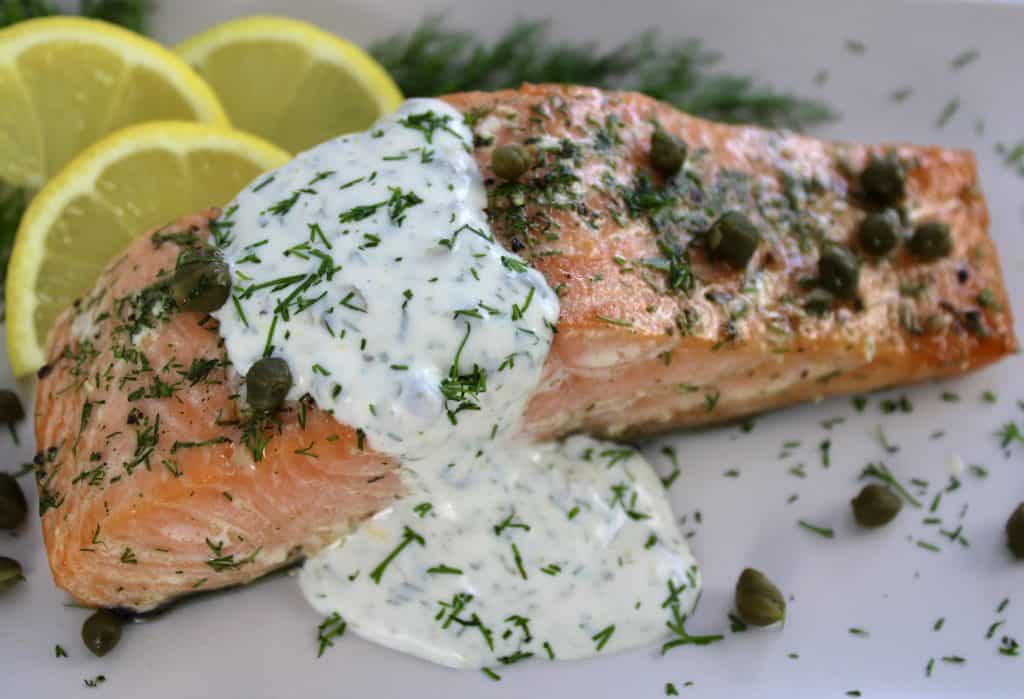 The rich, buttery texture of this baked salmon makes for perfect leftovers to serve on a simple salad the next day or use to make Keto Salmon Cakes. If you've ever been hesitant about the best way to make salmon, I think this recipe will solve that!
You might wonder, what does salmon taste like? Or what can I put on salmon to make it taste better? Salmon is subtle and very mild, so it can take on most any savory sauce, like Cajun Alfredo, Bang Bang Sauce or this Creamy Dill Sauce.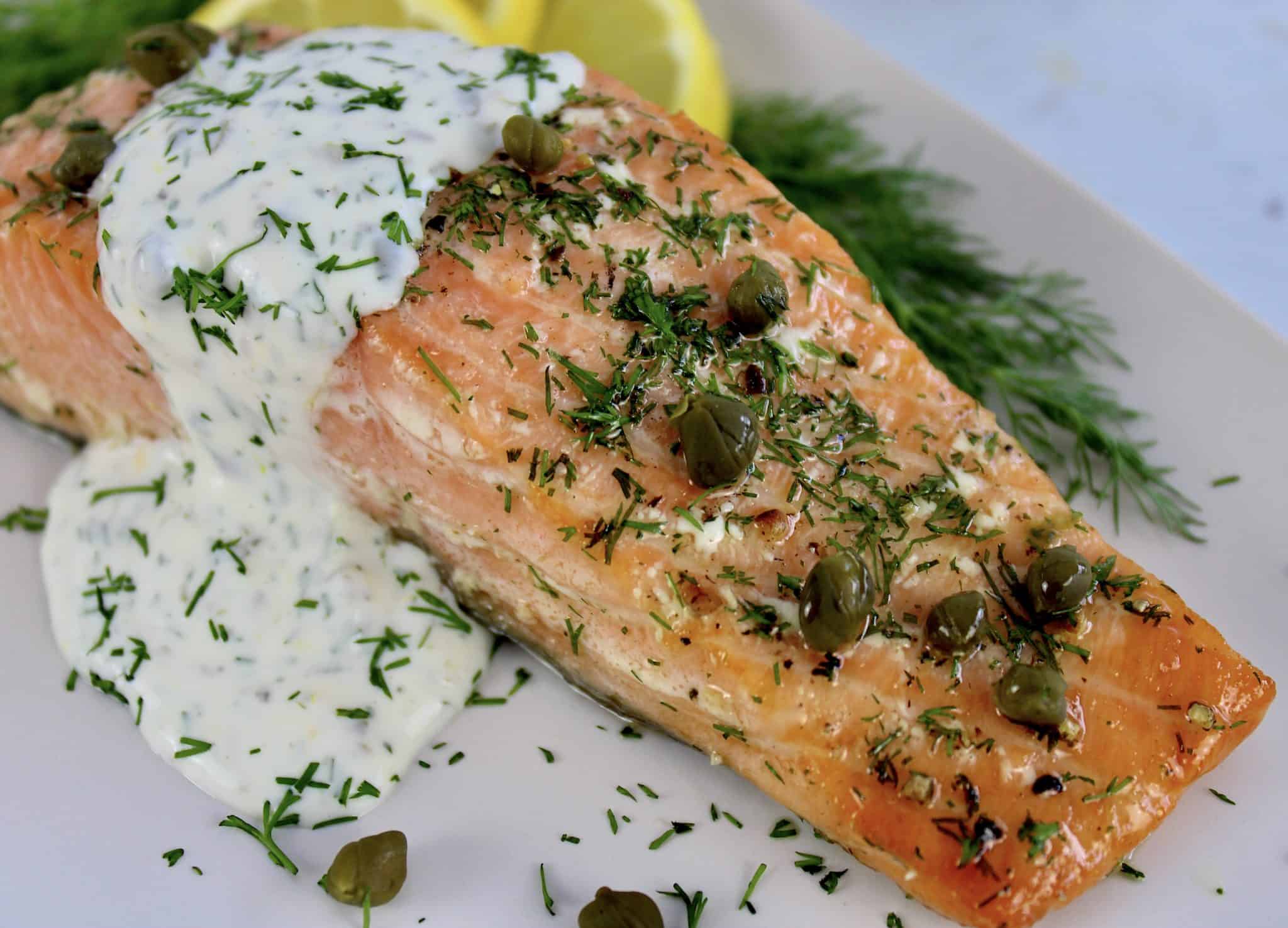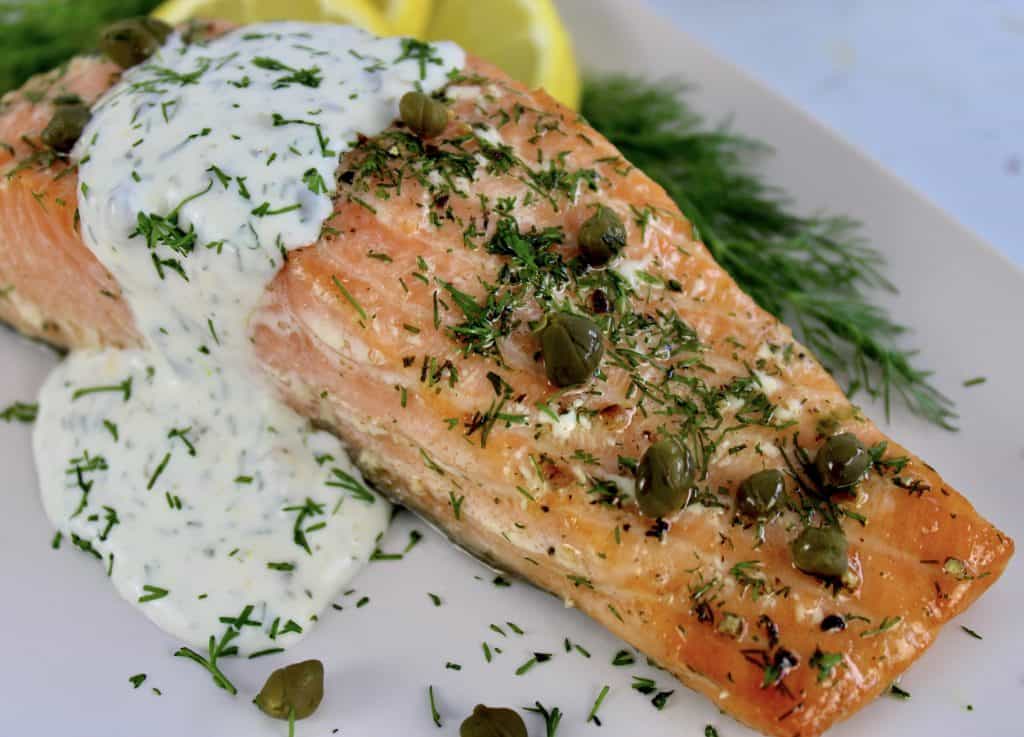 Capers along with fresh lemon zest and juice gives it a tangy, refreshing, briny/salty bite! This sauce is packed with flavor and would also be great with any fish you like. This baked salmon is perfect for a Keto weeknight dinner made in under 30 minutes.
There's no need to be intimidated by this delicious recipe, even if you've never cooked salmon before, this recipe will come out great with just a few easy steps.
🛒 What's in Baked Salmon with Dill Sauce
Salmon
Dill
Sour cream
Lemon
Salt and Pepper
*Exact measurements are listed in the recipe card below.
🥣 Recommended Tools
🔪 How to Make Keto Baked Salmon
To Make the Creamy Dill Sauce for Salmon
Add the fresh dill, sour cream, mayonnaise, dijon mustard, capers, lemon, salt and pepper in a bowl.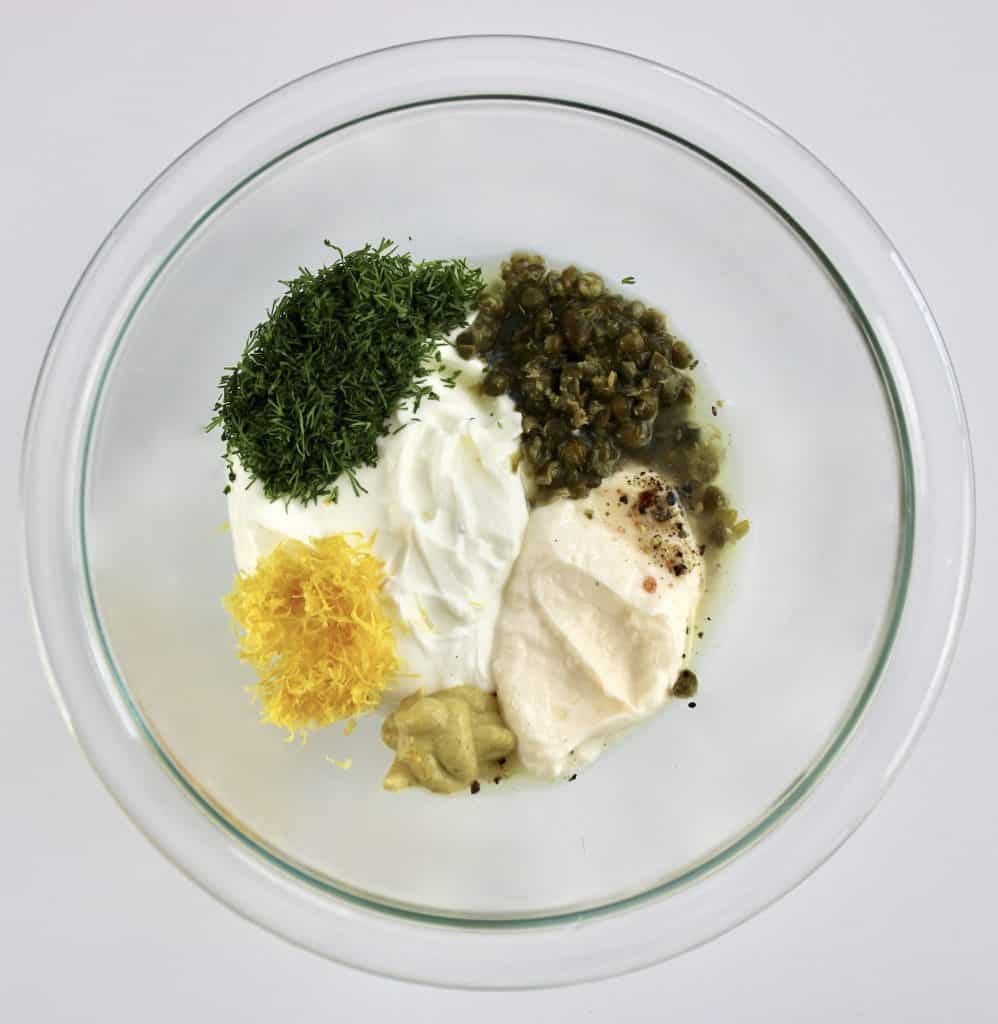 Whisk to combined, then allow to sit at room temperature while you make the salmon.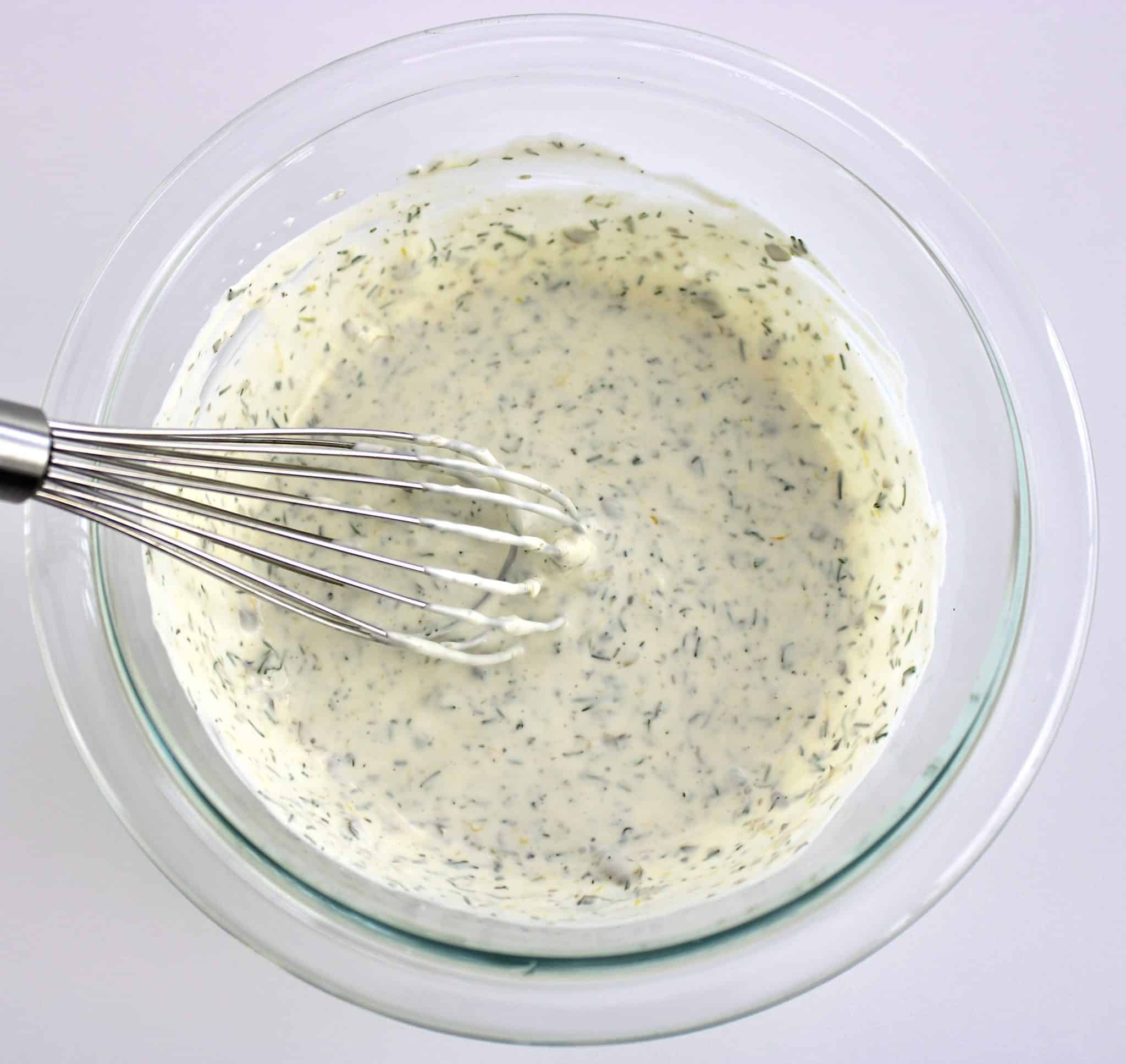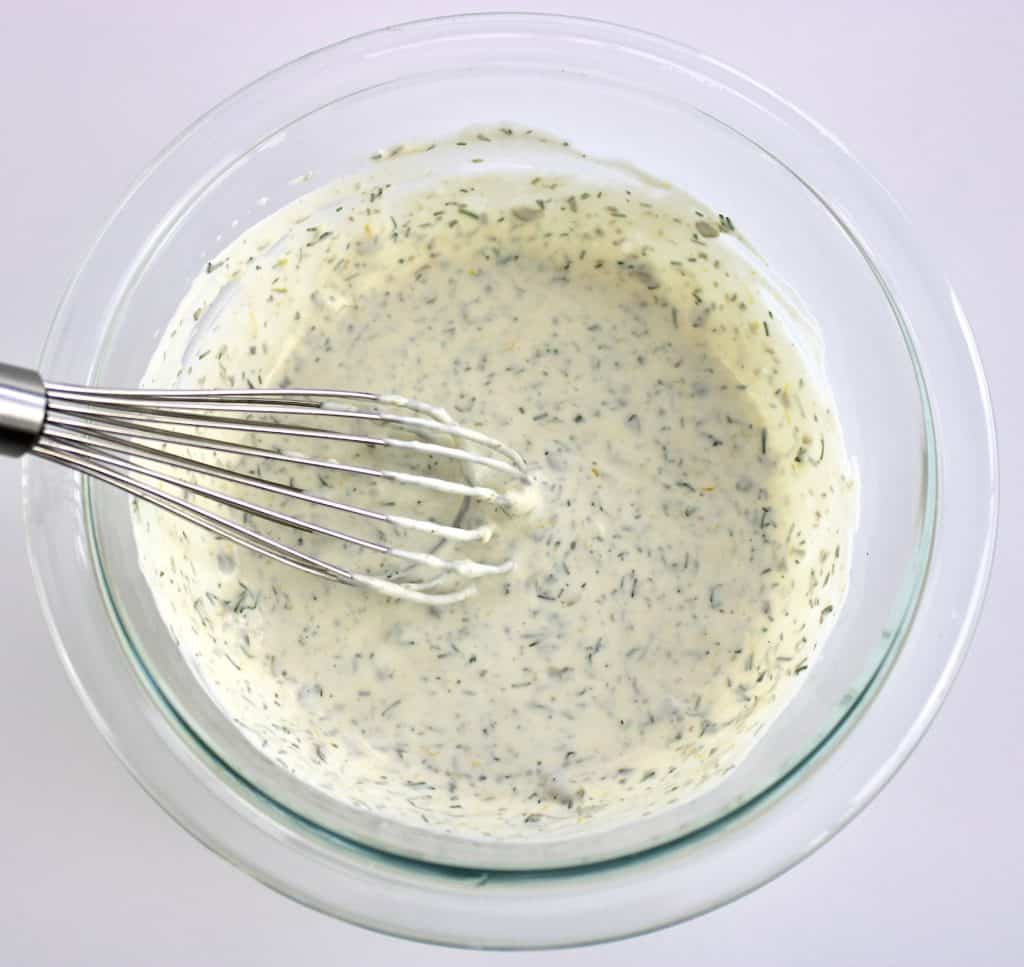 How to Cook Salmon in the Oven
Preheat your oven to 400°F.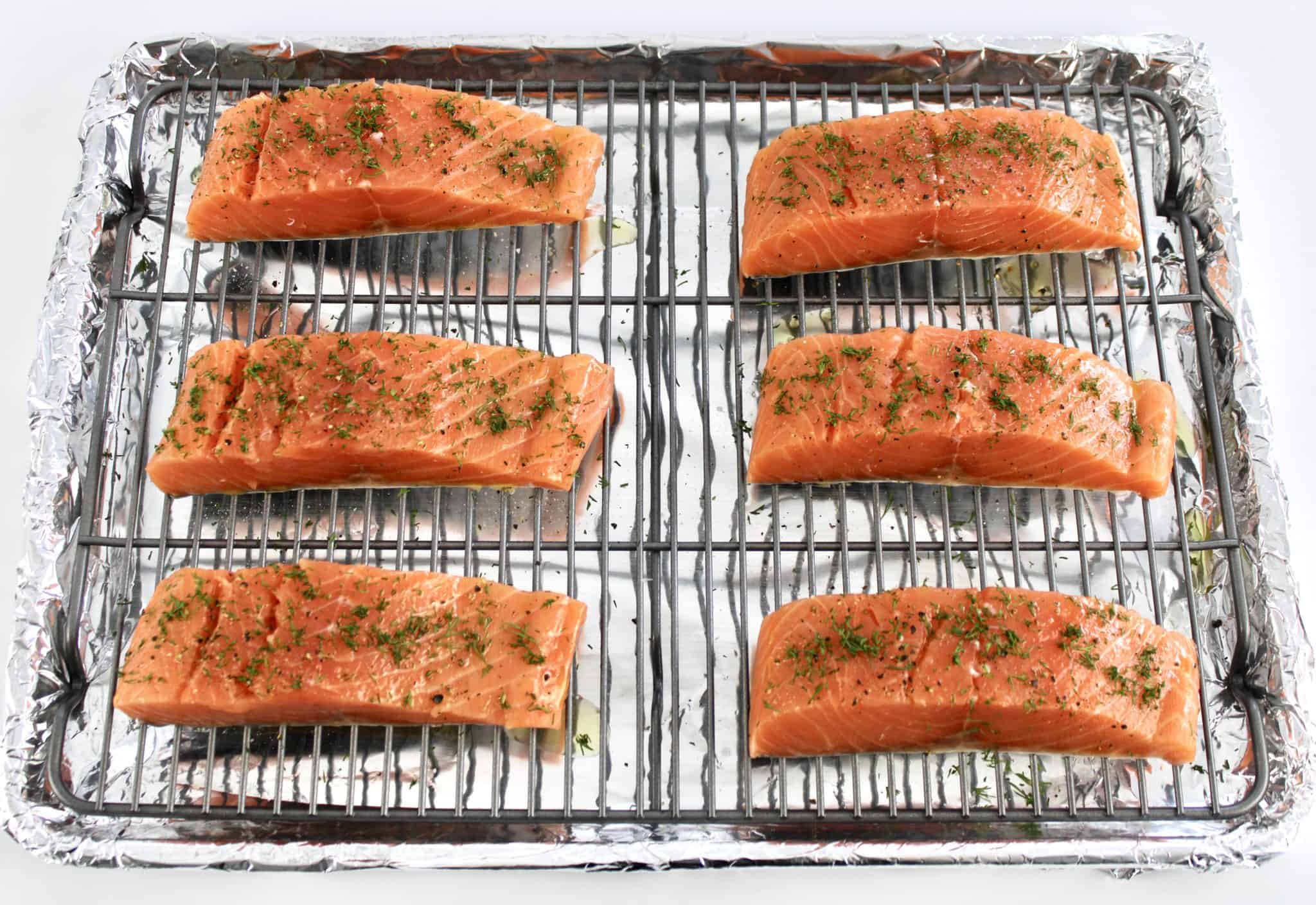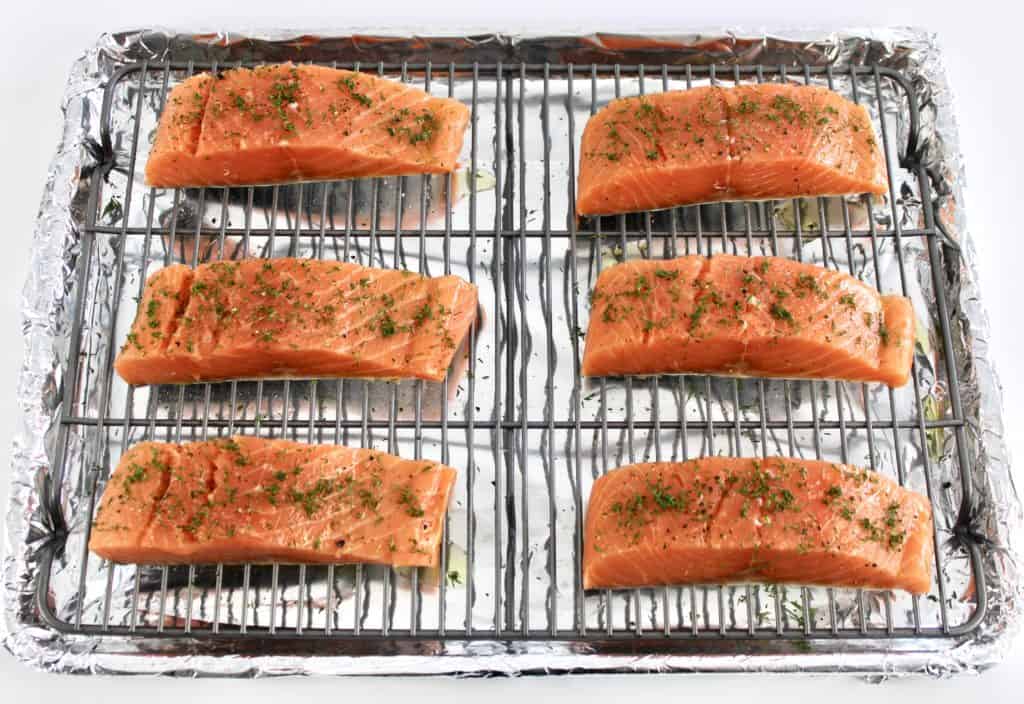 Next, line a sheet pan with aluminum foil and put a wire rack on top of it. Then place the salmon on top of the rack. This will make your clean up so simple!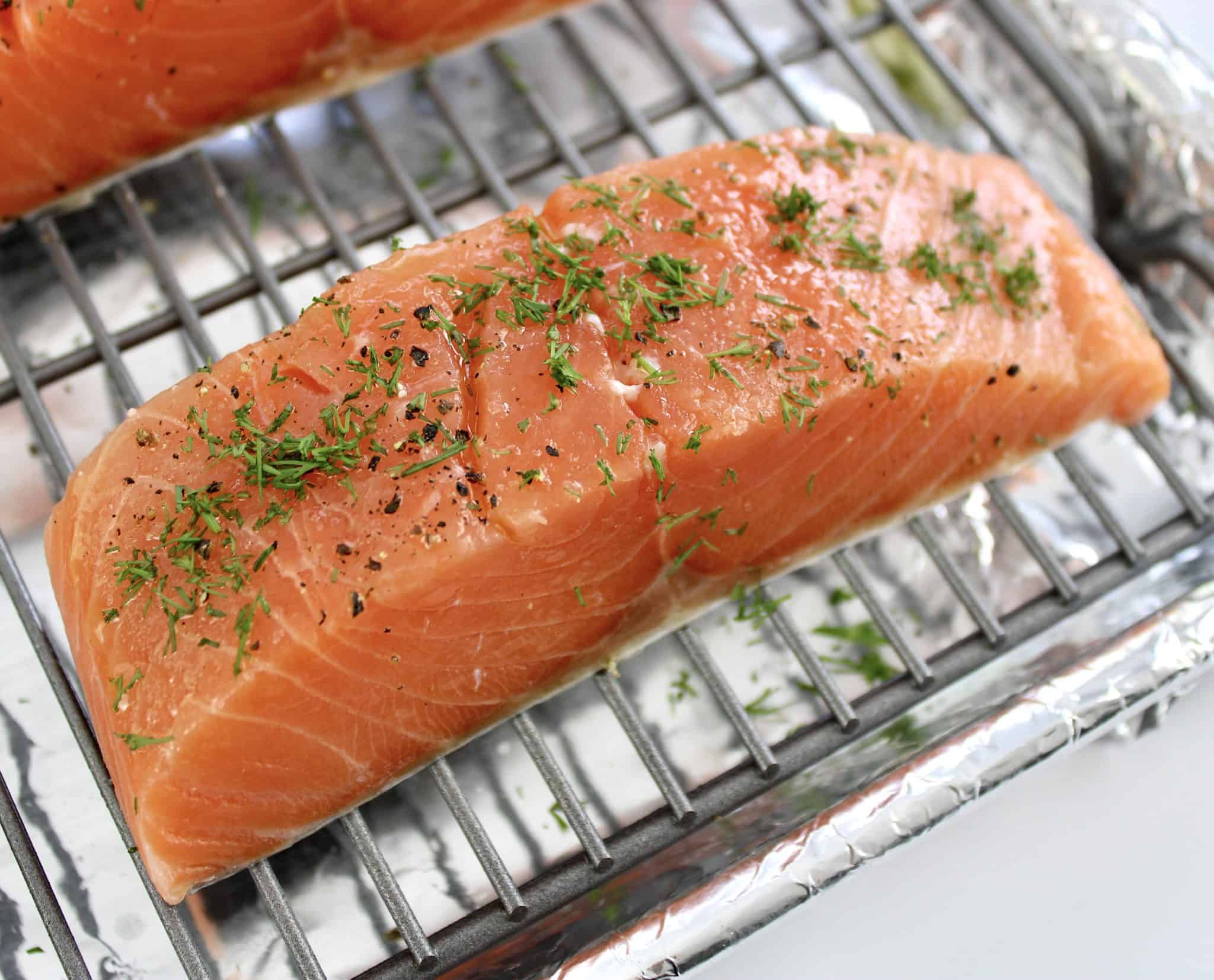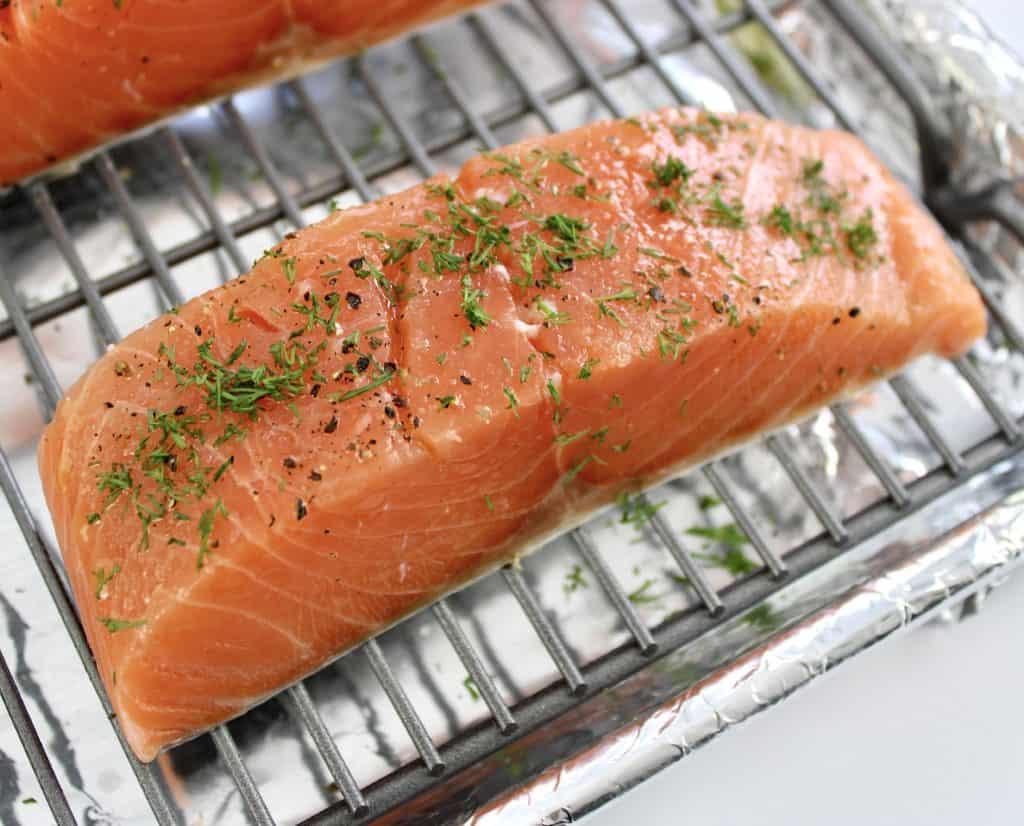 Brush each piece with olive oil.
Once you've prepped the salmon with oil, it's time to season it. A simple blend of salt, pepper, and dill will give it such great flavor! Bake it for 10 minutes.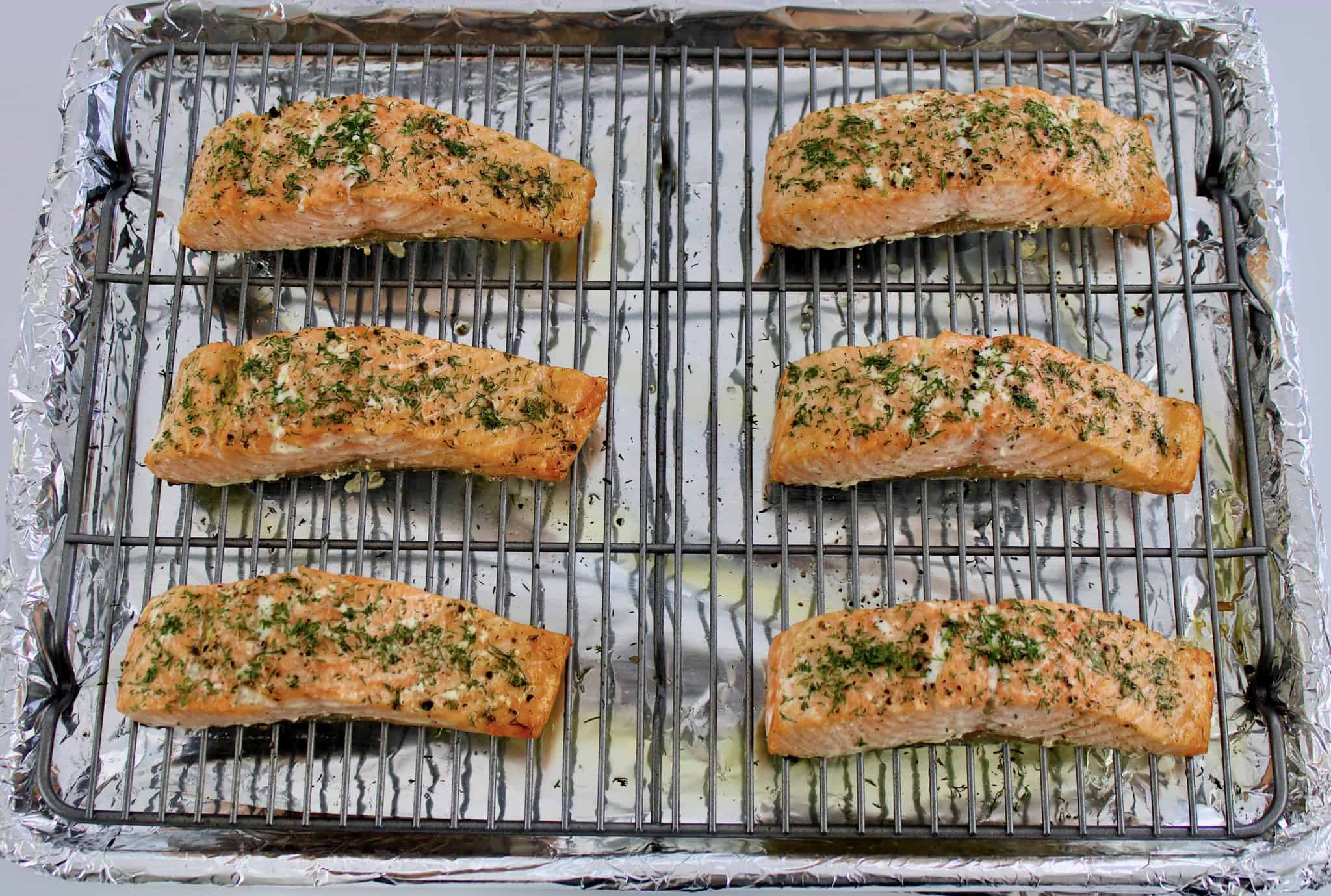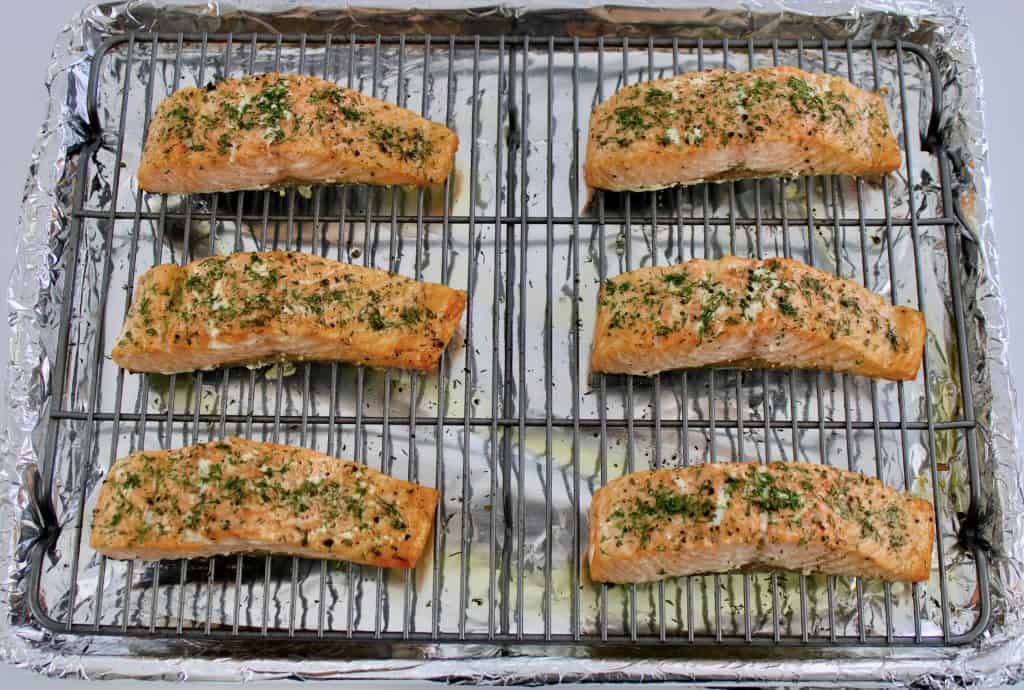 Increase the temperature to 450°F and bake for another 5-8 minutes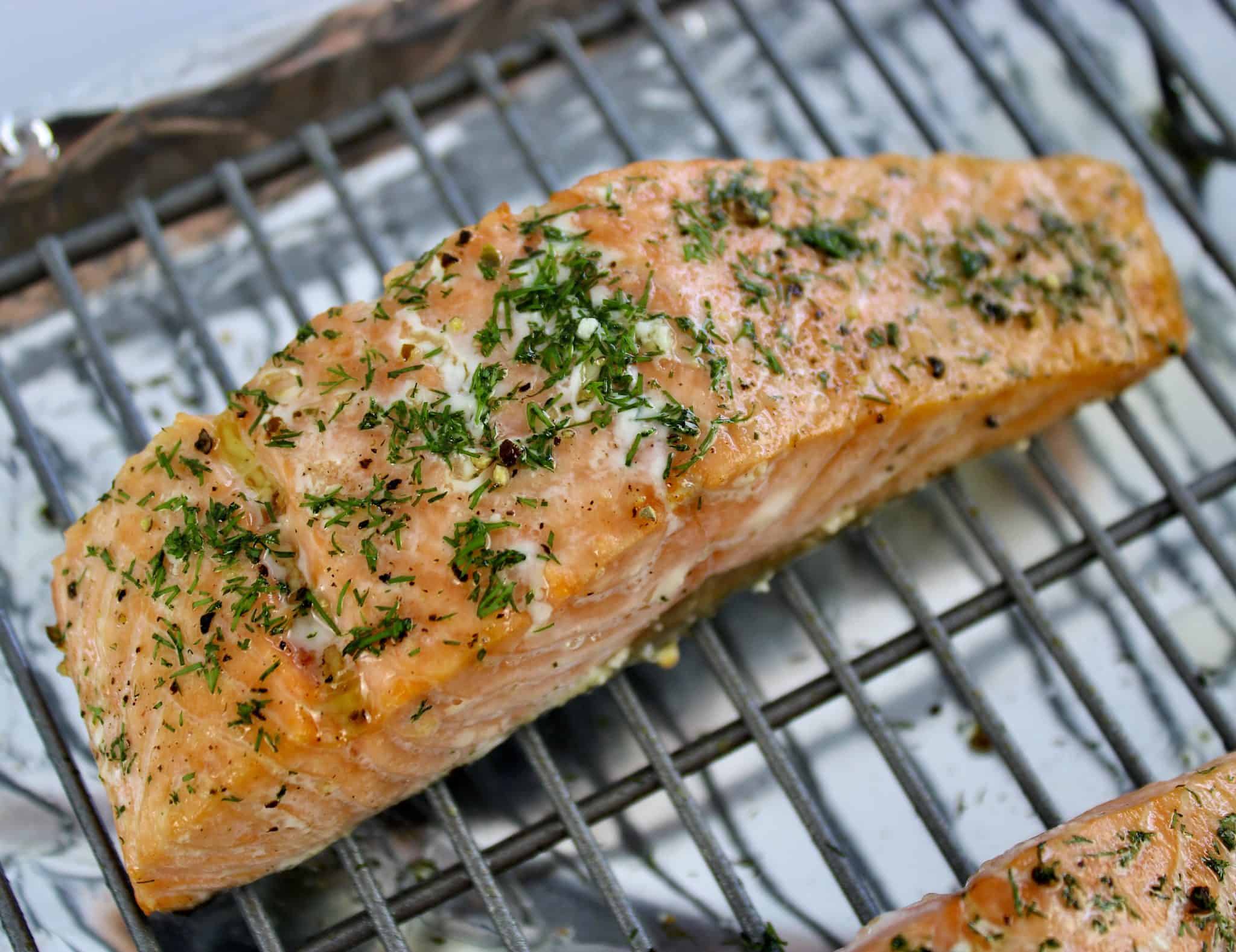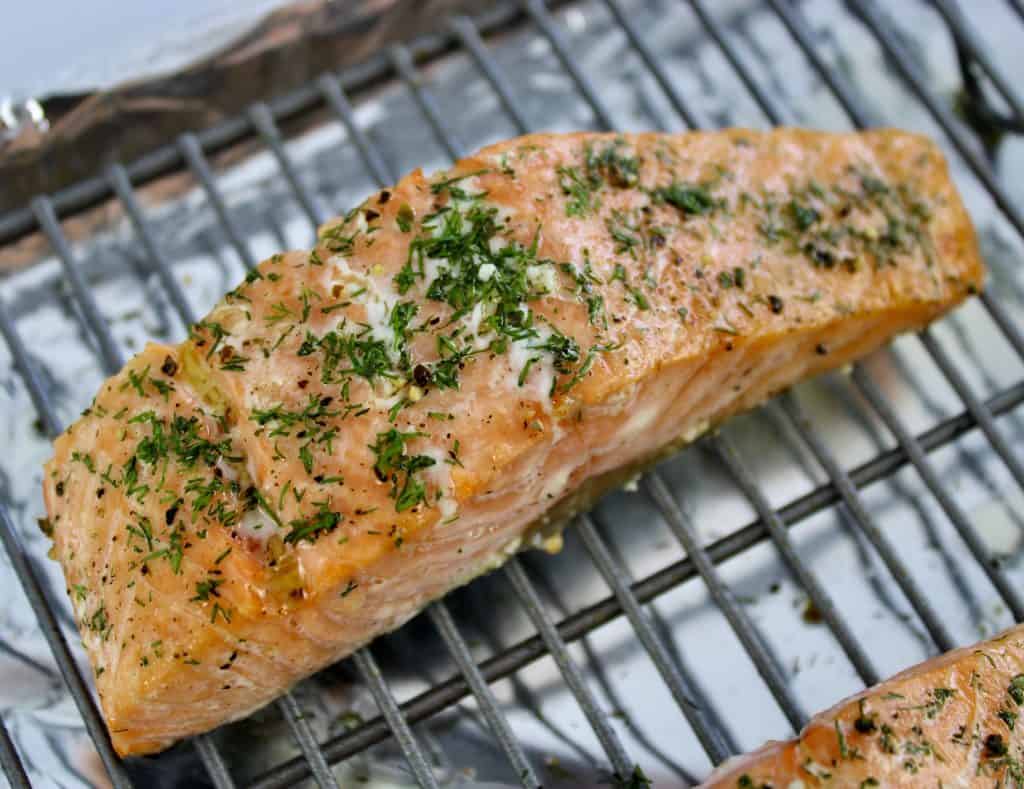 You'll know it's been long enough when the salmon is flaky when you test it with a fork.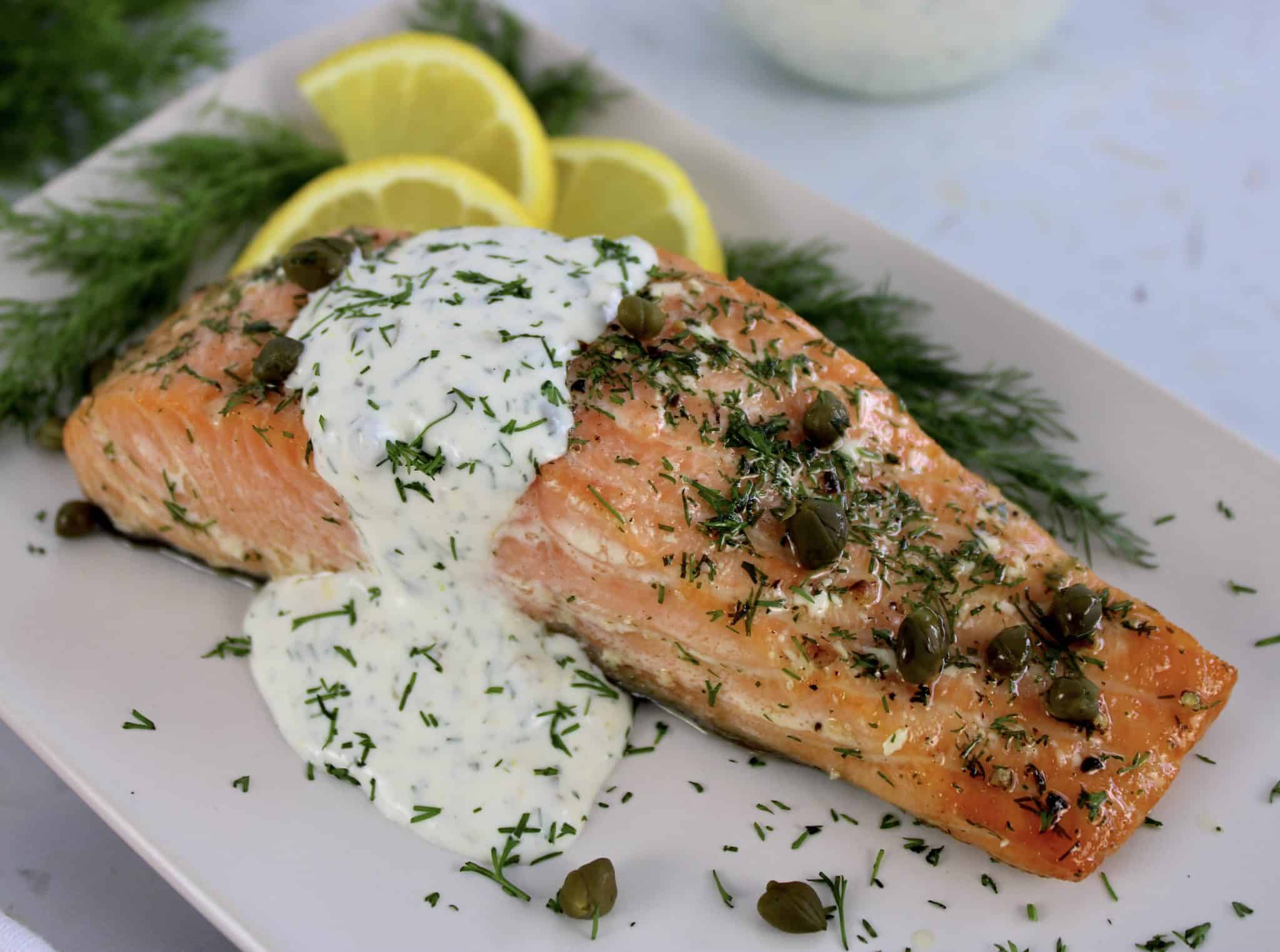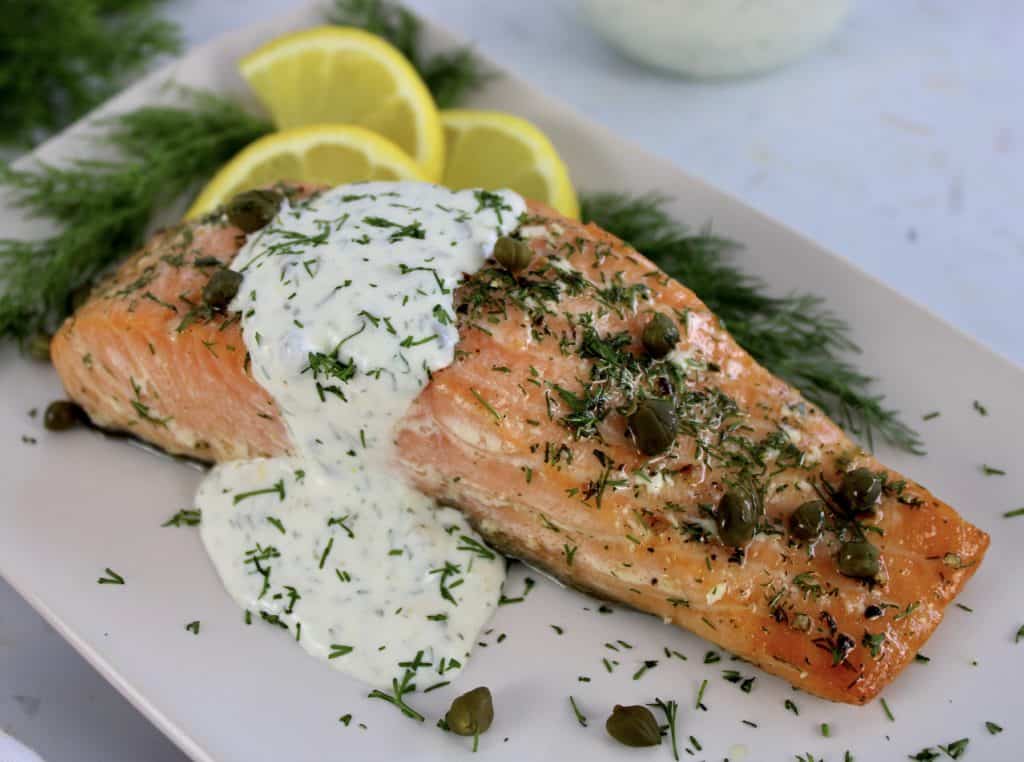 Now all that's left is to enjoy it! You can serve your flaky salmon fillets with creamy dill sauce and capers. Store any leftover sauce in the fridge in an airtight jar for 5-7 days.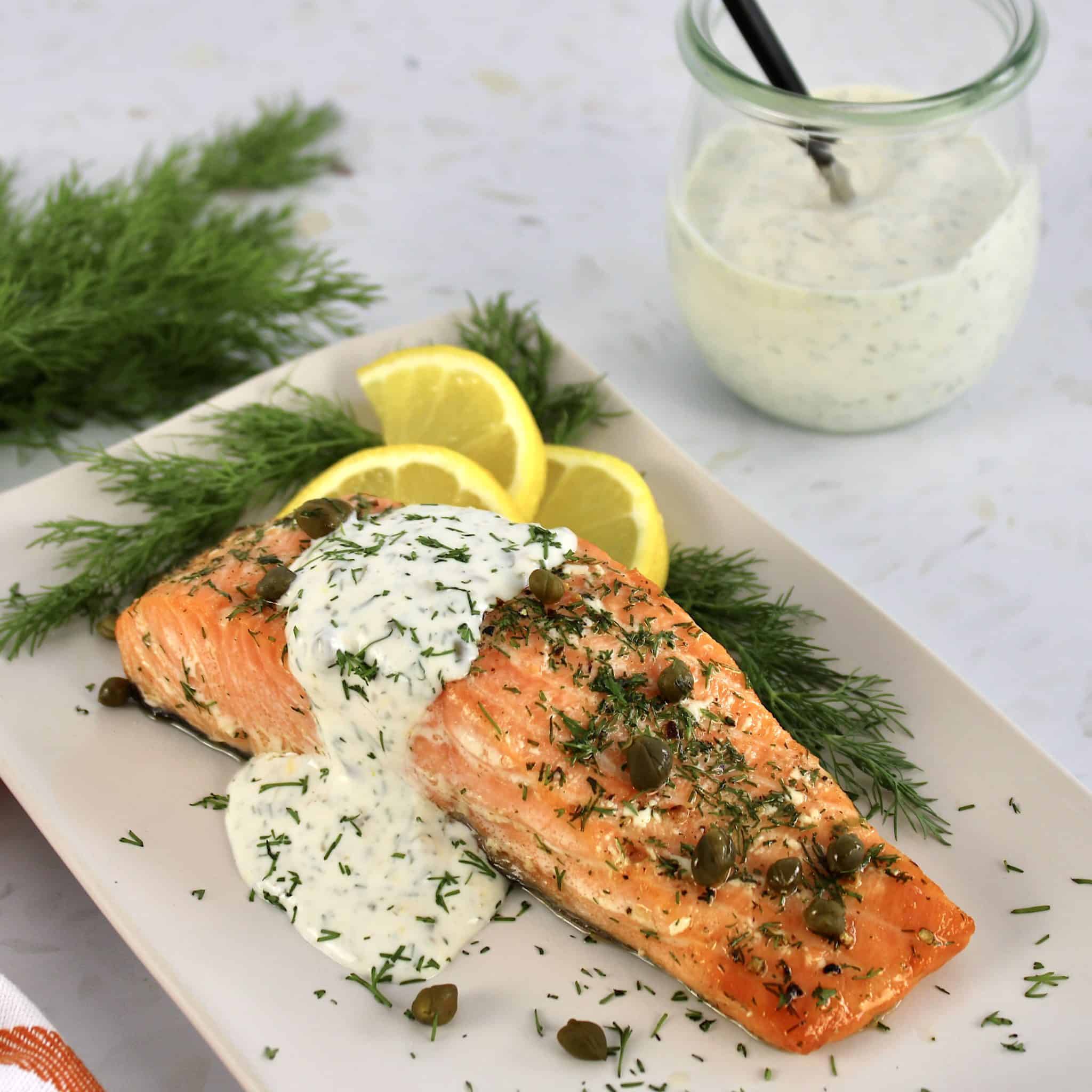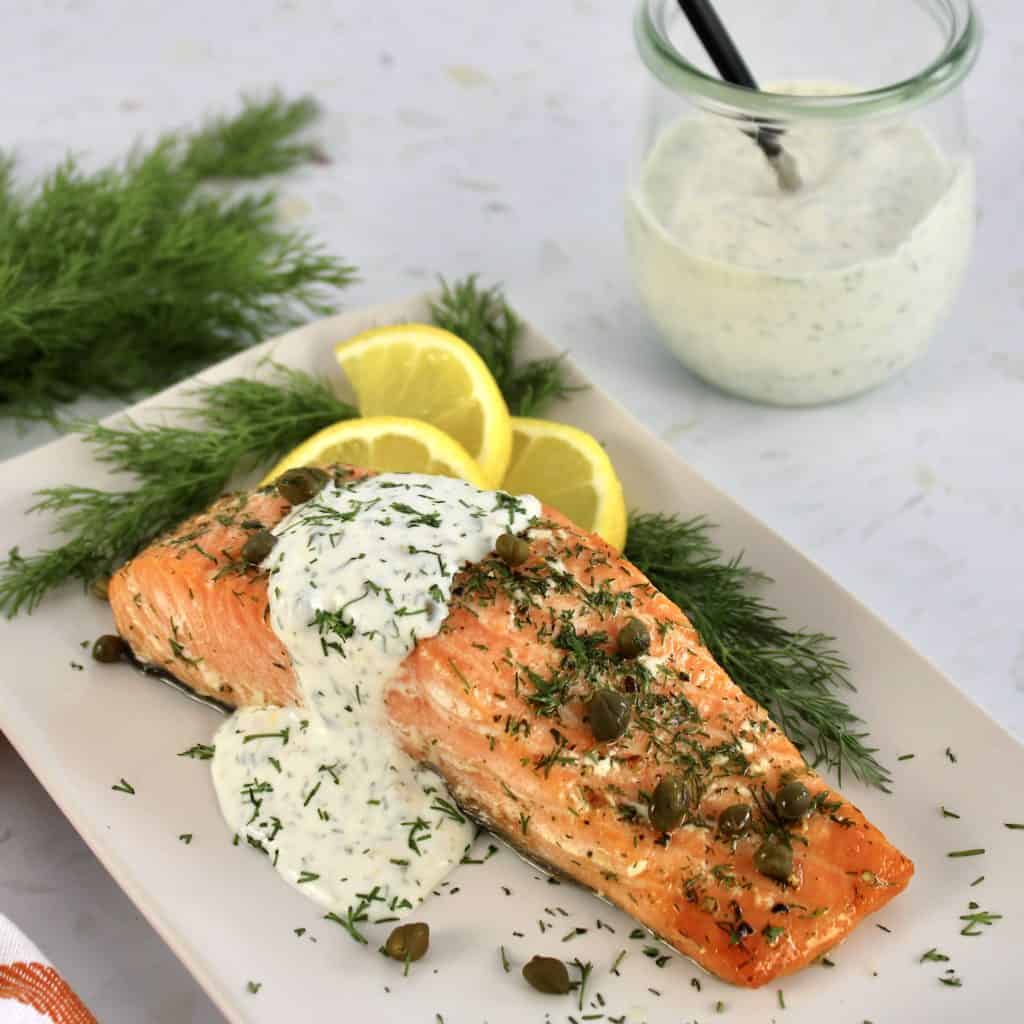 If you own an air fryer, you will love this Air Fryer Salmon! And if you like Tilapia like I do, try this Easy Keto Baked Tilapia! It only takes 25 minutes to make, which makes it perfect for a weeknight dinner!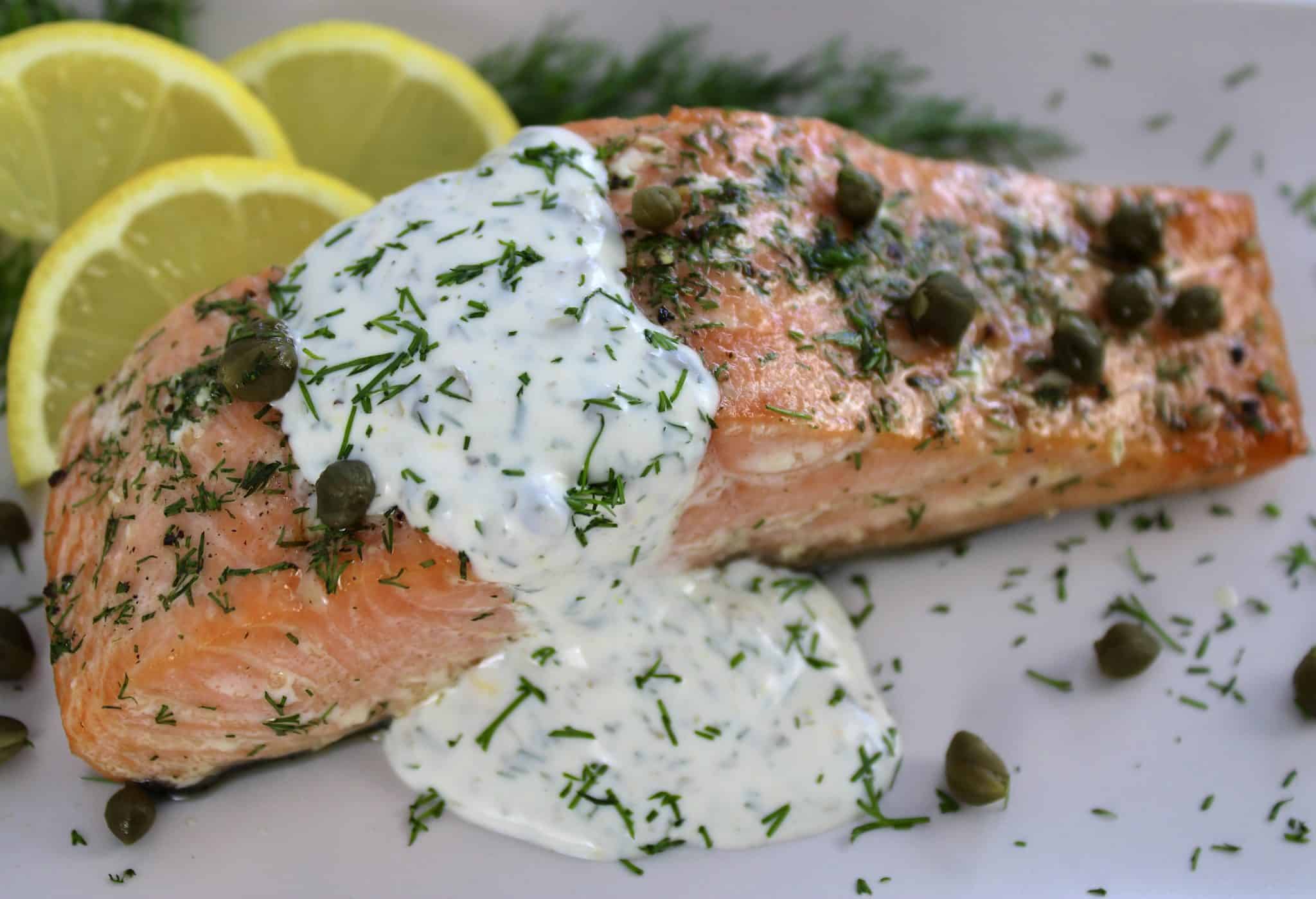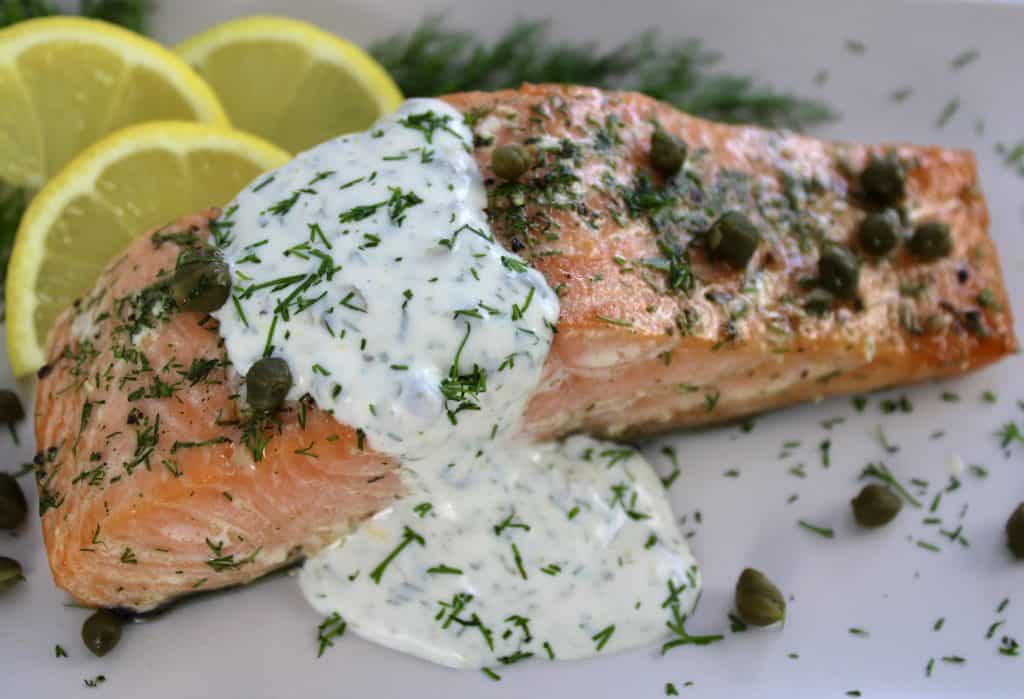 Is Salmon Keto?
It's perfect for Keto! Honestly, salmon is perfect for any diet because not only is it an excellent source for omega-3 fatty acids, it's also an excellent source for protein and potassium.
Are Capers Keto?
Yes, they absolutely are! Not only are they low in carbs with just 0.4g of carbs in each tablespoon, but they're very good for you!
Capers are the green edible flower buds harvested from the caper bush (Flinders rose). Check out this very informative article on capers health benefits to read more about these delicious salty and briny little jewels!
If you love capers, be sure to also try my Salmon Piccata with Spinach, Mediterranean Mahi Mahi and Chicken Piccata recipes!
How Do you Make Salmon Not Dry and Juicy?
There are two things that will help prevent a dry piece of salmon: the first is making sure you do not overcook it. Using an instant read thermometer can help with that. You want the internal temperature to be around 145°F, any higher and it could start to dry out.
The other factor is making sure you brush the tops with oil, in this recipe I use olive oil. This helps to keep the outside moist and even create a bit of a crust, which seals in the juices of the salmon.
When you Bake Salmon, Do you Cover it?
In some cases, yes you sure can. However in this recipe and my other salmon recipes, I choose not to cover the salmon. Covering the salmon causes it to steam, rather than roast and get those nice crispy edges that helps seal in the juices.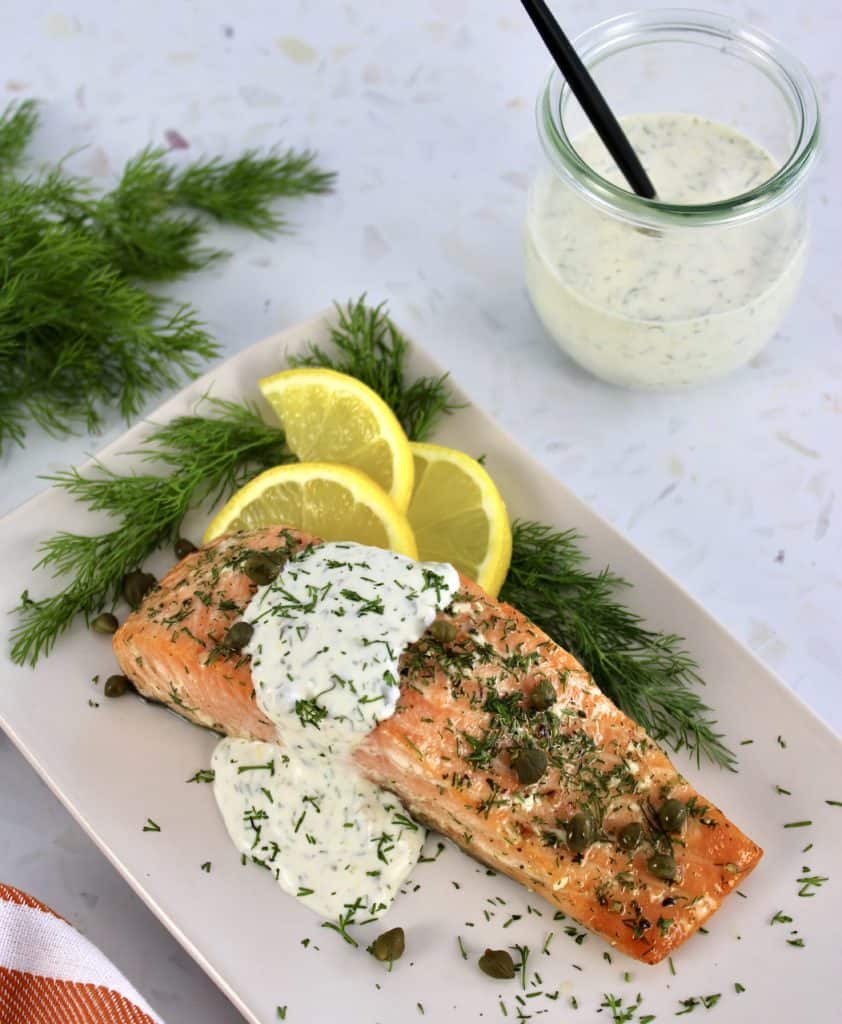 Tips For Making The Best Salmon Recipes
Salmon is one of the easiest and healthiest fish you can cook. There are a few ways to ensure yours turns out perfect every time. And it starts at the store or fish market!
Wild caught or farm raised, which is best? Wild caught basically means the fish are raised naturally in the ocean or freshwater, and feeds off things in nature. If you have access to buy wild-caught, it's preferred over farm-raised. Farm raised salmon have come a long way over the past several years and is perfectly safe to eat, but it does have a less rich flavor as wild caught because it is raised in closed areas and fed pellets made from fish meal and grains.
If you love salmon because of it's healthy benefits, you might be interested to know there are different types of salmon. While, both pink and sockeye are healthy and delicious, sockeye edges out as the winner on nutrition. It contains about 25% more omega-3 than pink salmon.
Regardless of which type you purchase, fresh salmon, in the grocery store, should be moist and the edges shouldn't be dried or curling up. Look for those little signs to make sure you get the freshest.
Unless the recipe specifically says otherwise, leave the skin on. Salmon cooks quickly and the skin acts as a fatty barrier to help keep the fish moist.
When you're ready to cook the salmon, don't season it too soon. This will draw out the moisture and leave you with dried out fish.
Don't overcook it, it will be rubbery and dry. Salmon cooks really fast so keep a watch on it. It's done when it is just become flakey. The USDA does recommend an internal temp of at least 145°F to be considered safe to eat.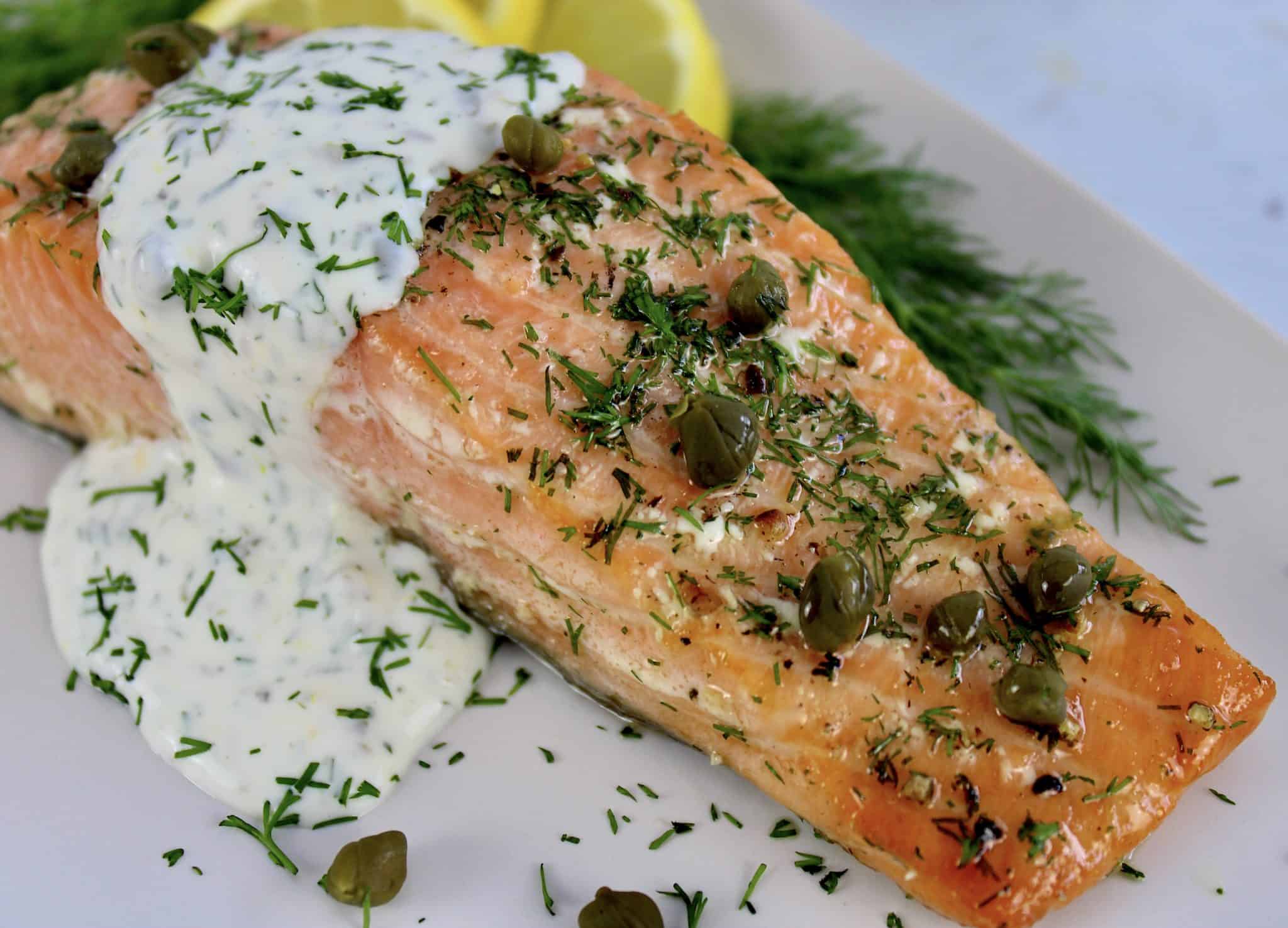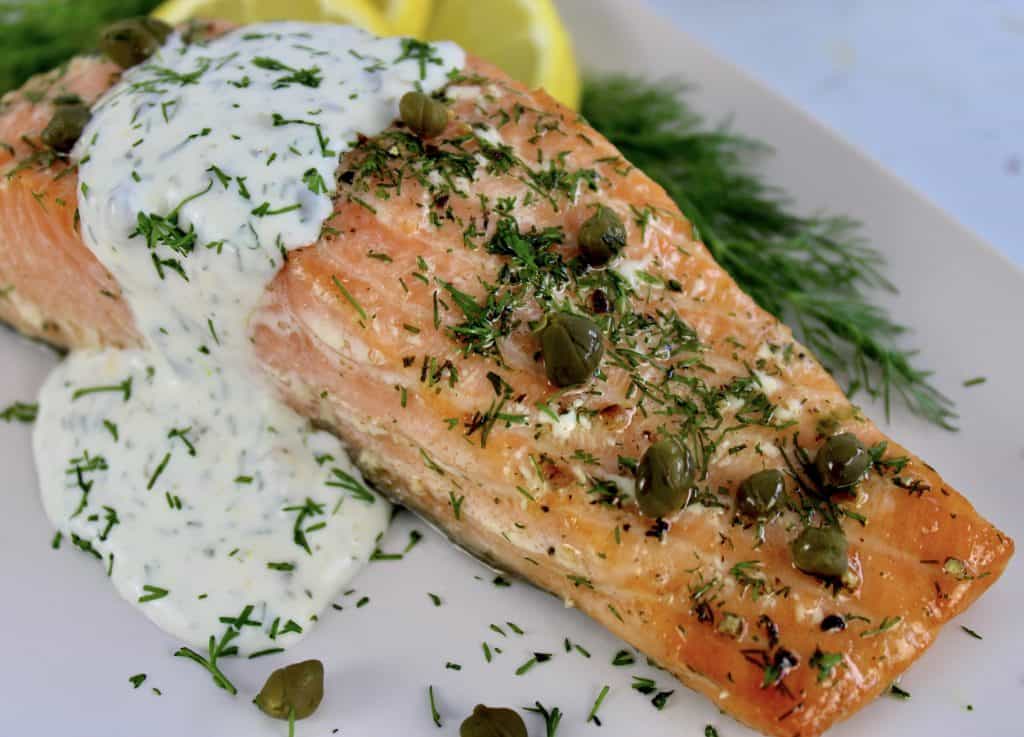 More Keto Salmon Recipes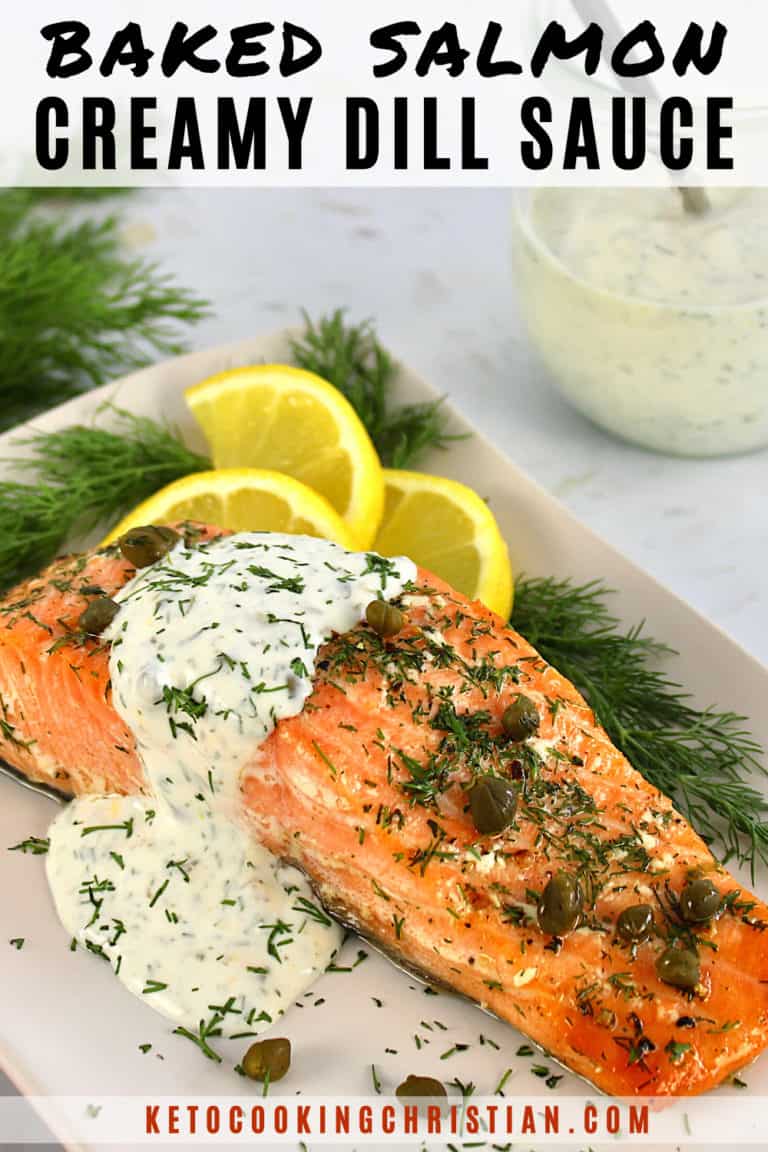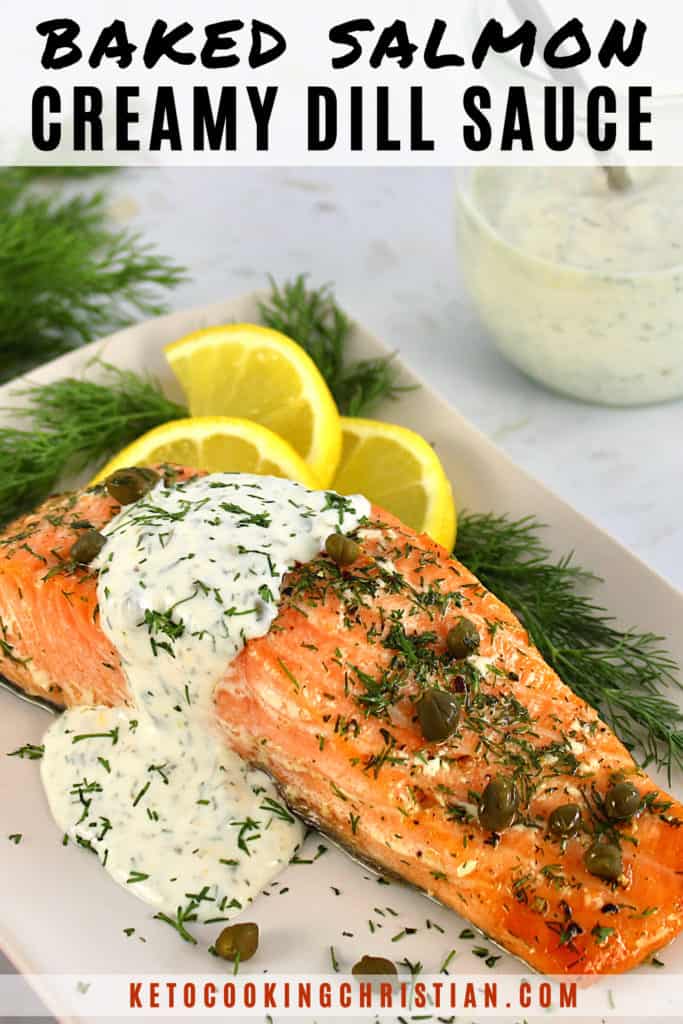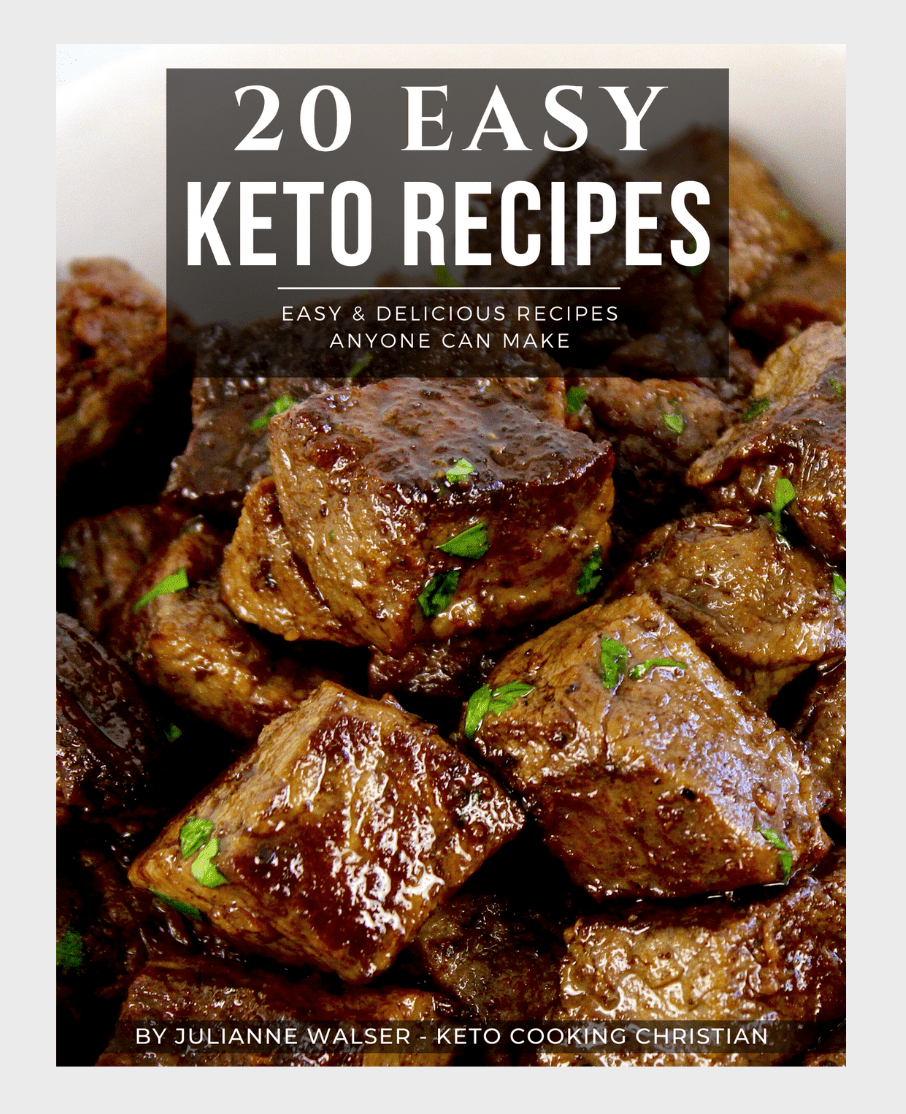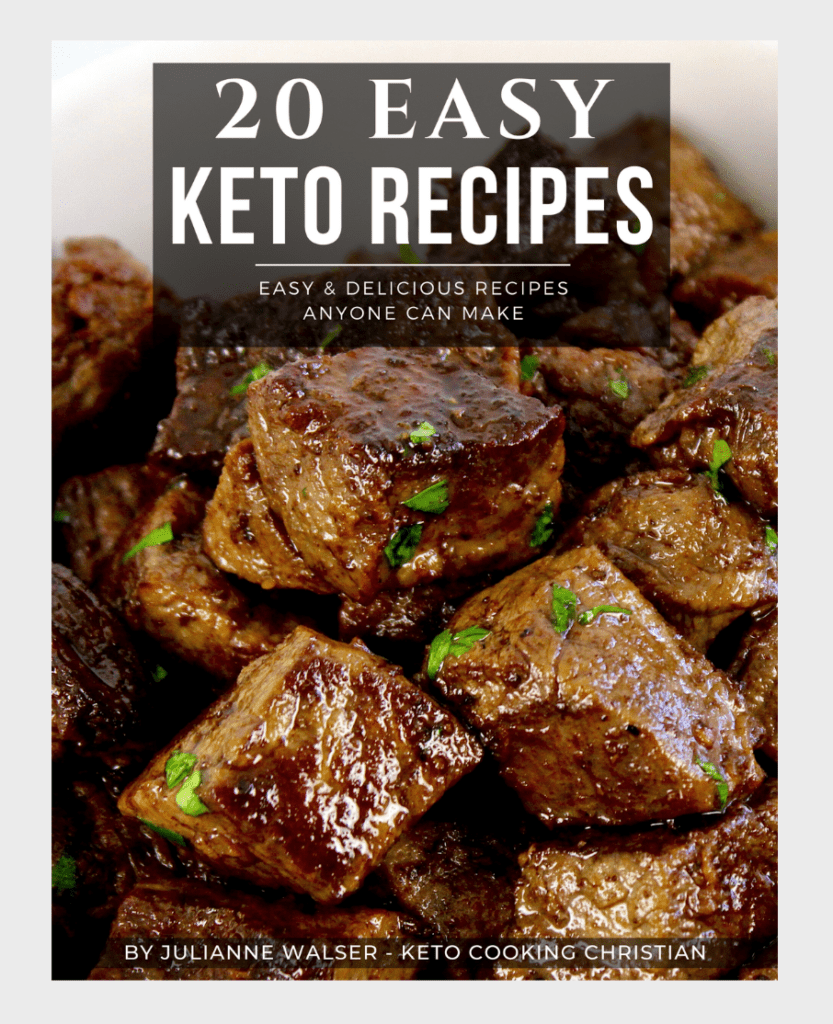 FREE 20 EASY KETO RECIPES EBOOK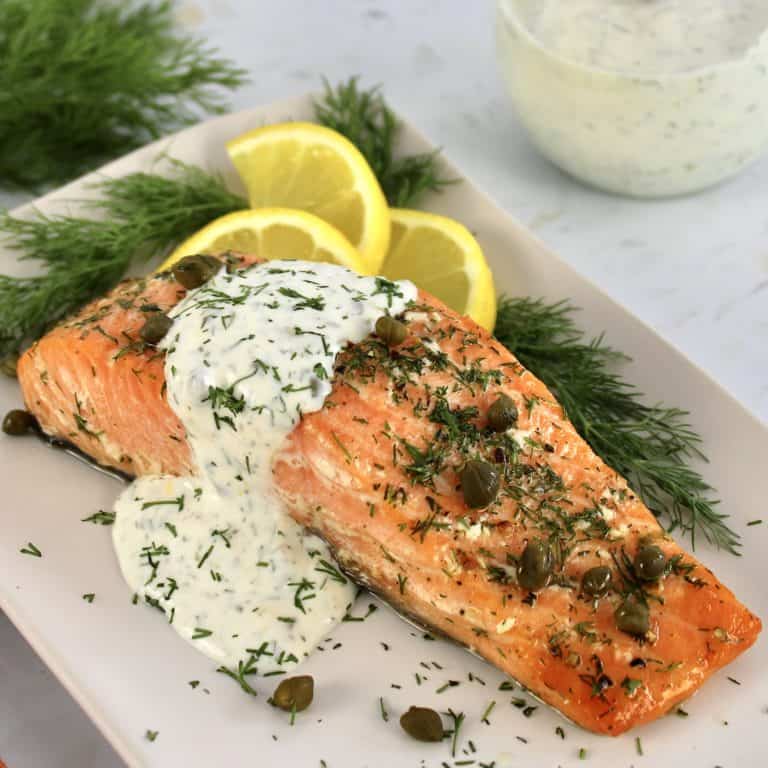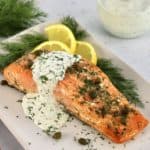 Baked Keto Salmon with Creamy Dill Sauce
Baked salmon smothered in a fresh creamy dill sauce that is super easy to make and full of flavor!
Servings 6
Ingredients
6 pieces fresh salmon (about 2″ wide/4 ounces each)
1 tablespoon fresh dill, chopped
Salt and Pepper to taste
For the Sauce
⅓ cup sour cream
2 tablespoons mayonnaise
1 tablespoon fresh dill, chopped
1 tablespoon capers, chopped
1 teaspoon dijon mustard
Juice and zest of ½ lemon
Salt and pepper to taste
Instructions
To Make the Salmon
Preheat oven to 400F.

Place the salmon on a wire rack, placed on a baking sheet lined with aluminum foil (for easier cleanup). Brush each piece with olive oil. Sprinkle salt, pepper and dill over the tops.

Bake for 10 minutes. Increase the temperature to 450F and bake for another 5-8 minutes.

Serve with a healthy dollop of the sauce over the top of the salmon, and garnish with some dill and capers. Store any leftover sauce in the fridge in an airtight jar for 5-7 days.
Recipe Notes
If you don't have fresh dill, you can use about half the amount of dried dill weed instead.
*Make sure to scroll up and read the post for substitutions, additions and helpful tips for making this recipe.
Nutrition Facts
Baked Keto Salmon with Creamy Dill Sauce
Amount per Serving
% Daily Value*
* Percent Daily Values are based on a 2000 calorie diet.
Rate this Recipe
*Nutritional data is provided as a courtesy and is accurate to the best of my knowledge. You can verify it using the nutrition calculator of your choice. All data is based on net carbs, without sugar alcohol: Swerve, Erythritol, Monk Fruit or Allulose.
© Copyright for Keto Cooking Christian LLC. Please use the share buttons to share on social media, but please do not copy/paste the recipe.
*Originally published on October 28, 2018, updated on July 2, 2021 with new photos and helpful tips.