Learn How to Cook Spaghetti Squash, using two easy methods, along with some helpful tips and delicious ways to serve it.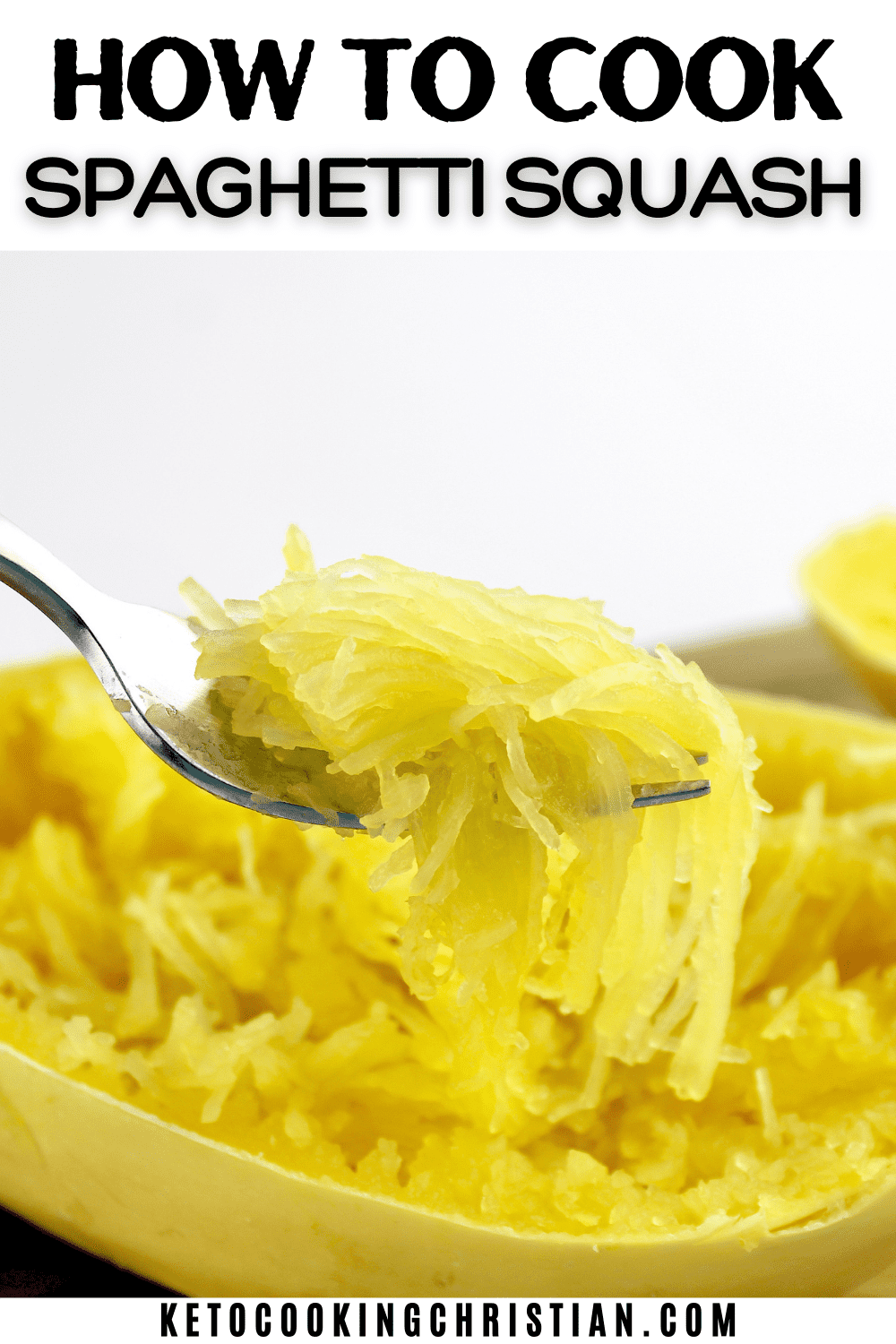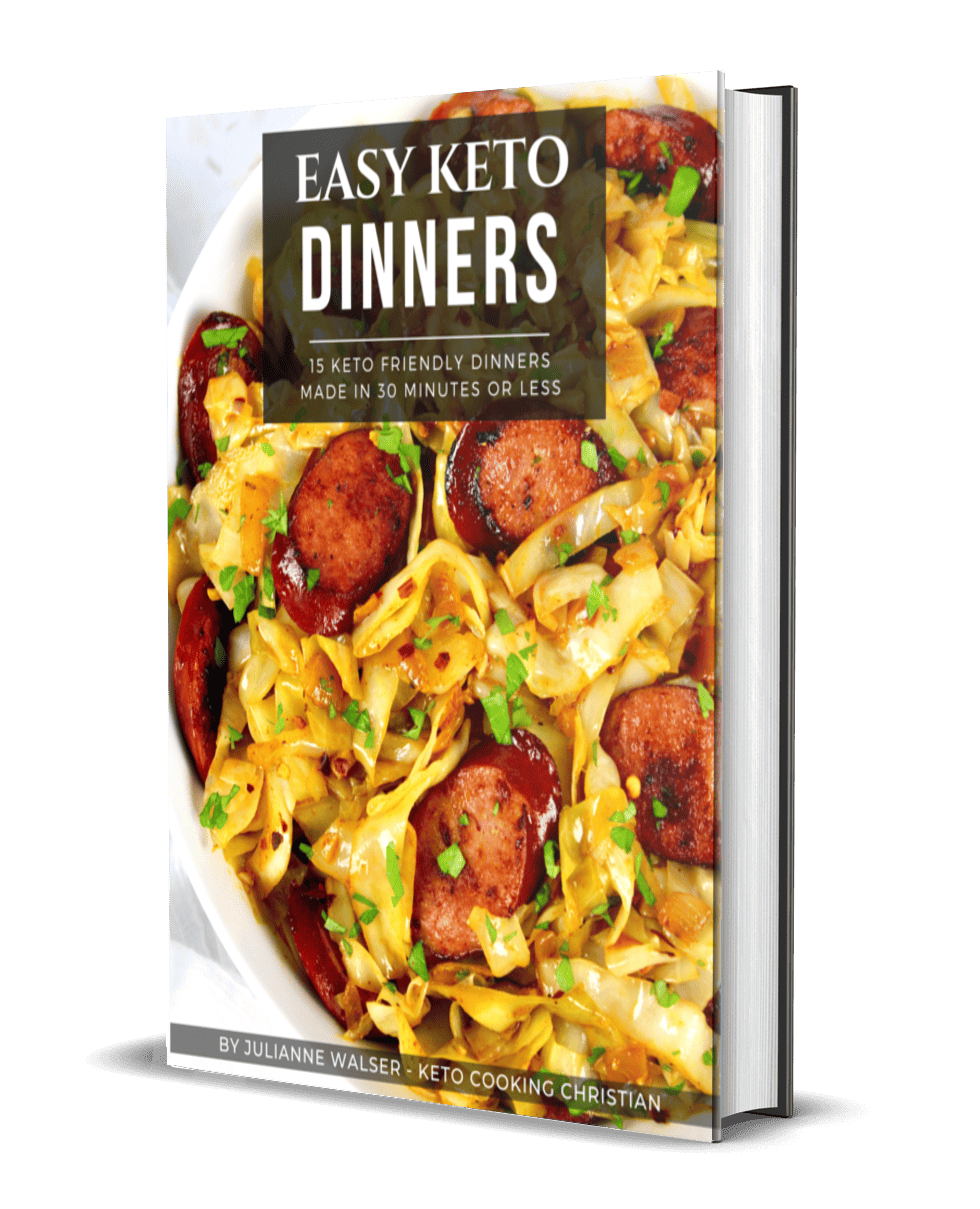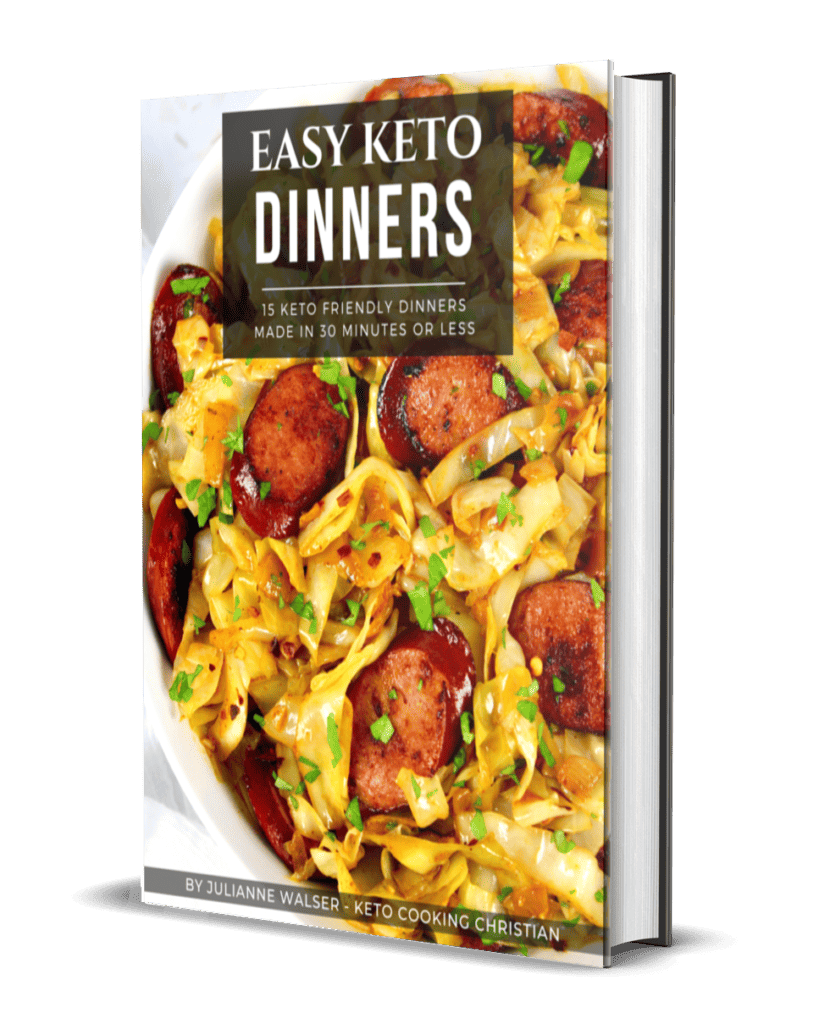 FREE EASY KETO DINNERS EBOOK
Spaghetti squash is a hearty and versatile vegetable that can sometimes get overlooked in the low carb world. Hopefully, after you see how easy it is to prepare using two different cooking methods, you'll add it to your regular meal rotation.
🔪 How to Roast Spaghetti Squash in the Oven (Method #1)
What You'll Need:
2–4 pound spaghetti squash
Olive oil
Salt and ground black pepper
Fork, spoon and sharp knife
Preheat oven to 400°F.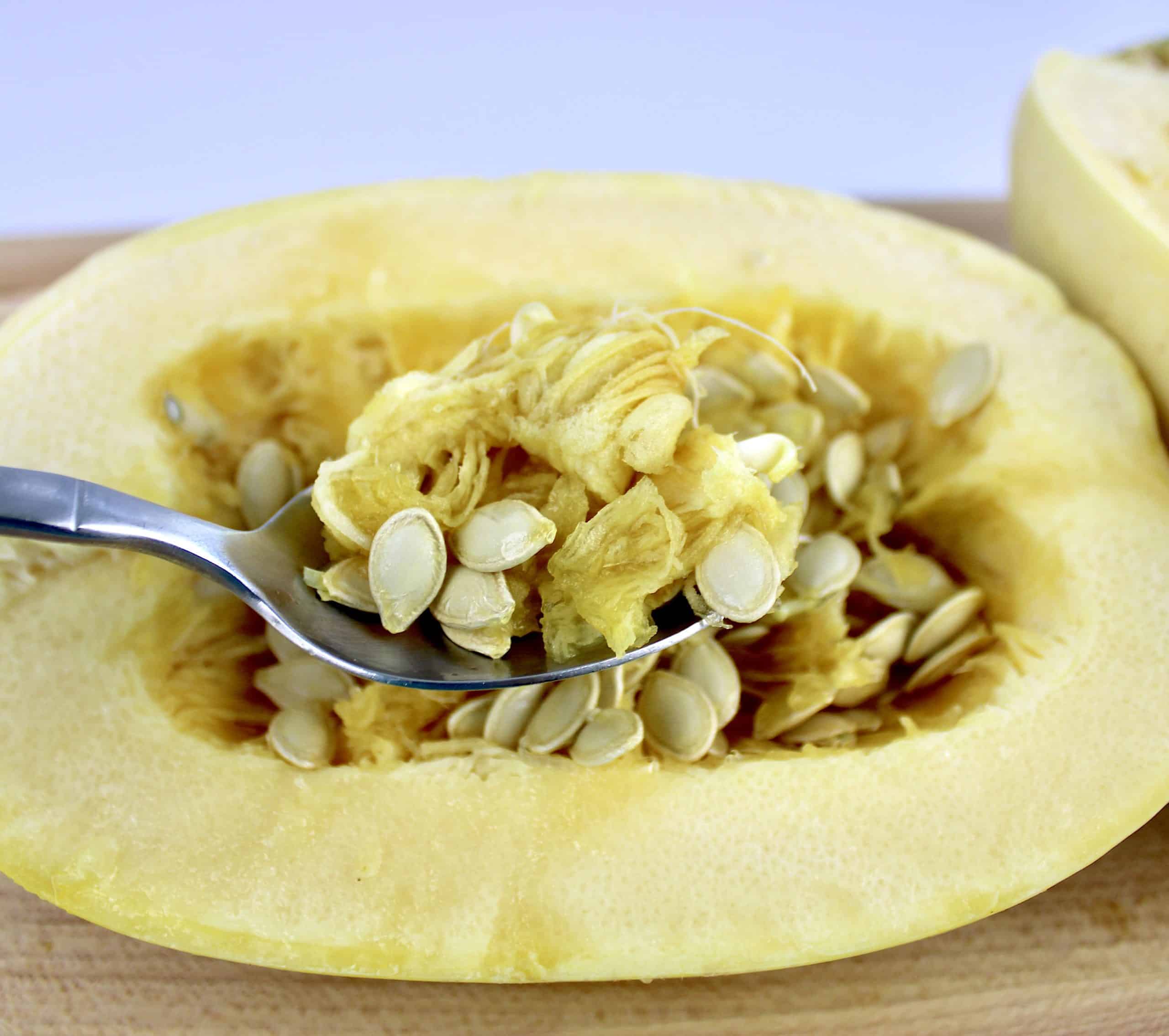 Cut your spaghetti squash in half lengthwise and scrape out all the seeds.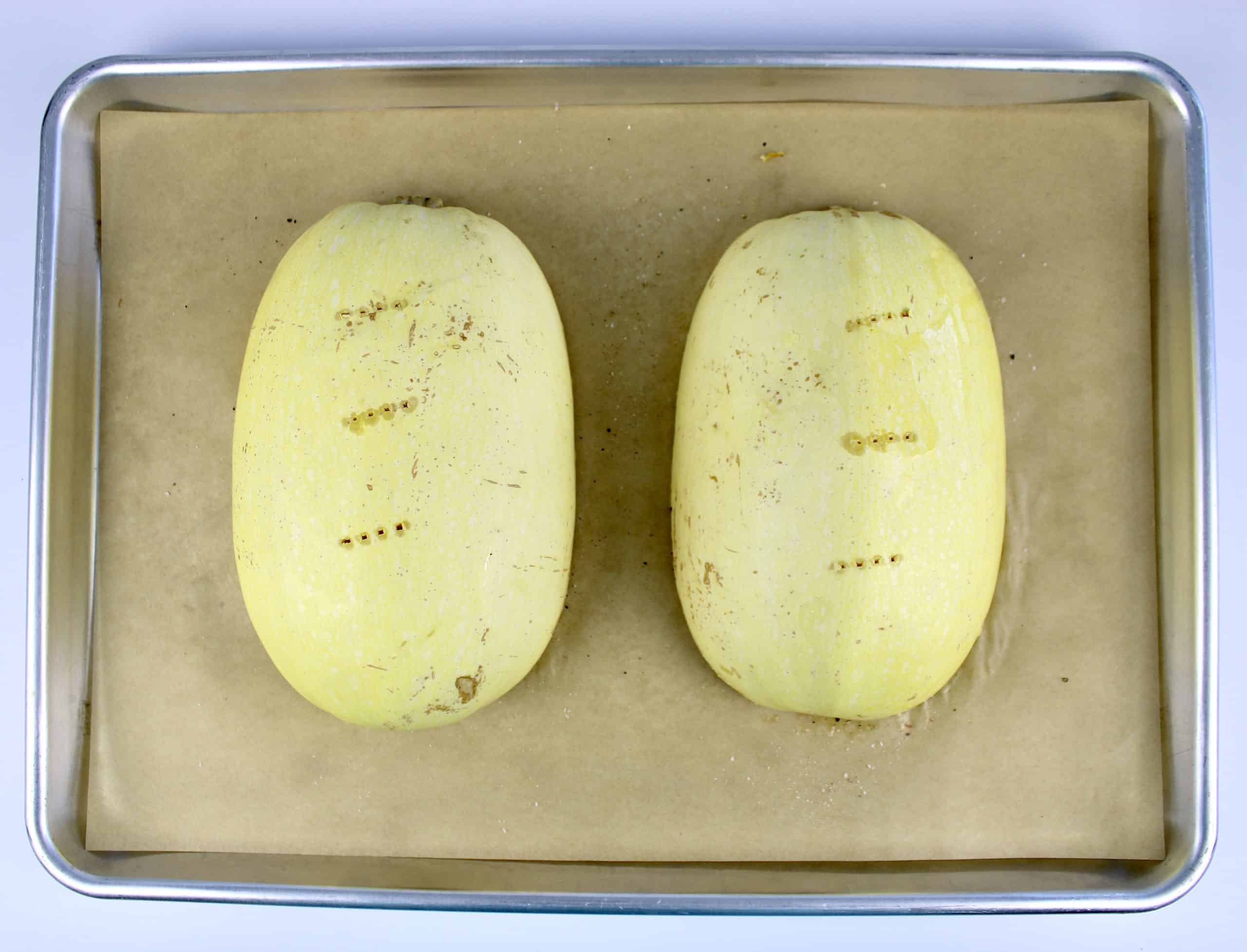 Using a fork, poke holes on the outside of each half.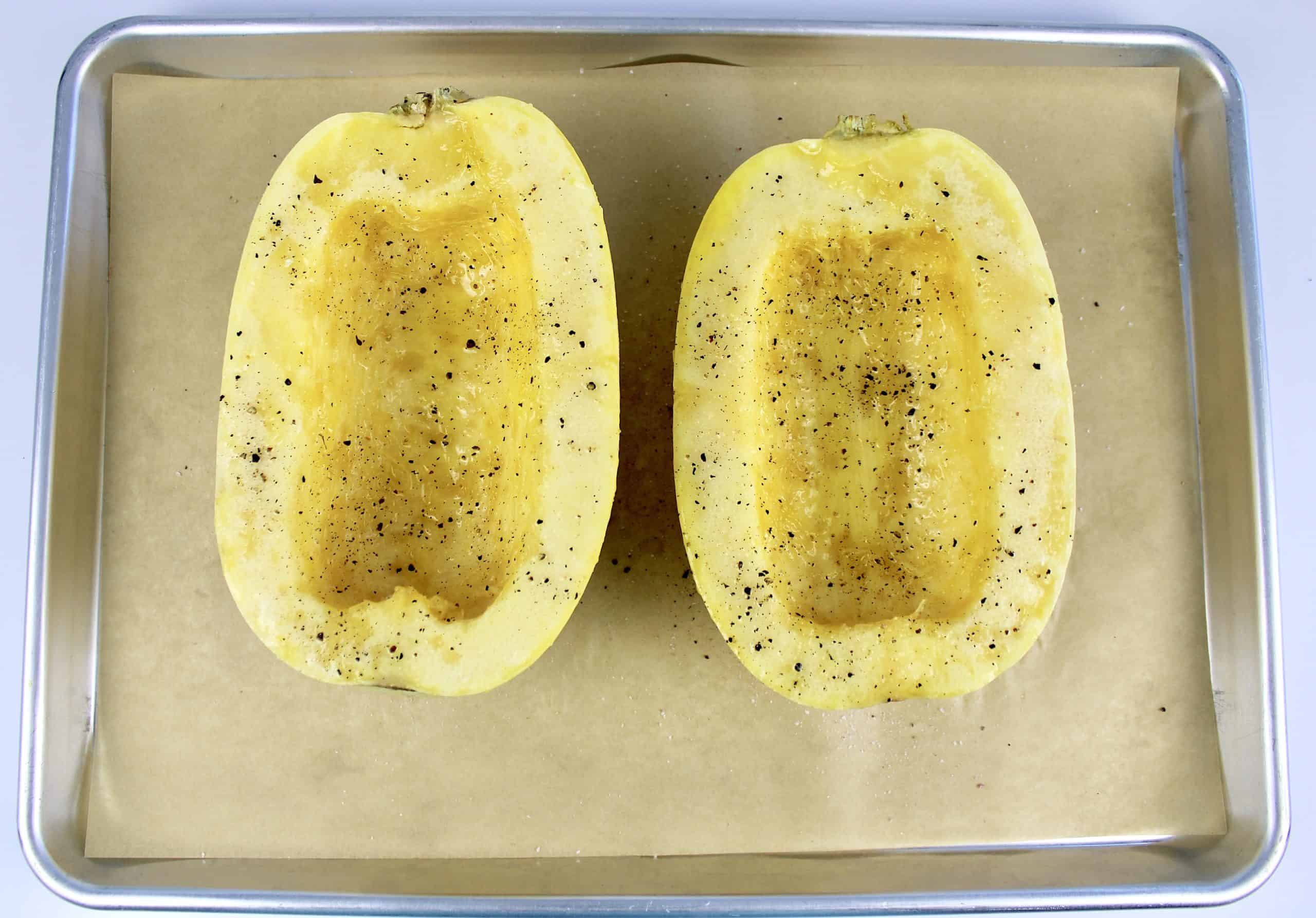 Brush the insides with olive oil, and sprinkle with salt and pepper.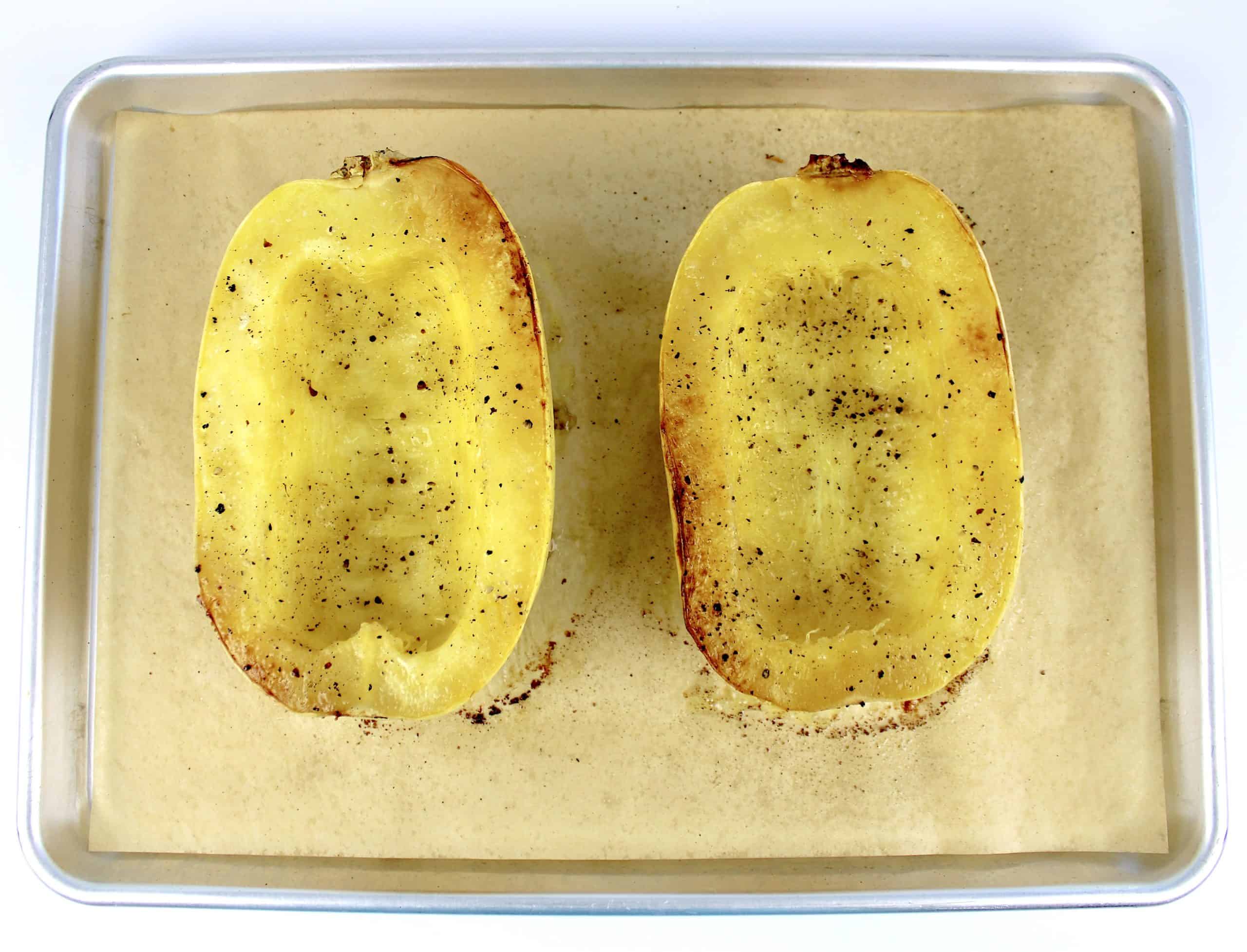 Place each half cut side down on a sheet pan lined with parchment paper. Bake for 35 minutes or until tender.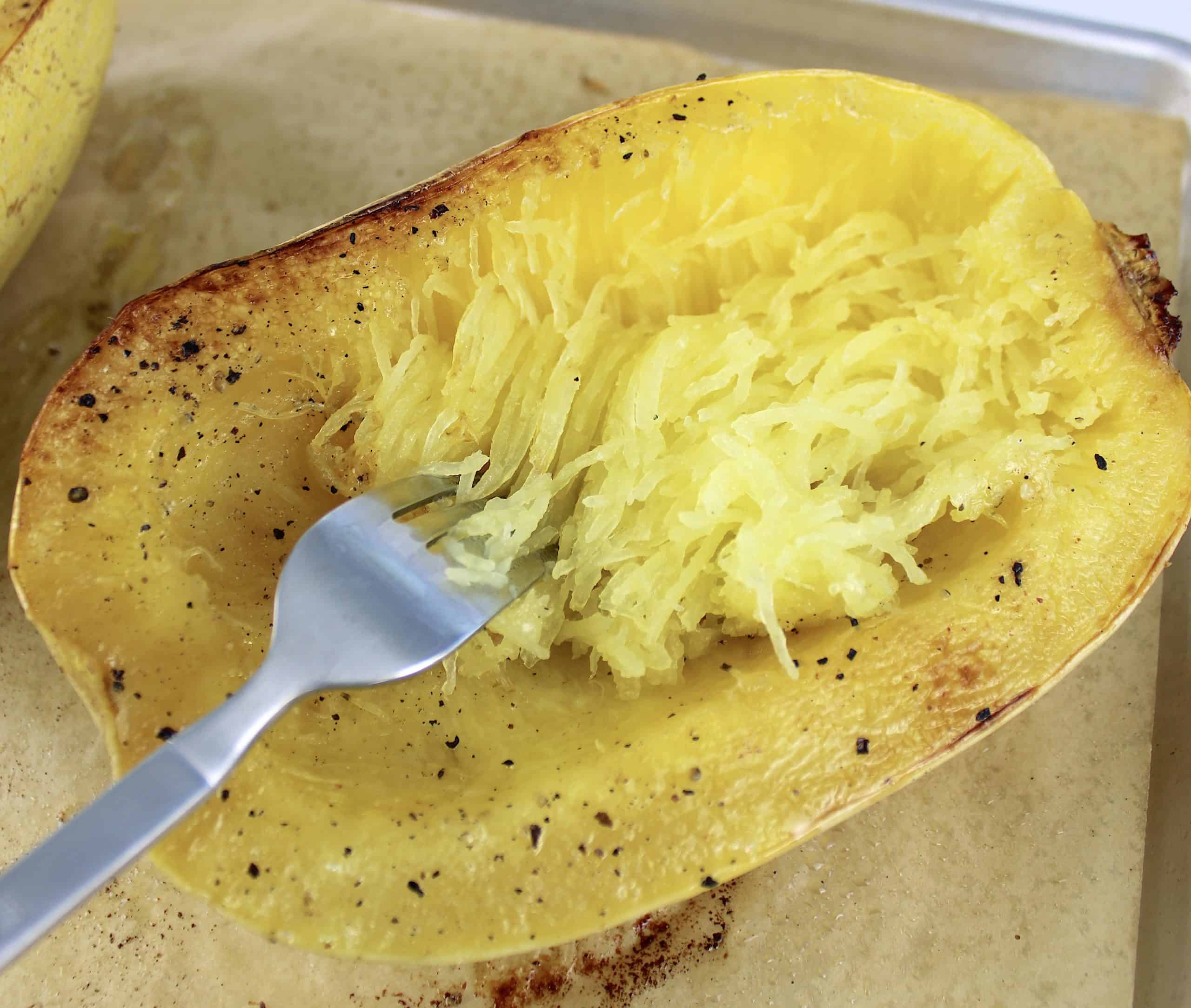 Then allow to cool slightly, until you're able to handle it. Using a fork, separate the spaghetti like strands and it's ready to serve.
What Temperature Do I Roast Spaghetti Squash?
When it comes to roasting veggies, you want to make sure they start out on a high temp to prevent them from steaming. By roasting spaghetti squash at 400°F, the edges will begin to slightly caramelize, giving it amazing flavors.
Should Squash Be Roasted Cut Side Up or Down?
You always want to cook squash cut side down. Roasting it cut side up causes moisture to pool up, making it soggy and mushy.
Can Spaghetti Squash be Roasted Whole?
While you can roast a whole squash in the oven, it takes almost twice as long, and then you still have to cut and remove the seeds. That can be a little tricky, because the squash will be very hot when it comes out of the oven.
If you choose to roast it whole, make sure to flip it about halfway through, or after 30 minutes. Allow it to cool for about 10 minutes before slicing into it.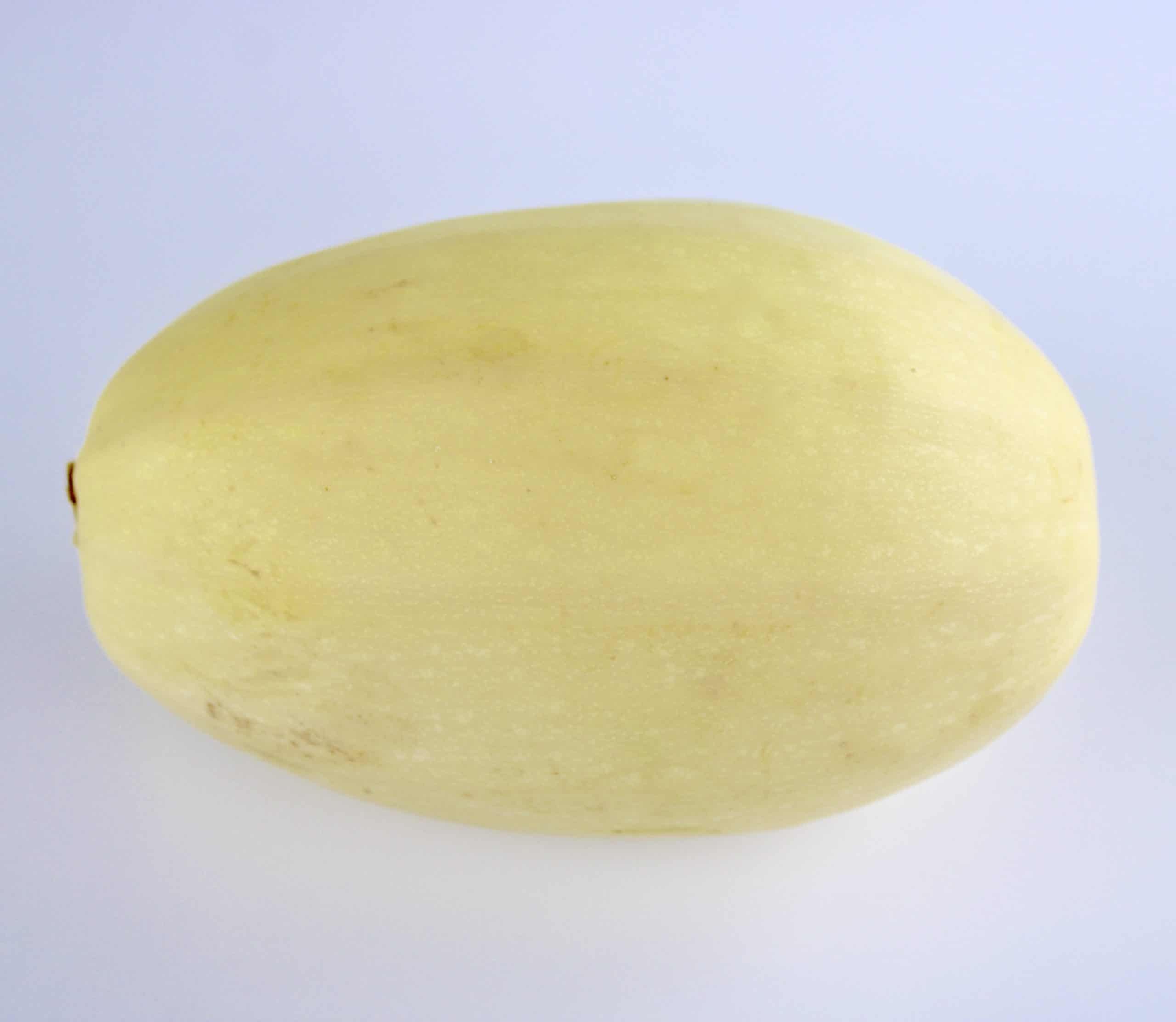 How Do You Know When Spaghetti Squash is Done Baking?
You can typically tell when your squash is ready to come out of the oven when the skin is easily pierced with a fork.
How Do You Cut Spaghetti Squash Before Cooking?
The most common way is to cut it lengthwise. But for a fun and great way to get longer strands, you can cut the squash into thick rings before cooking it. You'll still have to remove the seeds, so it takes a little more prep work, but this method will allow the squash to cook faster.
One trick to making spaghetti squash easier to cut, is to stick it in the microwave for just a minute or two. It softens the skin just enough to make it easier to slice into.
Keto Sauces to Serve with your Spaghetti Squash
This spaghetti squash recipe is awesome with any of these delicious sauces:
🔪 How to Cook Spaghetti Squash in the Microwave (Method #2)
What You'll Need:
2–4 pound spaghetti squash
Microwave safe dish
Fork, spoon and sharp knife
Using a sharp knife, poke holes in all sides of the spaghetti squash, you'll want about 6-7 holes total.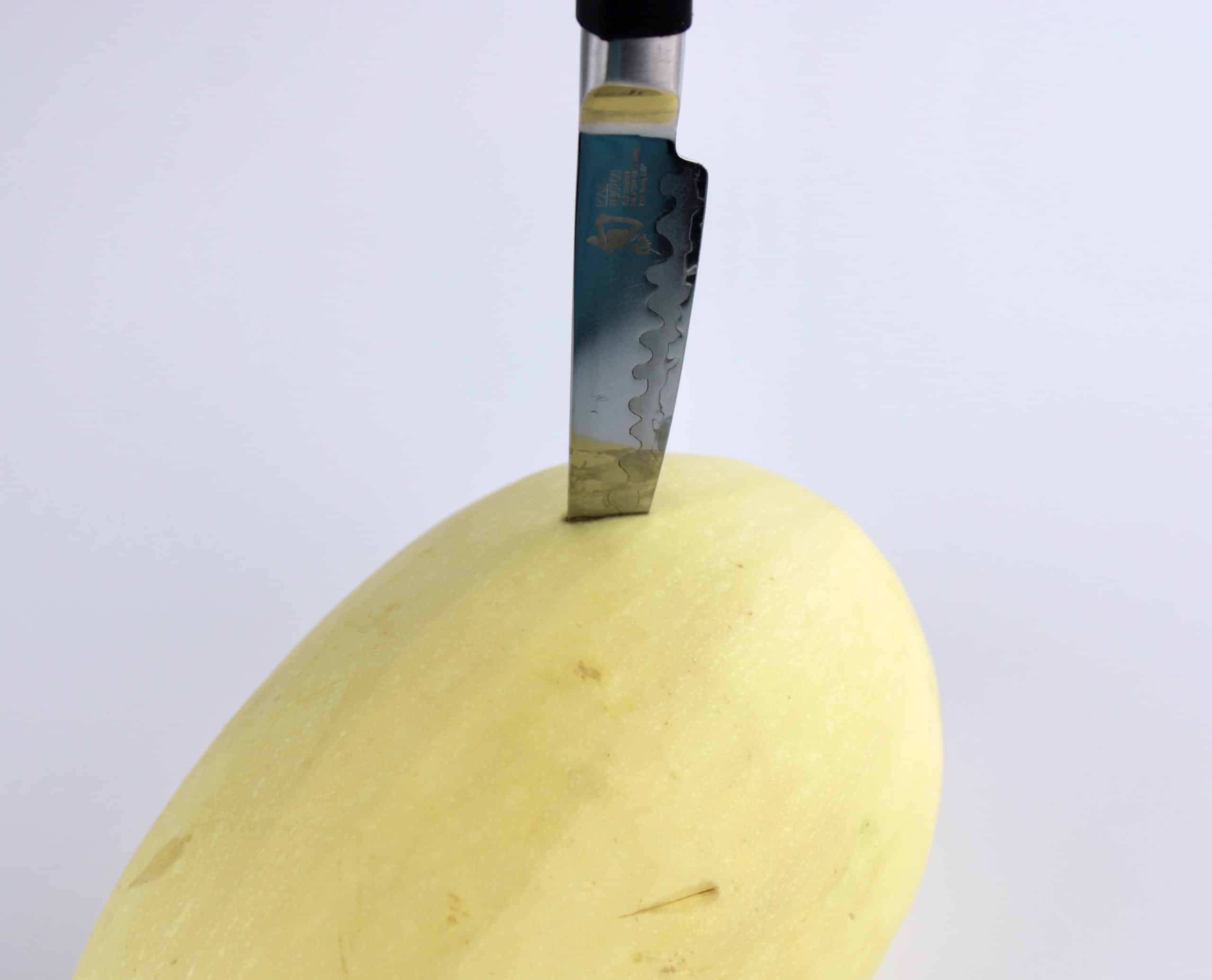 Place it in the microwave on a microwave safe dish and cook on high for 10-15 minutes depending on the size of your squash, or until cooked through. Be sure to flip the spaghetti squash halfway through cooking. You can tell that it's done when a fork is easily inserted through the skin.
Allow the spaghetti squash to cool slightly before cutting into. When you're ready to cut into it, slice it in half lengthwise and be careful there will be a LOT of hot steam releasing. Let the squash sit for a few minutes until you're able to handle it.
Once it's cool enough to handle, scrape out all the seeds and discard them.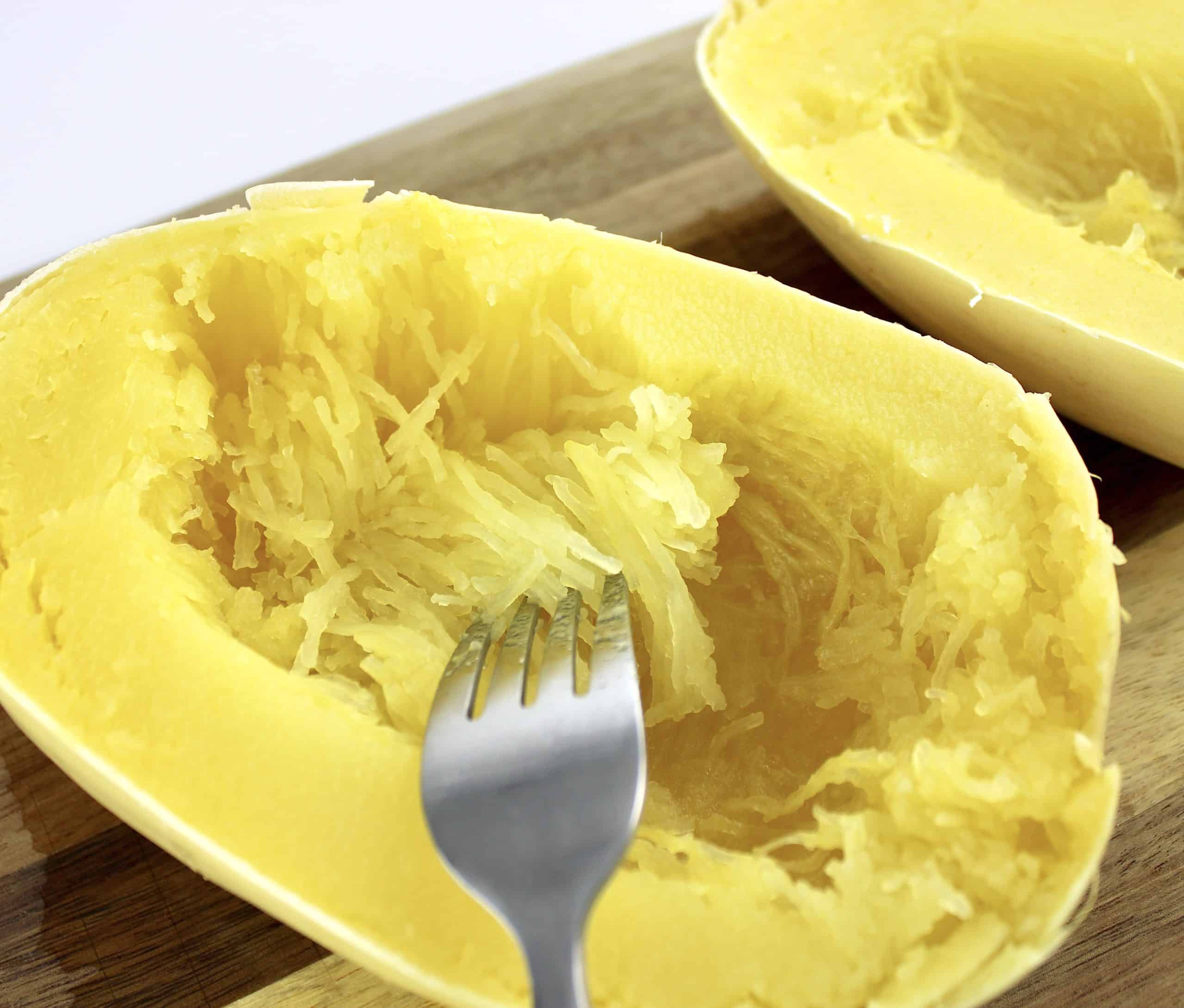 Use a fork to separate the spaghetti like strands. Once the strands are separated, you're ready to add your favorite sauce and dig in!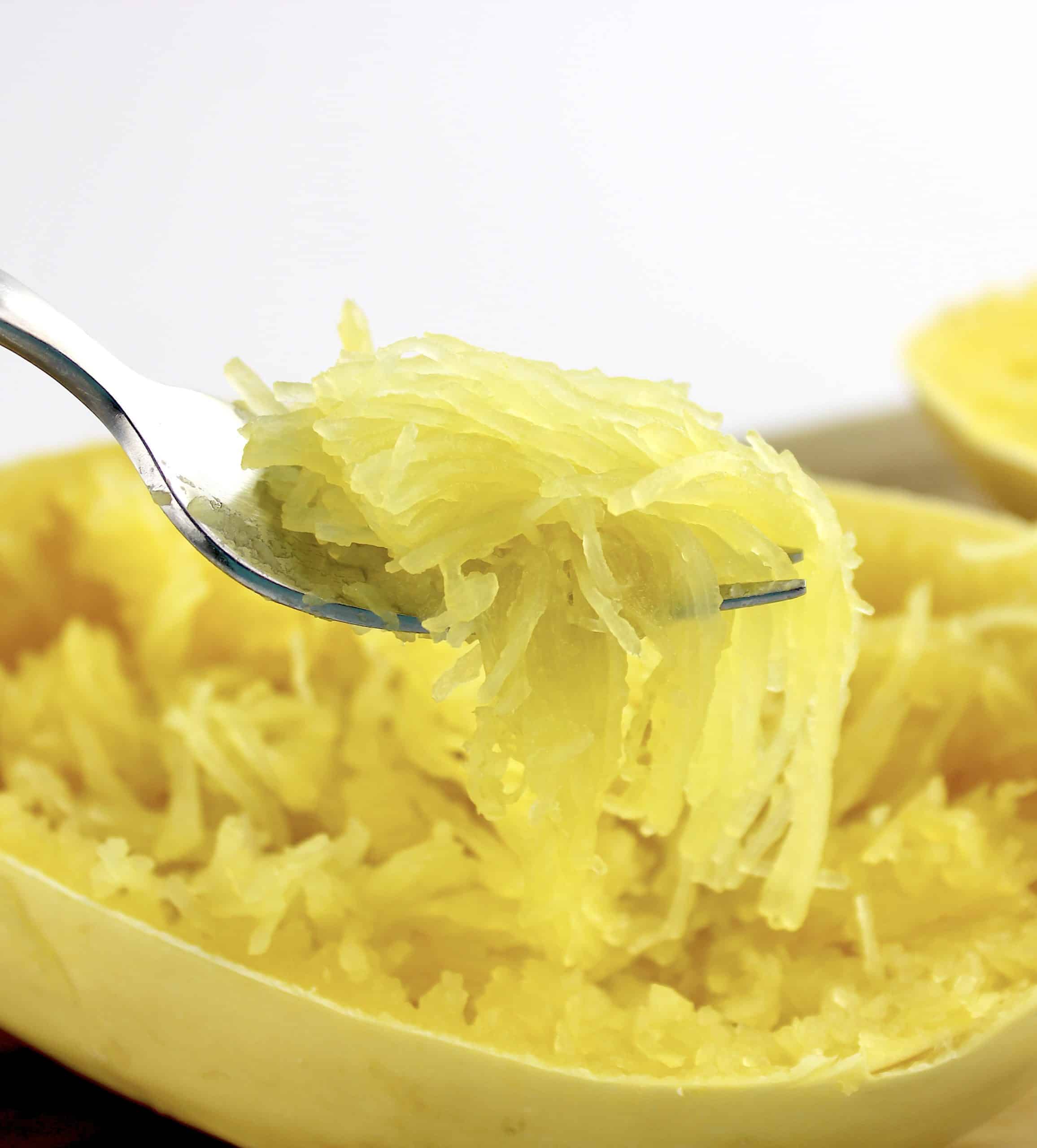 Is it Better to Bake or Microwave Spaghetti Squash?
It's truly a personal preference. While cooking squash in the microwave takes less time, I think it has more flavor when it's roasted. Either way you choose, it's truly a delicious and easy side dish.
Is Spaghetti Squash Keto?
It certainly is. Though it's not as low in carb as zucchini, for an entire cup of cooked spaghetti squash, there are only about 7.5 net carbs.
On top of being Keto-friendly, spaghetti squash is a nutrient-dense vegetable, packed with vitamins C and B6, potassium, and manganese. It's also high in fiber and loaded with antioxidants like beta carotene.
Can You Freeze Cooked Spaghetti Squash?
You can and it's really easy to do. First make sure your squash is completely cooked. This prevents the squash from breaking down in the freezer, leaving a mushy texture. Then run a fork through it to loosen up all the strands.
Next, you'll want to drain it really well. Place the strands in a colander in the fridge for several hours to overnight, with a plate underneath to catch any moisture.
For best results, frozen spaghetti squash should be thawed and eaten within 3-4 months.
Serve Spaghetti Squash to these Dishes
Zoodles (zucchini noodles) and cauliflower rice aren't the only pasta and rice substitutes. Spaghetti squash is the perfect side dish with these Keto main course recipes: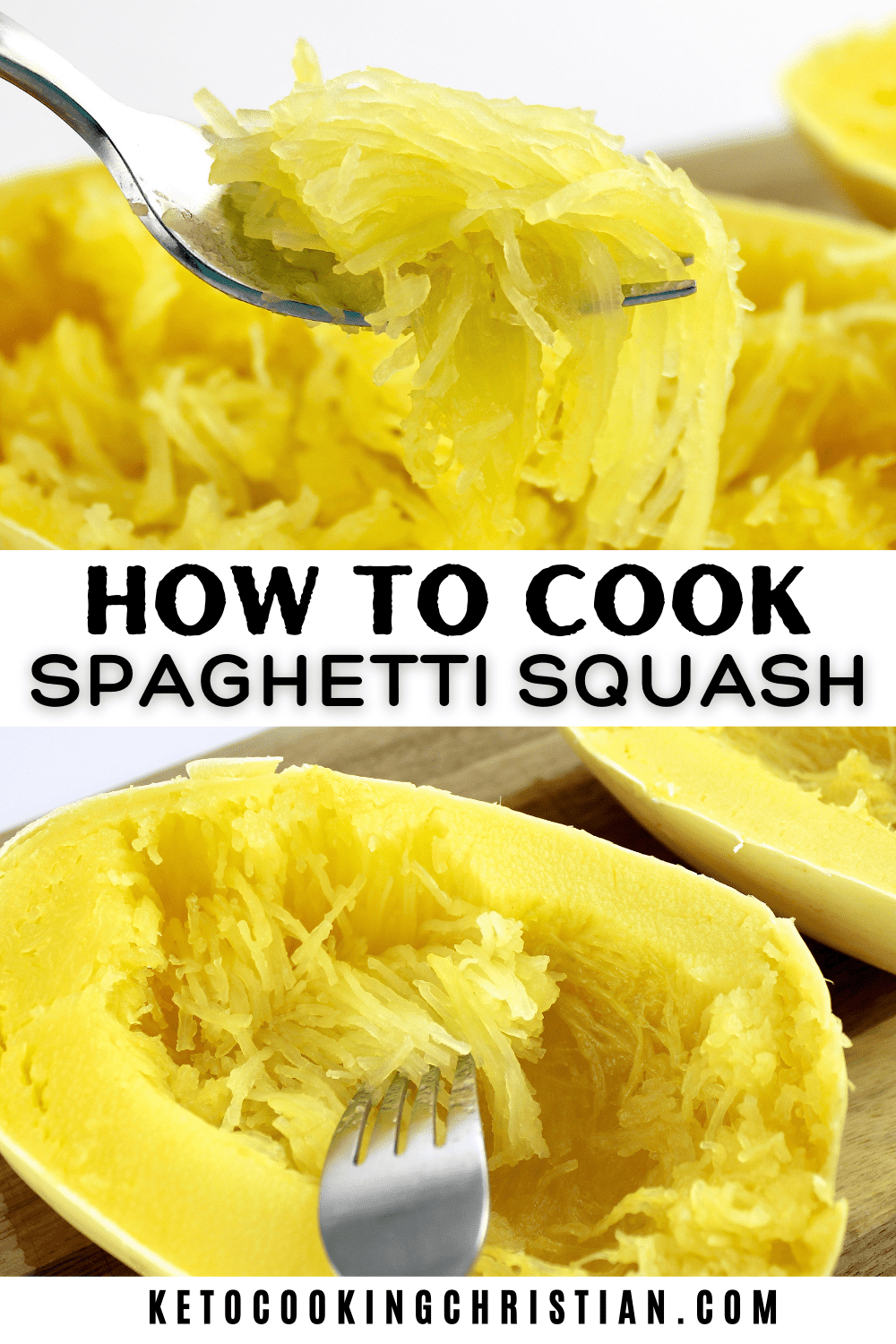 Looking for More Helpful Cooking Tips?