Looking for new grill recipes to add to your meal planning? This collection of 25+ Best Keto Grilling Recipes has something for everyone!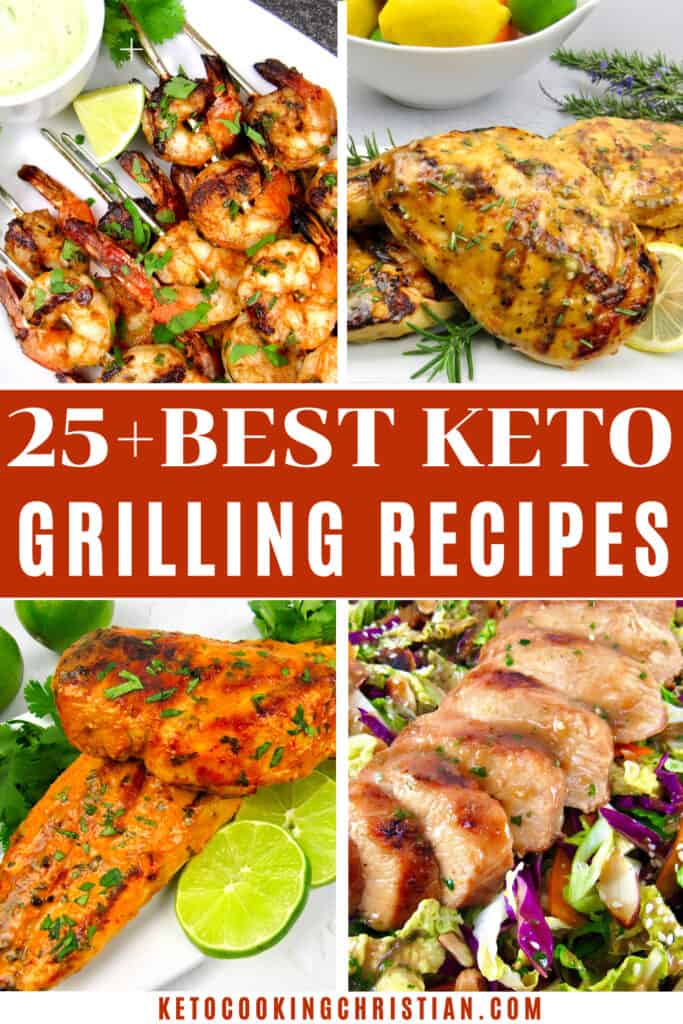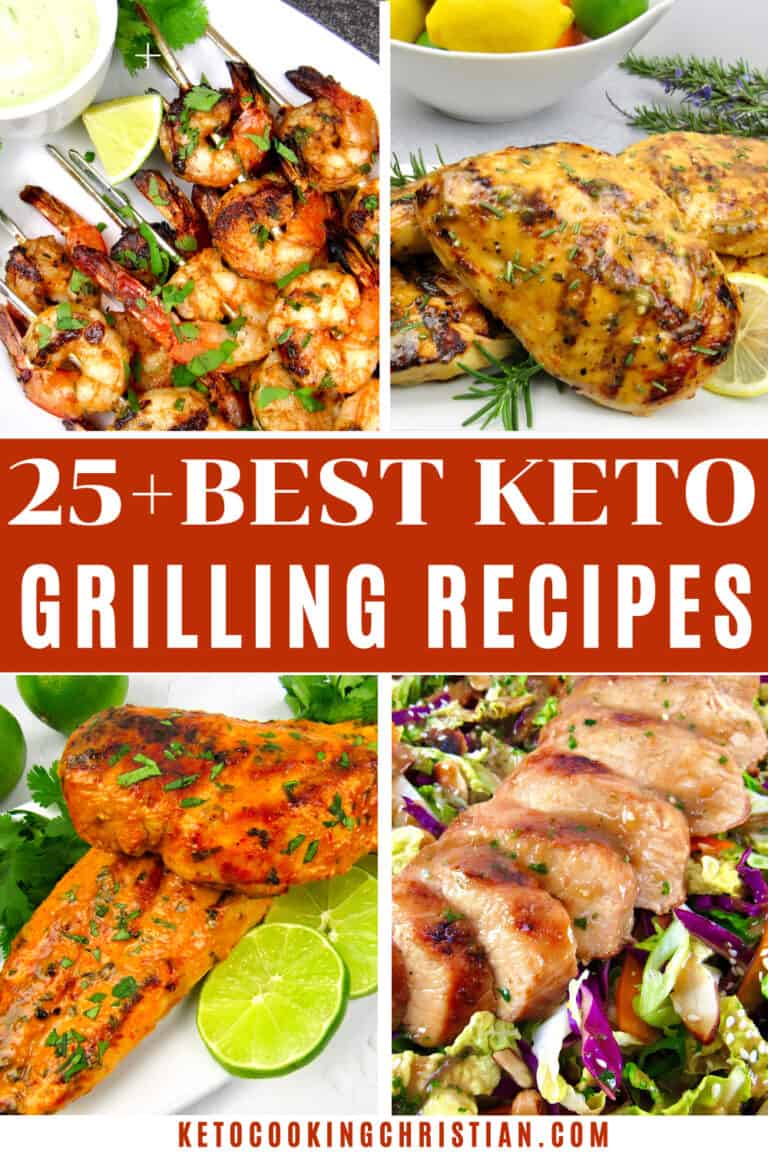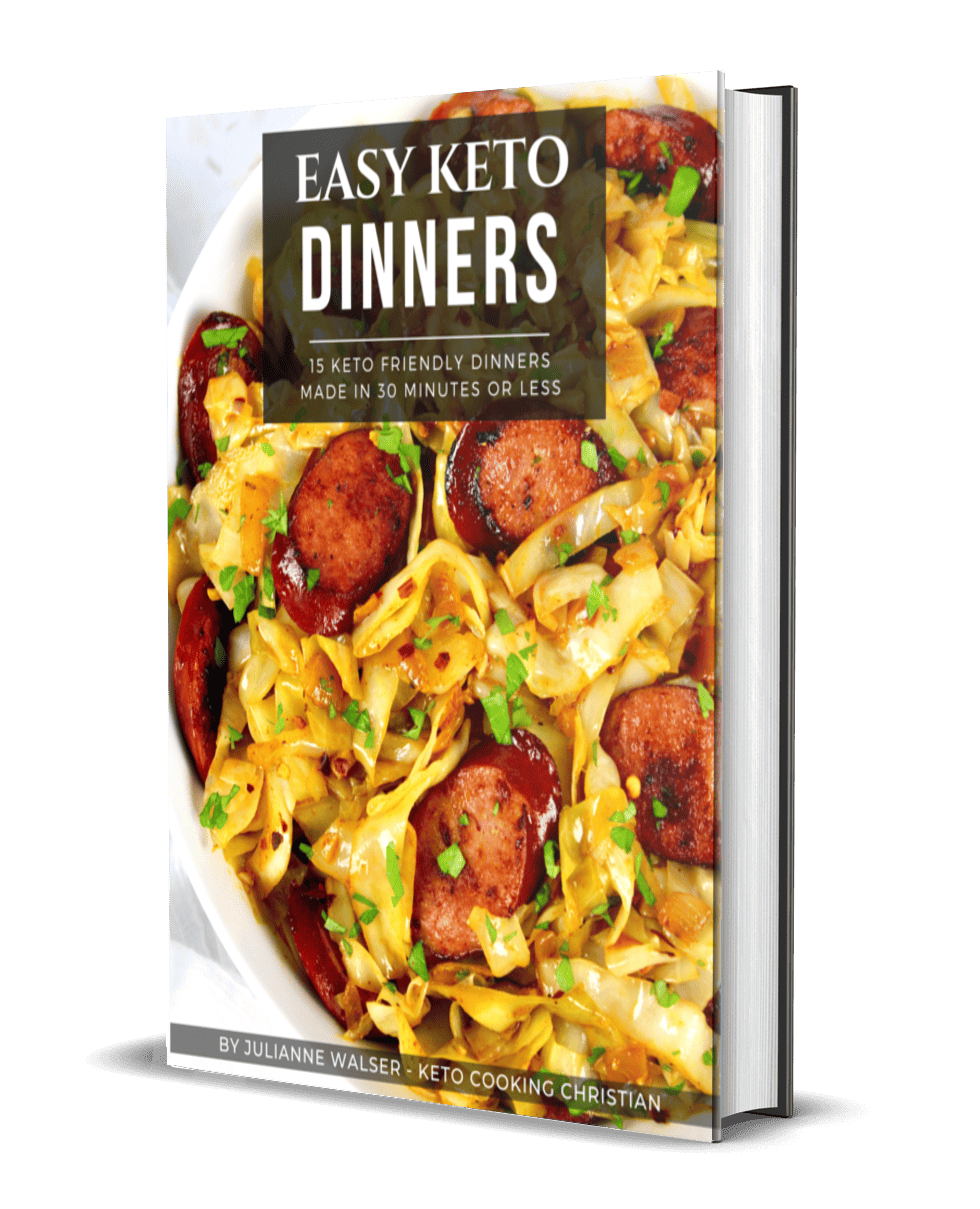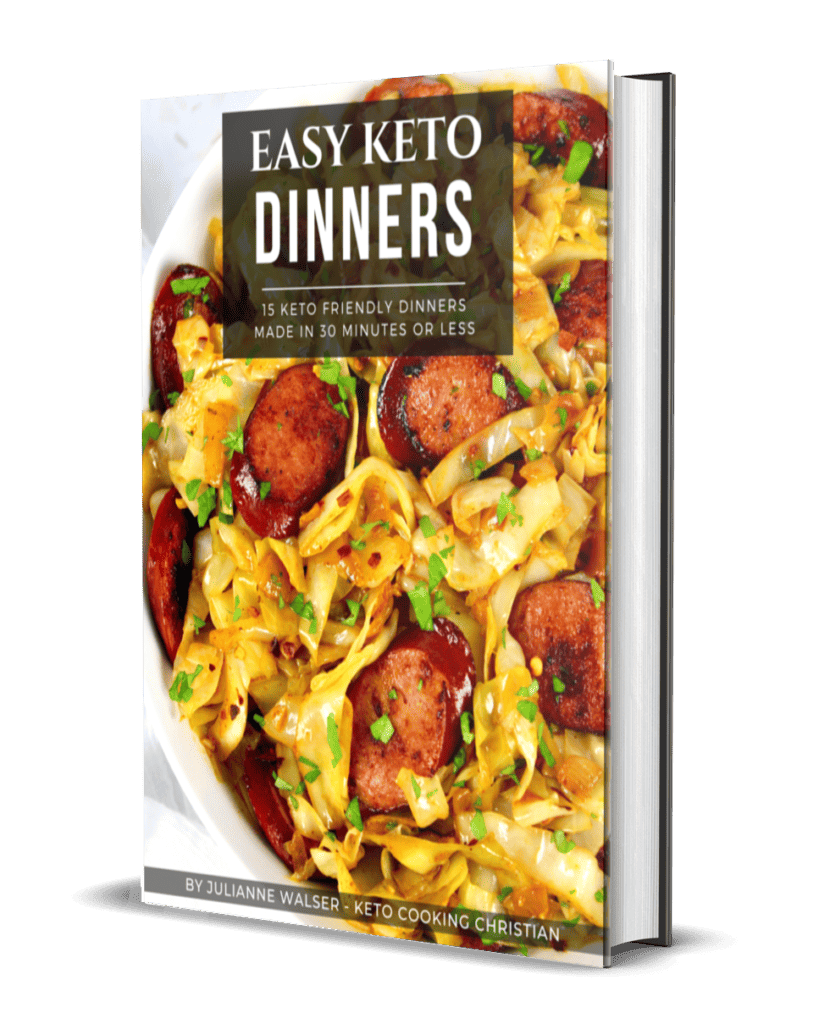 FREE EASY KETO DINNERS EBOOK
This list of over 25 best Keto grilled recipes should be on your summer to-do list! There's literally something for everyone. If it's beef, pork, chicken, fish, veggies or even grilled cheese, it's all right here!
There's just something special about grilling out, am I right? It always seems to make cooking feel like a social event and a sign that summer is here!

Cooking a healthy and hearty meal just go hand in hand with the grill. It's a great way to cook a little or a lot of food all at one time. And it's just one less mess in the kitchen!
One added bonus to the many awesome things about grilling is that it makes Keto meal prep a breeze. You can grill once and eat for several days!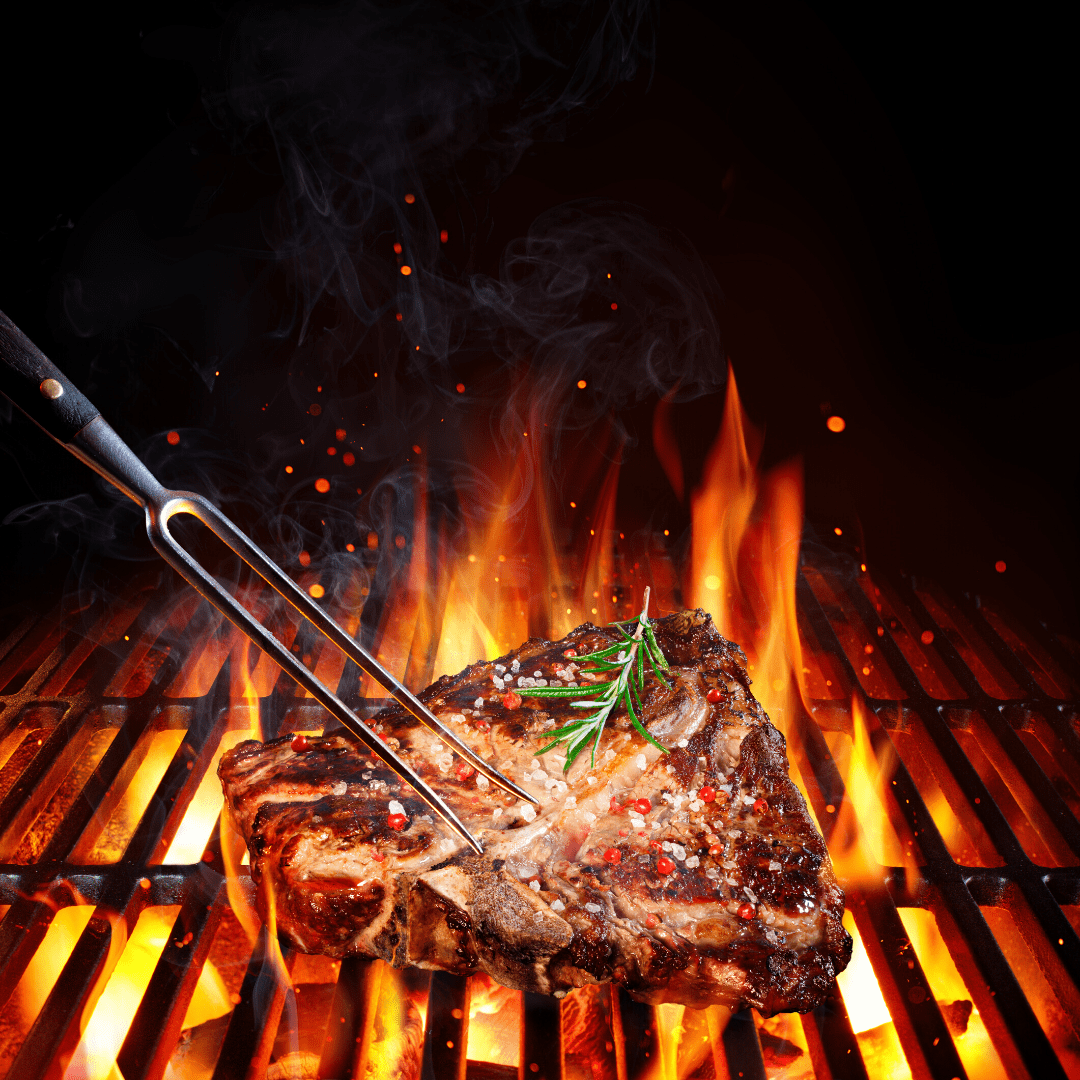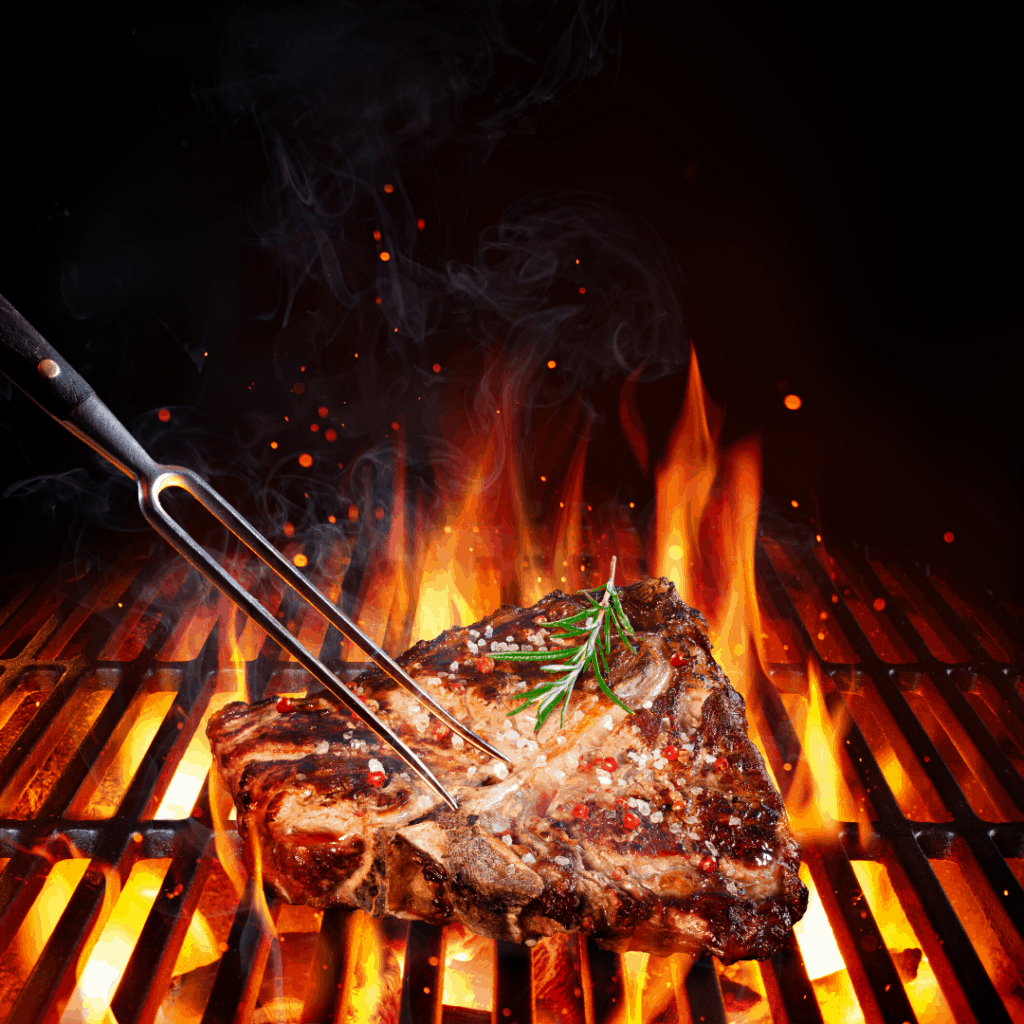 Tips for Perfect Grilling
Allow steaks or larger cuts of beef to sit out on the counter for about 20 before grilling. This helps the meat to cook more evenly.
When grilling larger cuts of meat, use a meat thermometer to make sure you've cooked it to the appropriate temp. This helps keep you from having to slice into the meat to check for doneness.
Know the difference of when you should grill over direct heat or indirect heat. A good rule of thumb is, if what you're cooking requires a cooking time of more than 20 minutes, you should use indirect heat, less than 20 minutes use direct heat.
Always start out with clean grates. This prevents sticking and possible flame flair ups. Plus, no one likes burnt bits leftover from a previous cookout on their food.
Use a good wire brush to knock off any build up. If you don't have a wire brush, you can make do by crumpling up aluminum foil and scrubbing the grates with it.
For grilled burgers, always choose a fattier ground beef. This will ensure your burgers stay nice and juicy. The same is true for steaks. Extra marbling means extra yumminess.
If you love skewers but hate the prep, opt for a grill basket. Cut up the meat and veggies the same way, but cook them in the basket for easy clean up and much less mess.
For grilled fajitas or other small items, using a grill mat makes things a breeze! It allows the food to have that excellent grilled flavor without it slipping between the grates.
Regardless of what meat you're cooking, allow it to rest for about 10 minutes before slicing into it. This helps the juices to redistribute throughout the meat and prevents it from drying out.
Whether you intend to be cooking over a charcoal grill or a gas grill, I'm sure you'll find your new favorite Keto grilled recipes in this collection!
I hope you have found these Keto recipe ideas helpful! If you decide to make any of these, please leave a comment and let us know how you enjoyed them!
*All photos and recipes in this article are copyrighted by the original food blog author, listed under the title. Please click on the "Get Recipe" button to get the full written recipes with steps, which are the sole property of each respective website.
More Keto and Low Carb Recipe Collections