A collection of some of the best Keto and Low Carb casseroles. Great for meal prepping and make ahead dinners, they are packed with flavor and very satisfying!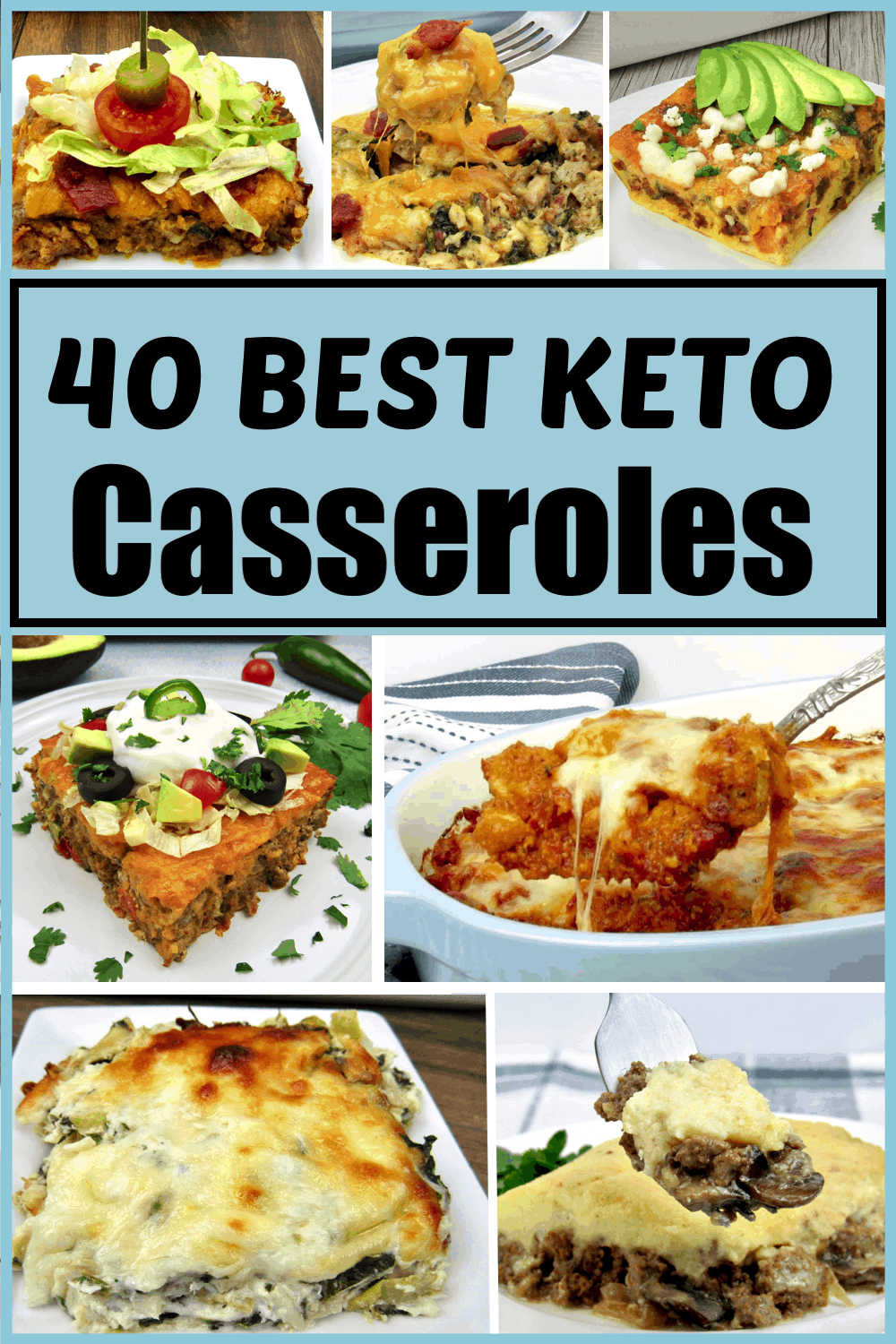 This post may contain Amazon or other affiliate links. As an Amazon Associate I earn from qualifying purchases, through links in this post. See my Disclosure.
The components in a good Keto casserole typically include a protein, a vegetable and plenty of healthy fat! For the protein, there are so many that we can enjoy on a Ketogenic diet, including beef, chicken, pork, turkey, seafood and more!
Add in your Low Carb veggies like cauliflower, spinach, broccoli, spaghetti squash or zucchini. You can even add in small amounts of onion, garlic or peppers for extra flavor.
Most Low Carb casseroles will have some type of sauce, typically made from healthy Keto fats like heavy cream, cream cheese, sour cream, mayonnaise, mascarpone and a variety of cheeses. Add in herbs or spices for added flavor (without added carbs), mix together, then pour into your casserole baking dish and you have a whole meal that was super easy to put together!
Casseroles are great for meal prepping too! They often make a good amount of servings, so you'll have plenty of leftovers. Many of these casseroles also freeze and reheat beautifully, and it's great to have extra meals on hand for those busy weeknights! Some of them can be used as great Keto lunch recipes too!
And for those busy weeknights, you can also prepare many of these ahead of time, which is a real time saver! Then, when you're ready, you can just pop it in the oven and bake it, for a quick Keto dinner! How's that for convenience!?
Casseroles are also a great comfort food, filling and quite satisfying. You won't be left hungry with these casseroles!
Here are 40 of the best Keto and Low Carb casserole recipes and please be sure to comment on any that you have tried!
I hope these easy Keto Casserole Recipes have inspired you!
*All photos and recipes in this article are copyrighted by the original food blog author, listed under the title. Please click on the "get recipe" button to get the full written recipes with steps, which are the sole property of each respective website.
More Keto and Low Carb Recipe Roundups…
35 Best Keto Ground Beef Recipes
25 Keto Party Appetizer Recipes
25 Keto Salad Dressing Recipes
50 Keto Ice Cream, Popsicles & Frozen Treats
25 Best Keto Side Dish Recipes
25 Most Decadent Keto Desserts
25 Best Keto and Low Carb Instant Pot Recipes
25 Best Keto and Low Carb Pumpkin Recipes
25 Keto and Low Carb Breakfast Recipes
25 Creative Keto and Low Carb Cauliflower Recipes