This collection of 25 Keto friendly salmon recipes has something for everyone! From a quick lunch to an elegant dinner, it's all right here!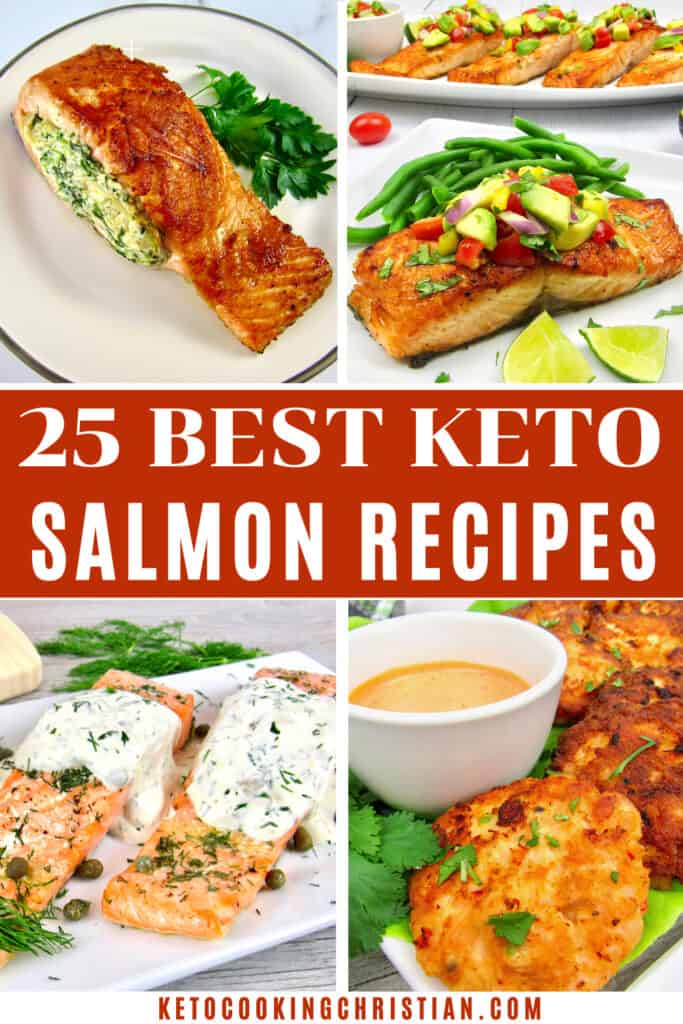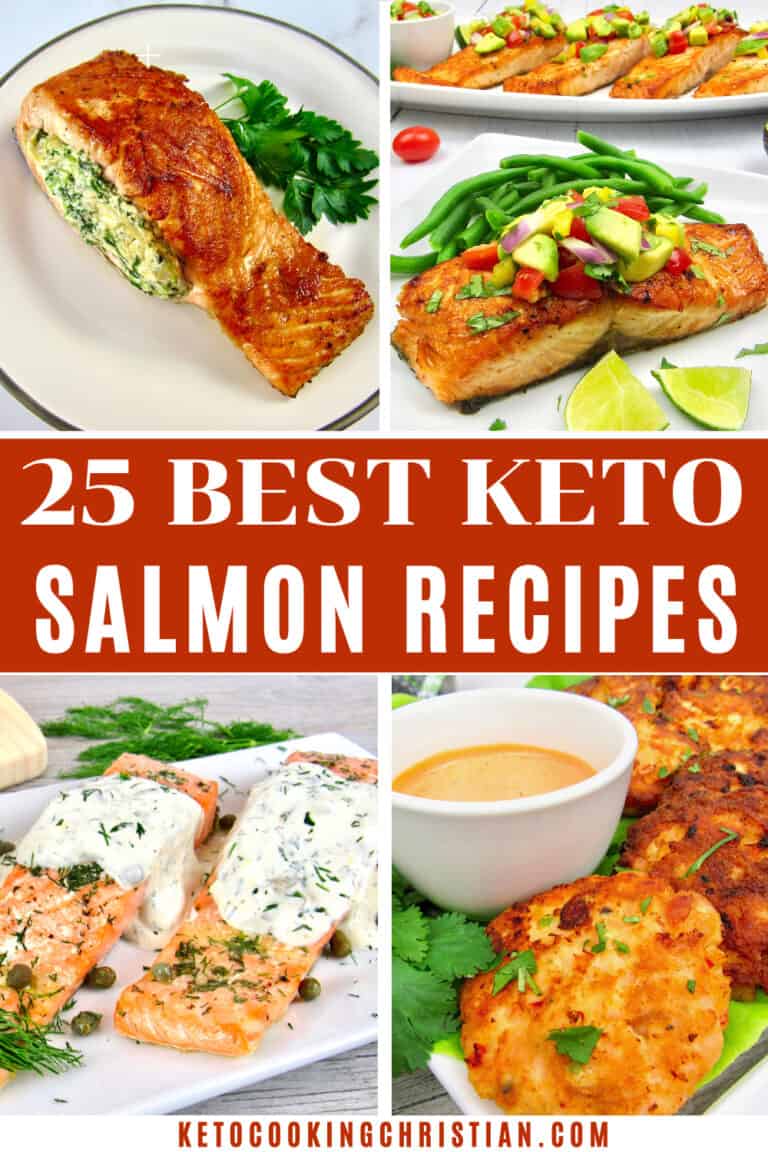 One thing most everyone can agree upon, is that when it comes to cooking a healthy and low carb meal, we want it to be quick and easy. Salmon is a delicious and healthy solution.
If you get tired of the same ground beef and chicken dishes night after night, salmon is the perfect addition to your weekly menu rotation. Not only does it cook super fast, it's such a great Keto protein, loaded with omega-3 fatty acid.
Top Tips for Buying and Cooking Salmon:
Wild caught or farm raised, which is best? Wild caught basically means the fish are raised naturally in the ocean or fresh water, and feeds off things in nature. If you have access to buy wild-caught, it's preferred over farm-raised. Farm raised salmon have come a long way over the past several years and is perfectly safe to eat, but it does have a less rich flavor as wild caught because it is raised in closed areas and fed pellets made from fish meal and grains.
What's the difference in pink salmon and sockeye? All salmon boosts a long list of health benefits, but sockeye edges out as the winner on nutrition. It contains about 25% more omega-3 than pink salmon.
Regardless of which type you purchase, fresh salmon, in the grocery store, should be moist and the edges shouldn't be dried or curling up.
When purchasing fresh salmon, whole filet or portions, it is best to cook it on the same day for optimal freshness.
Unless the recipe specifically says otherwise, leave the skin on. Salmon cooks quickly and the skin acts as a fatty barrier to help keep the fish moist.
When you're ready to cook the salmon, don't season it too soon. This will draw out the moisture and leave you with dried out fish.
Don't over cook it, it will be rubbery and dry. Salmon cooks really fast so keep a watch on it. It's done when it is just become flakey. The USDA does recommend an internal temp of at least 145F to be considered safe to eat.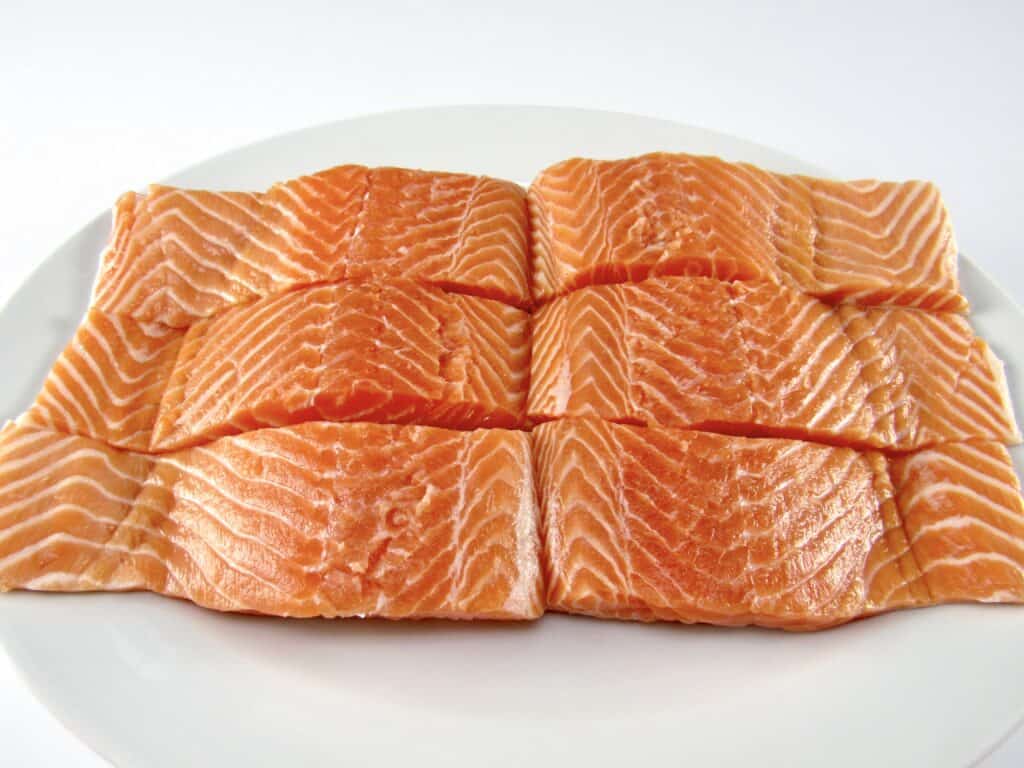 Is Salmon Keto?
It's perfect for Keto! Honestly, salmon is perfect for any diet because not only is it an excellent source for omega-3 fatty acids, it's also an excellent source for protein and potassium.
Just be cautious with the way you prepare it. Traditional marinades and sauces are usually loaded with hidden sugars. No need to worry about this collection because, they're all Keto-friendly salmon recipes!
No matter how you like it cooked, there's a salmon recipe here for you. Perfectly grilled salmon, blackened, baked or pan seared, all with many different sauces and marinades, including the popular Keto Salmon Cakes with super flavorful Bang Bang sauce!
I hope you have found these Keto recipe ideas helpful! If you decide to make any of these, please leave a comment and let us know how you enjoyed them!
*All photos and recipes in this article are copyrighted by the original food blog author, listed under the title. Please click on the "Get Recipe" button to get the full written recipes with steps, which are the sole property of each respective website.
More Keto and Low Carb Recipe Collections