Enjoy this smooth and creamy Low Carb mashed cauliflower at your next meal! Roasted garlic and fresh rosemary give it great flavor and an elegant twist, making it perfect for special occasion dinners.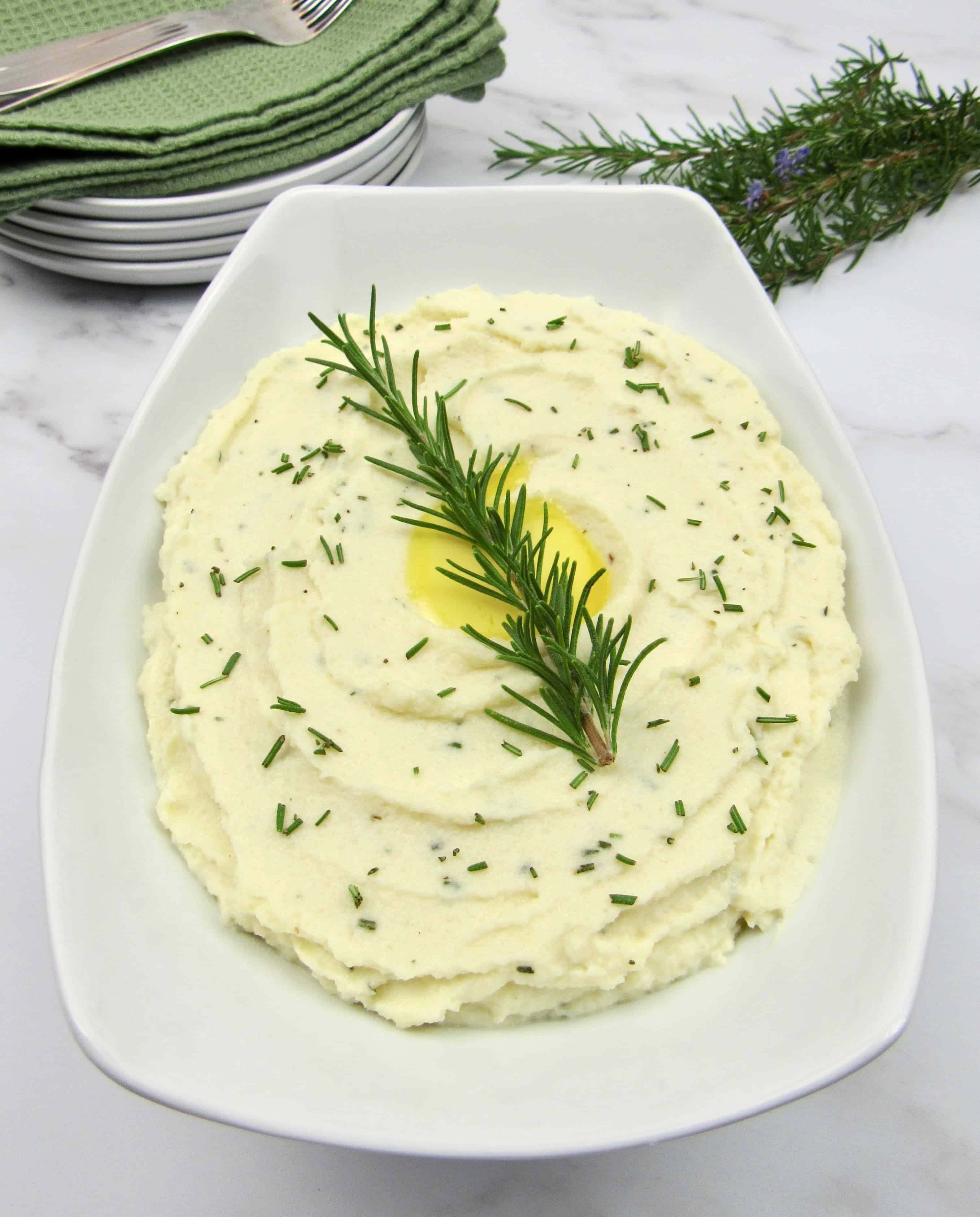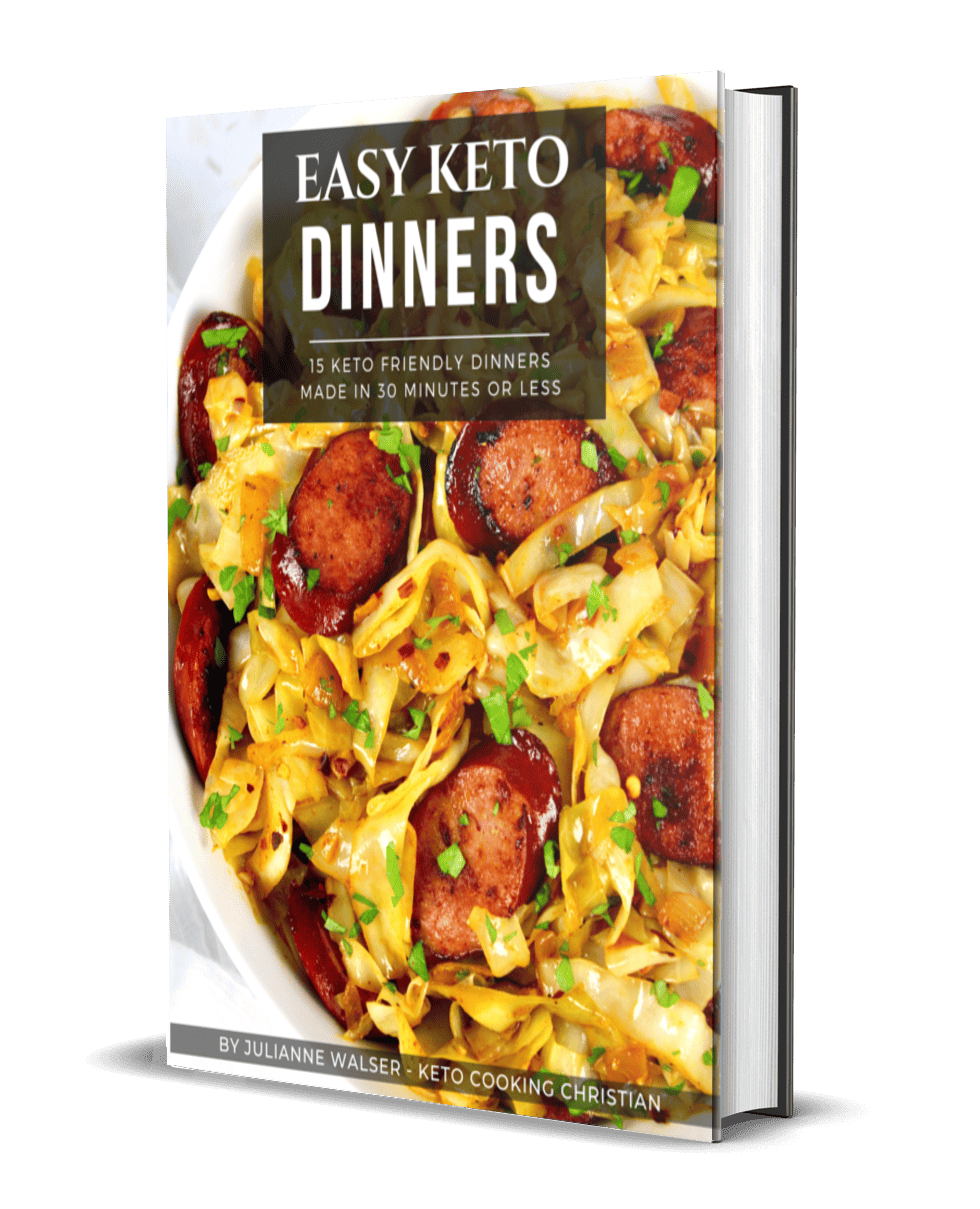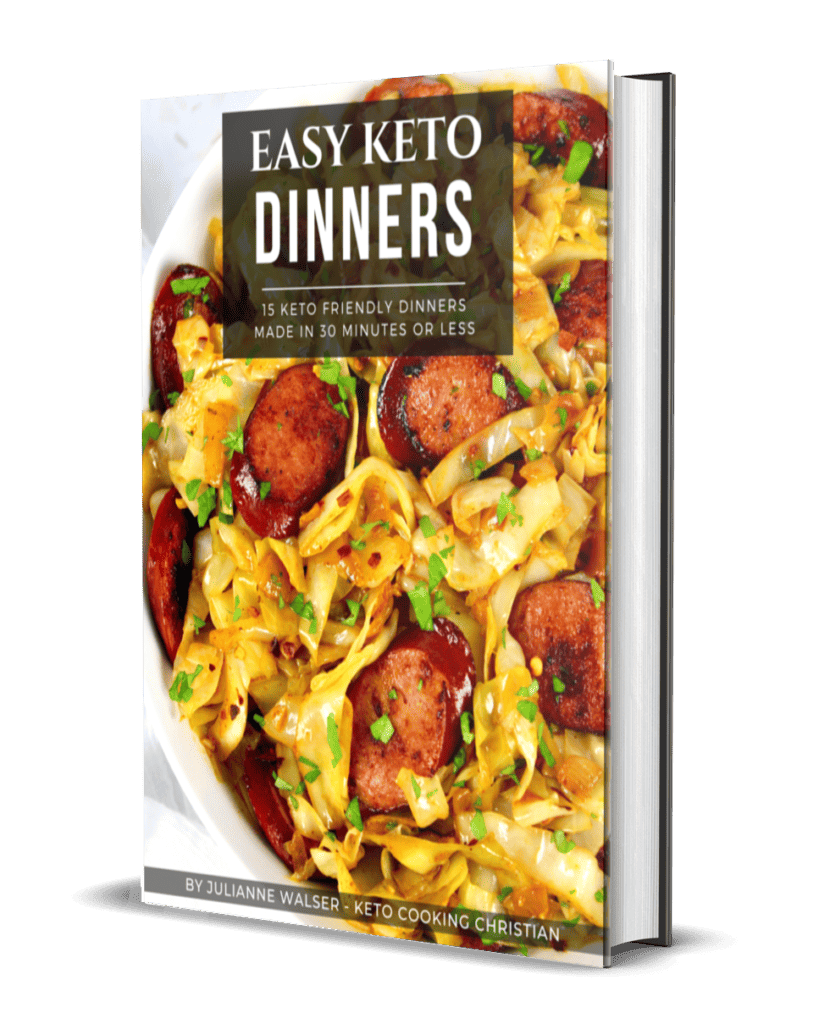 FREE EASY KETO DINNERS EBOOK
Jump to:
A lot of people struggle with making Keto mashed cauliflower that isn't watery. Not with this recipe! This is so close to real mashed potatoes and has great flavor from the rosemary and roasted garlic.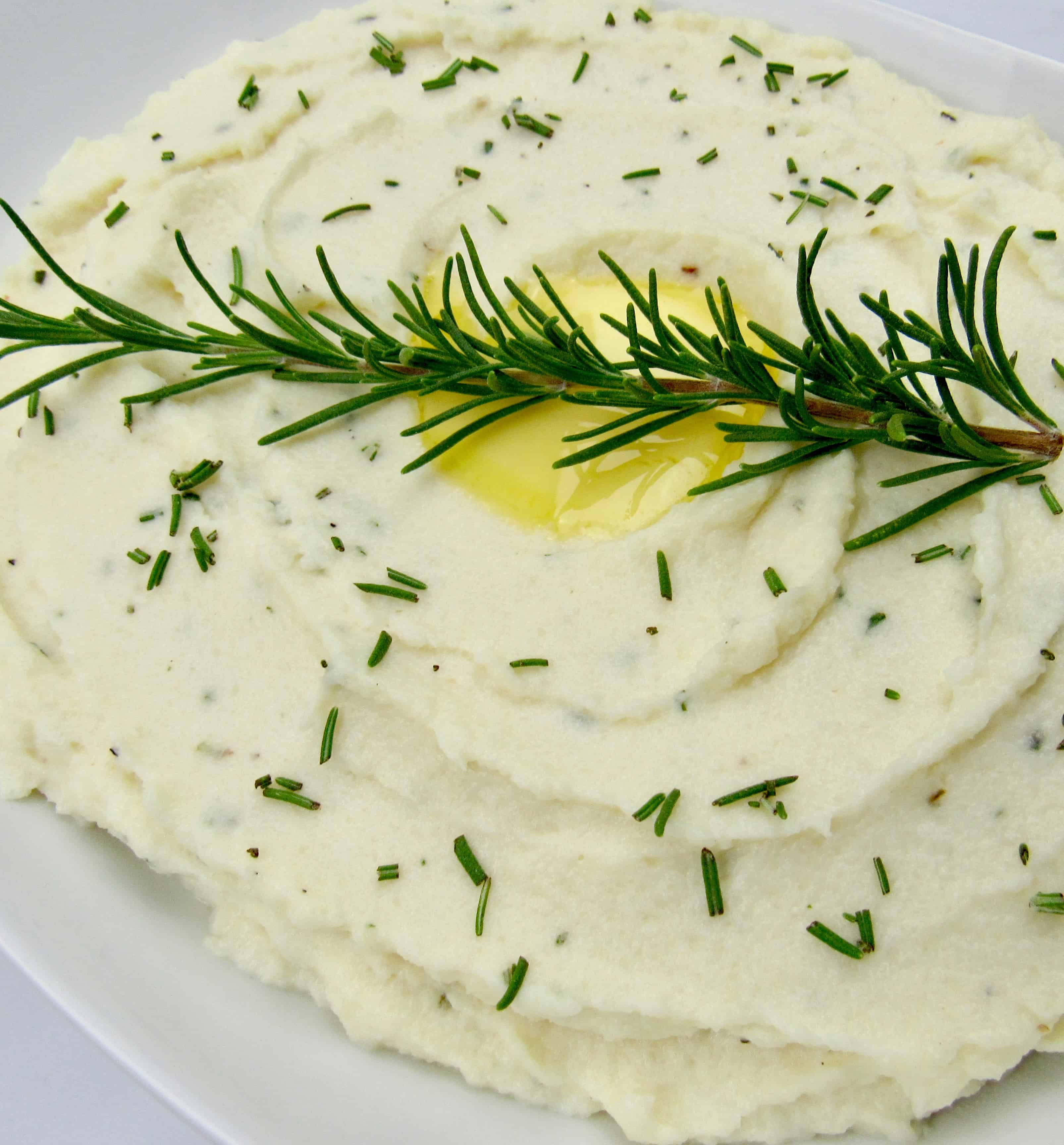 With this method, gone will be the days of thin and watery mashed cauliflower. There's plenty of healthy Keto fats in this recipe, which also makes it thick and super creamy. Pureeing it in a food processor really helps it get nice and smooth.
This will soon become one of your favorite Keto side dishes and you'll want to make different versions of it, changing up the flavors from time to time.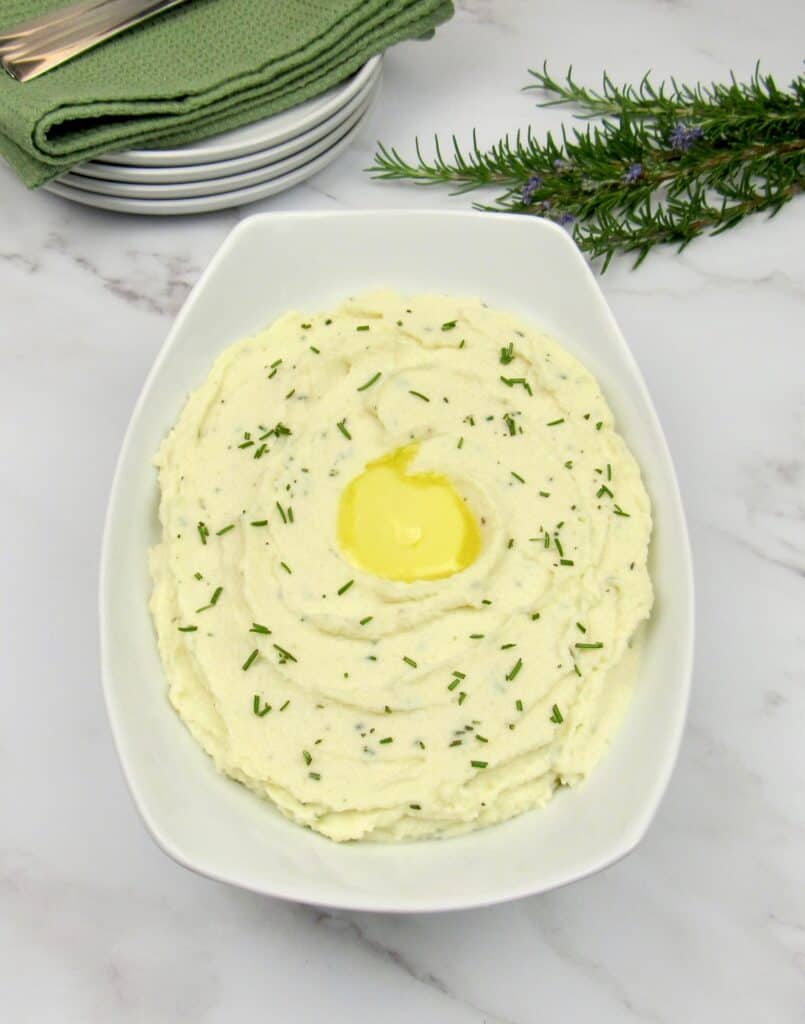 It will pair with just about any protein, pot roast, chicken, pork, ham and even turkey! This is a perfect addition to your Thanksgiving, Resurrection Sunday or Christmas dinner table!
What's in the Best Mashed Cauliflower
Cauliflower
Monterey Jack cheese
Cream cheese
Sour cream
Butter
Rosemary
Roasted garlic
Salt and Pepper
*Exact measurements are listed in the recipe card below.
How to Make the Best Mashed Cauliflower
How to Roast Garlic in the Oven
Preheat oven to 400F. Cut a head of garlic in half, horizontally.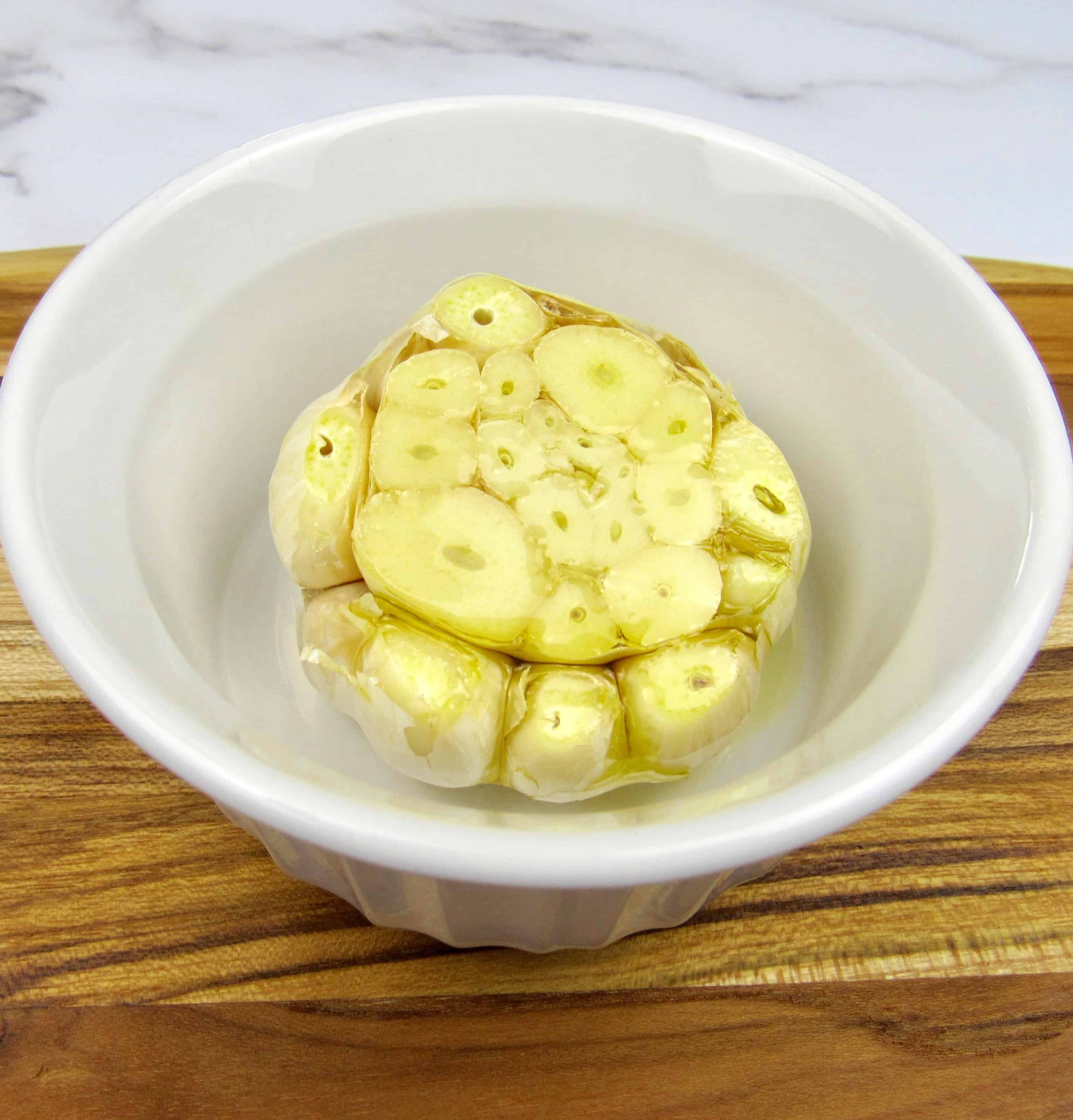 Drizzle the top with olive oil and pinch of salt and cover in aluminum foil. Place in a ramekin on a baking sheet and bake for 30 minutes or until the garlic is soft and caramelized. During the last 5 minutes, remove the foil and drizzle a little more olive oil over the top.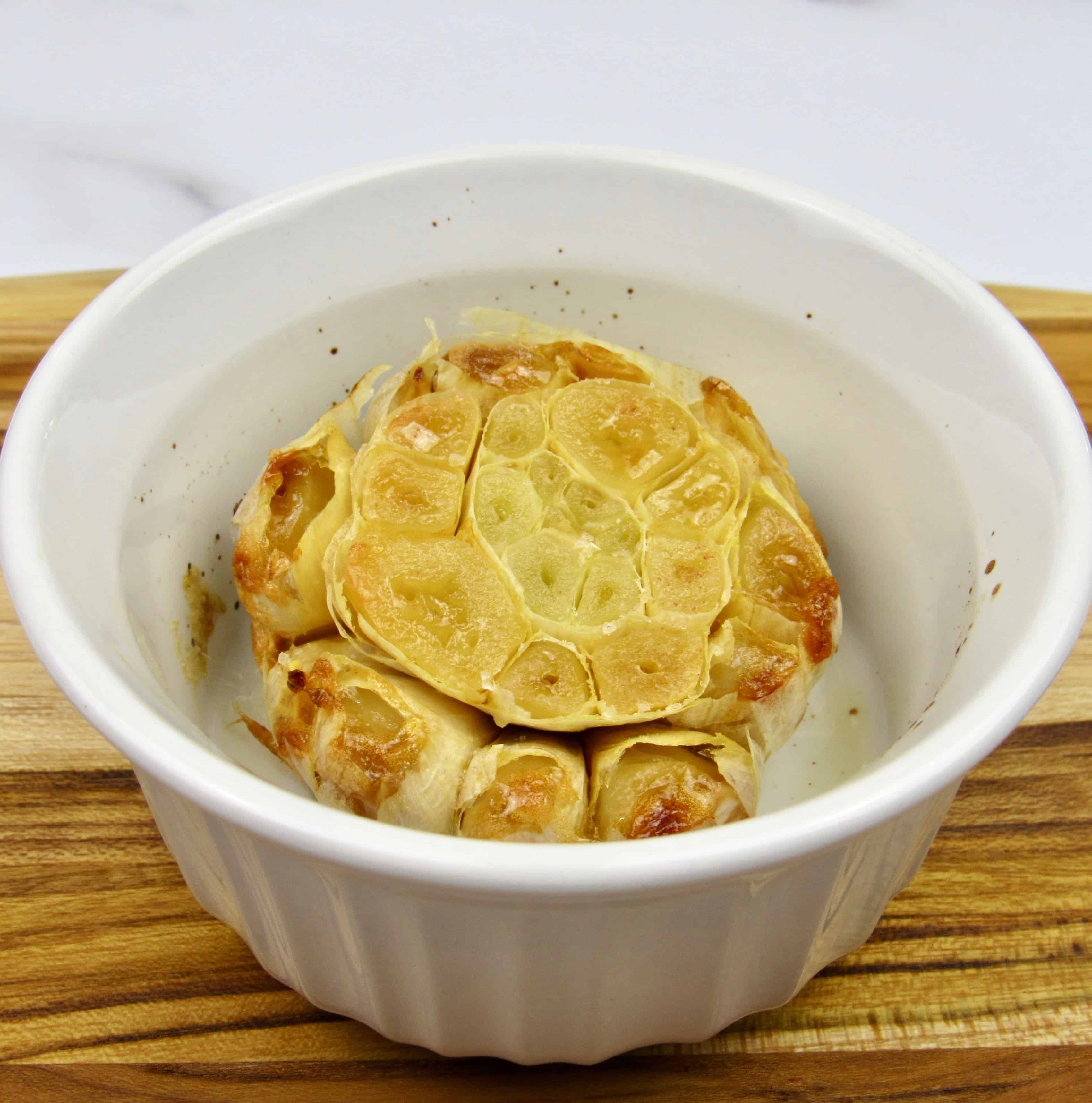 Allow to cool slightly, then gently squeeze out the garlic, without the skins. You'll need 1 ½ tablespoons for this recipe.
How to Make Thick and Creamy Mashed Cauliflower
Wash and cut the cauliflower into small florets.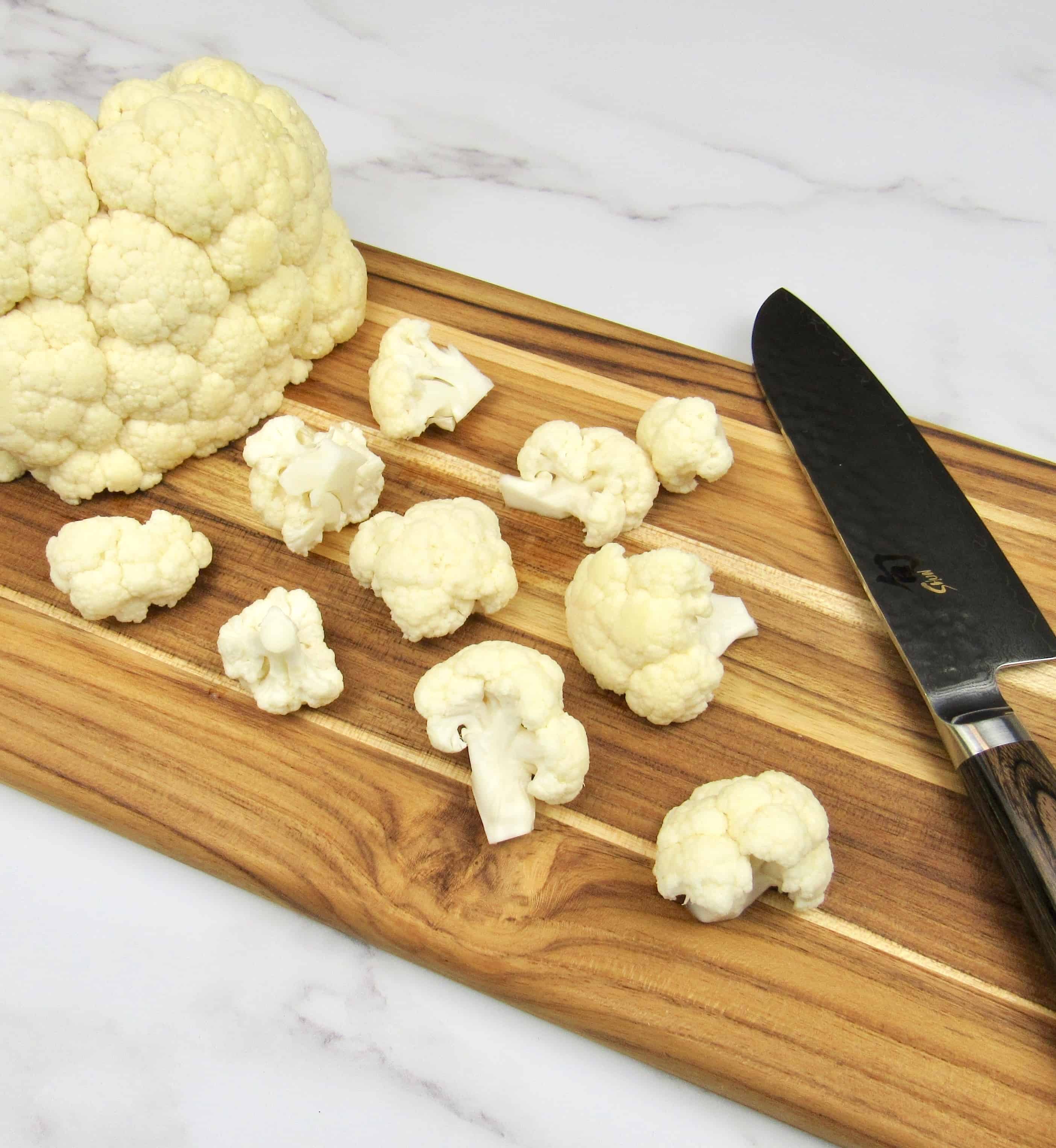 Add it to a microwave-safe bowl, cover with a plate and cook in the microwave for 10 minutes or until tender. Drain well and pat with paper towels pressing gently to dry.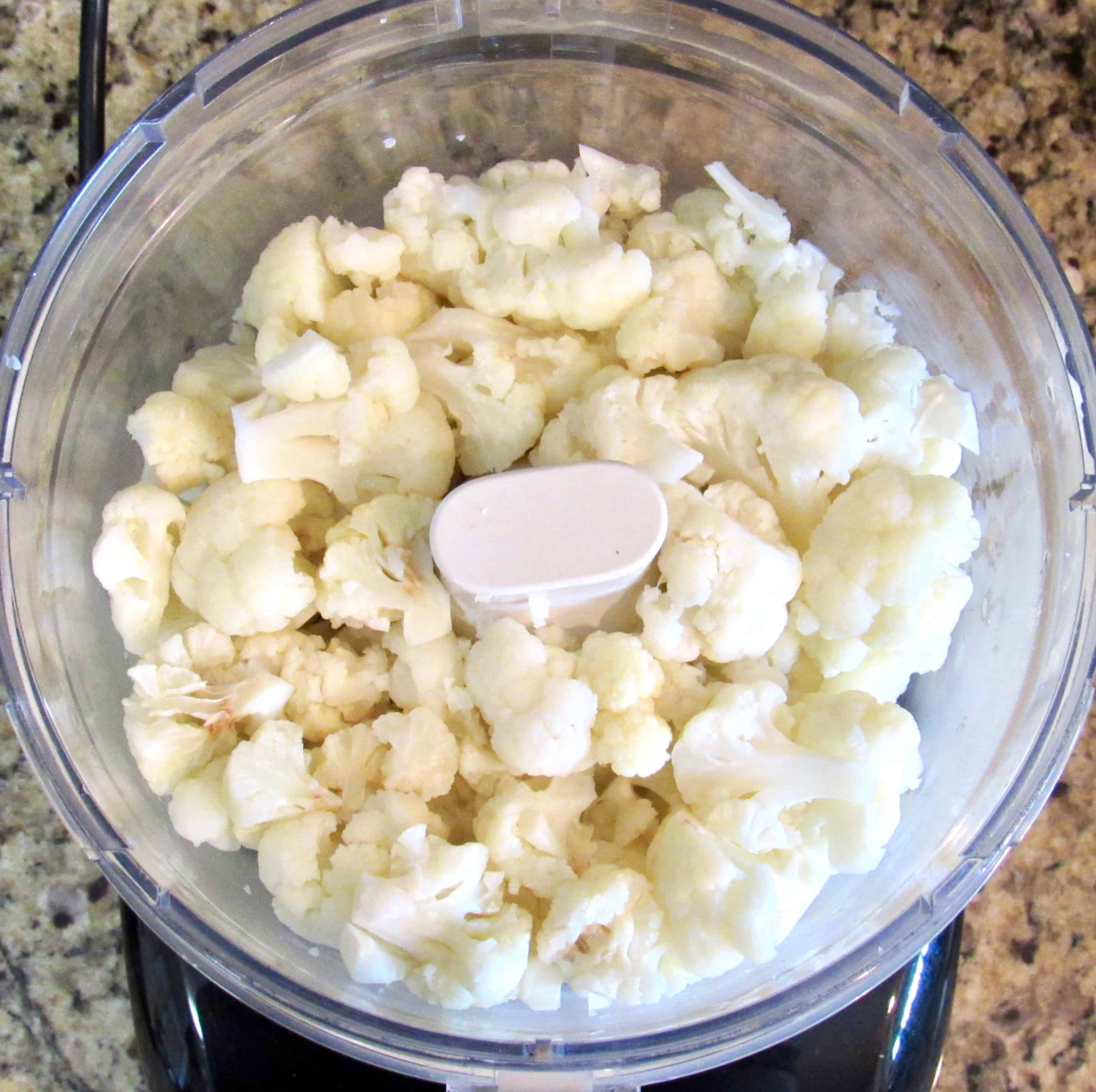 Add the cauliflower to the bowl of a food processor and pulse for a minute.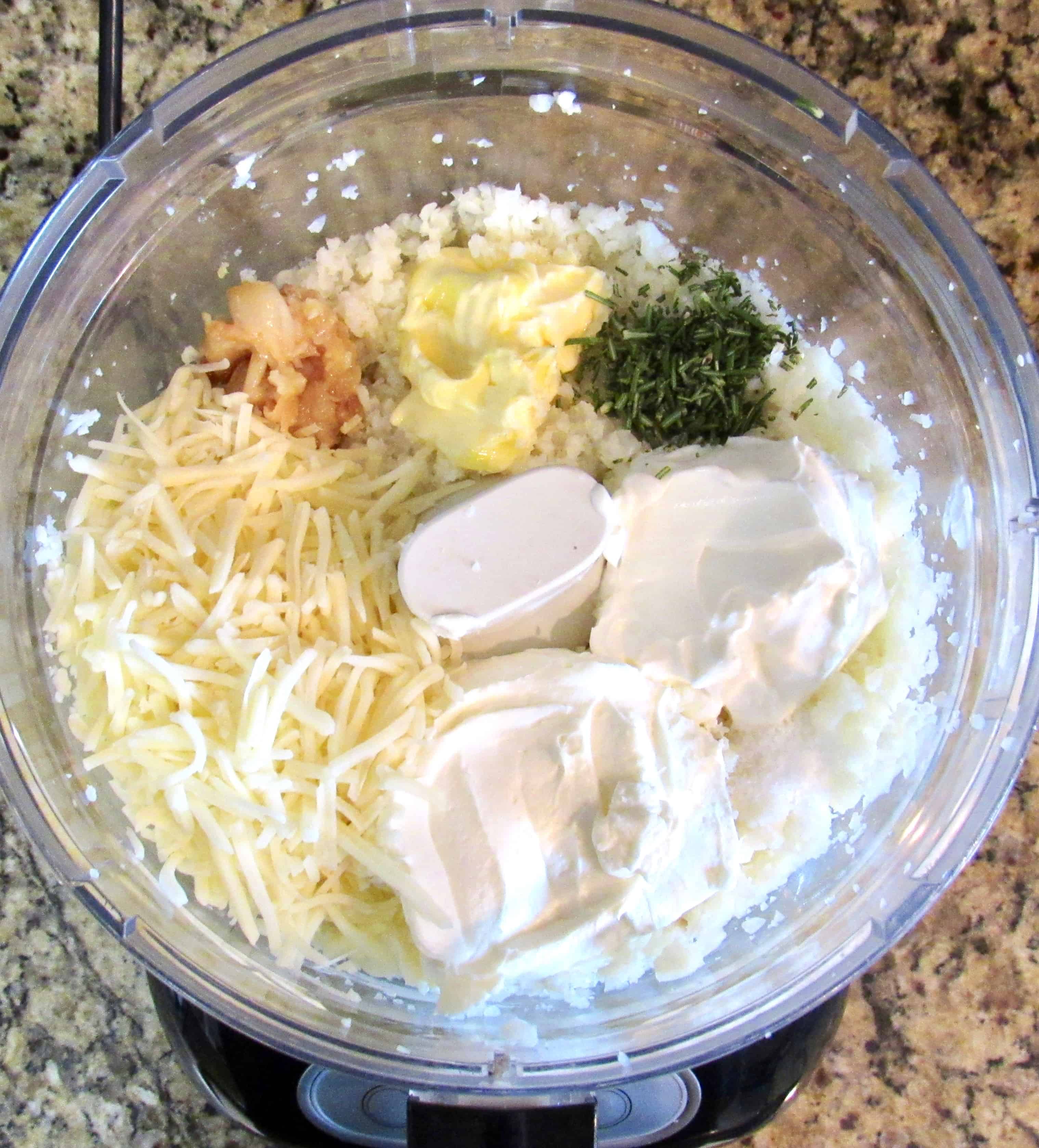 Then add in all the remaining ingredients and blend until smooth and creamy. If you want your cauliflower to be thicker, add only 2 tablespoons of butter. If it want it a little thinner, add in 2 tablespoons of heavy cream.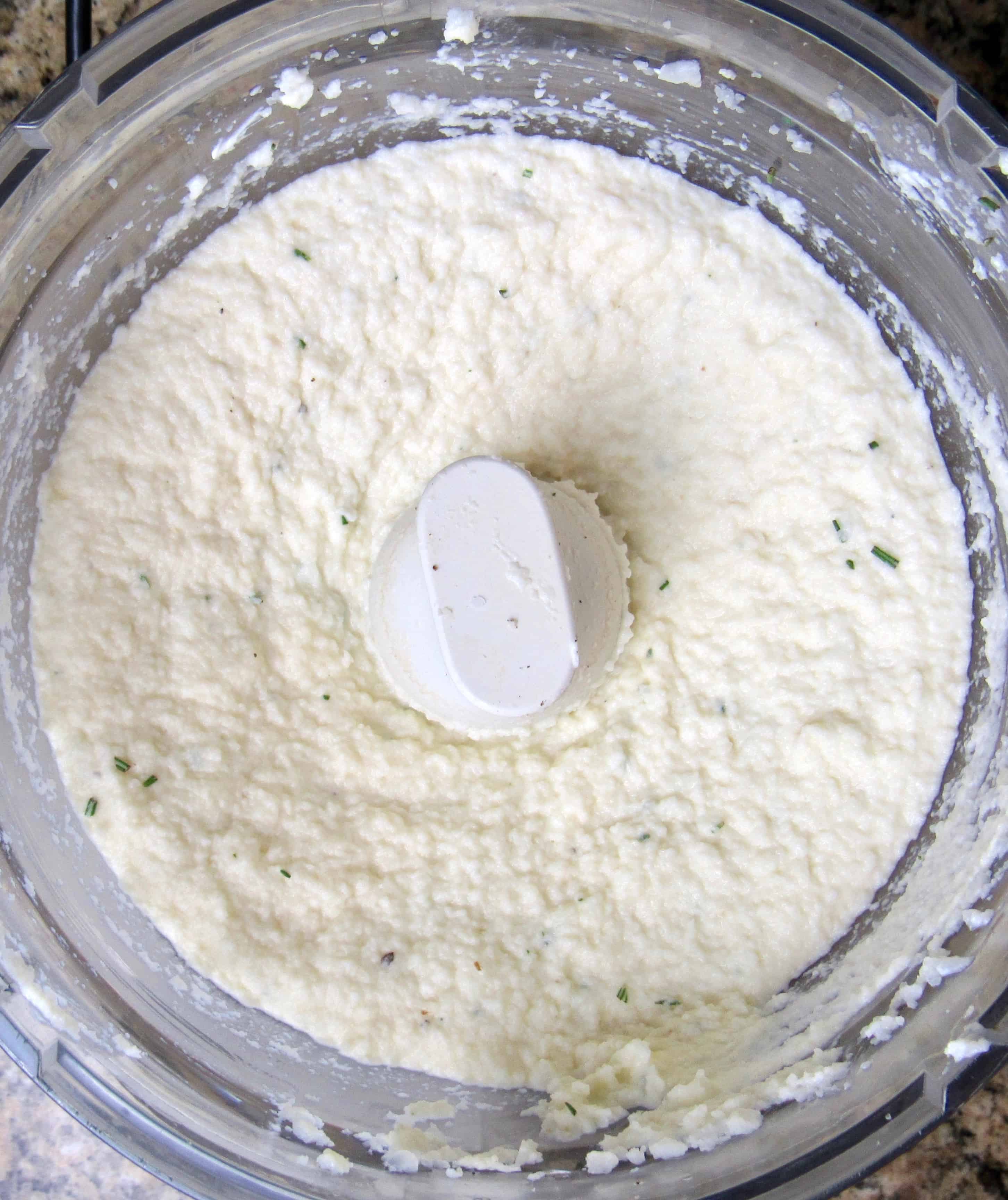 Serving with a pat of butter and fresh rosemary over the top. Store leftovers in the fridge for a few days or freeze.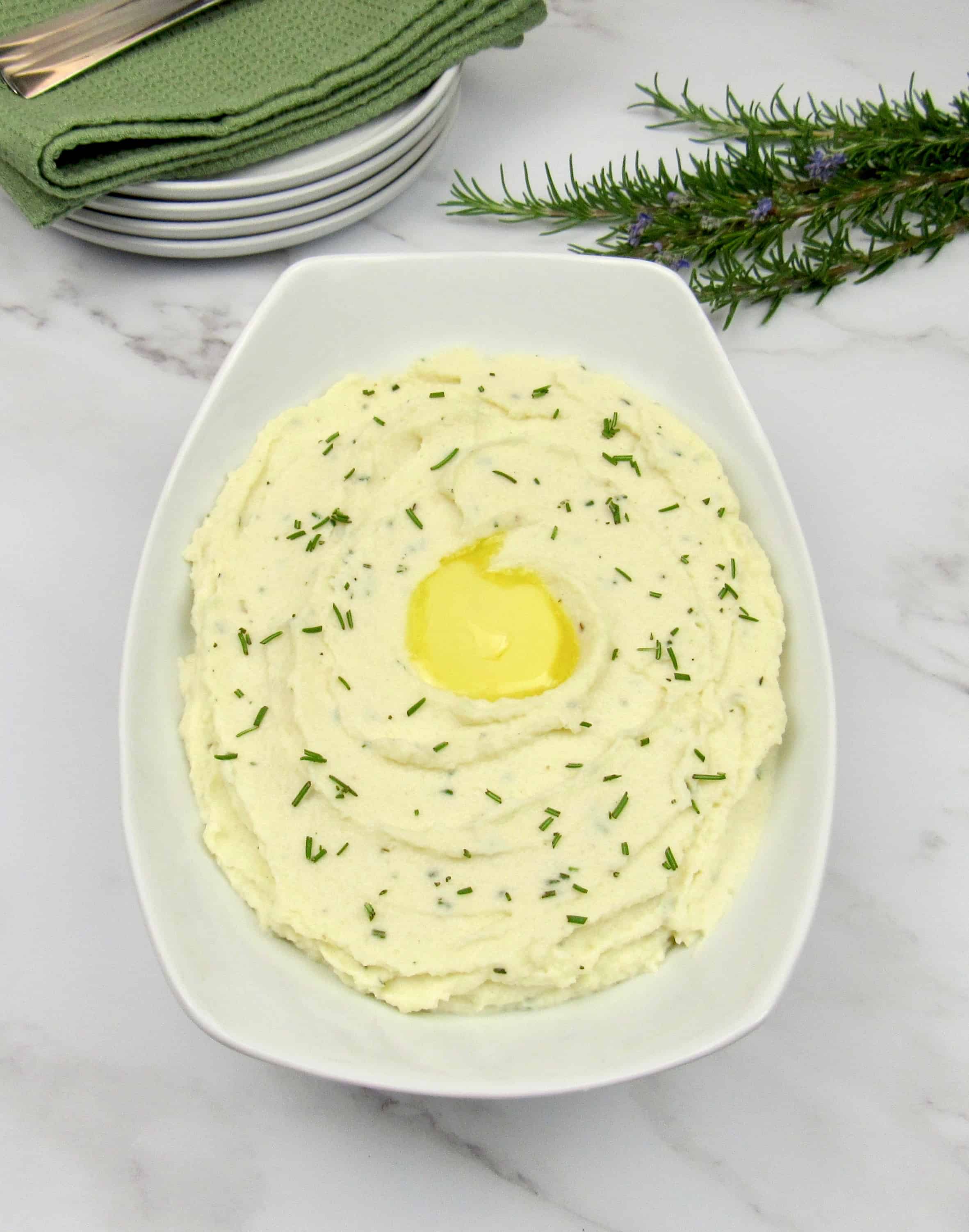 Tips for Making the Best Mashed Cauliflower
How to Avoid a Watery Mashed Cauliflower
There are two important steps to ensure a thick and creamy mashed cauliflower, that will give you that same texture as mashed potatoes. The first step is how you cook the cauliflower. Steaming, rather than boiling cauliflower works best.
When you boil cauliflower, it will retain the water and make for a watery mashed cauliflower, which is what you don't want. The easiest way is to add your washed cauliflower florets to a microwave safe bowl and cook it with a plate over the top. This will steam it and some moisture will accumulate at the bottom of the bowl.
For a large head of cauliflower, cook for 10 minutes or until it's fork tender. Remove the plate and drain off any liquid, then pat the cauliflower dry. If you have a steamer that you can use, or a steamer basket to use on the stovetop, that will work just as well. Just be sure to get all the moisture out and pat it dry.
The second step is in the mix. Adding thick and creamy cheeses, sour cream, mascarpone, shredded cheese, and just a small amount of butter is key. This mashed cauliflower turns out nice and thick, but not dry, it's honestly the perfect texture!
I used Monterey Jack cheese in this recipe because it's nice and mild and the flavor doesn't compete with the roasted garlic or Rosemary. You can also use Colby or any other mild cheese that you like. You can also substitute the cream cheese for mascarpone if that's what you have on hand.
If you don't have sour cream, you can use a Low Carb Greek yogurt instead. Ricotta cheese would also be a good replacement.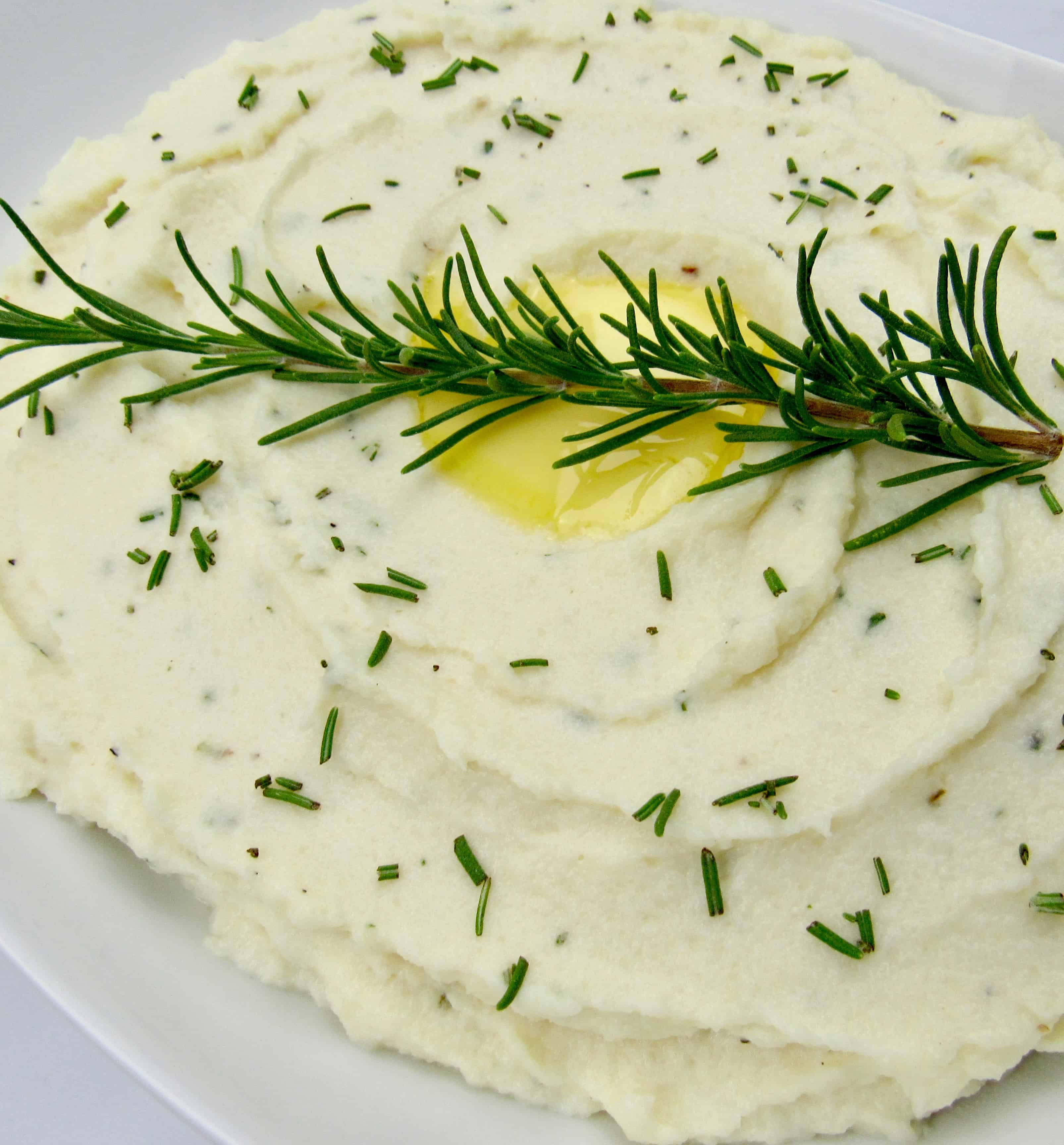 How to Add Flavor to your Mashed Cauliflower
For this recipe, you want to use garlic that has been roasted in the oven and caramelized. It has a much sweeter and more subtle flavor than raw or sautéed garlic.
Fresh rosemary works best in this mashed cauliflower, but if you only have dried on hand, you can certainly use it instead. Thyme would also be a good substitute, but it would really change up the flavor a bit. I cut this Rosemary from my garden, and it happens to be in bloom right now!
Rosemary is a pretty strong herb, so some people either love it or can only handle a small amount. If you think Rosemary is too strong, then only add 2 teaspoons, but if you really love strong Rosemary flavor, then add in 1 ½ tablespoons.
The recipe is written for a happy medium, which I think is perfect. If you're not sure, add in 2 teaspoons, then taste it and you can always add more if you feel like it needs more flavor.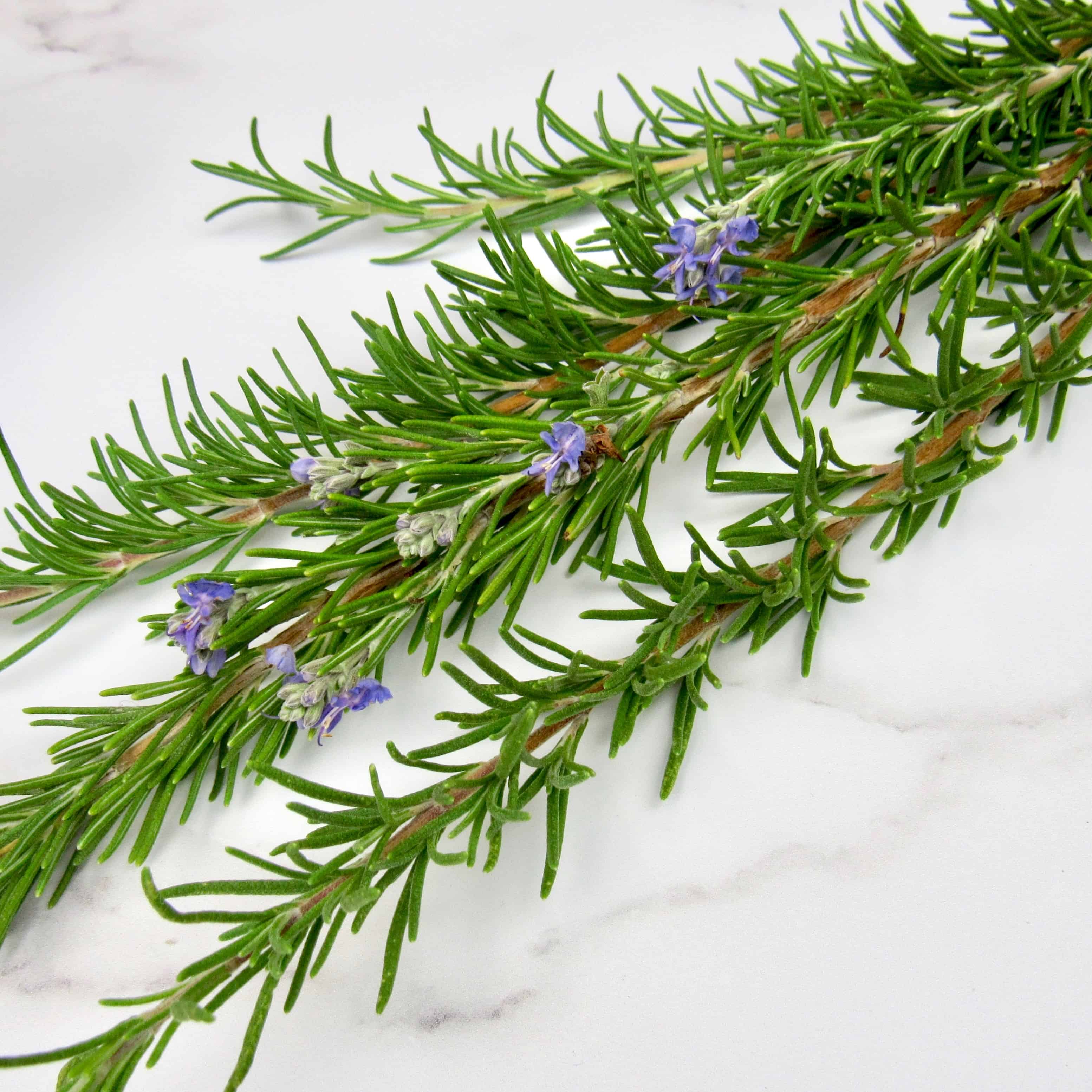 Is Garlic Keto Friendly?
Yes, but make sure you use it in moderation. Garlic adds so much flavor to dishes and you really don't need to use much anyway.
How Many Carbs in Garlic?
1 clove of garlic has about 1 carb each and as I mentioned, since you don't need to use much of it, the impact on your daily carbs is minimal.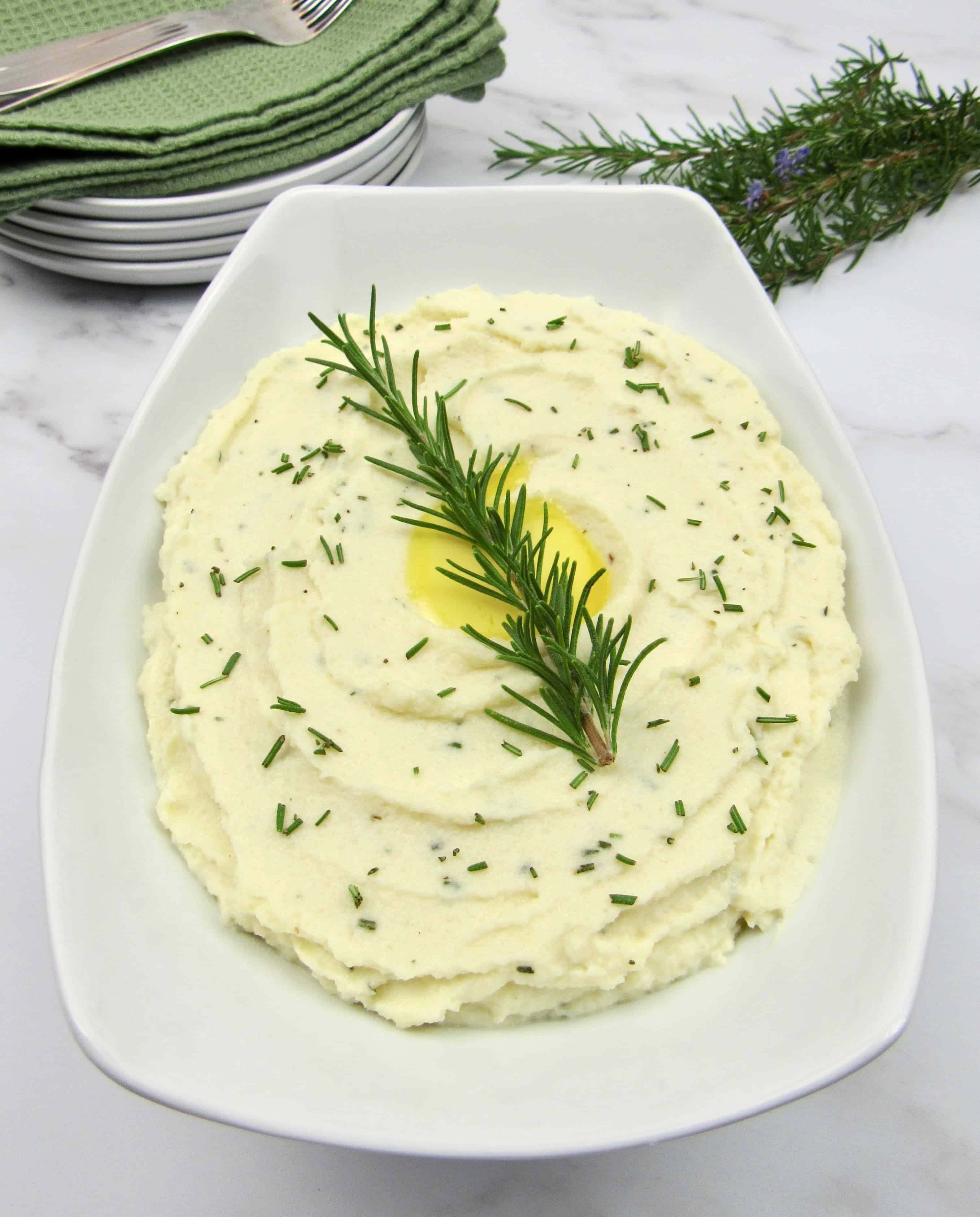 Is Cauliflower Good for a Keto Diet?
Oh yeah! Cauliflower is one of the Keto superfoods. It makes a great Low Carb substitute for rice, mac & cheese and mashed potatoes. You can prepare cauliflower so many different ways like Lime Cilantro or Mexican Cauliflower Rice, Jalapeño Popper "Mac" and Cheese, Loaded Creamy Cauliflower Casserole, "Potato" Salad and even Mushroom "Risotto". For more creative ways to prepare cauliflower, check out this roundup!
How Many Carbs in Cauliflower?
There are 3 net carbs in one cup of cauliflower, making it a great Keto vegetable!
More Keto Side Dishes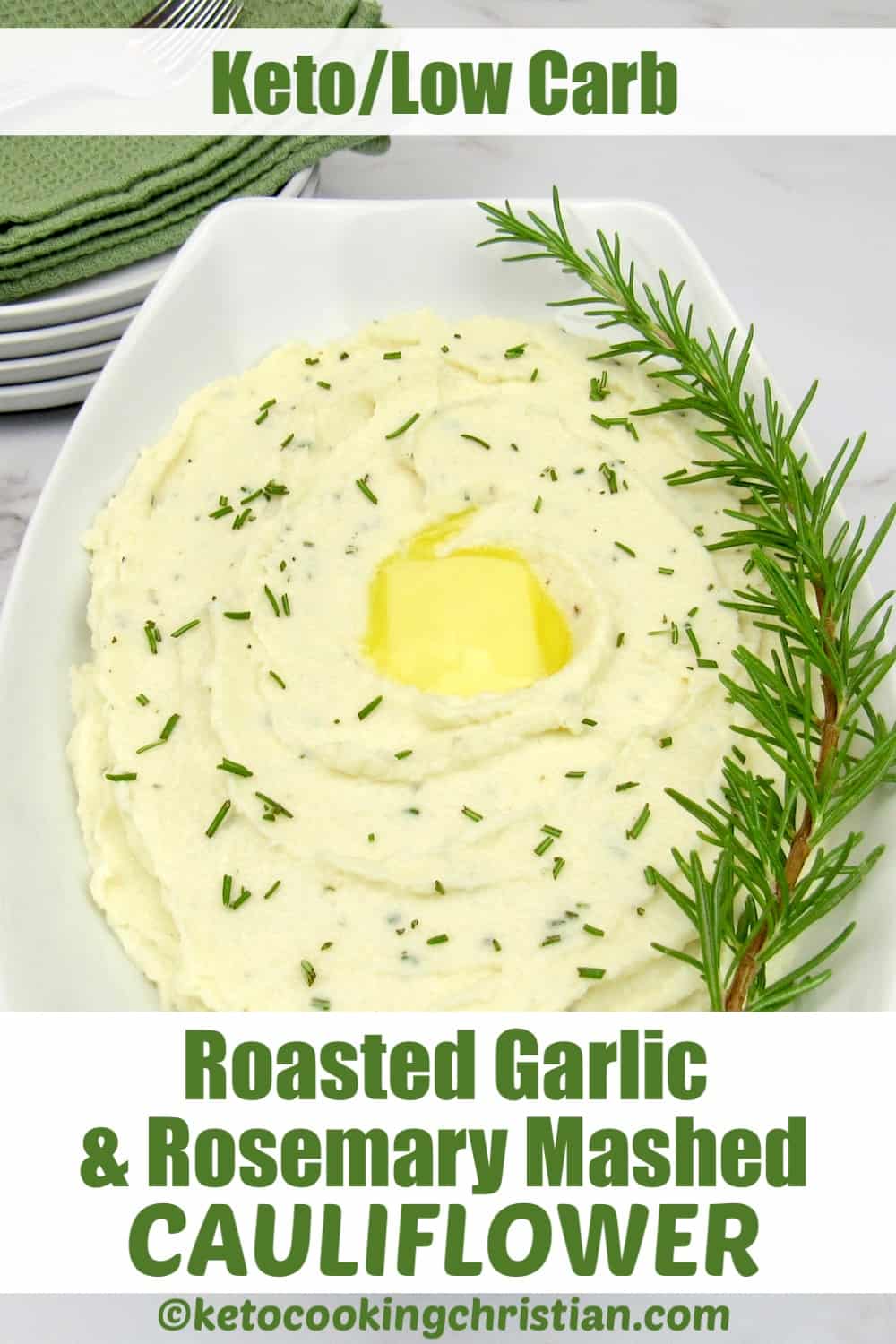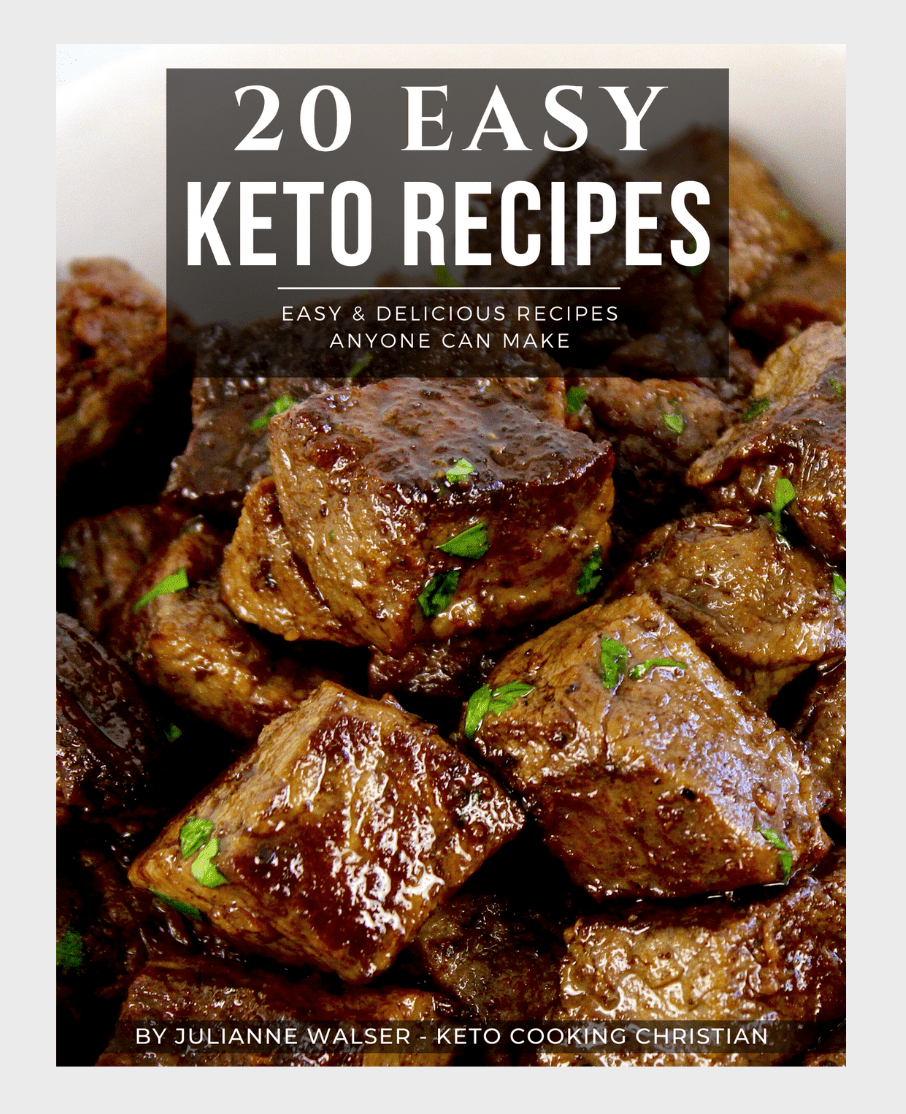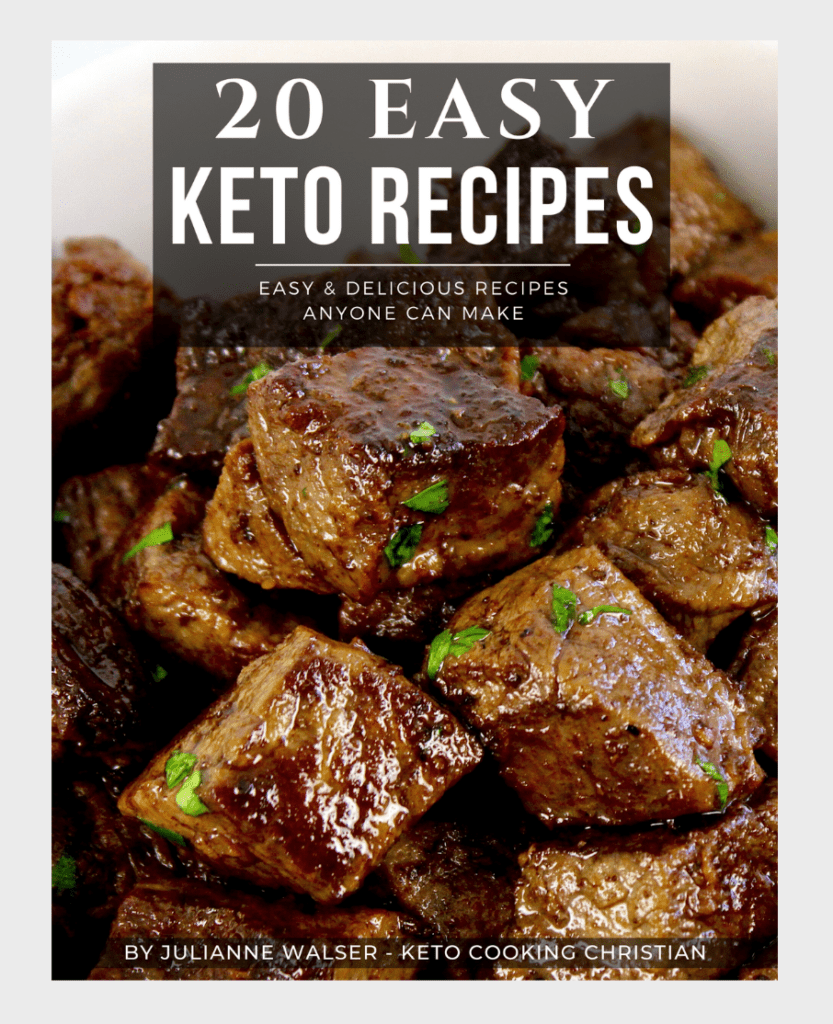 FREE 20 EASY KETO RECIPES EBOOK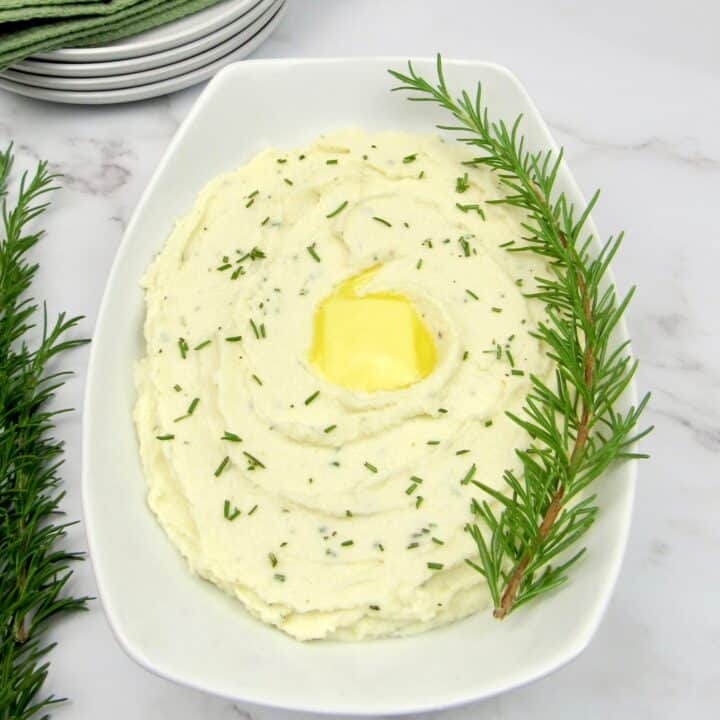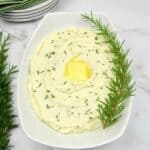 Roasted Garlic and Rosemary Cauliflower
Enjoy this smooth and creamy Low Carb mashed cauliflower at your next meal! Roasted garlic and fresh rosemary give it great flavor and an elegant twist, making it perfect for special occasion dinners.
Servings 8
Ingredients
1 large head of cauliflower
1 cup Monterey Jack cheese
½ cup cream cheese
¼ cup sour cream
3 tablespoons butter
1 tablespoon fresh rosemary, chopped
1 ½ tablespoons roasted garlic
salt and pepper to taste
*Make sure to scroll up and read the post for substitutions, additions and helpful tips for making this recipe.
Nutrition Facts
Roasted Garlic and Rosemary Cauliflower
Amount per Serving
% Daily Value*
* Percent Daily Values are based on a 2000 calorie diet.
Rate this Recipe
*Nutritional data is provided as a courtesy and is accurate to the best of my knowledge. You can verify it using the nutrition calculator of your choice. All data is based on net carbs, without sugar alcohol: Swerve, Erythritol, Monk Fruit or Allulose.
© Copyright for Keto Cooking Christian LLC. Please use the share buttons to share on social media, but please do not copy/paste the recipe.