Shredded chicken is excellent for weekly meal prep recipes. In this collection of the best shredded chicken recipes, your family's new favorite is waiting!
This collection of low carb chicken recipes has something for everyone. Every recipe starts with juicy and savory chicken, shredded, then transformed into a quick meal that you can have on the table in minutes.
And the awesome thing about shredded chicken is, it's literally a blank canvas, ready to take on which ever ingredients you want to use.
Low carb chicken meals are a great way to get healthy fat into your daily diet without having to spend hours in the kitchen. As you can see, this collection has you covered.
Whether you're looking for a rich and delicious Keto chicken casserole, or a low carb chicken salad, chicken soup or even a creamy buffalo chicken dip, they're all right here!
How to Freeze Shredded Chicken
If you have leftovers, after you have completed meal prepping, don't throw away what's left. Shredded chicken freezes well. Just add the leftovers to a freezer bag and squeeze out any extra air. Be sure to label the bag with the date you froze it.
It's a good idea to divide the portions into smaller bags so you can defrost the exact amount you need. Shredded chicken thaws much faster than whole pieces, so take out what you need and let it sit over night in the fridge.
Can I Eat Chicken on Keto or a Low Carb Diet?
Chicken is absolutely good for Keto and low carb diets. Chicken offers high amounts of protein while having no carbs. Chicken breasts are very lean and higher in protein than thighs and legs.
Since Keto diets typically eat a moderate amount of protein, it's a good idea to use both shredded dark and white meat.
Cooking Tips for Shredded Chicken
Using rotisserie chicken from your local grocery is a great way to save some time without giving up flavor. Be sure to check the ingredients on the label. Some rotisserie chicken has sugar or other ingredients that people on Keto or a low carb diet should try to avoid.
If you need shredded chicken in a hurry, use an Instant Pot to cook up a batch. You can even cook a whole chicken in minutes with this method.
Have a little extra time on your hands? Roasted chicken renders such a savory and intense flavor. For a whole chicken, cook it approximately 20 minutes per pound at 350F. or until internal temp. reaches 165F. Bone-in roasted chicken has the most flavor, but you can use boneless.
Boiling chicken ensures you always have juicy shredded chicken. You also end up with homemade, gluten free chicken broth which can be used in many recipes or frozen for later use.
I hope you have found these Keto recipe ideas helpful! If you decide to make any of these, please leave a comment and let us know how you enjoyed them!
*All photos and recipes in this article are copyrighted by the original food blog author, listed under the title. Please click on the "Get Recipe" button to get the full written recipes with steps, which are the sole property of each respective website.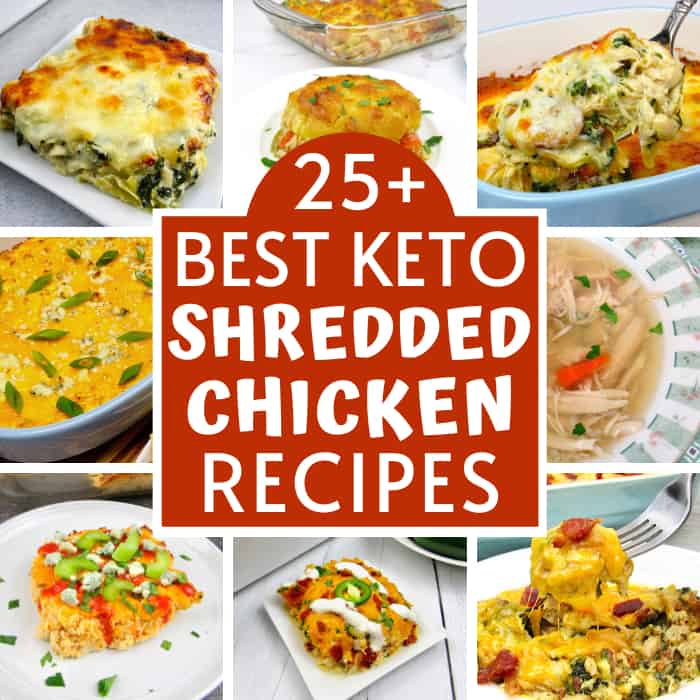 More Keto and Low Carb Recipe Collections: