Who says you can't have a healthy breakfast on the run? Chorizo, pepper and eggs baked into little muffin cups are the perfect grab and go option!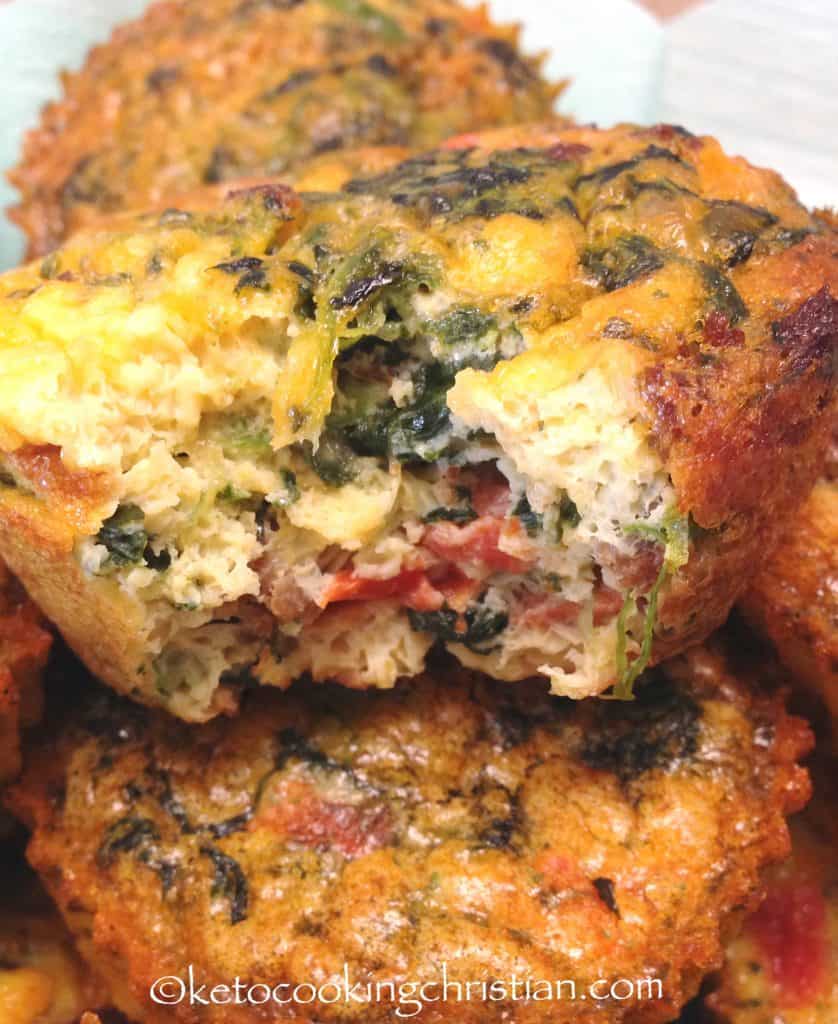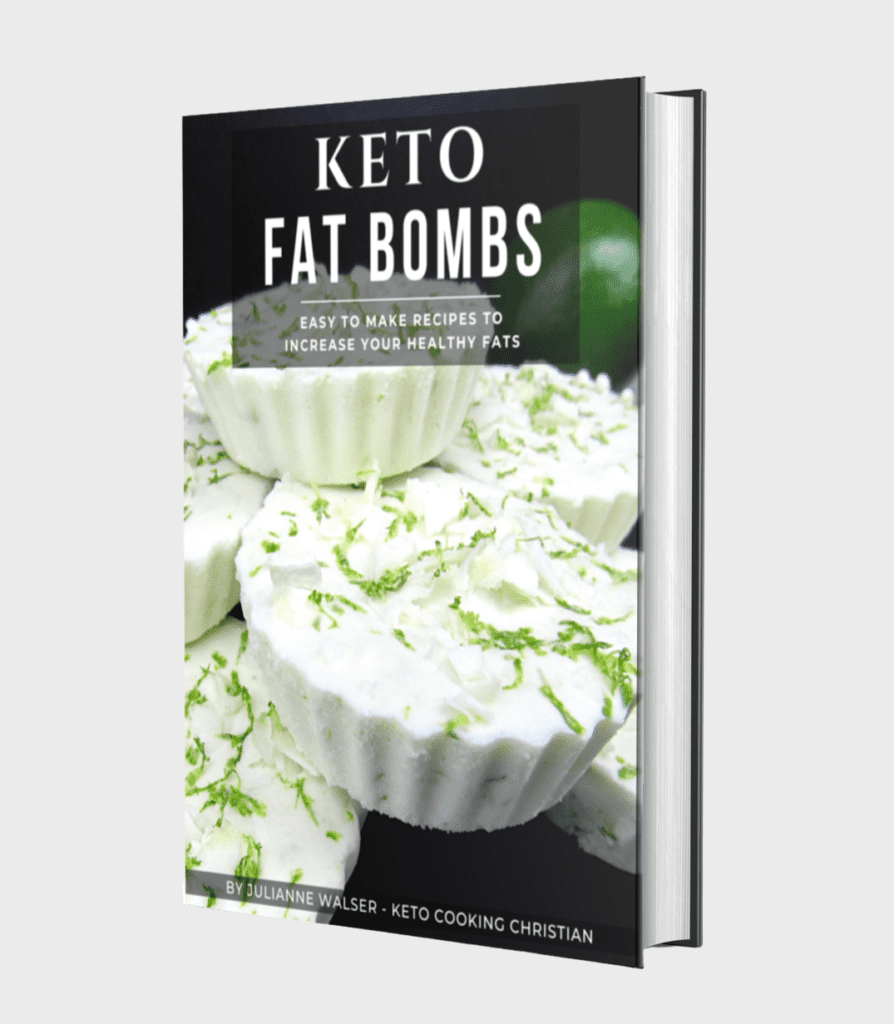 FREE KETO FAT BOMBS EBOOK
These little egg muffin cups are perfect for those busy mornings when you need something quick. Take one out of the fridge, pop in the microwave for a minute and you're ready to go.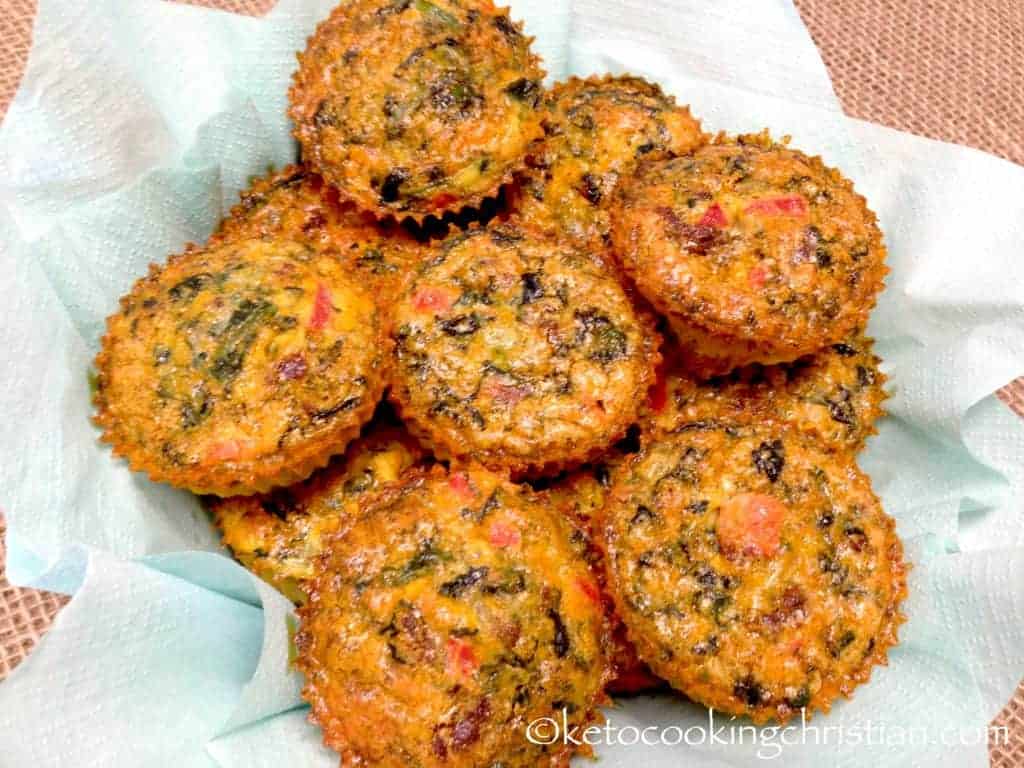 Change things up from the traditional scrambled eggs and bacon breakfast, and give these low carb egg muffins a try!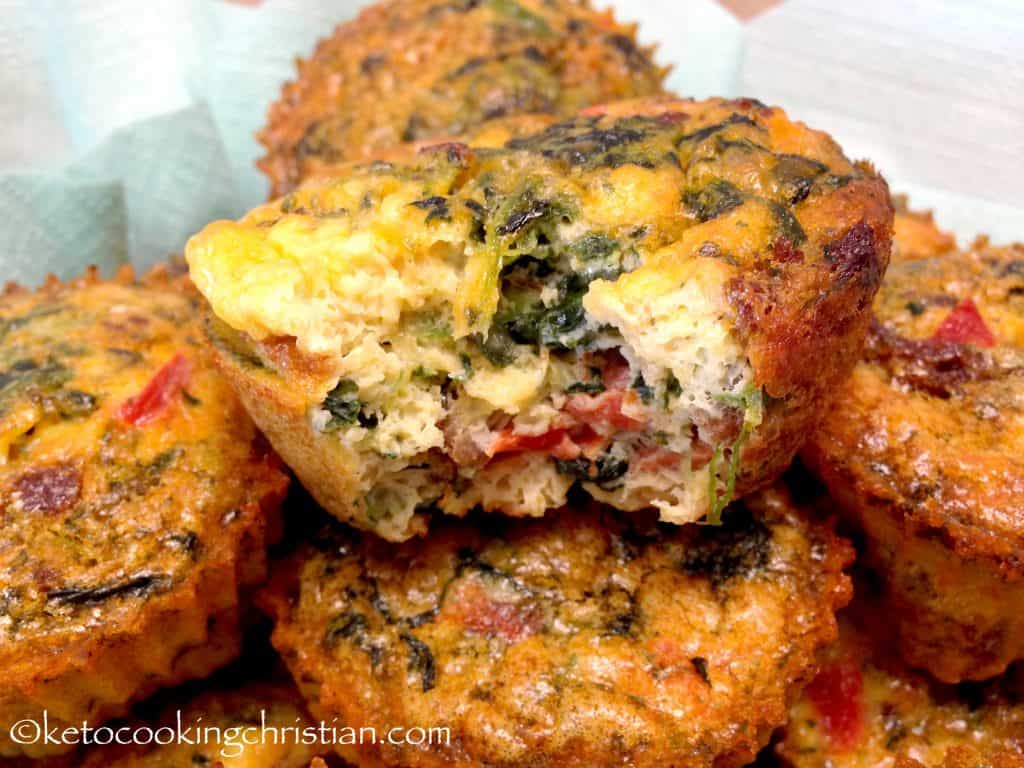 The chorizo and red pepper give them a little extra kick of flavor they need to make them an excellent Keto breakfast all in one muffin!
What's in Keto Breakfast Muffins
Eggs
Chorizo sausage
Red peppers
Frozen spinach
Heavy cream
Cheddar cheese
*Exact measurements are listed in the recipe card below.
How to Make Keto Chorizo Breakfast Muffins
Preheat oven to 375F
Add the eggs to a bowl and beat using an immersion blender, whisk or fork.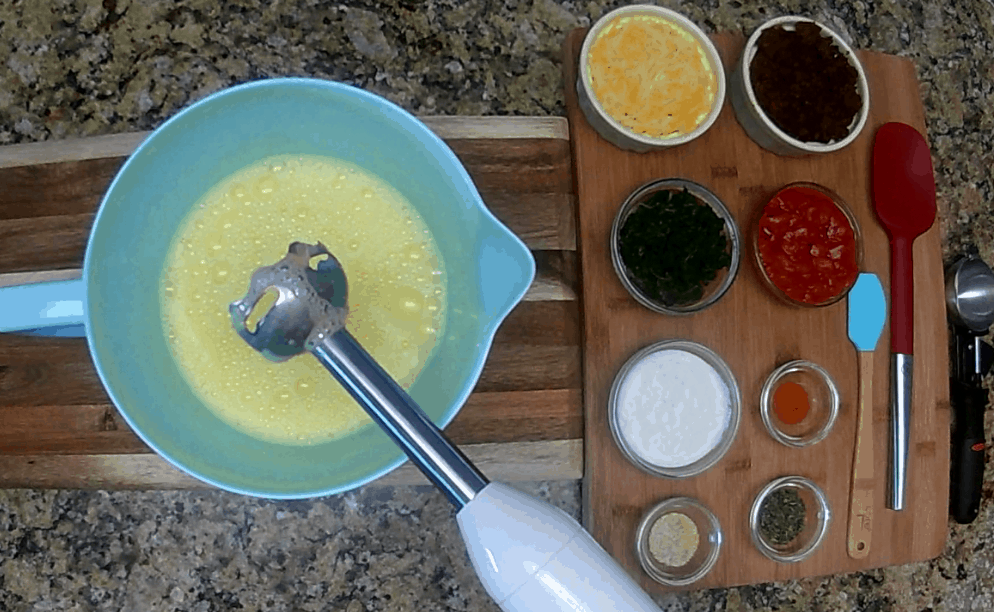 Add in the remaining ingredients and mix by hand until well incorporated.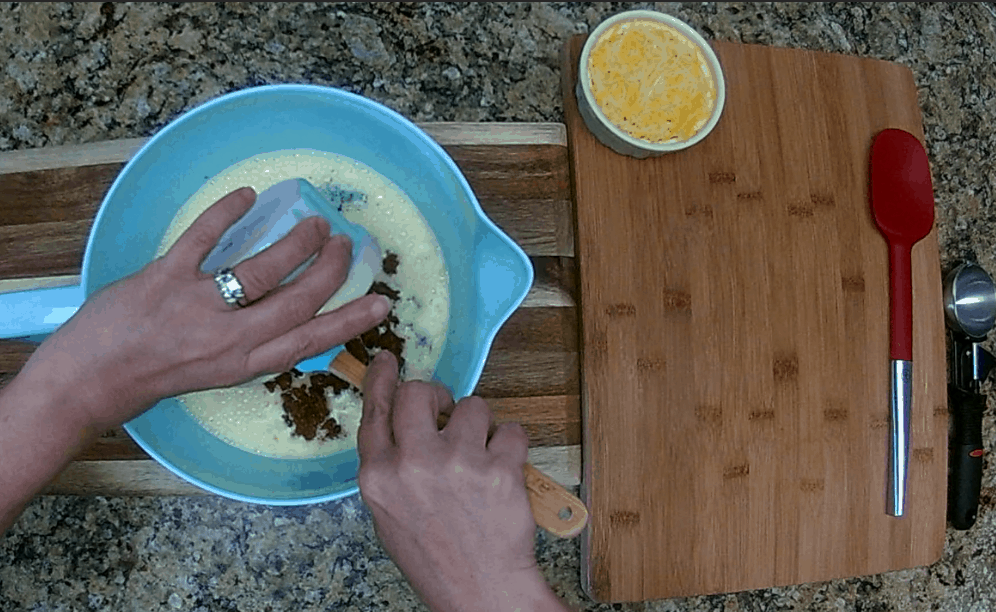 Then add in the heavy cream, cilantro, garlic salt and cayenne pepper. Continue mixing until well combined. If you'd like a little less spice, hold back some on the cayenne, or you can leave it out all together.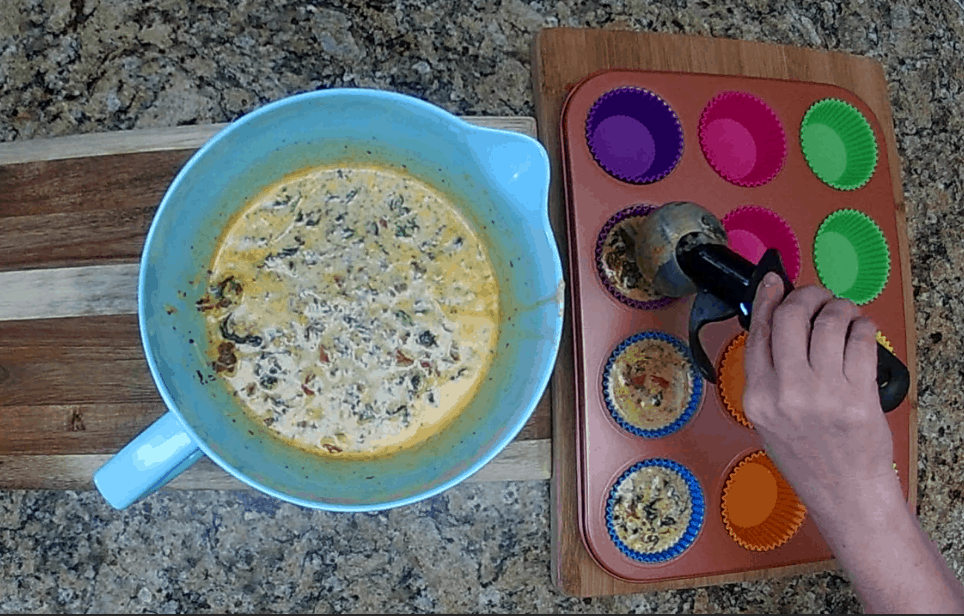 Scoop into a silicone muffin liners or a muffin pan sprayed with nonstick spray.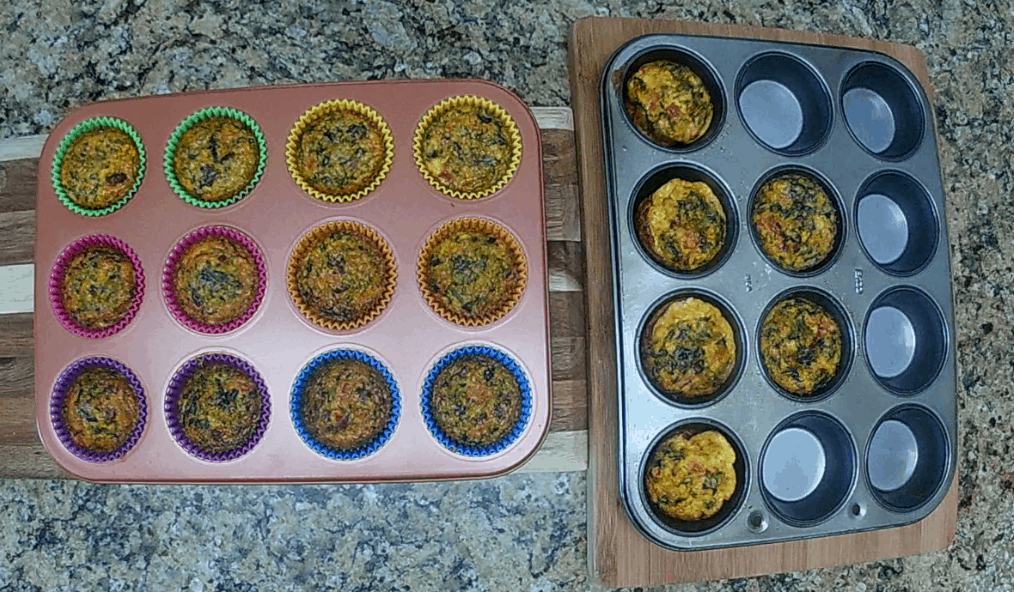 Bake 18-20 minutes or until eggs are set. Allow the muffins to cool slightly before removing them from the muffin liners. All that's needed now is a hot cup of coffee!
If you love chorizo, you may want to give this Chorizo and Pepper Cauliflower a try! The flavors are the same incredible flavors you find in these muffins!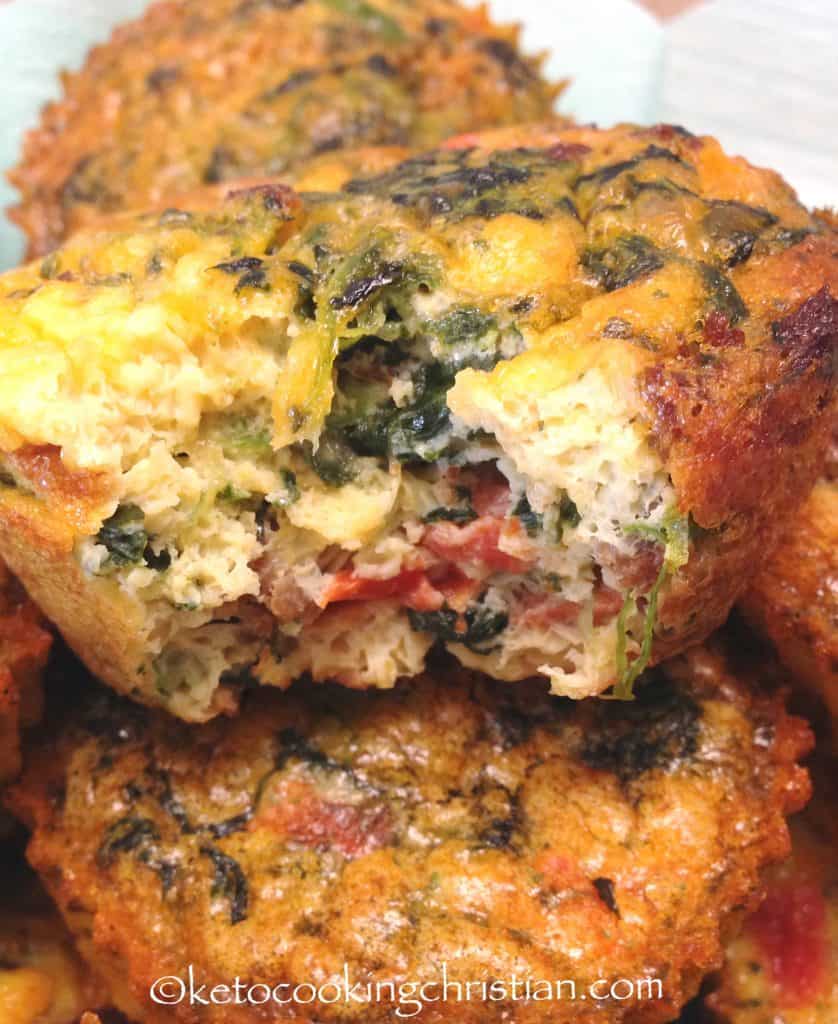 Store leftovers in the refrigerator in an air tight container for up to a week.
Can I Freeze Keto Sausage Muffins?
Absolutely! These egg and chorizo muffins freeze perfectly. Just allow them to cool completely. Drop them in a freezer bag and store for up to a couple of months.
To reheat them, you can take them out the night before and place them in the fridge, then heat them in the microwave for about 45 seconds to a minute, depending on your microwave.
You can also heat them directly out of the freezer. Just heat for a little longer. If you want to reheat several at one time, you can place the frozen low carb breakfast muffins on a sheet pan, and place in a 350F oven heated through.
Because these Keto breakfast muffins freeze so well, they are excellent for meal planning. If you'd like to know more great meal prep tips, check out this article, 25 Keto Meal Prepping Ideas.
Variations of Keto Breakfast Muffins
Honestly, there is no way to mess up these breakfast muffin cups. Change up the protein or veggie to your liking! They are so versatile and can be catered to your personal tastes using whatever spices you enjoy as well.
Here are some ideas to give you some inspiration:
You can use regular breakfast sausage in place of the chorizo. Check the label for added sugar and/or dextrose. You'll want to avoid those ingredients if you're on Keto or a low carb diet.
Cheddar can be replaced with any of your favorite melting cheese. Some of my favorites are Pepper Jack, Monterey Jack, Provolone and Mozzarella.
Roasted red pepper really gives these breakfast cups a unique flavor. But if you want a stronger pepper flavor, roasted green peppers can be used. You can even you roasted poblano peppers if you'd like.
If you like onion, you can add diced yellow or even chopped green onion to these muffins.
If you don't care for spinach, you can add steamed broccoli. Make sure you have drained out the moisture as much as you can to keep it from making the muffins soggy. You omit it all together if you prefer.
If you're enjoying these low carb breakfast muffins at home, just a few freshly diced tomatoes are a nice touch.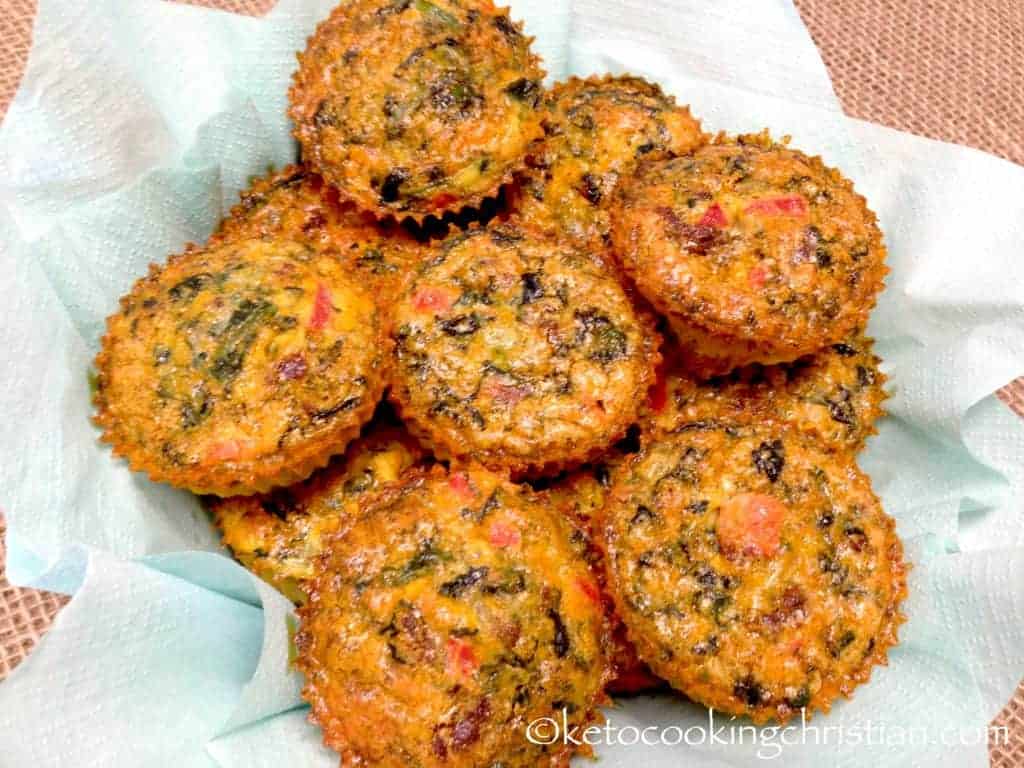 What is Chorizo?
Chorizo is a type of Mexican sausage that gets its spiciness from chili peppers. It's usually made from pork (sometimes it's made from beef) and is typically sold raw. It is typically sold in a casing though sometimes you can find it ground.
Chorizo is sold raw and because the eggs and cheese cook quickly in this recipe, the sausage will need to be cooked prior to adding it to most any Keto breakfast muffin batter.
Are Eggs Keto? What are the Carbs in Eggs
Are they ever! Eggs are a Keto superfood. With only 1 gram of carbs, they are perfect for any meal on Keto or low carb diets.
One of the many benefits to egg on Keto is they gives the body a sense of fullness. And the yolks are the best part for the Keto as they are rich in fats.
Eggs have many other benefits. Whole eggs are truly one of the most nutritious foods you can eat. They contain a little bit of almost every nutrient you need.
Pasture raised eggs are even healthier and are now available in most every grocery store. To read more about all the health benefits of eggs, checkout this article from Healthline.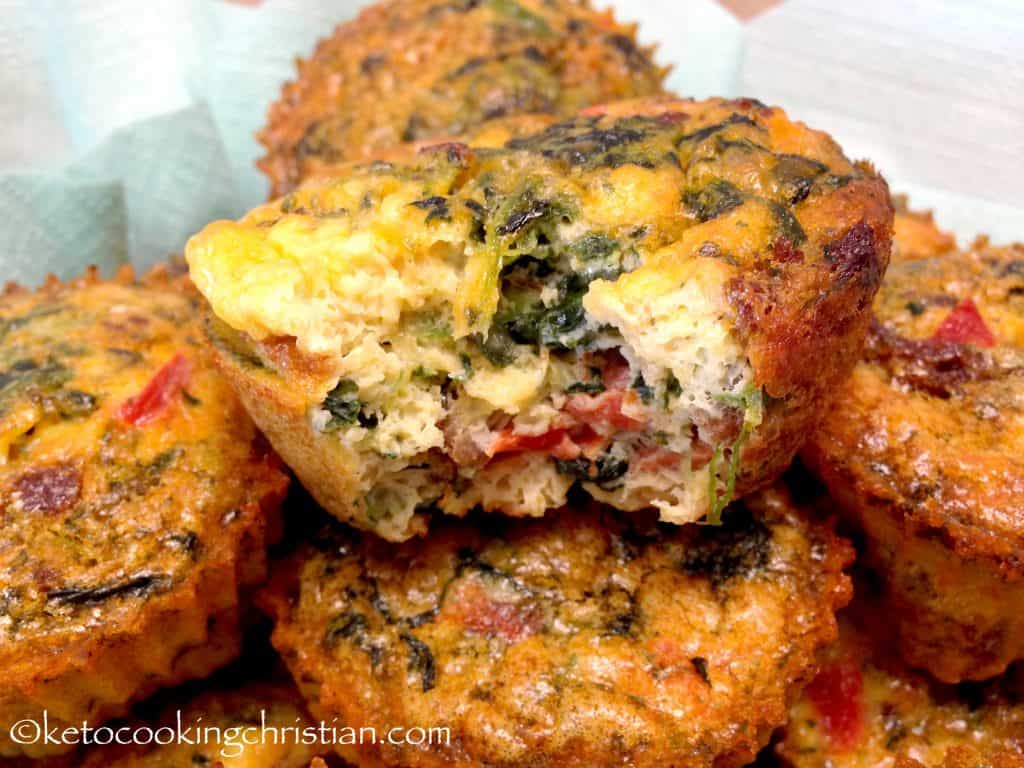 More Keto Breakfast Recipes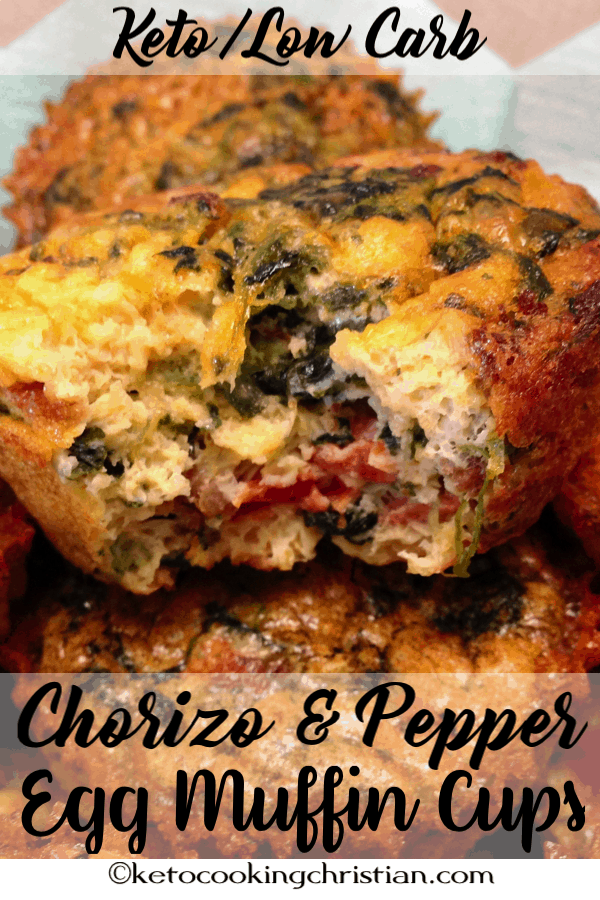 More Low Carb Muffin Recipes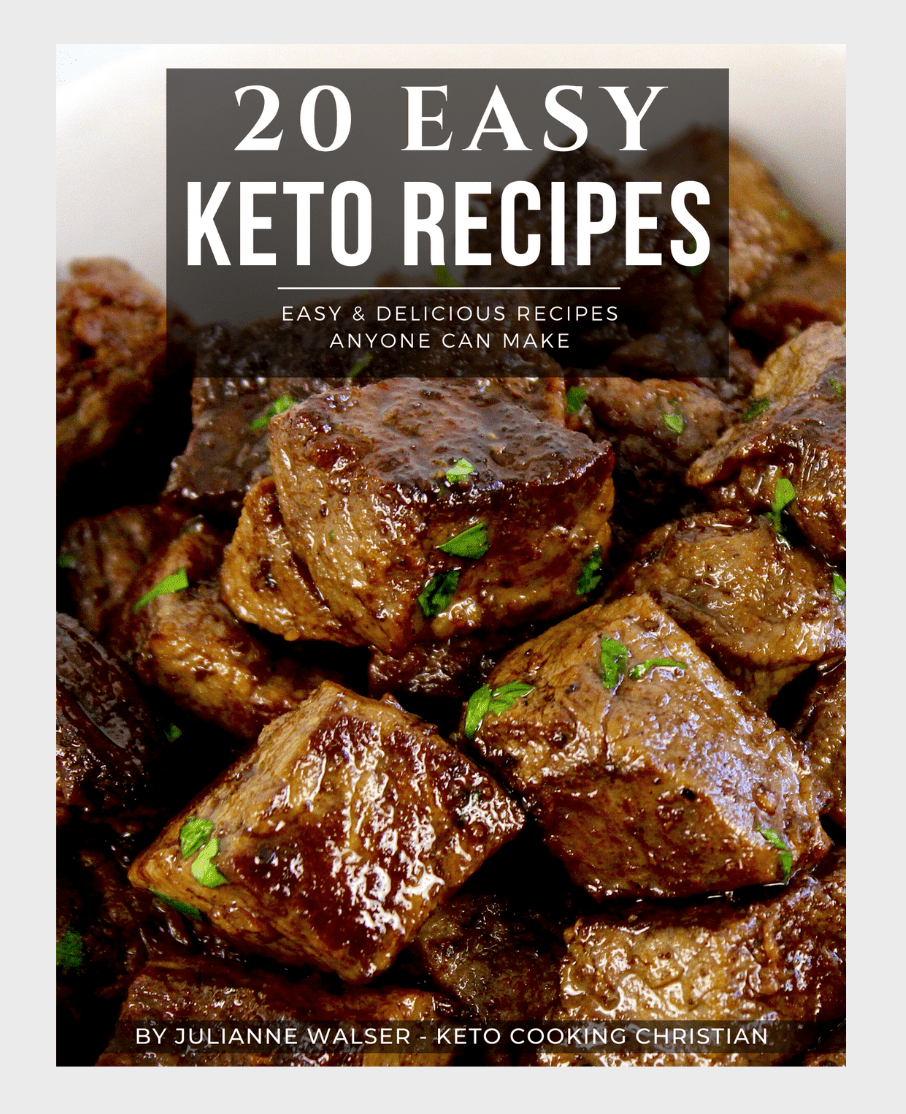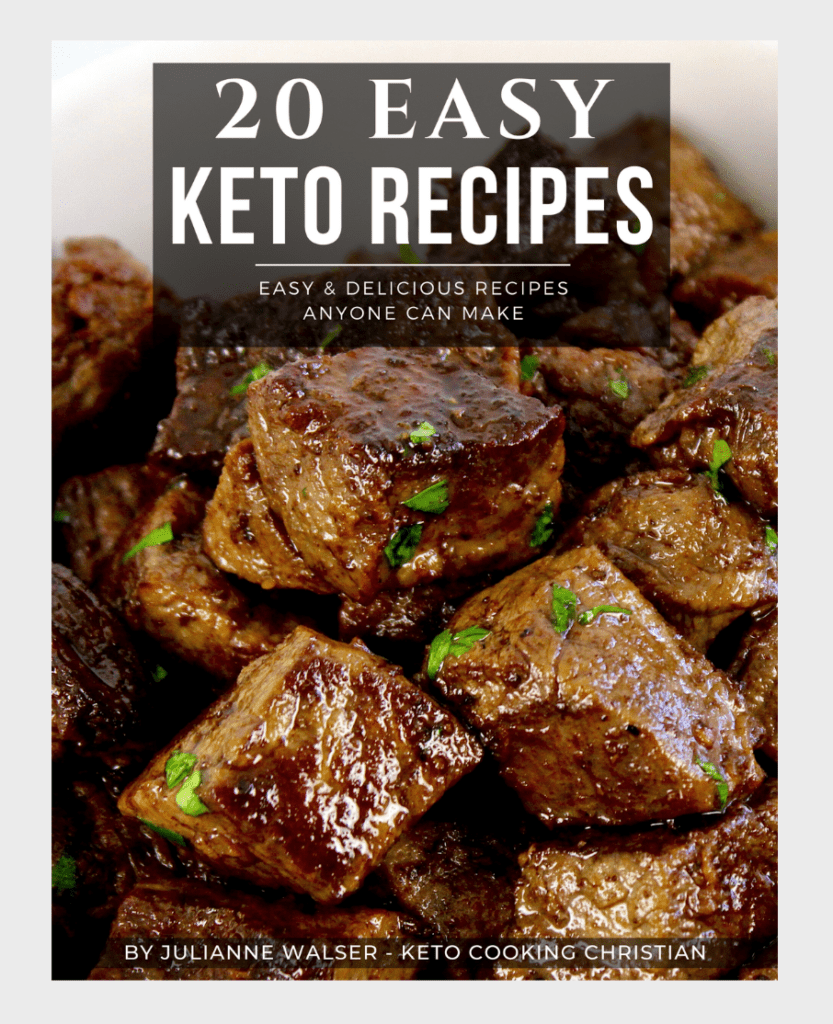 FREE 20 EASY KETO RECIPES EBOOK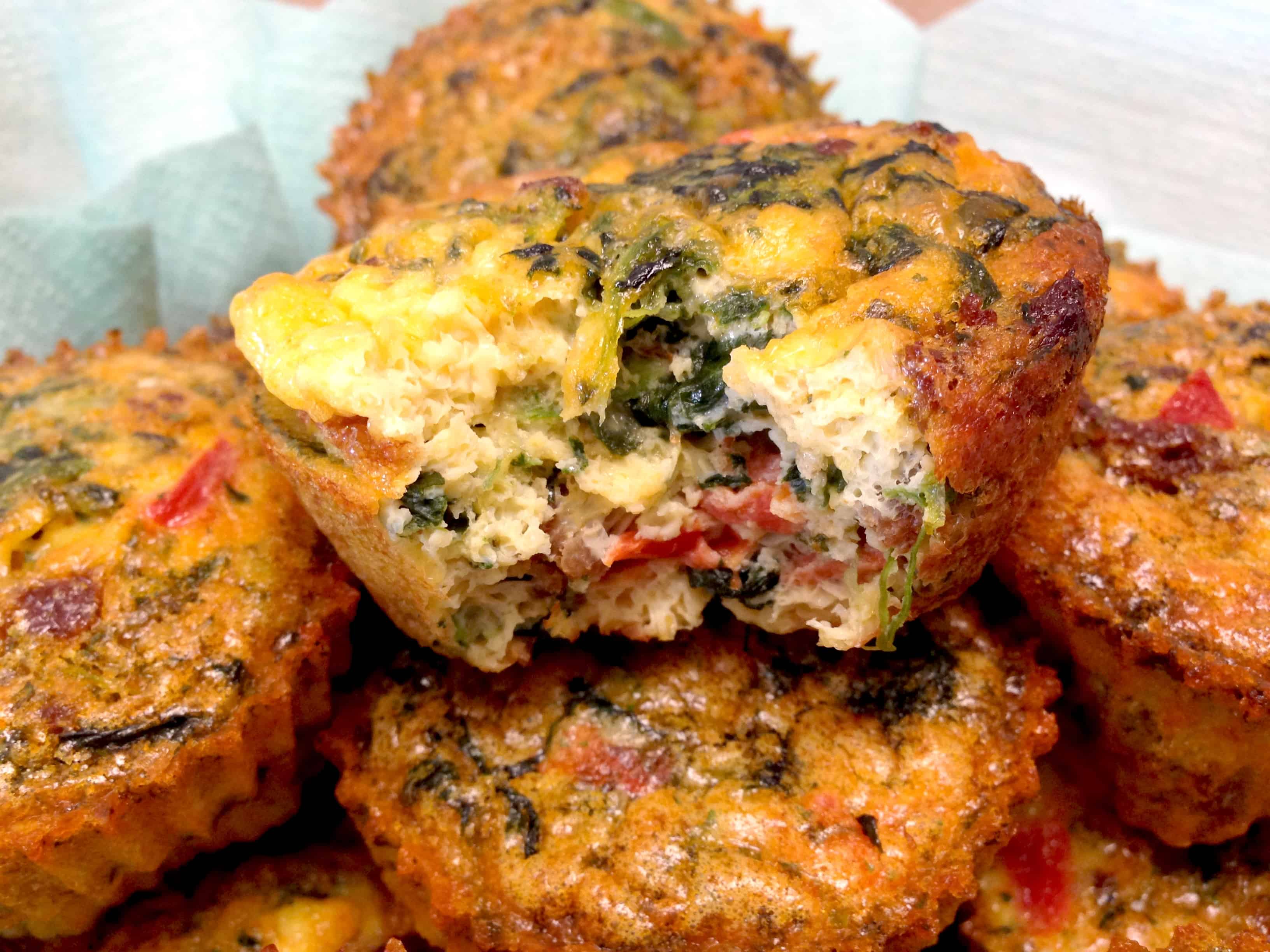 Chorizo and Pepper Egg Muffin Cups
Chorizo, pepper and eggs baked into little muffin cups for breakfast on the go!
Print
Pin
Save
Saved!
Rate
Calories: 303
Servings: 9
INGREDIENTS
12 whole eggs
1 cup ground chorizo sausage, browned
½ cup frozen spinach, thawed, chopped and drained
¼ cup heavy cream
1 cup shredded cheddar cheese
1 teaspoon dried cilantro (or 2 teaspoons fresh)
1 teaspoon garlic salt
¼ teaspoon Cayenne pepper
INSTRUCTIONS
Preheat oven to 375F.

Add the eggs to a bowl and beat using an immersion blender, whisk or fork. Add in the heavy cream, cilantro, garlic salt and cayenne pepper. Continue mixing until well combined.
© Copyright for Keto Cooking Christian LLC. Please use the share buttons to share on social media, but please do not copy/paste the recipe.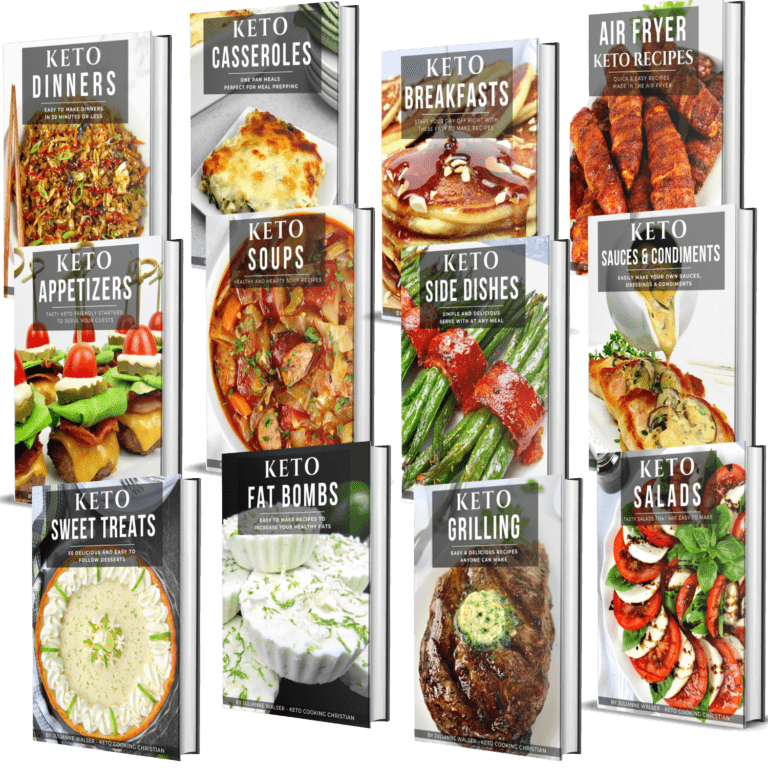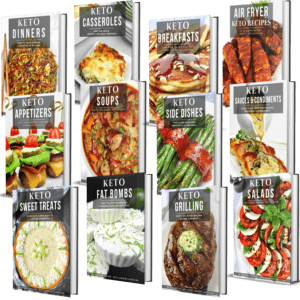 Save 70% OFF 12 EBOOK BUNDLE
Nutrition Facts
Chorizo and Pepper Egg Muffin Cups
Amount Per Serving
Calories 303 Calories from Fat 216
% Daily Value*
Fat 24g37%
Saturated Fat 10g63%
Carbohydrates 2g1%
Sugar 1g1%
Protein 18g36%
* Percent Daily Values are based on a 2000 calorie diet.
*Nutritional data is provided as a courtesy and is accurate to the best of my knowledge. You can verify it using the nutrition calculator of your choice. All data is based on net carbs, without sugar alcohol- Swerve, Erythritol, Allulose, or Monk Fruit.