This quick and easy homemade sugar-free jam is made with fresh raspberries and just a handful of ingredients. It's perfect to slather on your favorite Keto friendly bread and more!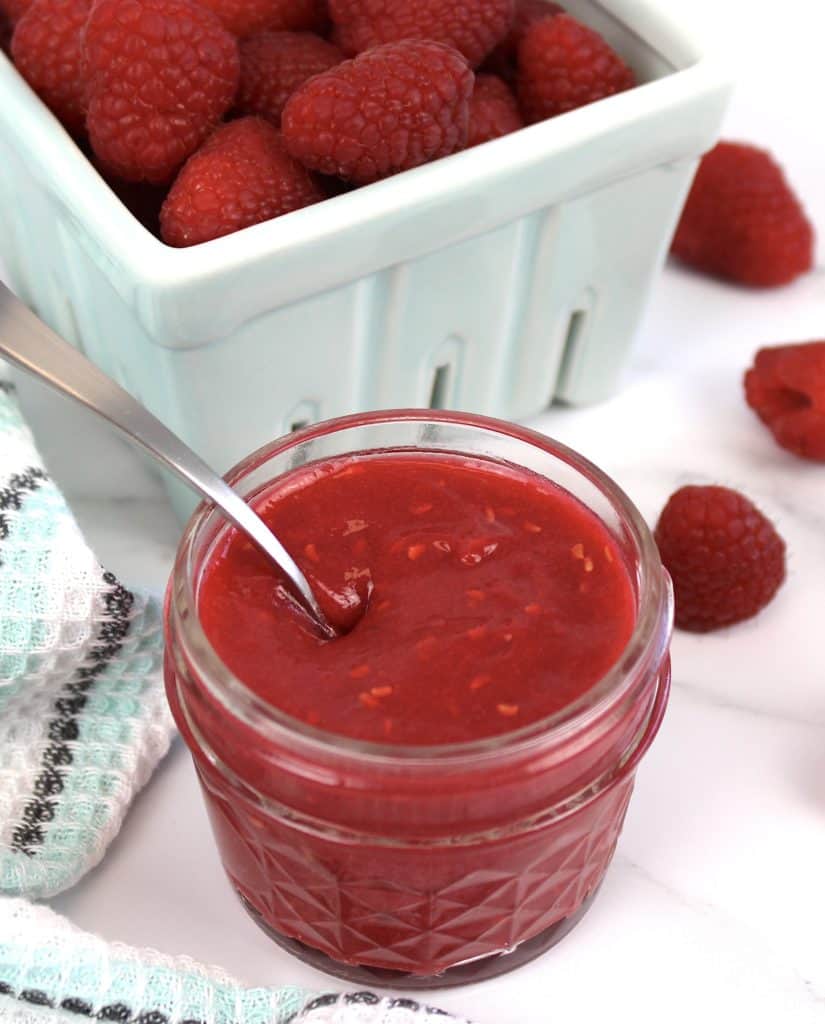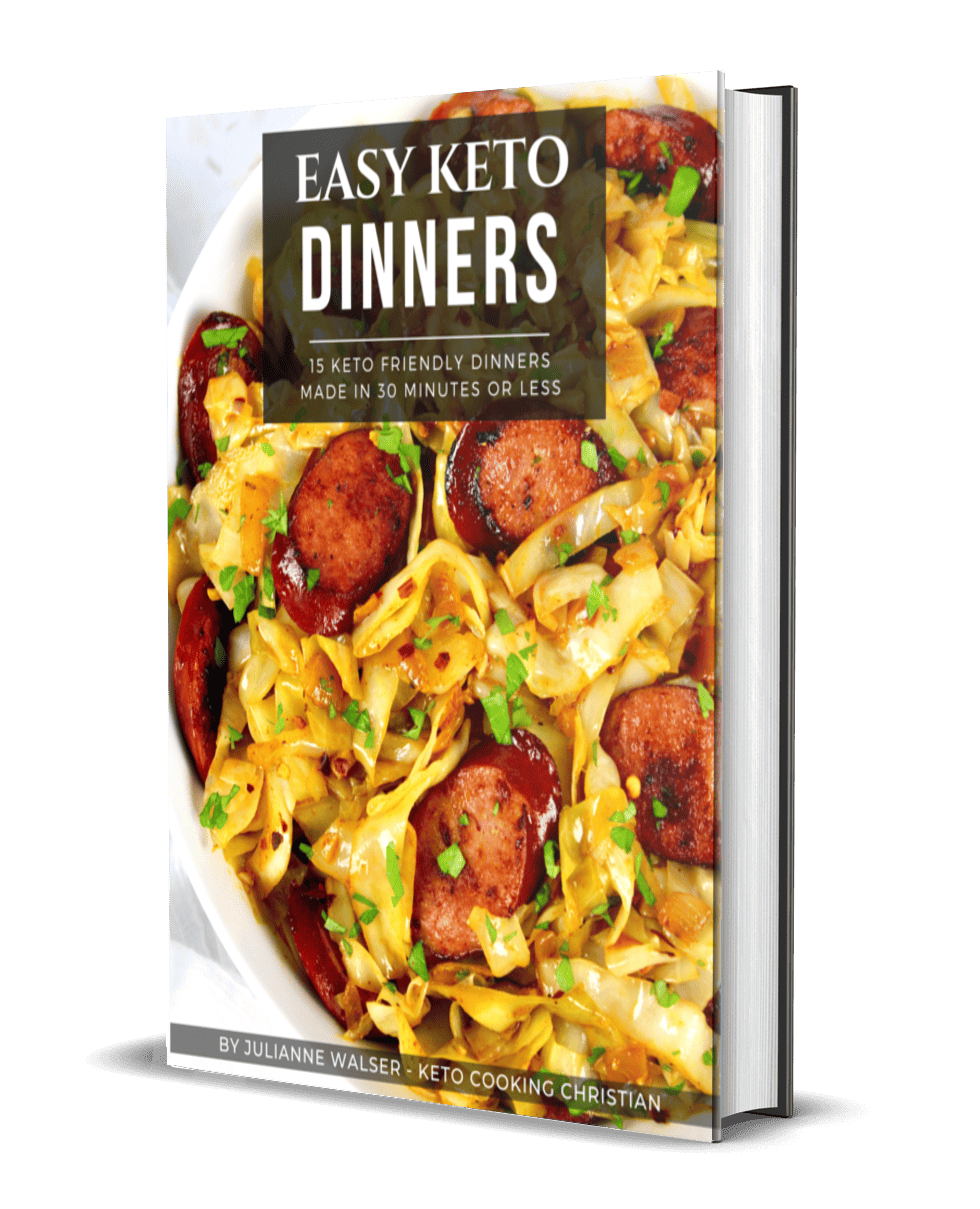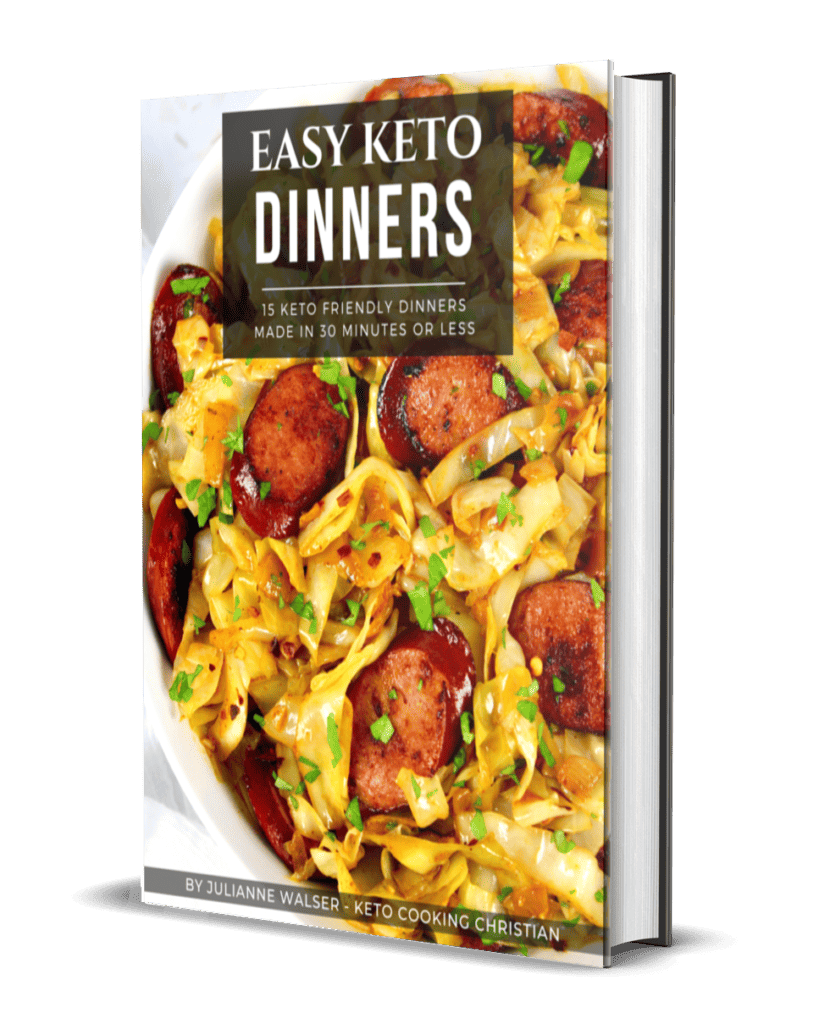 FREE EASY KETO DINNERS EBOOK
Jump to:
Is there anything better than a hot piece of toast with a schmear of jam on top!? Seriously, there is really nothing like it and with this Keto jam recipe, you can enjoy it guilt-free.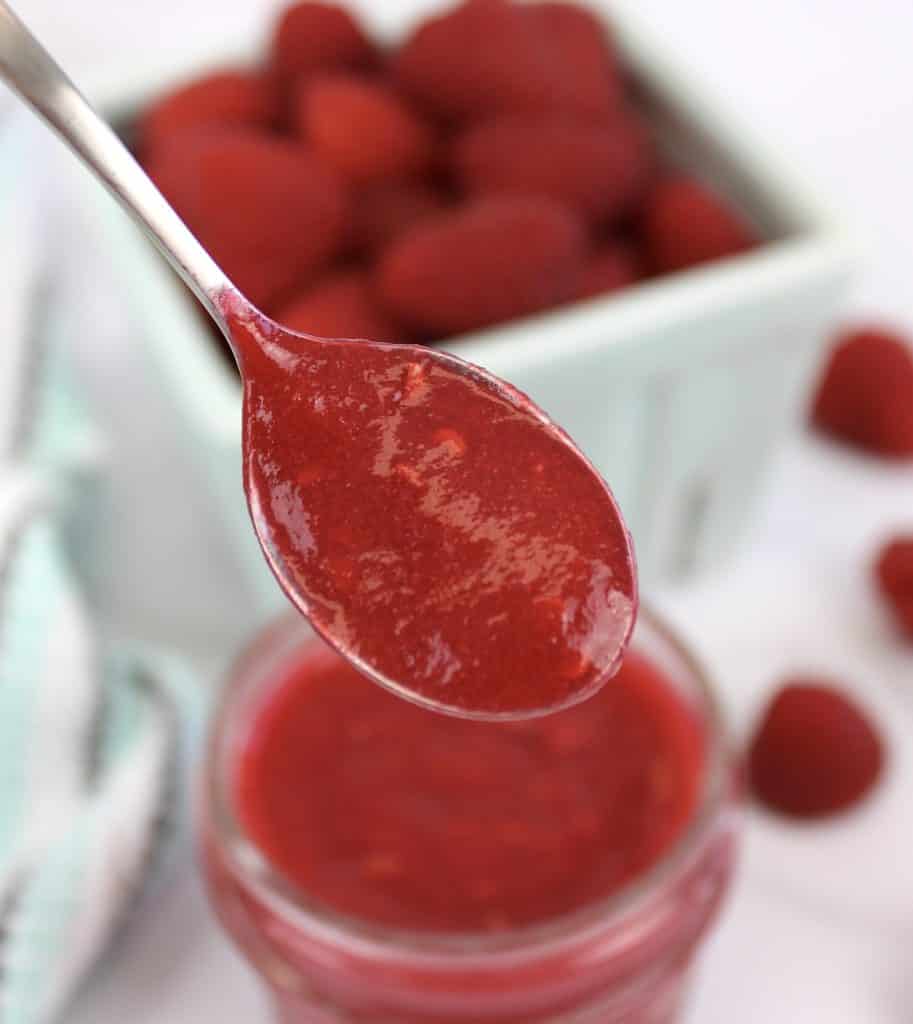 This healthy jam recipe is made without pectin, but instead uses fresh lemon juice and raspberries which naturally contain pectin. This homemade raspberry jam can be made in under 15 minutes, perfect when you need some last minute.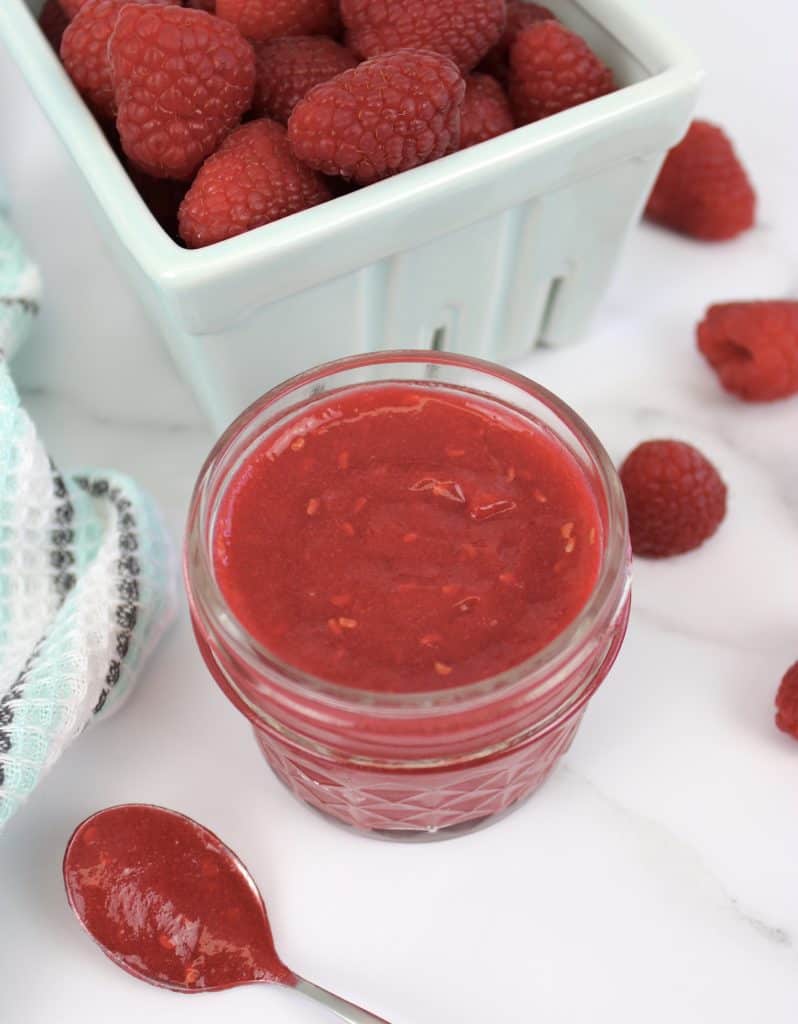 Did you know that there are more uses for raspberry jam, besides spreading on a piece of toast? Yep, in fact I have a whole list of creative ways to use jam down below!
What's in Keto Raspberry Jam
*Exact measurements are listed in the recipe card below.
How to Make Sugar Free Raspberry Jam
Add the raspberries, allulose, lemon juice and water to a saucepan.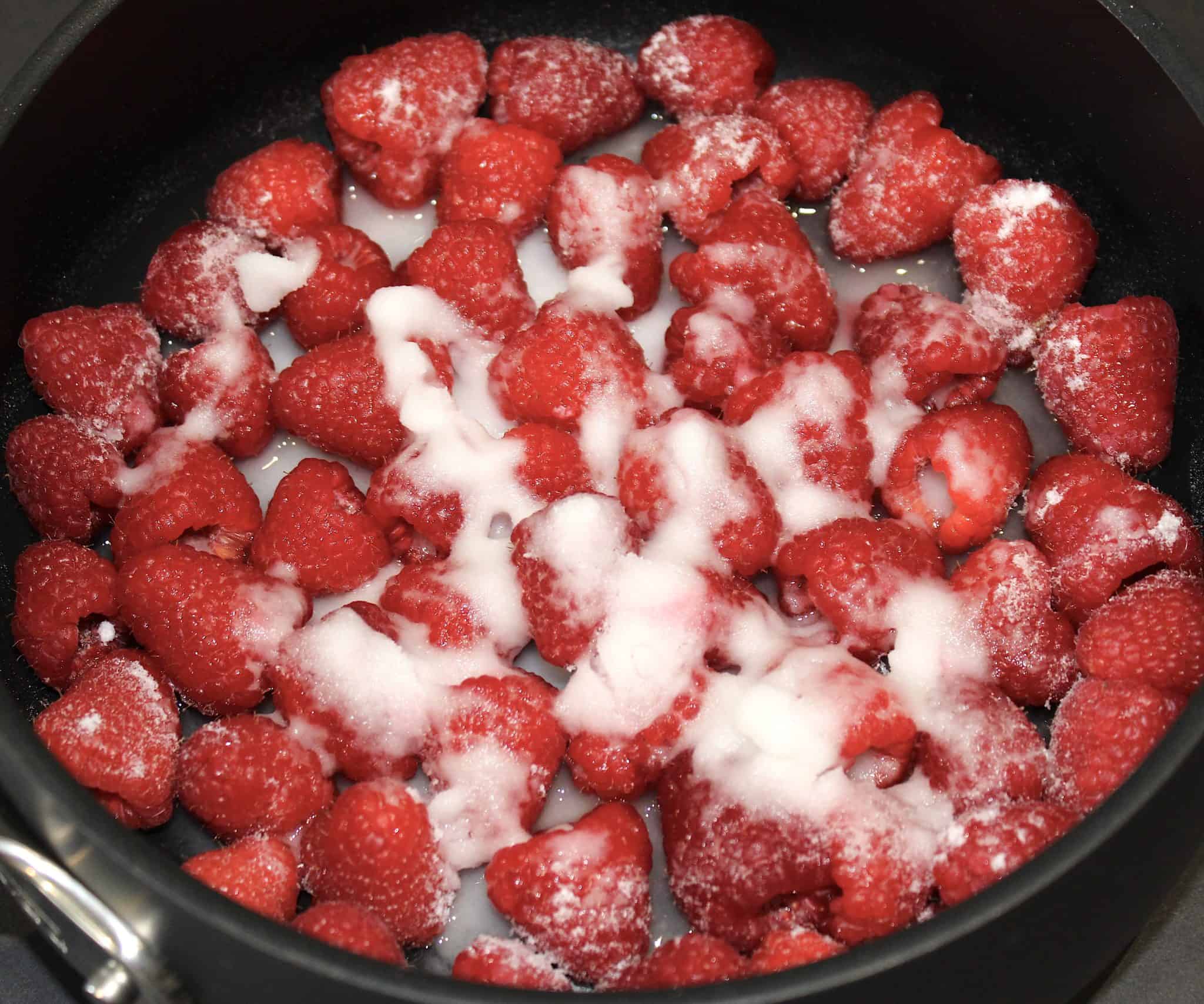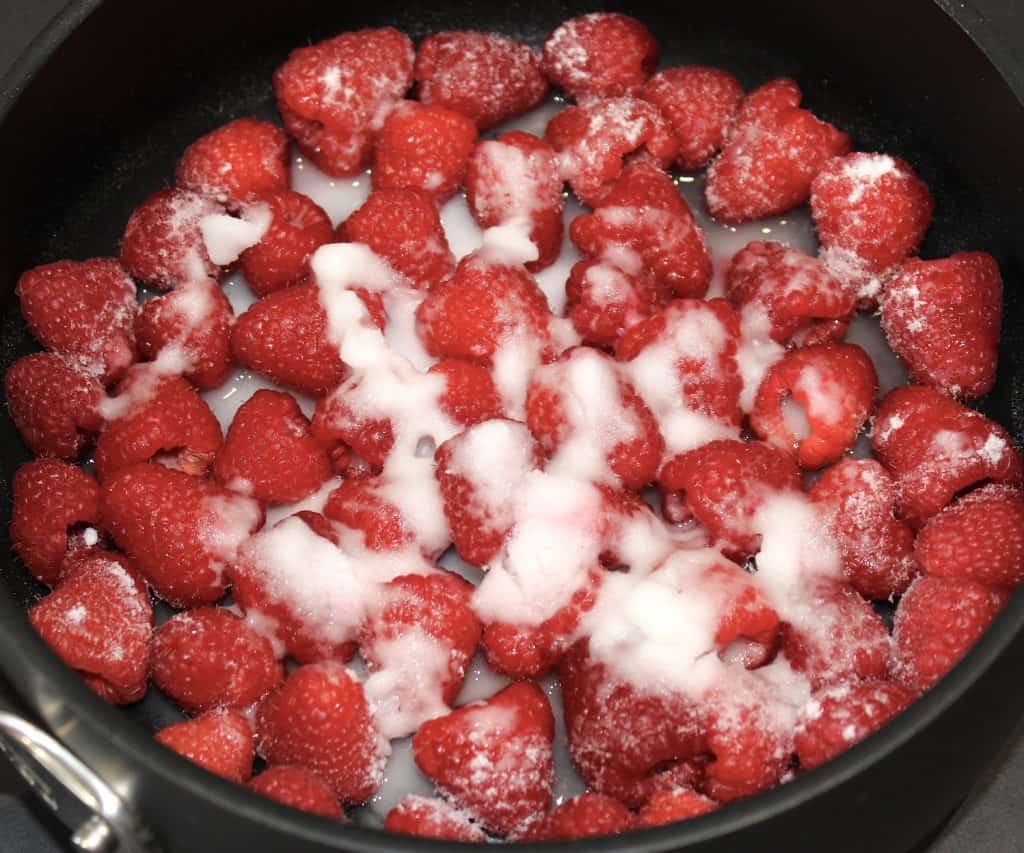 Cook over medium/low heat for 8-10 minutes and don't forget to stir it often!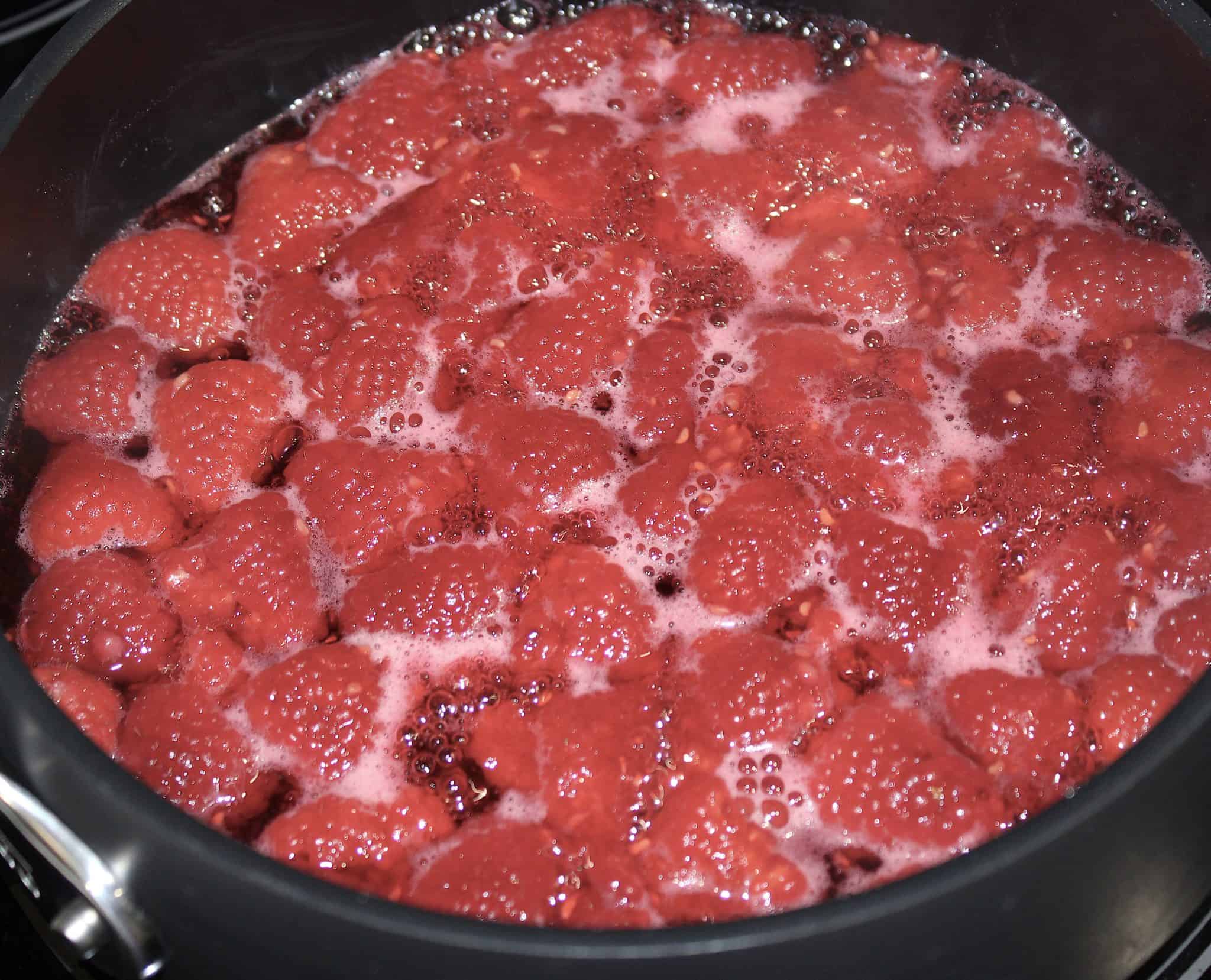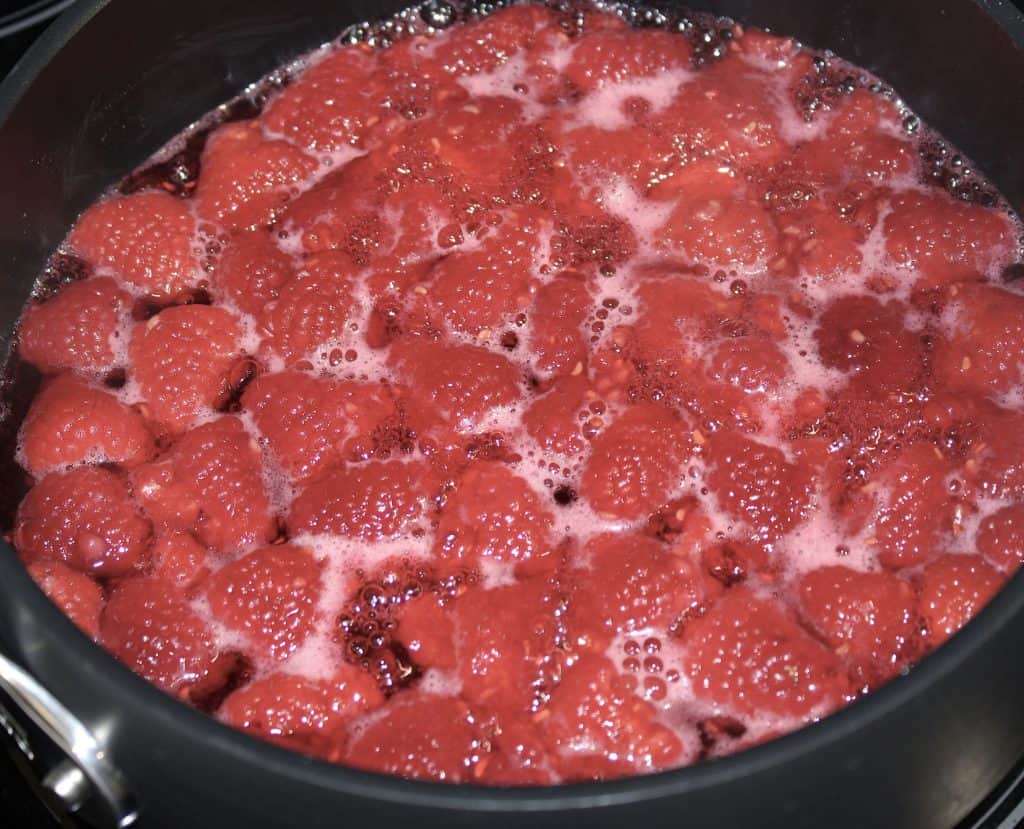 The raspberries will start to break down and the sauce will thicken as it cooks.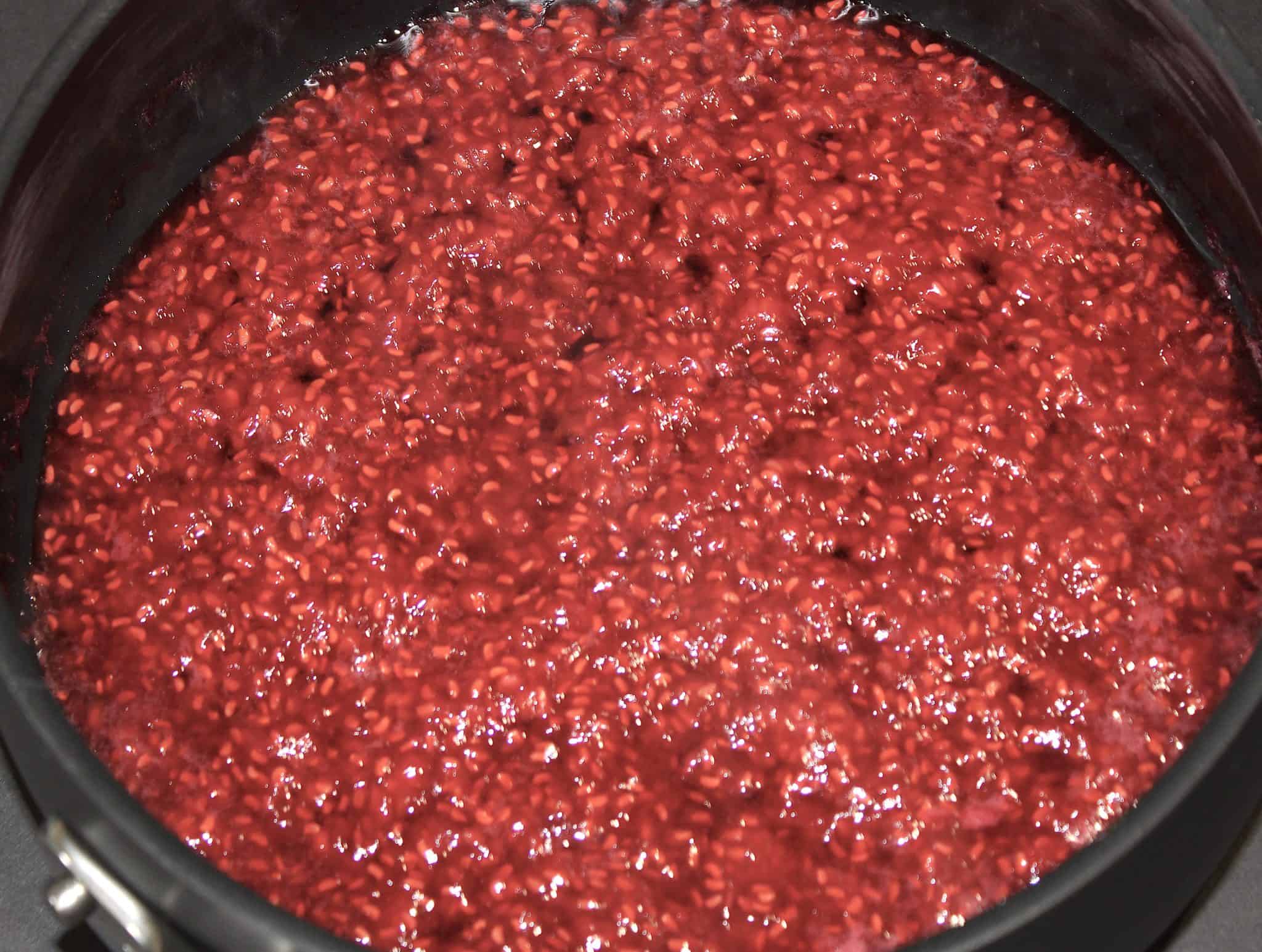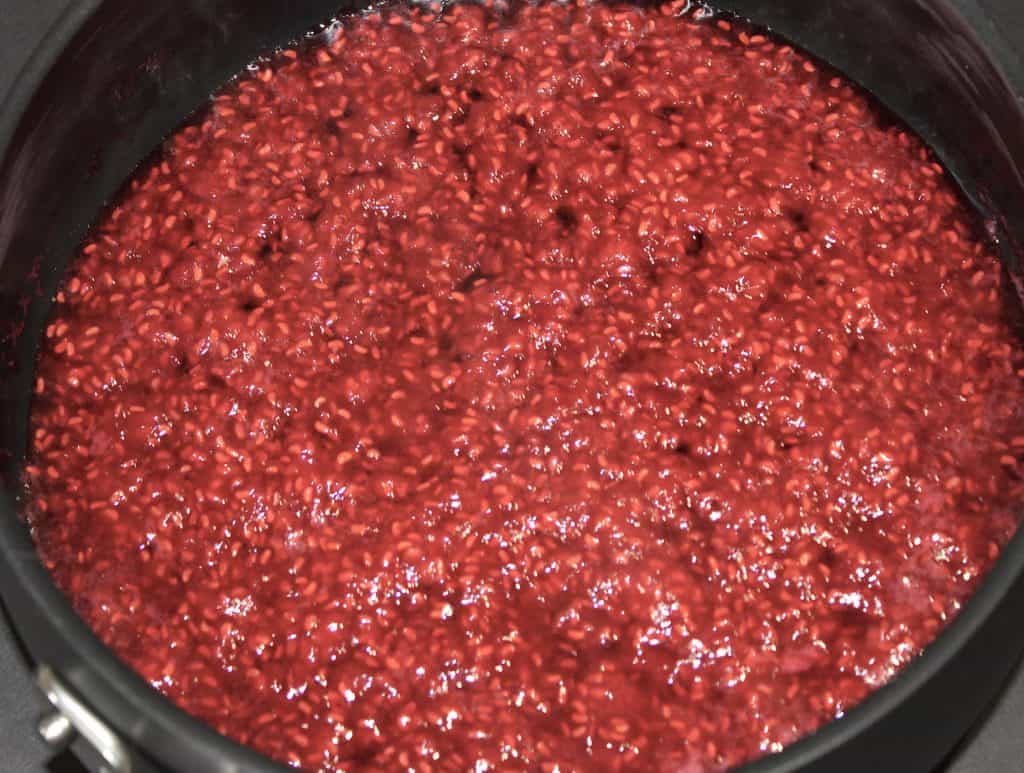 Sprinkle the xanthan gum over the top and whisk. Continue cooking for another 2 minutes, then remove from the stove and allow it to cool. Remember that it will thicken as it cools.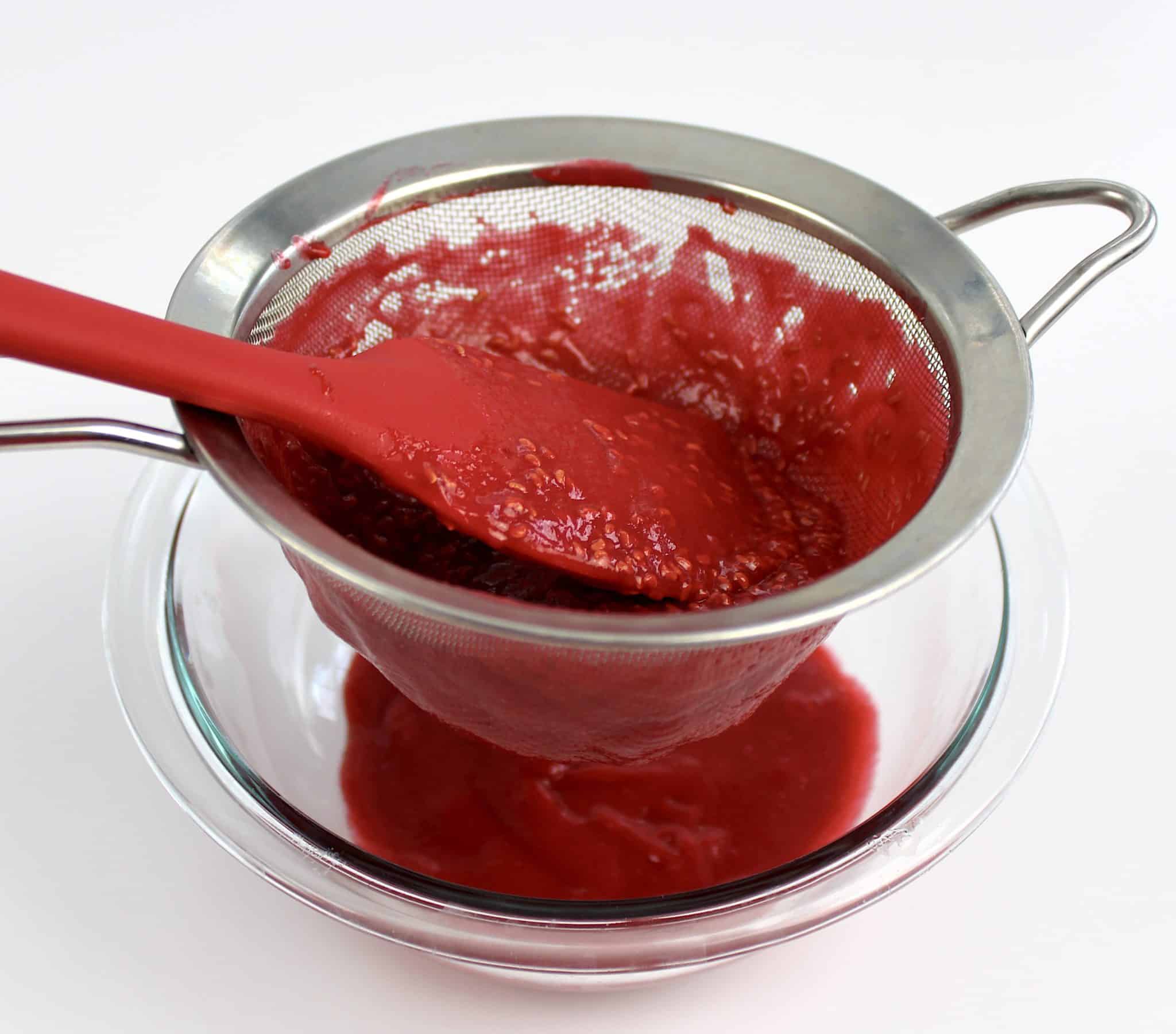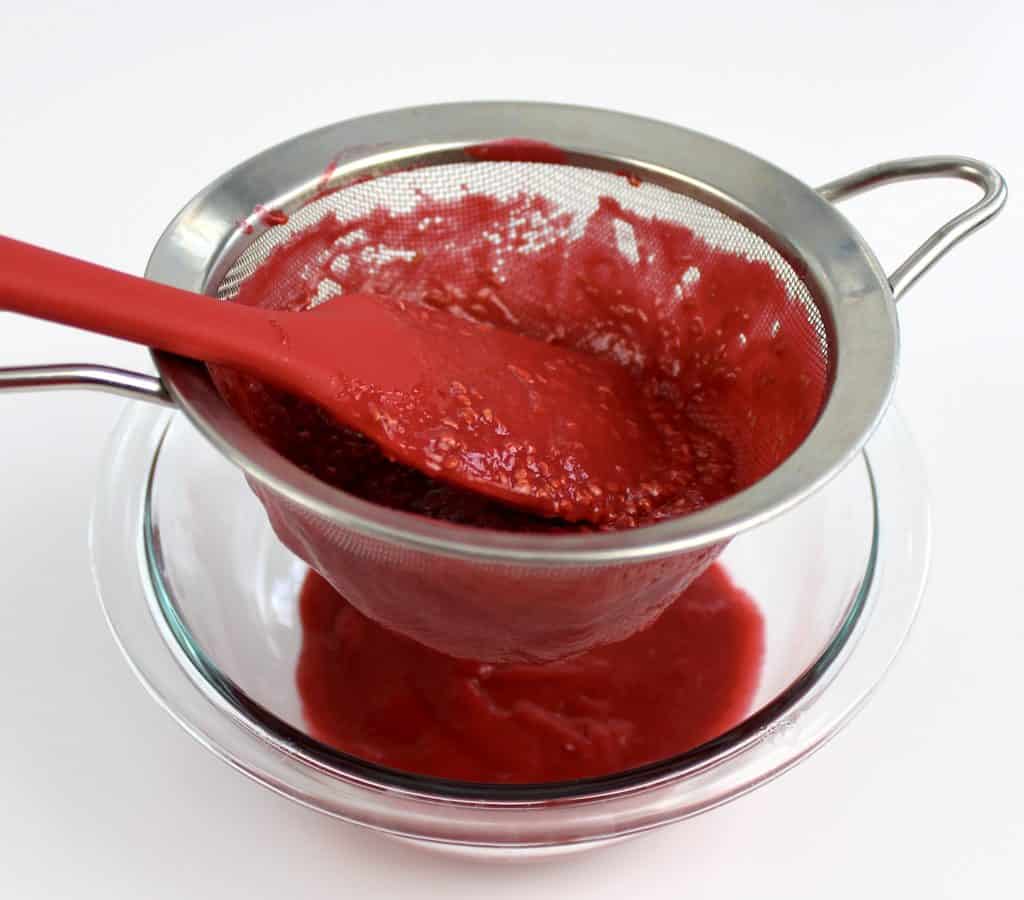 Allow to cool before serving. If you prefer a smooth jam, you can blend it in a food processor, until you get your desired consistency.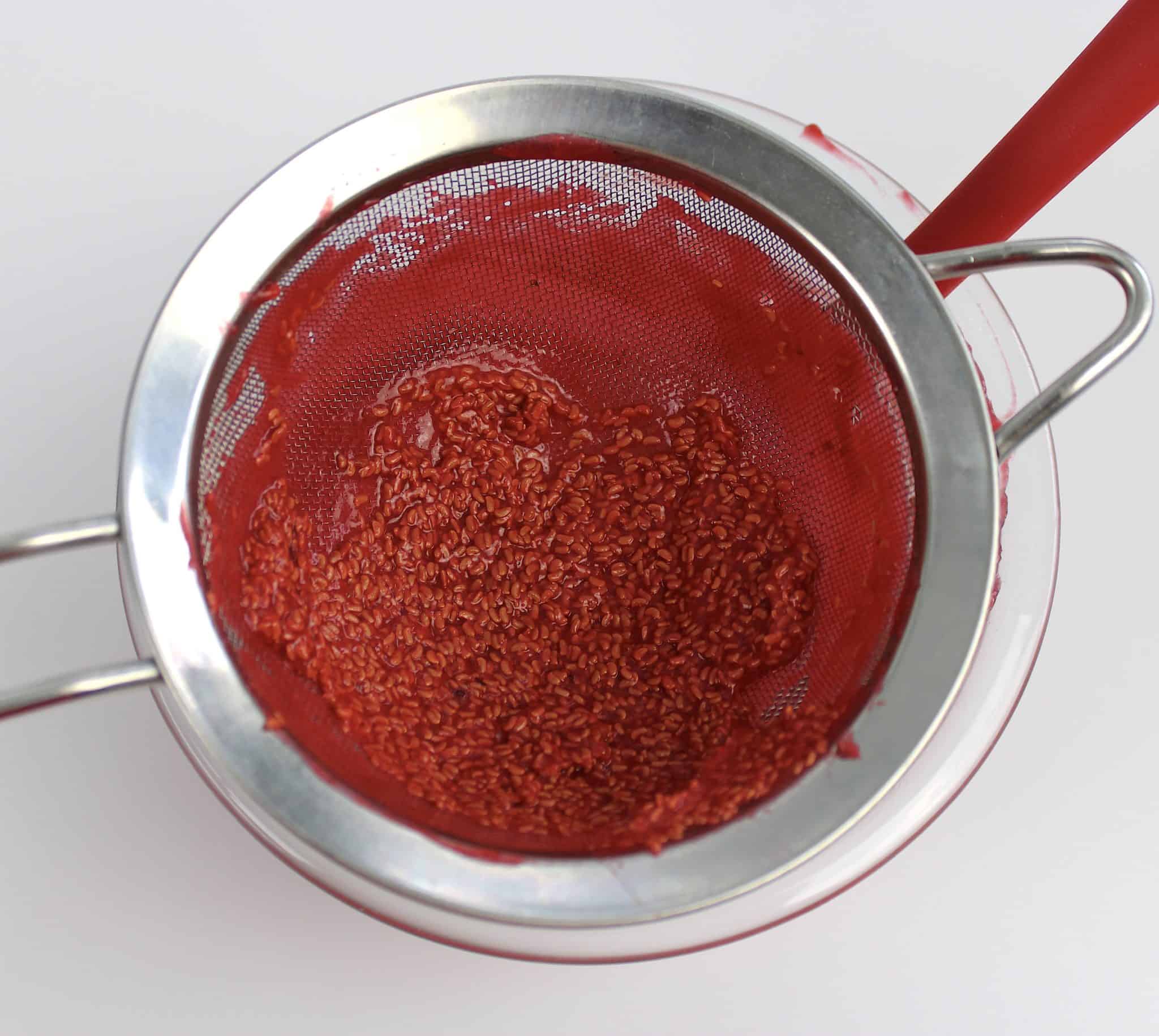 You can also strain out some or all of the seeds using a fine mesh sieve. Personally, I like to leave just a little in there, so it still looks like raspberry jam.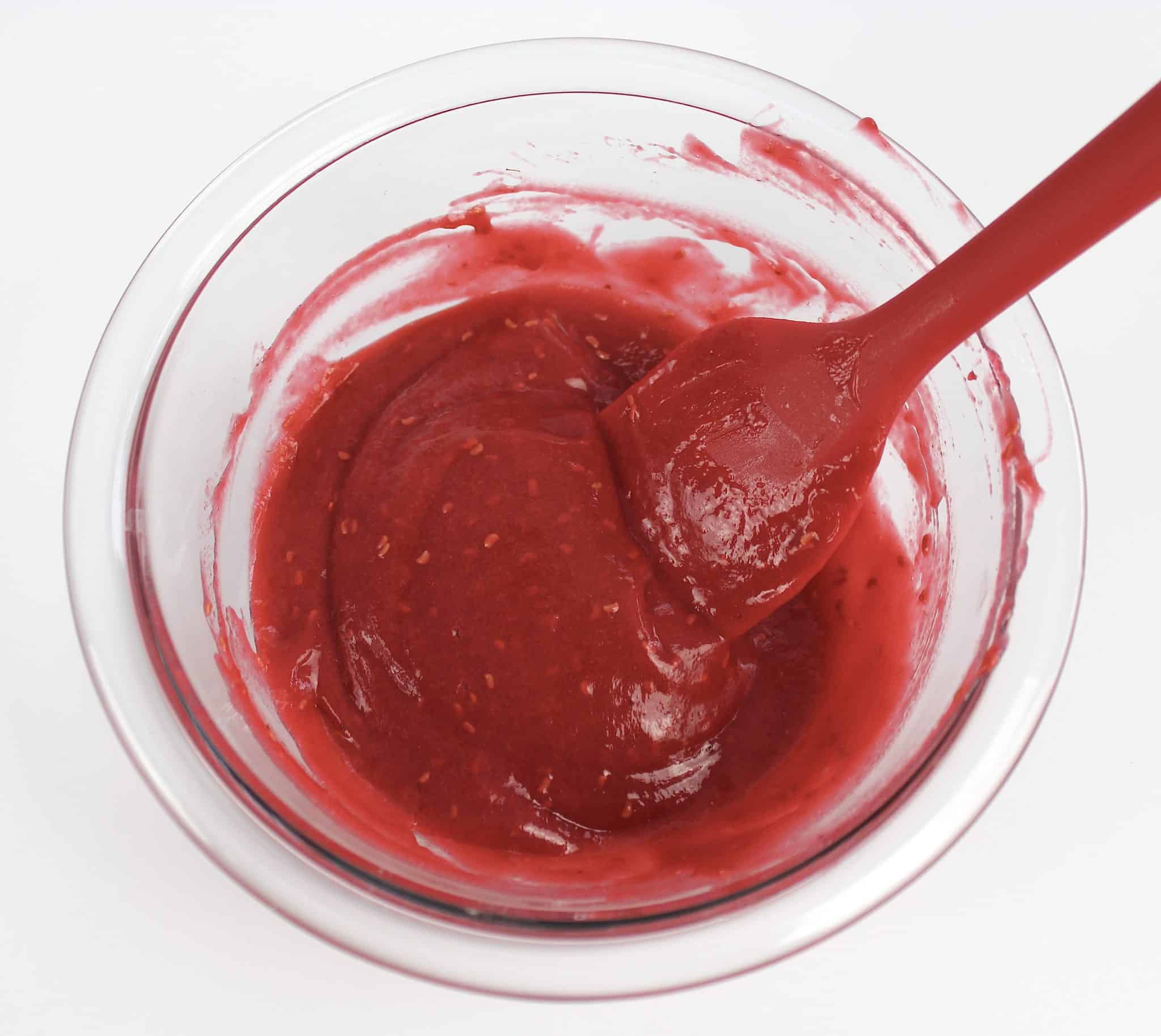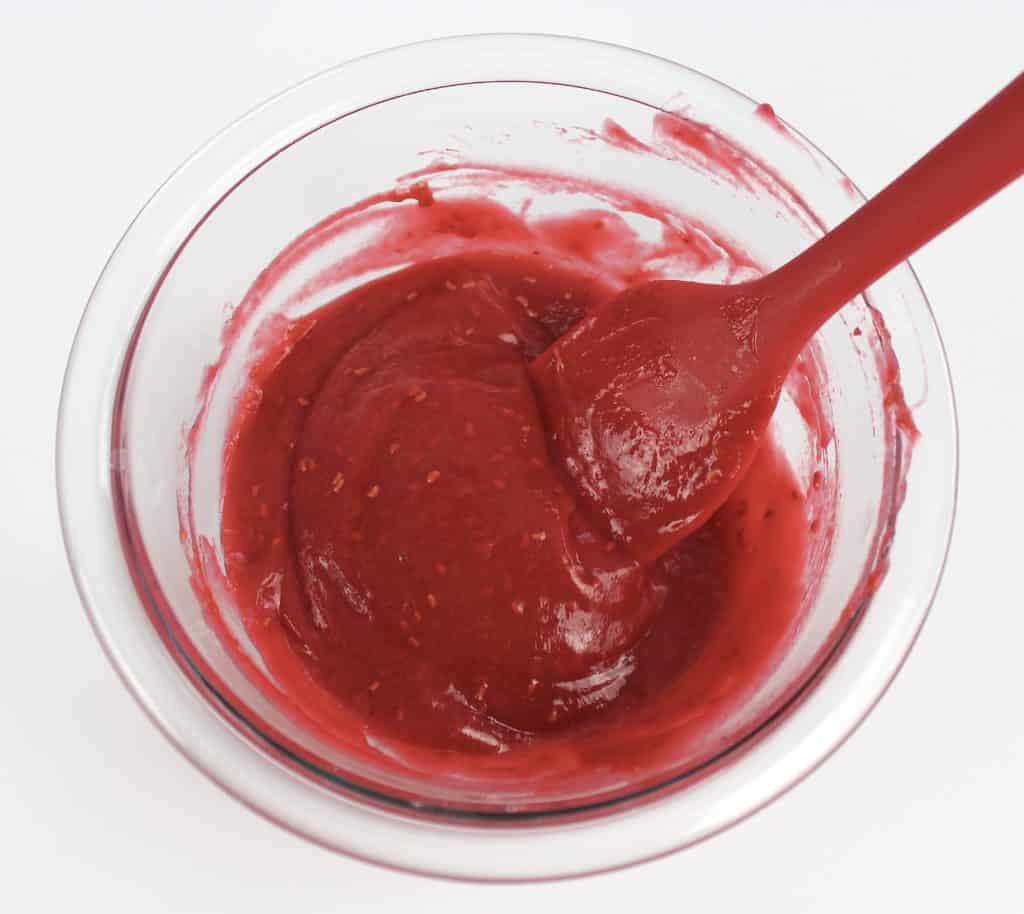 Store in an airtight jar in the fridge for about a week or freeze.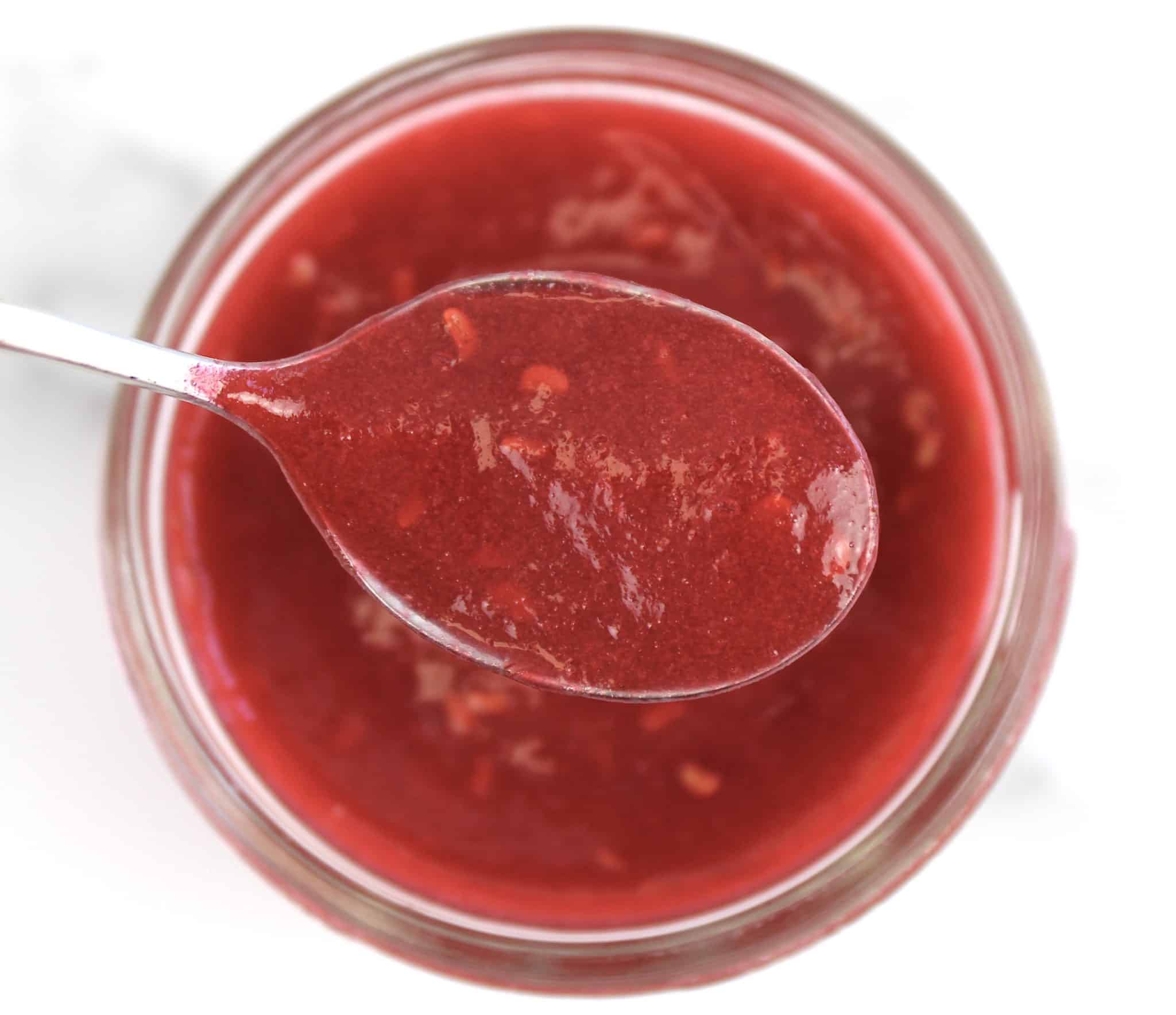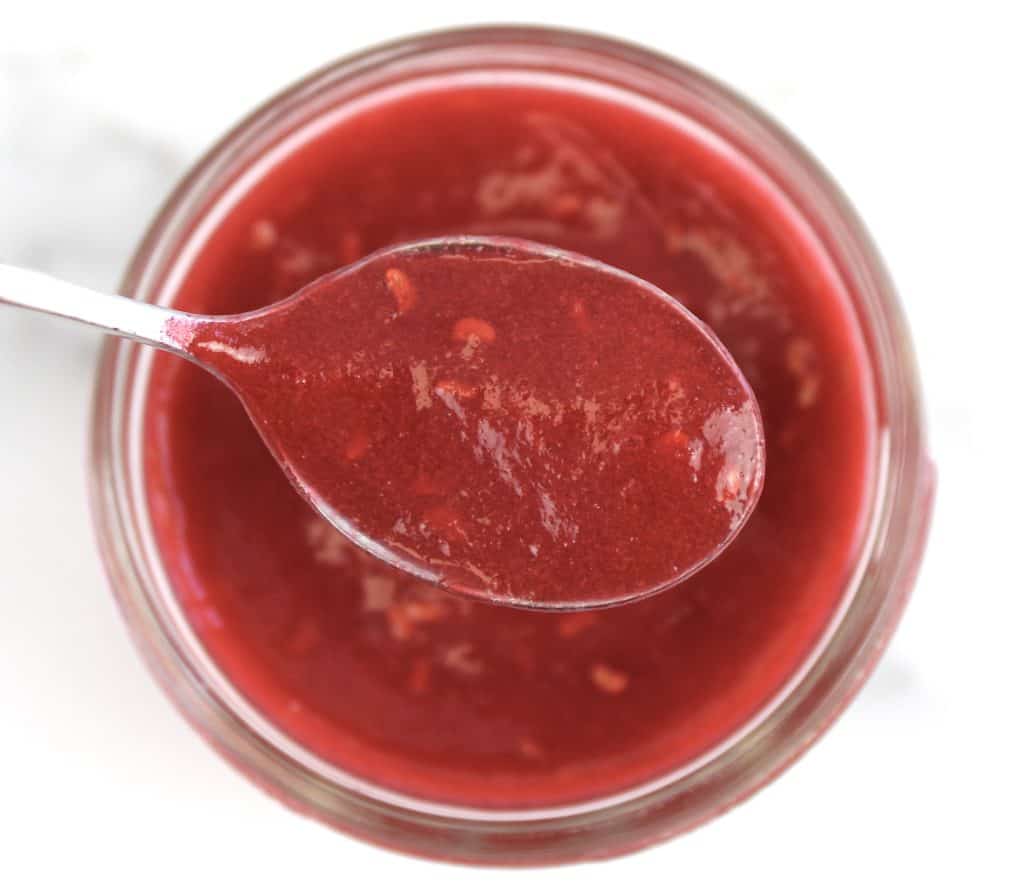 Ways to Use Raspberry Jam:
Make an ordinary vinaigrette more flavorful by adding some raspberry jam to it and blend with an immersion blender.
Take your favorite Keto cake, ideally vanilla or even lemon and spread some jam between the layers.
Swirl some jam into the batter of these Keto muffins, in place of the cranberry sauce for a fun new twist.
Blend with some plain Greek low carb yogurt to make your own raspberry yogurt.
Take Keto shortbread cookies and instead of dipping them in chocolate, cut out a heart in the center of half the batch before baking. Take the other half and put them together, with some jam in between to make your very own Linzer cookies!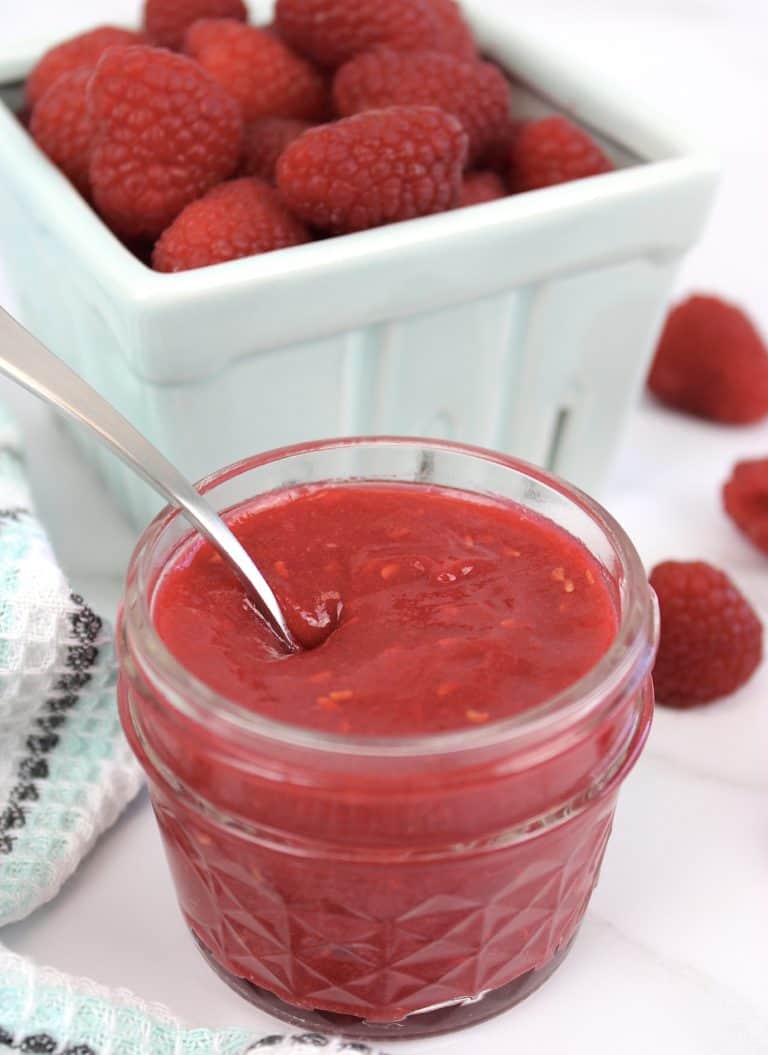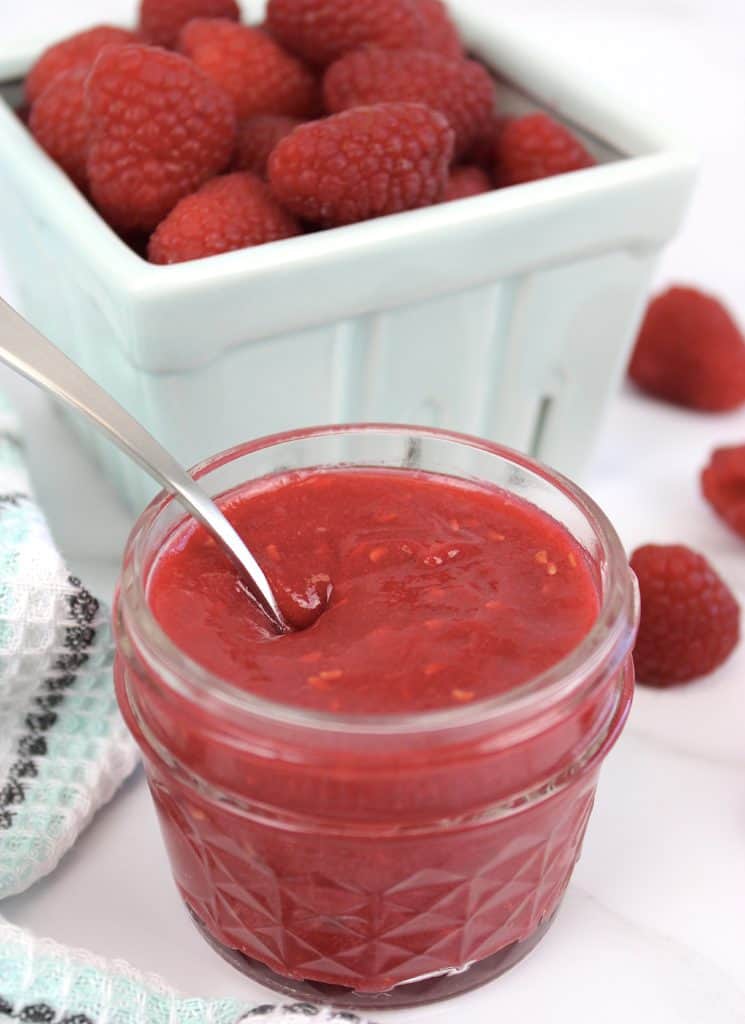 Substitutions in Keto Jam
Can You Substitute Monk Fruit for Sugar in Jam?
Yes, you absolutely can! Add about ¼ cup of monk fruit in place of the allulose and you're good to go.
Can Stevia Be Used in Jam Making?
Personally I'm not a fan of using Stevia in this recipe. I think using one of the 3 sweeteners that I mentioned is best.
Can You Use Xanthan Gum to Thicken Jam?
Yes! And since you only use ¼ teaspoon for the entire recipe, the texture is just perfect.
Can You Make Keto Jam Without Xanthan Gum?
Sure! You could omit the xanthan gum and make this into a raspberry chia jam. Just add in about 1 - 1 ½ tablespoons of chia seeds instead.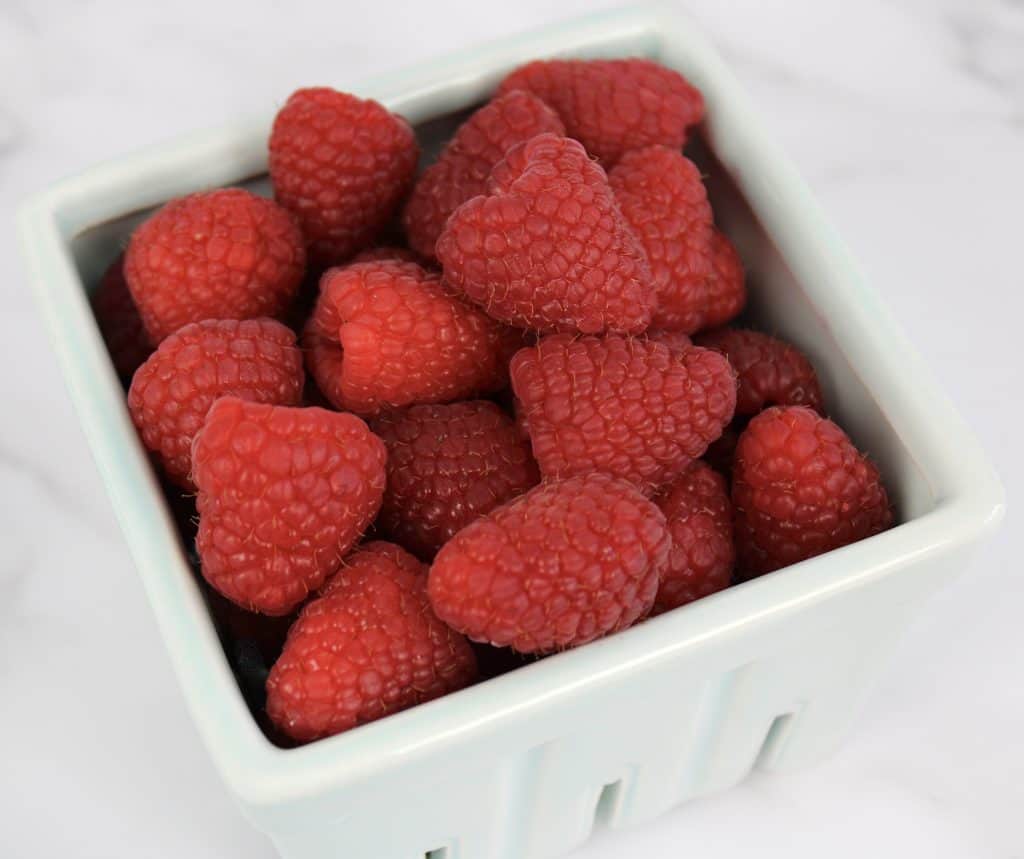 Can You Eat Raspberries on a Keto Diet?
Absolutely, in fact they're also very good for you! Read more about the health benefits of raspberries in this article.
How Many Net Carbs in Raspberries?
There are 7 net carbs in one whole cup of raspberries. Typically you wouldn't eat an entire cup, so you can easily fit ½ cup into your macros at only 3.5 net carbs!
When you use them in recipes like Raspberry White Chocolate Mousse, No Churn Raspberry Keto Ice Cream, No Bake Keto Chocolate Raspberry Tart or even a savory recipe like Keto Raspberry Chipotle BBQ Sauce (which is AH-mazing), the carbs are spread amongst so many servings that the impact is minimal.
Can You Freeze this Jam?
Most definitely! Keep it frozen for up to three months in airtight container. Two thaw it out just put it in the fridge over night.
How Many Carbs Are in Sugar Free Jam?
This sugar free raspberry jam recipe only has 2 net carbs, not too shabby!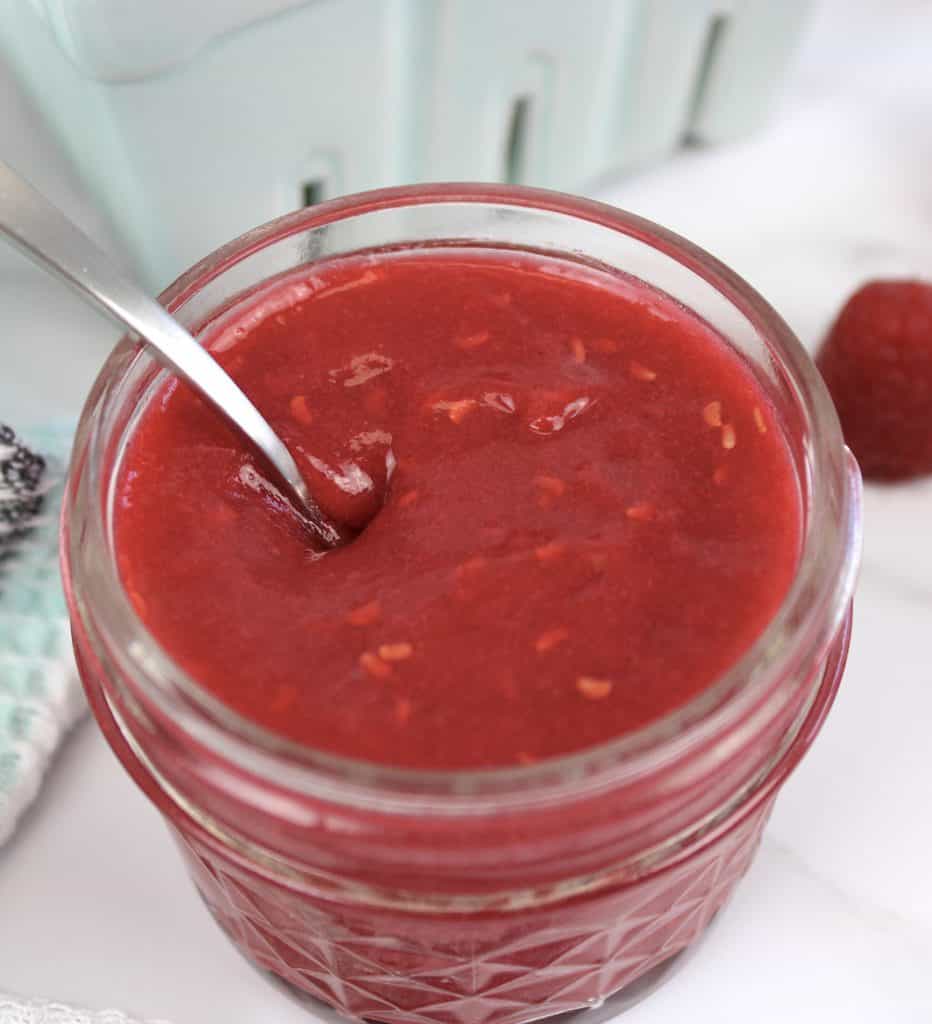 More Keto Sweet Sauces, Jams and Condiments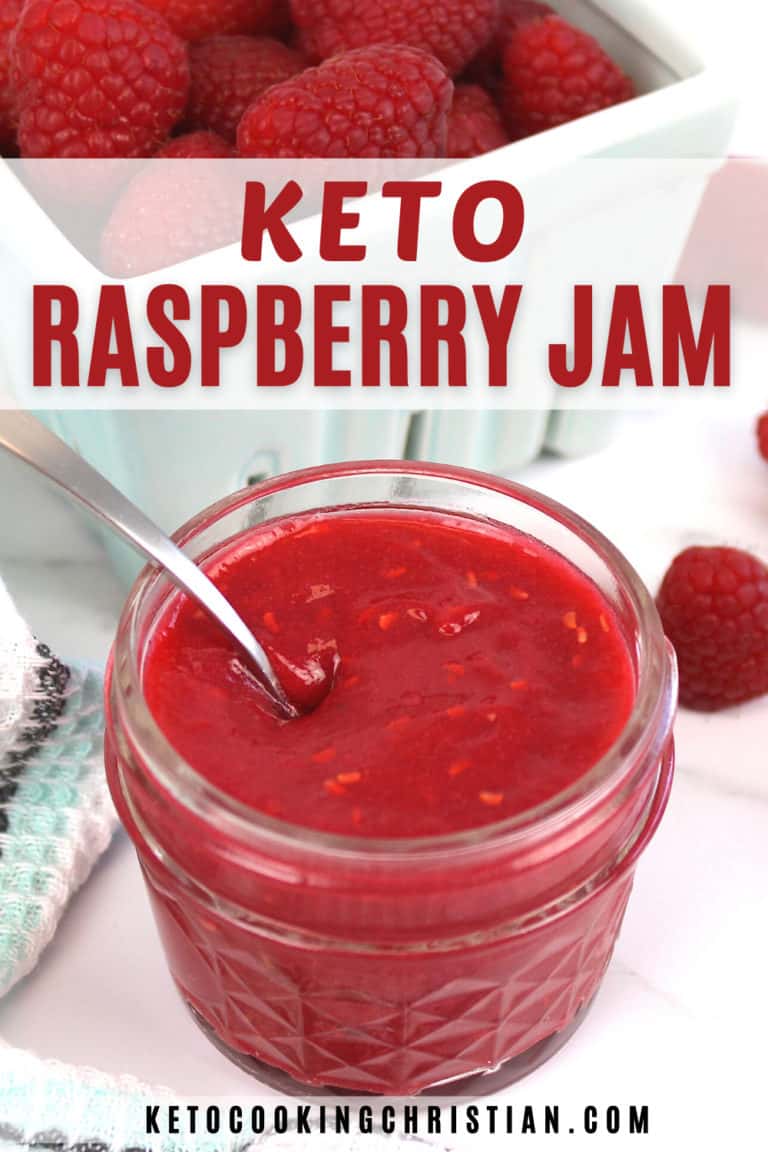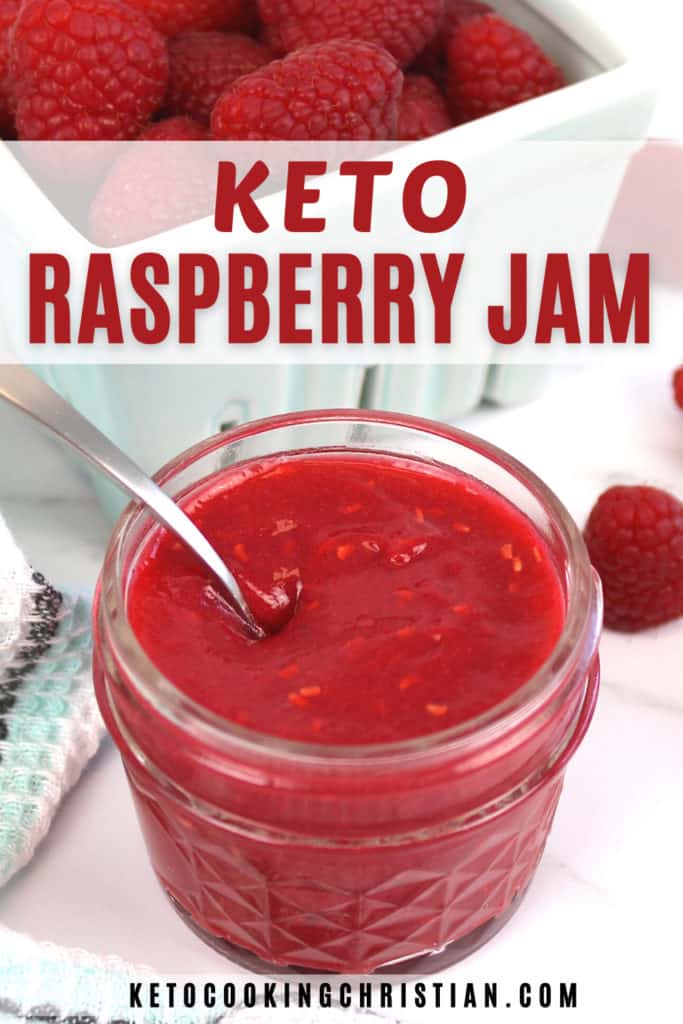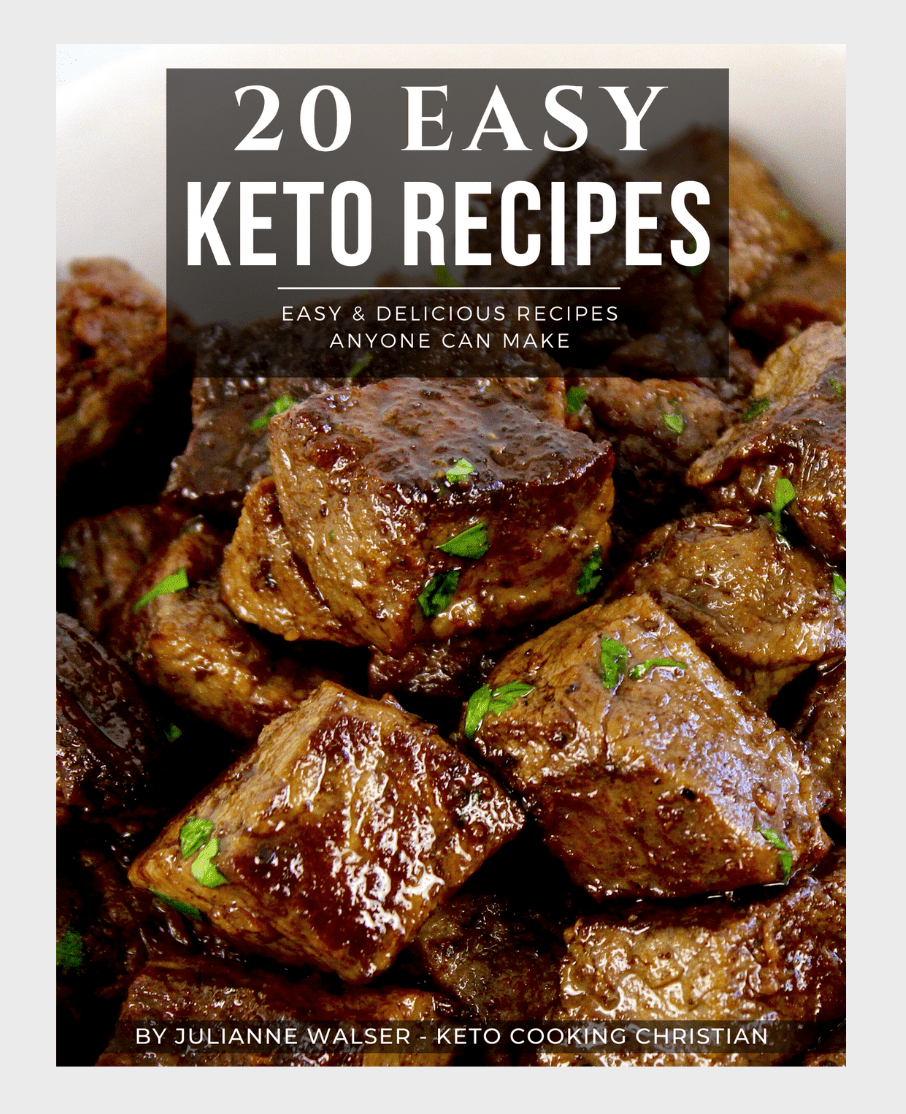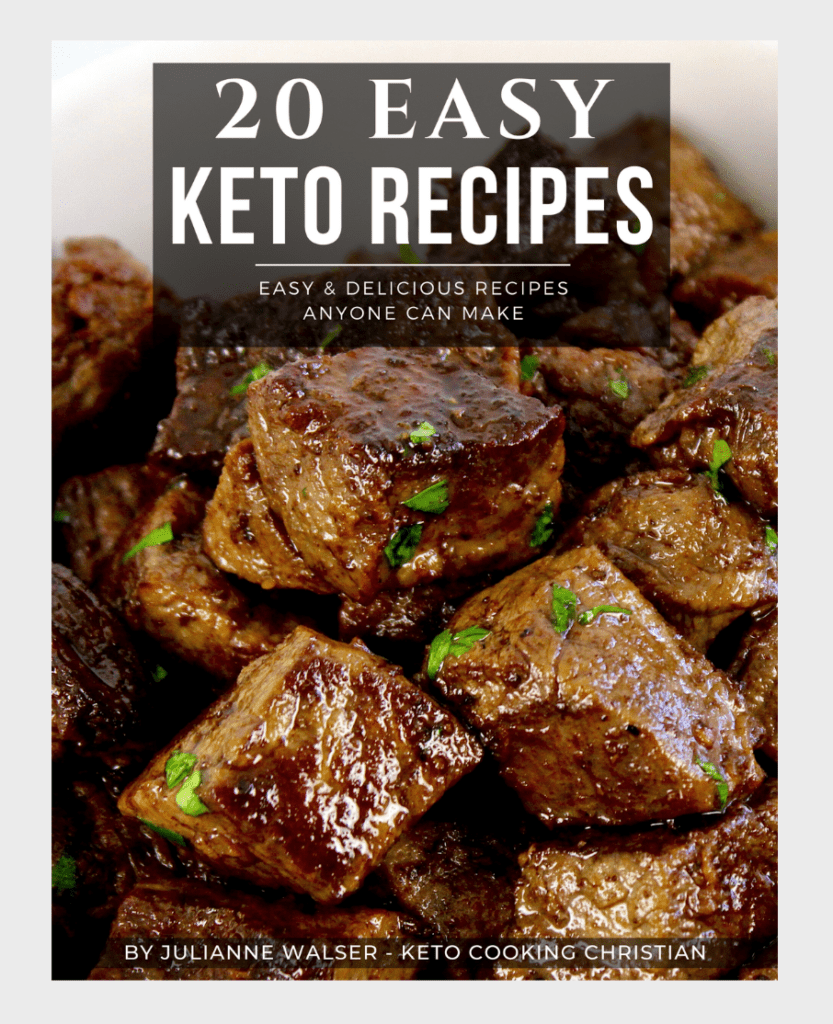 FREE 20 EASY KETO RECIPES EBOOK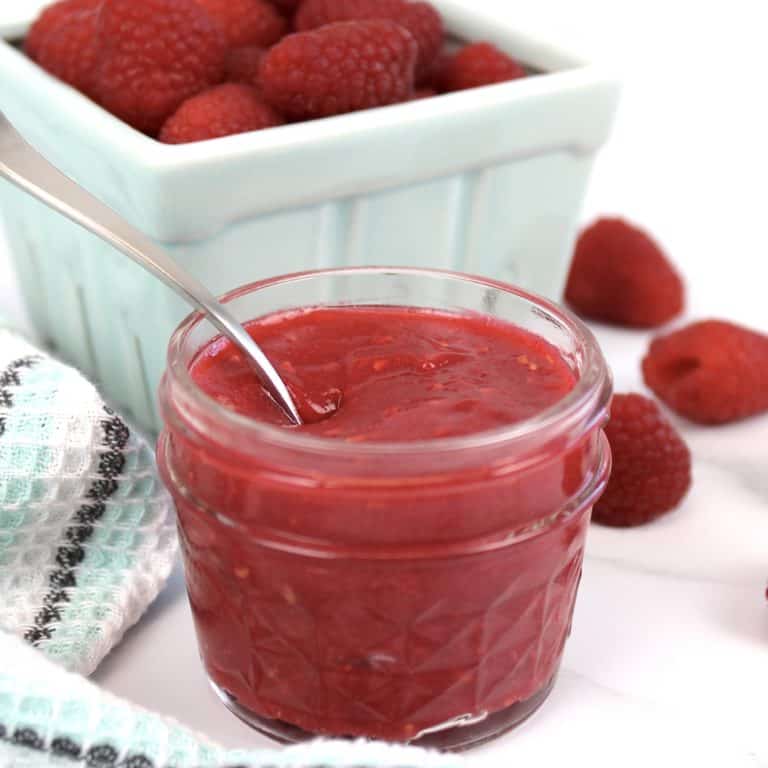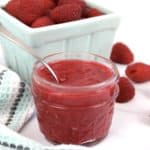 Keto Raspberry Jam
This quick and easy homemade sugar-free jam is made with fresh raspberries and just a handful of ingredients.
Servings 16
Recipe Notes
Makes approx. 1 cup, serving size 1 tablespoon
I use allulose in this recipe because it doesn't have a cooling after effect.
If you can't find allulose, you can use just ¼ cup of Swerve, monk fruit or erythritol, since allulose isn't as sweet.
Be sure to check out my list of all the creatives ways you can use this raspberry jam in the post!
Nutrition Facts
Keto Raspberry Jam
Amount per Serving
% Daily Value*
* Percent Daily Values are based on a 2000 calorie diet.
Rate this Recipe
*Nutritional data is provided as a courtesy and is accurate to the best of my knowledge. You can verify it using the nutrition calculator of your choice. All data is based on net carbs, without sugar alcohol: Swerve, Erythritol, Monk Fruit or Allulose.
© Copyright for Keto Cooking Christian LLC. Please use the share buttons to share on social media, but please do not copy/paste the recipe.