It's super easy to make your own salad dressing! This sweet and tangy raspberry vinaigrette is fresh and delicious and takes only 5 minutes to make!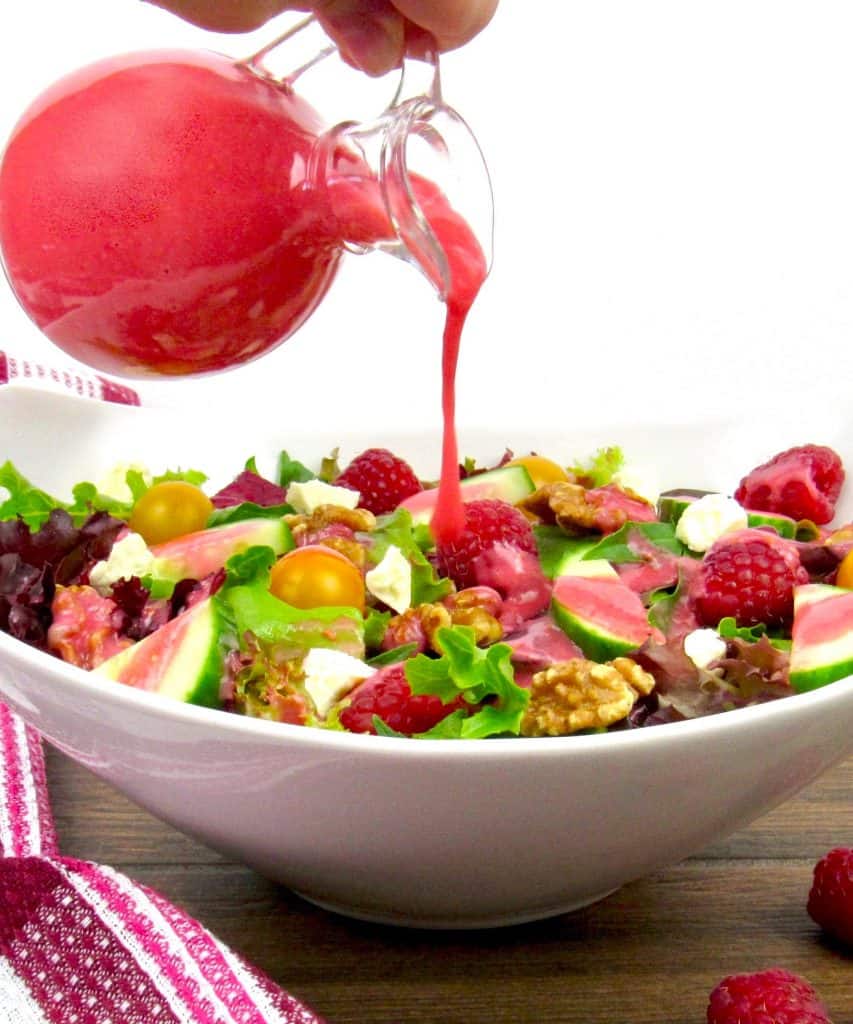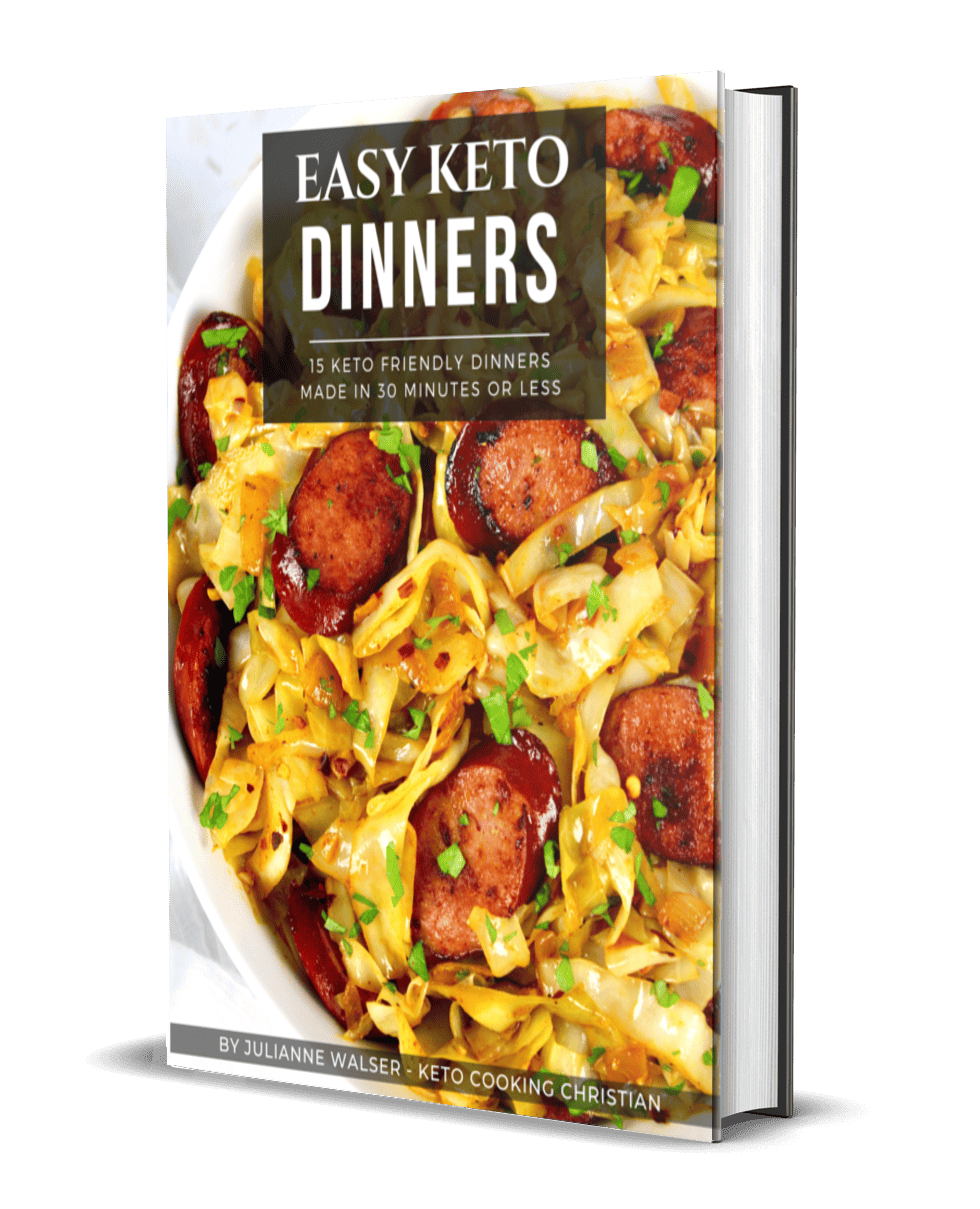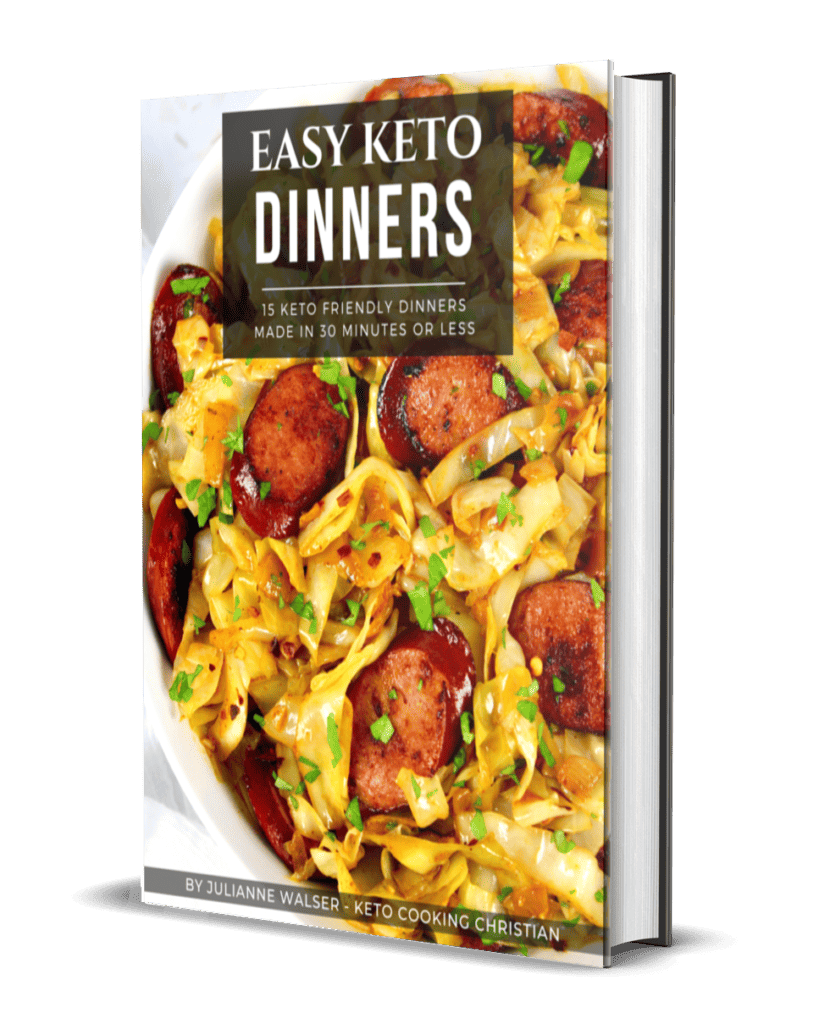 FREE EASY KETO DINNERS EBOOK
Jump to:
Raspberries are one of my favorite fruits, always has been! But since starting Keto, I've come to appreciate them even more, because they are one of the lowest carb fruits! I make a wonderful Raspberry Sauce that's super easy to make and if you like raspberries, you will love this sauce!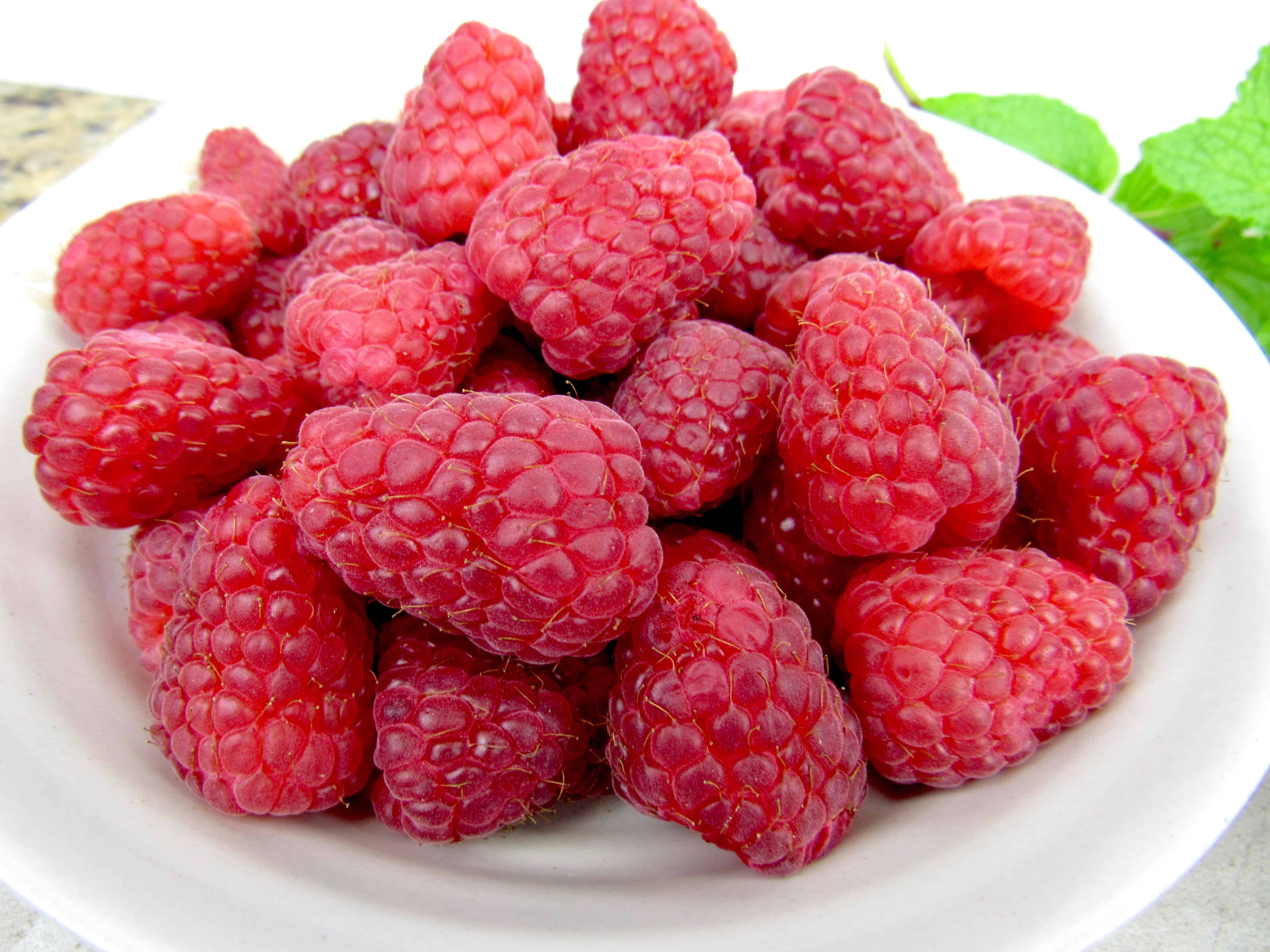 Before Keto, I used to love this one particular raspberry vinaigrette, but of course it's loaded with sugar so I had to come up with my own Keto/Low Carb version of the dressing! And honestly, I prefer making my own dressings, because they only take minutes to make and are not full of preservatives.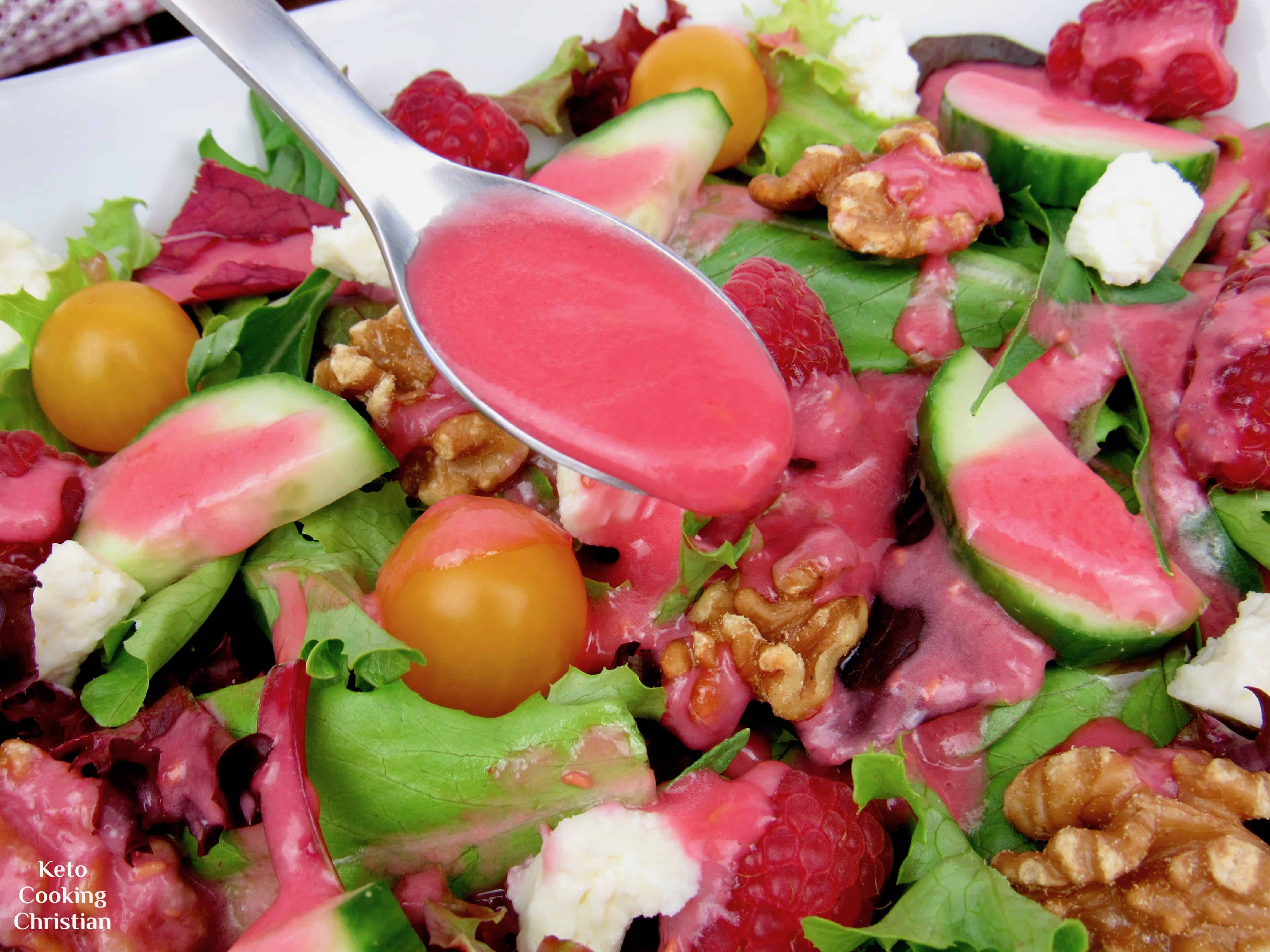 This dressing is so unbelievably easy to make and comes together in just a few minutes! It tastes so fresh and tangy, but not too sweet. And has such a beautiful color!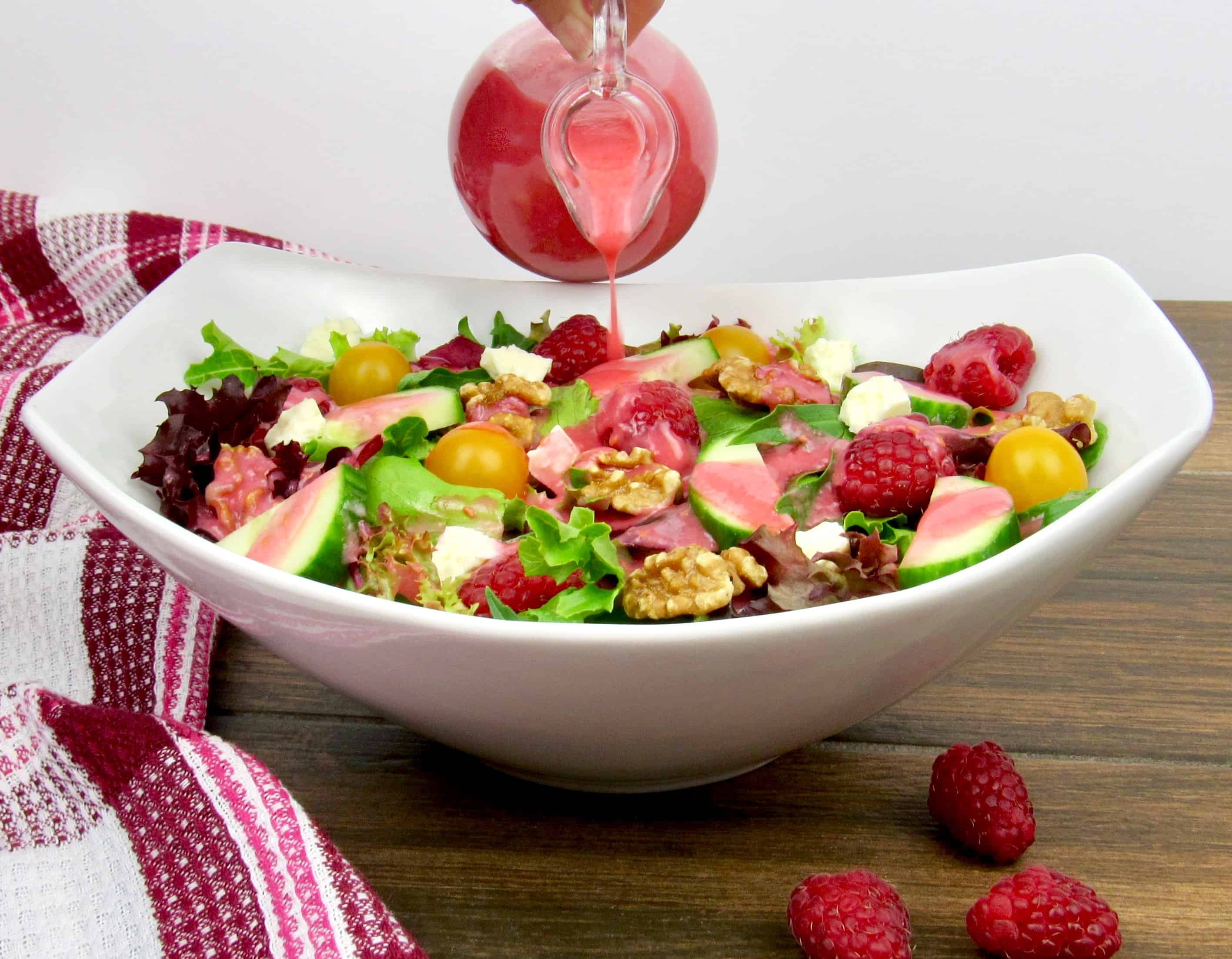 And because of the way I make it, it's completely emulsified so it doesn't separate! It doesn't require using any thickeners either, which is nice! Give this dressing a try and you will find yourself making it time and time again!
What's in Keto Raspberry Vinaigrette
Fresh raspberries
Onion (or shallot)
Fresh lemon juice
Salt
*Exact measurements are listed in the recipe card below.
How to Make the Best Low Carb Raspberry Vinaigrette
Making this salad dressing is so easy and only takes one step! If you have a food processor, it will be the easiest way to make it. You will simply add all the ingredients, except the olive oil to the bowl of your food processor.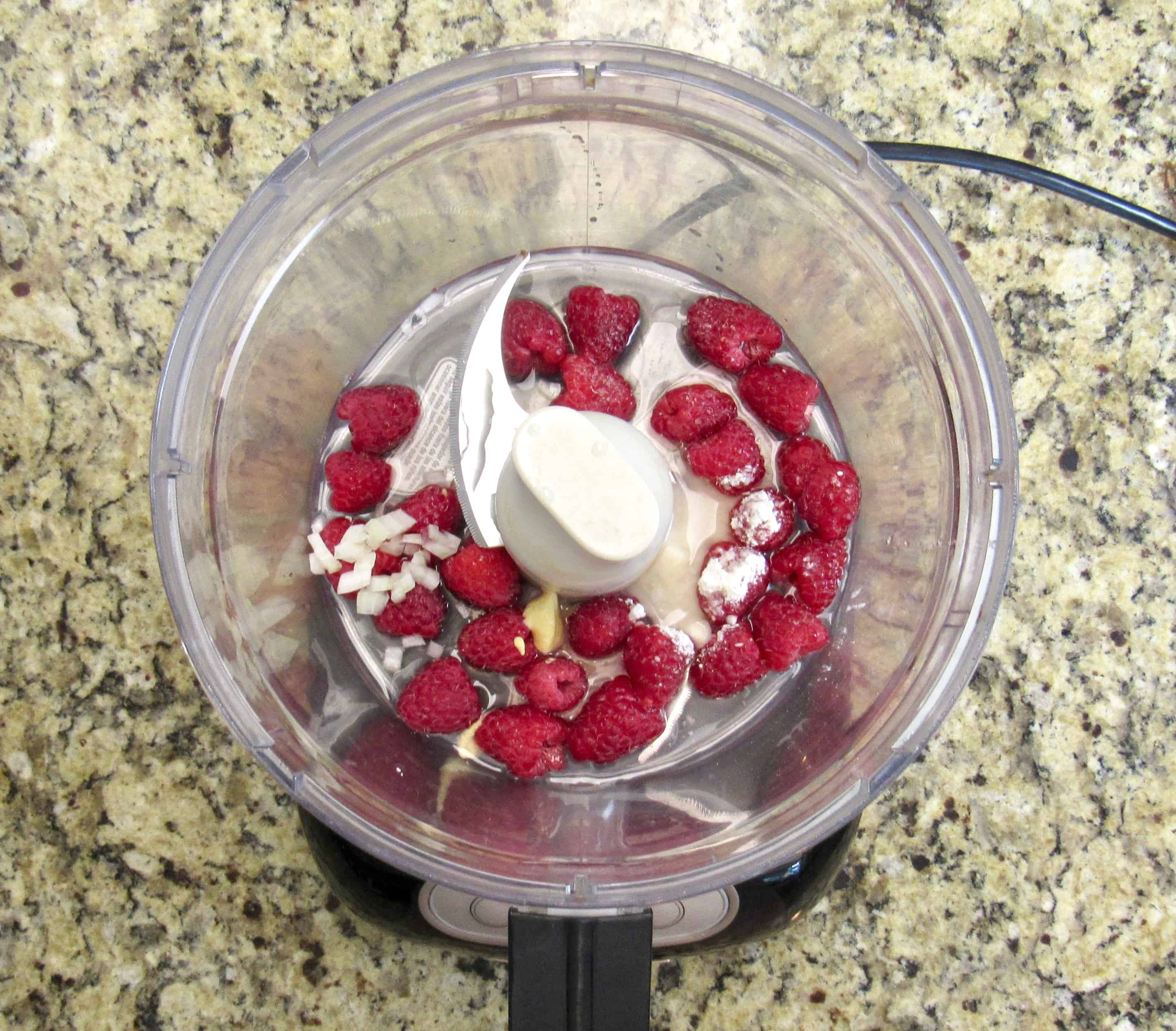 And then blend everything until smooth.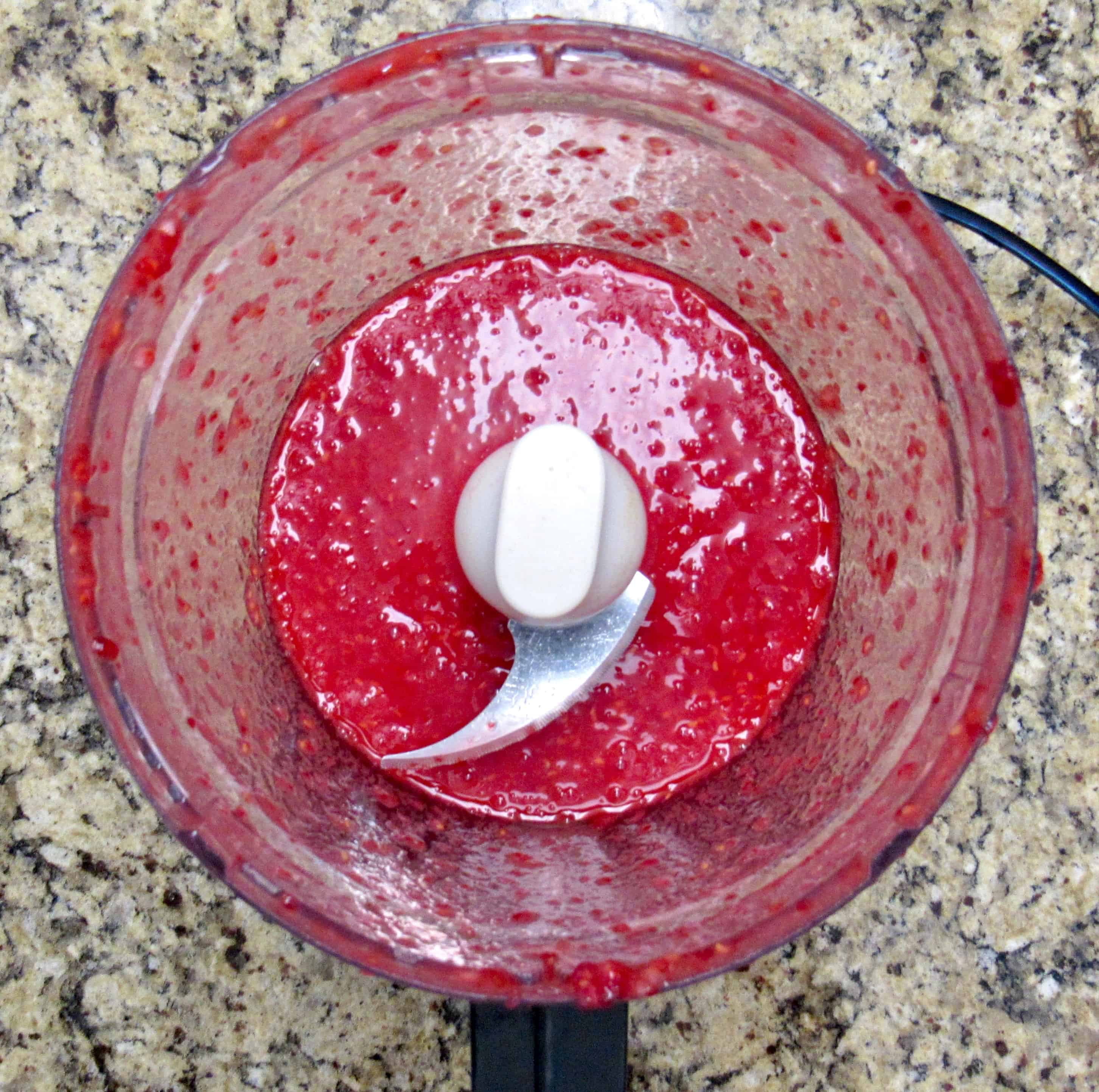 With the processor still running, very slowly stream in the olive oil and continue mixing until fully blended.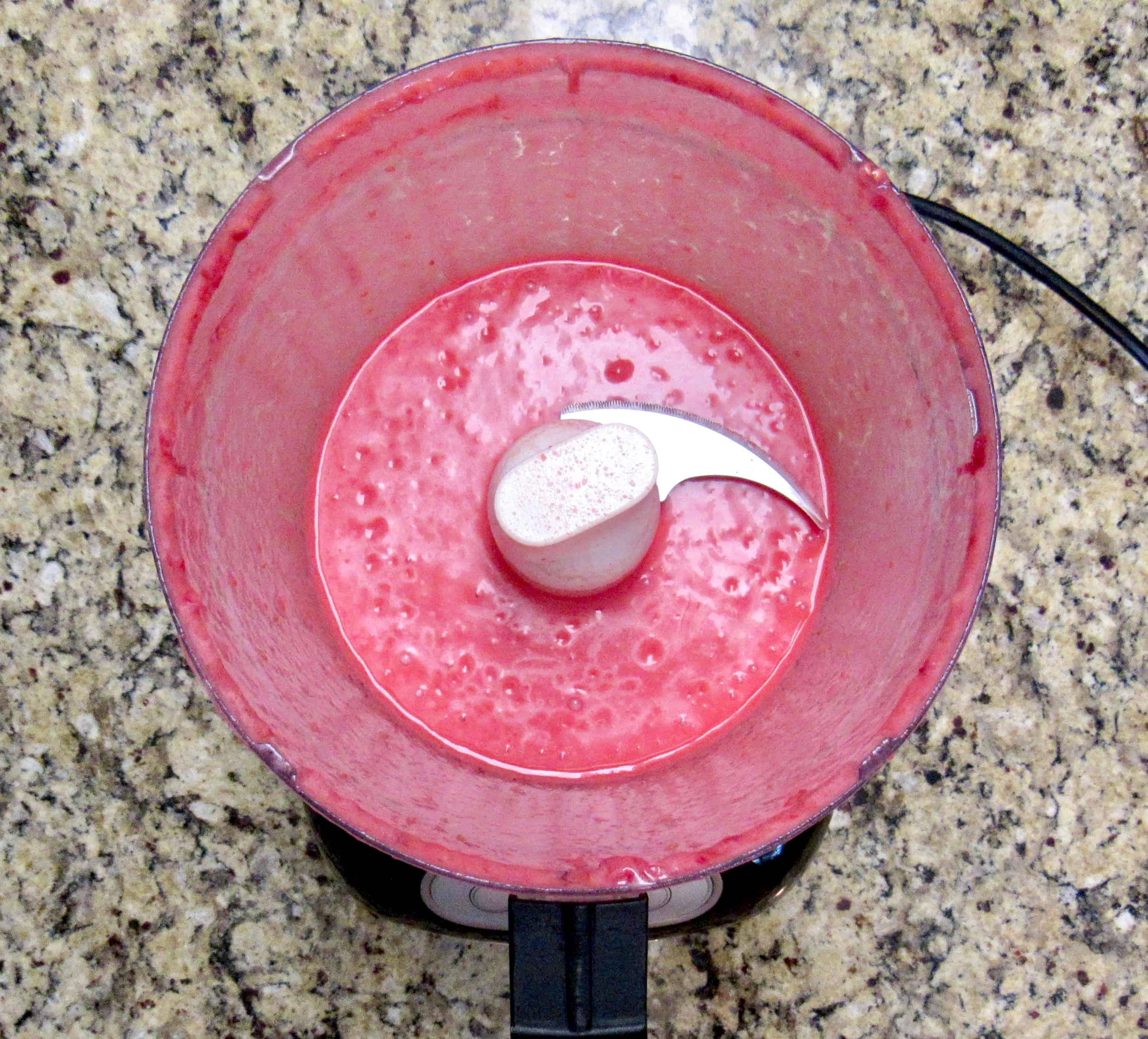 That's it, told ya it was easy!!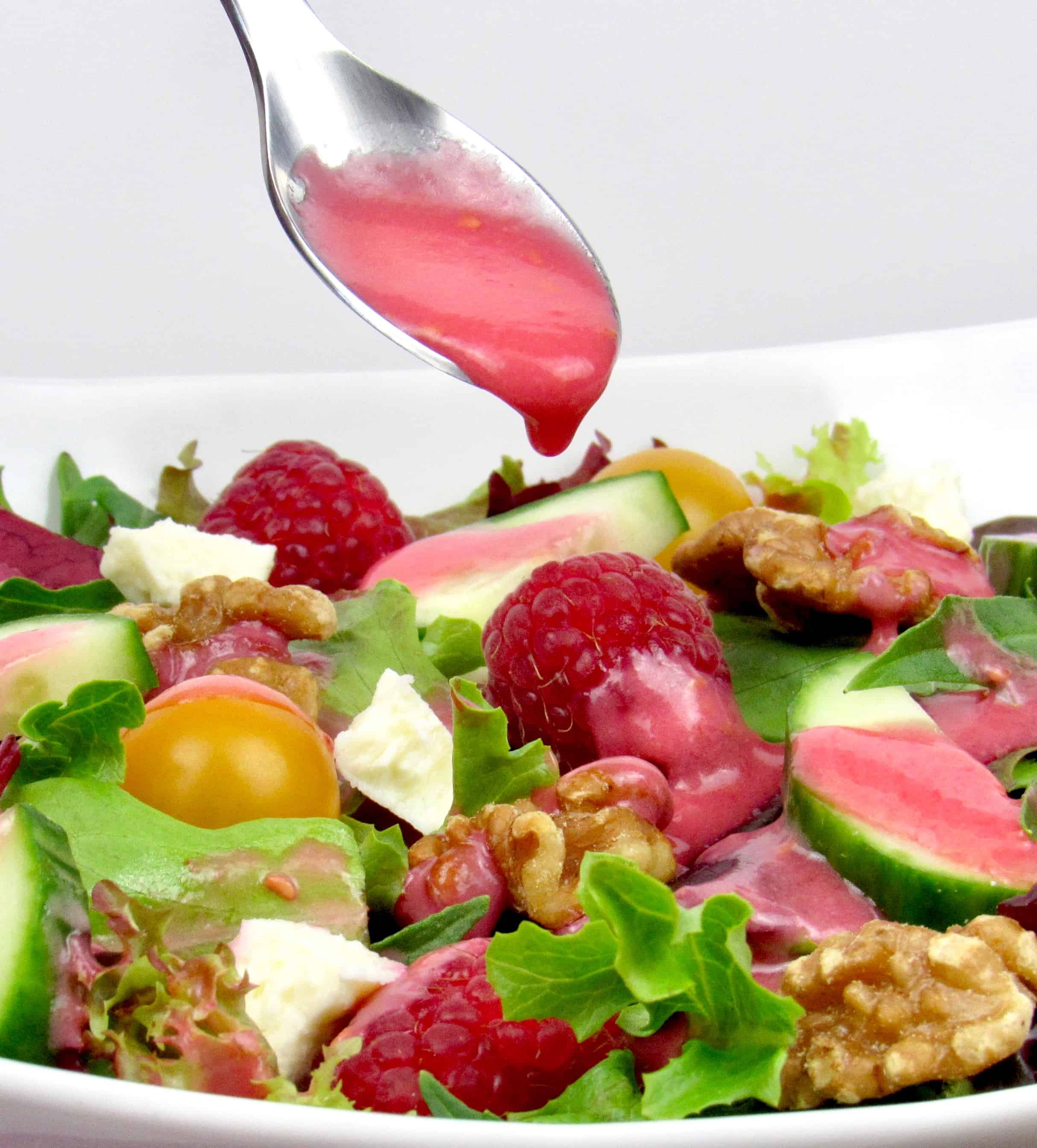 Serve over your favorite salad and enjoy! I pour mine over baby spring mixed greens with toasted walnuts, feta cheese, cucumber, yellow tomatoes and a few fresh raspberries. It was divine!!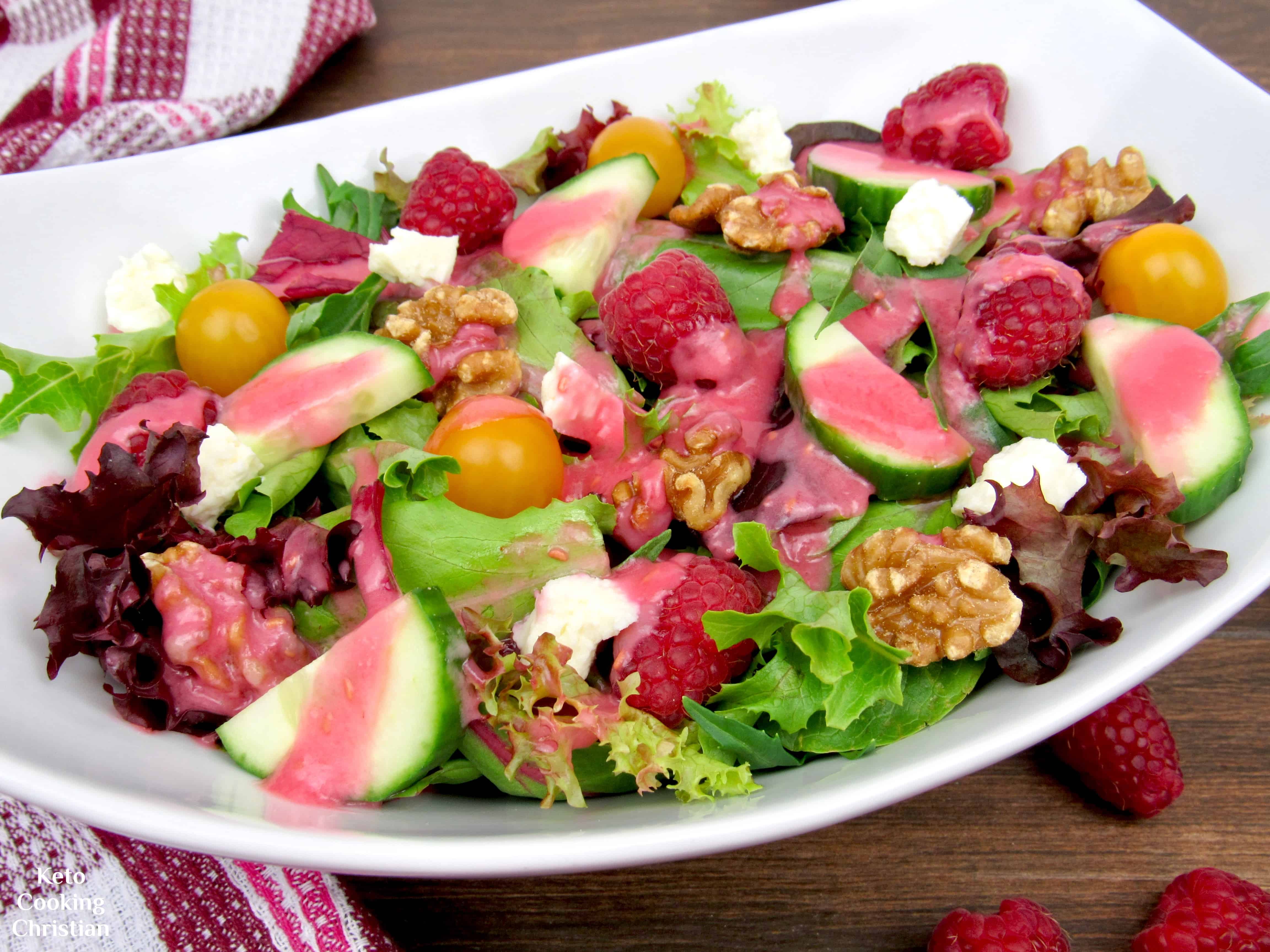 Store leftovers in the fridge for up to a week.
Tips on How to Make the Best Low Carb Dressing
Which Oil is Best for Making Keto Salad Dressing?
Light olive oil is really best in this dressing. You can use extra virgin olive oil, but since it has a stronger flavor, it would overpower the fresh raspberry flavor, which you really want to be front and center.
You can use another other Keto friendly oil that's mild in flavor, like avocado oil. You can also use hazelnut oil or walnut oil if you'd like.
The vinegar used in this dressing is white wine vinegar, because it's so mild in flavor and won't compete with the raspberries. You can substitute with apple cider vinegar instead if you'd like, but it will change the overall flavor of the vinaigrette some.
I happen to like my dressings more on the tangy side, so I used ½ cup in this recipe. If you don't like as much tang in your dressing, you can use ⅓ cup of vinegar instead.
Dijon mustard is also perfect in this dressing, it's thick and also helps emulsify the vinaigrette. I wouldn't recommend substituting with yellow mustard though, it will change the flavor a bit.
Fresh lemon juice is also best for this dressing, but if you happen to have lime on hand, that would work also.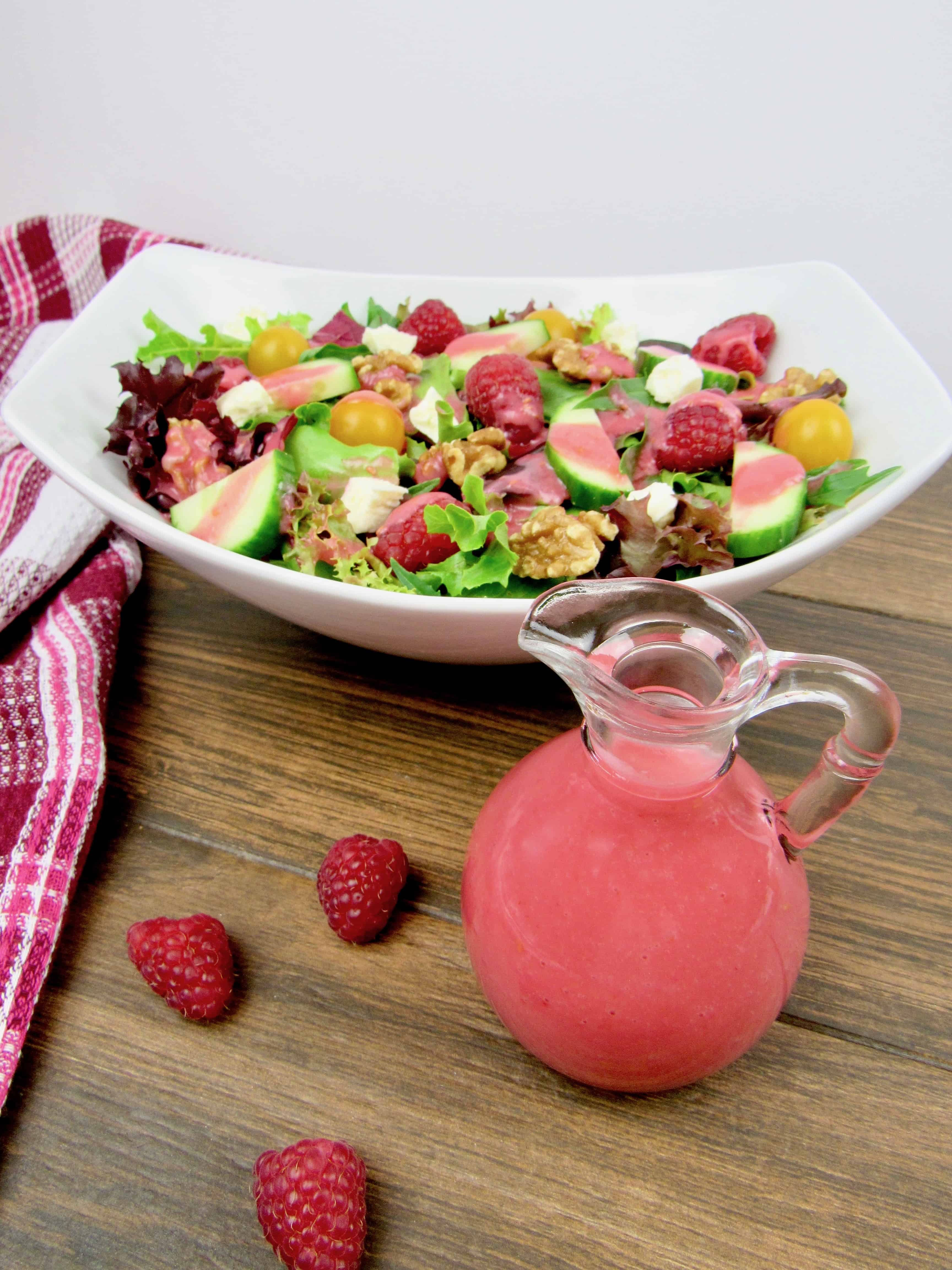 Can You Eat Onions on a Keto Diet?
Yes, you sure can, but because they are a little higher in carbs than other Keto friendly vegetables, you'll want to eat them in moderation.
How Many Carbs in Onions?
There are net carbs in onions. Since you are only using 1 teaspoon for the entire recipe, the impact is so little. There are a lot of Low Carb recipes that you can use onions in and because you'll typically use such a small amount, you won't have to worry about using up a large percentage of your daily carbs on them.
The onion I used in this dressing is yellow, but you can use white or any other onion that's lower in sugar. Alternatively, you can use shallot instead. Shallots, if you've never had them, are much milder in flavor than onions, so they make a great substitute for onions in Keto recipes.
Some of these recipes include Mexican Cauliflower Rice, Bacon Cheeseburger Casserole, Beef Stroganoff, and Pork Carnitas. There are so many servings in them, that the impact is really minimal.
What Salad Dressings are Keto Friendly?
There are actually so many dressings that you get to enjoy on a Ketogenic diet! The most popular would likely be the creamy dressings, which are often made with mayonnaise, sour cream and/or heavy cream, which are all healthy fats and perfect for Keto!
These include many variations of a Classic Ranch Dressing, including Chipotle Ranch, Bacon Ranch and Avocado Lime Cilantro Ranch. There are other great Keto salad dressings that contain healthy fats like Caesar , Creamy Garlic, Blue Cheese , Creamy Balsamic and Thousand Island!
How Many Carbs in Raspberries?
Raspberries are one of the best fruits to enjoy on a Low Carb or Keto diet. Strawberries, blackberries, cranberries and blueberries all have the lowest carbs and sugar and can be eaten in moderation without being kicked out of Ketosis.
One of my favorite easy desserts is a mix of fresh berries with homemade whip cream over the top. It's quick, easy and guilt-free! Other great recipes using raspberries include Mixed Berry Crumble, No-Bake Chocolate Raspberry Tart and even a Raspberry Sauce that you can use over cheesecake, pancakes, waffles or ice cream!
There are 6.7 net carbs in one whole cup of raspberries. This entire recipe only uses ⅔ cup of raspberries and there are 8 servings, so the impact on carbs is very low, being under 1 carb!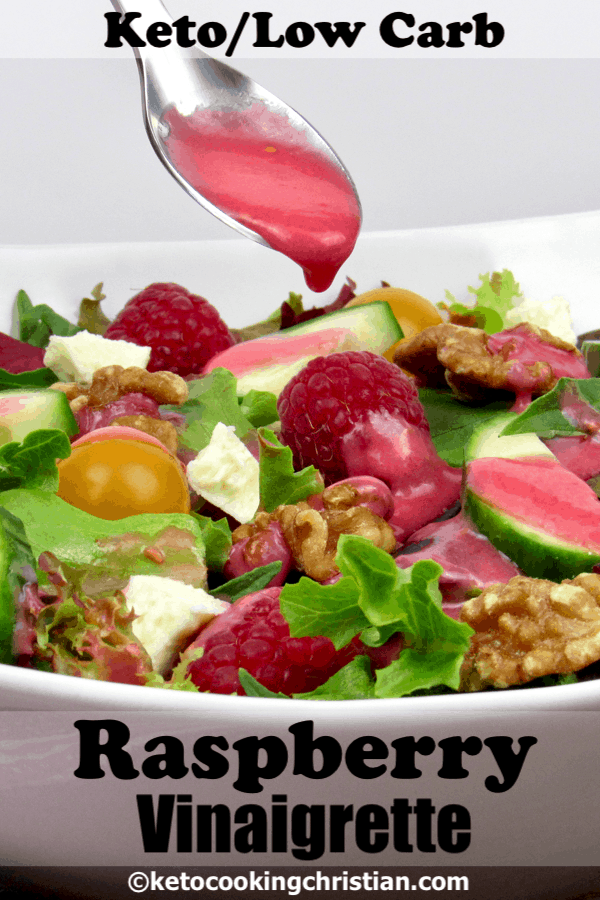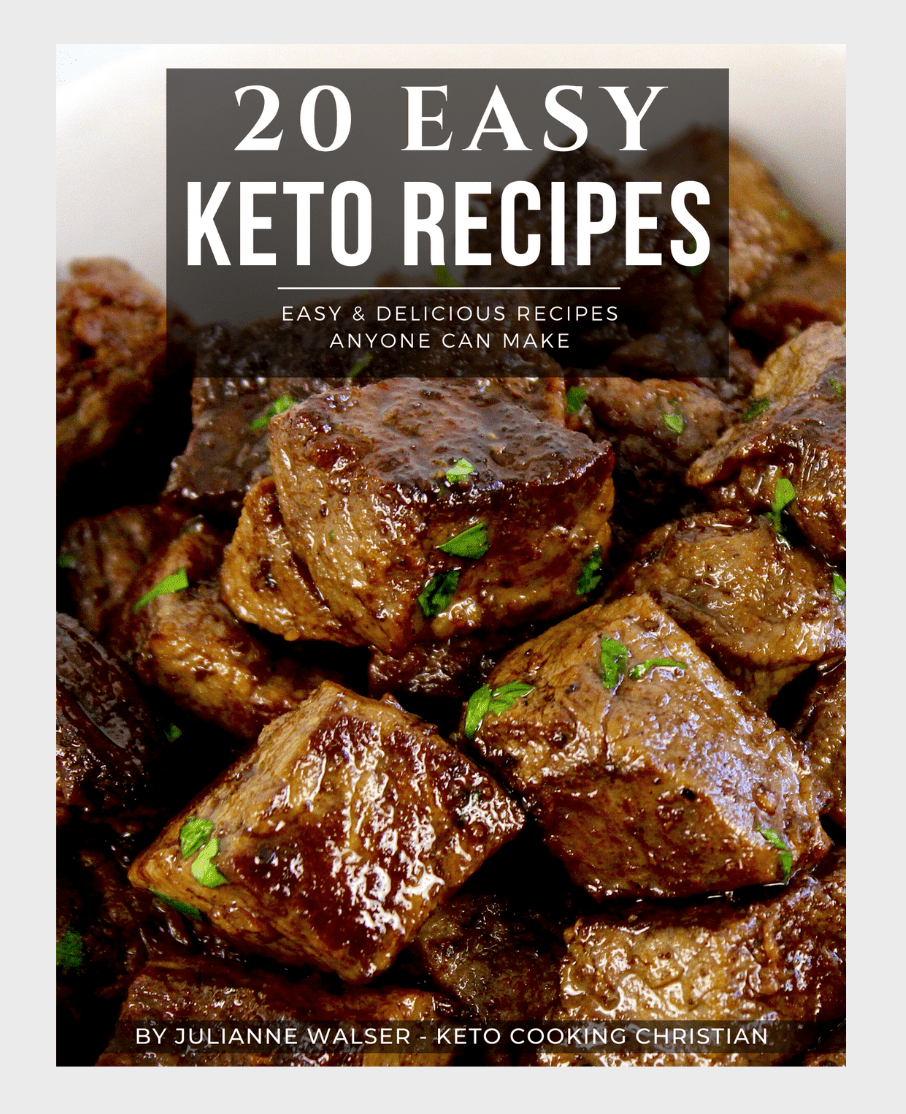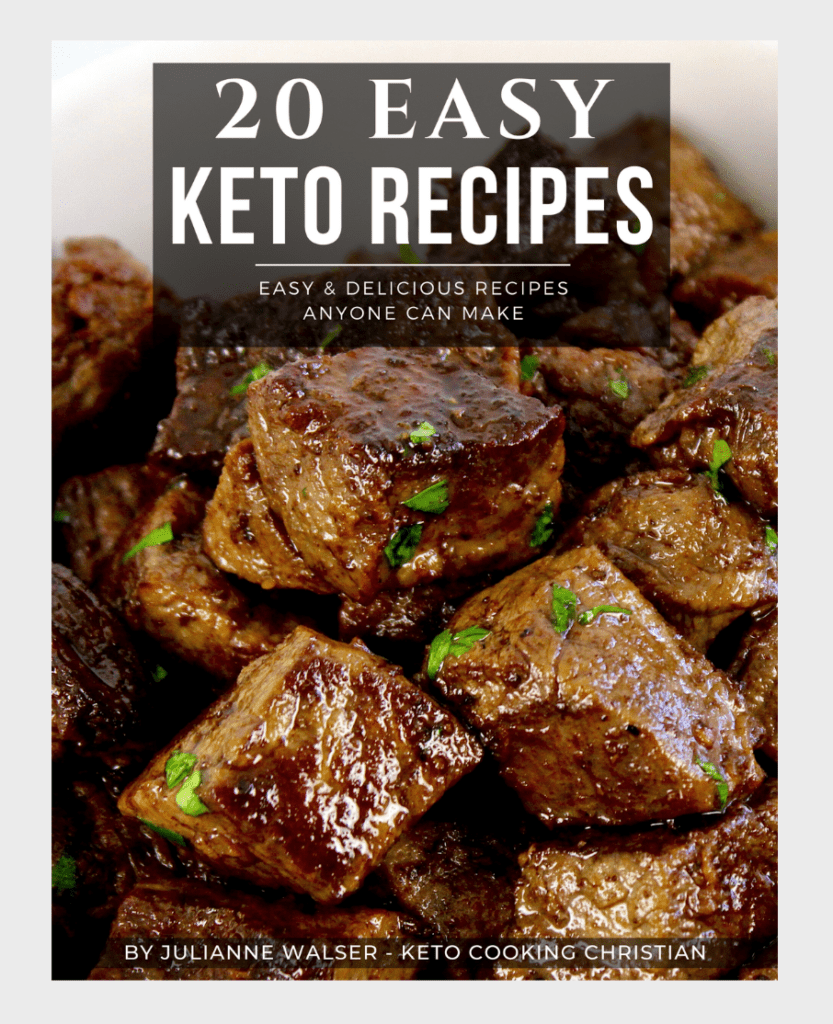 FREE 20 EASY KETO RECIPES EBOOK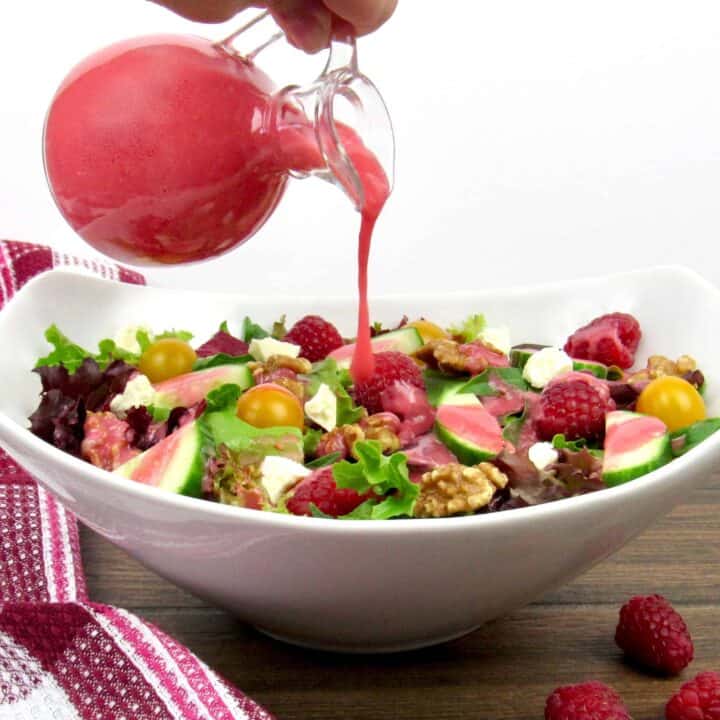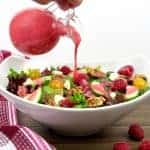 Keto Raspberry Vinaigrette
Sweet and tangy raspberry dressing that is fresh and delicious!
Servings 8
Instructions
Add all the ingredients except the olive oil to the bowl of a food processor. Blend until smooth.

With the processor running, slowly stream in the olive oil and continue mixing until fully blended. That's it, told ya it was easy!!

Store leftovers in the fridge in an airtight jar for up to a week.
Recipe Notes
I happen to like my dressings more on the tangy side, so if you don't, you can use ⅓ cup of vinegar instead. I prefer using a light olive oil in this dressing, because extra virgin olive oil has a stronger flavor and I wanted the raspberries to be front and center. Alternatively, you can use another mild flavored oil like avocado oil.
Nutrition Facts
Keto Raspberry Vinaigrette
Amount per Serving
% Daily Value*
* Percent Daily Values are based on a 2000 calorie diet.
Rate this Recipe
*Nutritional data is provided as a courtesy and is accurate to the best of my knowledge. You can verify it using the nutrition calculator of your choice. All data is based on net carbs, without sugar alcohol: Swerve, Erythritol, Monk Fruit or Allulose.
© Copyright for Keto Cooking Christian LLC. Please use the share buttons to share on social media, but please do not copy/paste the recipe.