A mouth watering collection of the easiest, creaminess and most decadent Keto cheesecake recipes you'll surely want to add to your favorite dessert collection!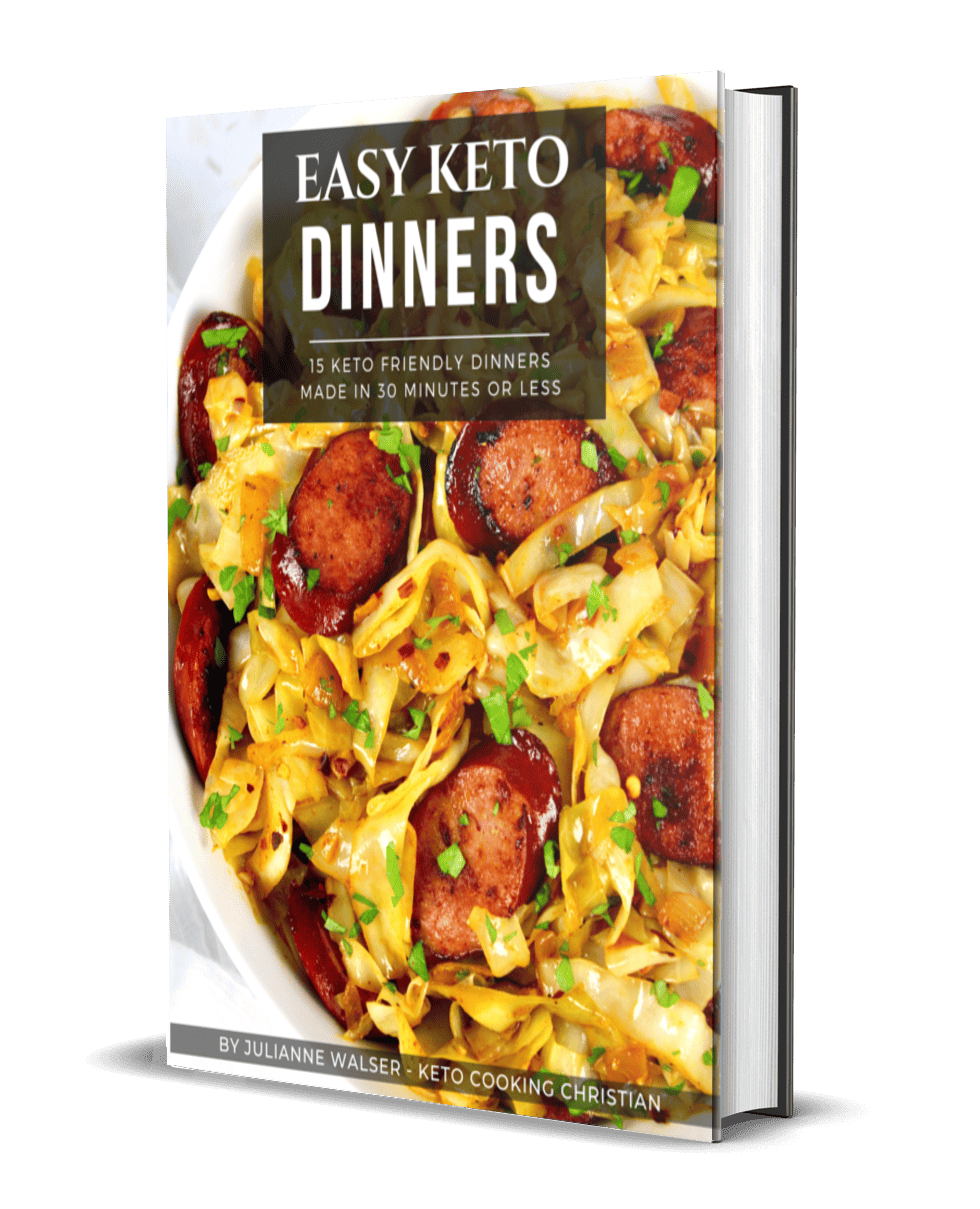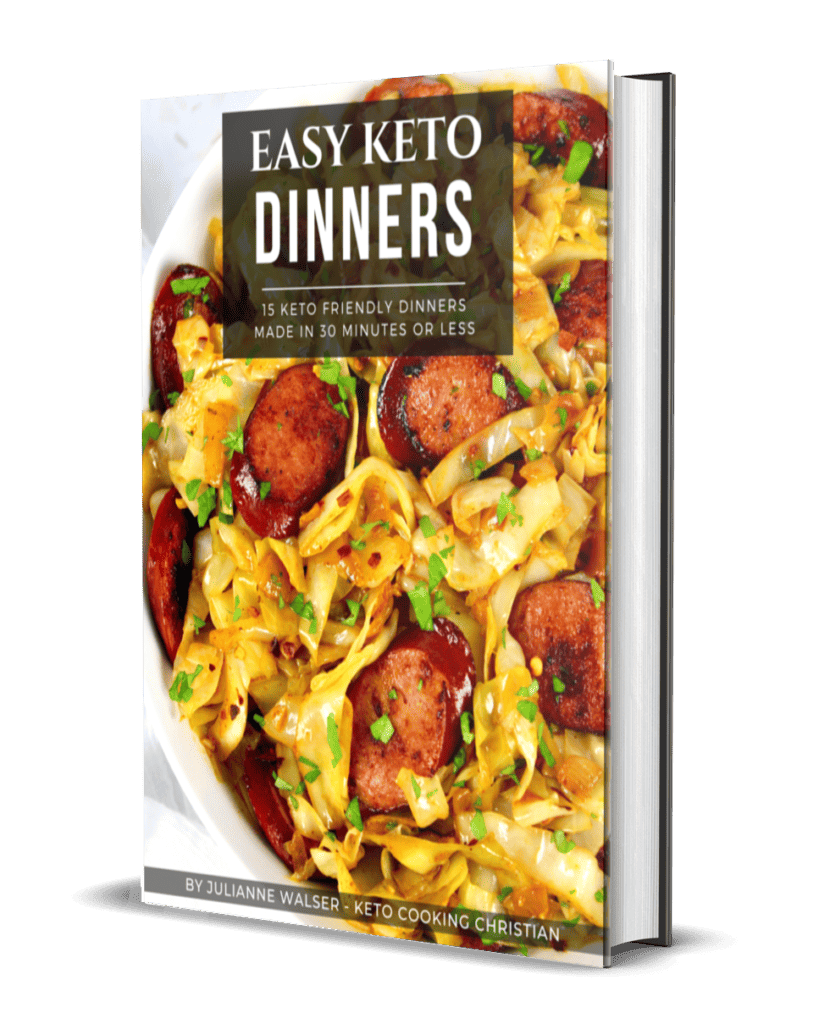 FREE EASY KETO DINNERS EBOOK
Cheesecake is one of the most beloved desserts around the world and thankfully, they're one of the easiest desserts that can be converted into Keto friendly versions.
The flavor and types of cheesecake possibilites are endless when it comes to this creamy, dreamy dessert. Keto blueberry cheesecake bars, no bake cheesecake, cheesecake smoothies, Keto cheesecake mousse, cheesecake fat bombs and so many more are included all right here.
How is Cheesecake Keto?
Is it too good to be true? Is cheesecake Keto? Traditional cheesecake has way too much sugar making cheesecake have too many carbs for Keto. But there is great news!
All of these Keto cheesecake recipes use sugar free substitutions making them deliciously low carb.
What Sweetener is Used in Easy Keto Cheesecake?
There are several great sugar substitutes you can use in low carb cheesecake recipes that have little effect on blood sugar or insulin levels. Most commonly used sugar alternatives are: Swerve, Monk fruit, Stevia and Allulose.
How Do You Make Cheesecake Crust Gluten Free?
Most gluten free cheesecake crusts are made from some type of low carb nut flour. Almond flour is commonly used in most Keto cheesecake recipes. It has such great flavor and it works well to create a crust that holds together when mixed with butter.
You can make gluten free cheesecake crusts using most any of your favorite nut flours like pecan flour, hazelnut flour or even coconut flour. You'll need to experiment some with the amount of fat (butter, ghee, coconut oil, etc) needed for each type of flour to make the best Keto crust.
One thing that really helps to cut the carbs is to make a no crust cheesecake! There are several crustless cheesecake dessert options for you to consider in this round up, including cheesecake fat bombs and a sweet and creamy cheesecake smoothie.
What Can I Use for Low Carb Cheesecake Toppings?
As you browse through these fabulous gluten free cheesecake recipes you'll see that there's low carb berry toppings, sugar free caramel cheesecake toppings, and decadent Keto chocolate cheesecake toppings.
No matter what your favorite flavors are, there is a low carb cheesecake recipe for you.
Tips for the Very Best Easy Keto Cheesecake
Does making a full size Keto oven baked cheesecake seem intimidating? It doesn't have to be. Though this collection has other possibilities for you to consider, like delicious mini low carb cheesecakes, these tips may come in handy when you decide to make a full size dessert.

Always use full fat cream cheese. It's all about quality ingredients when you're making a Keto cheesecake recipe. Low fat cream cheese has fillers that can cause a cheesecake to very easily flop. The more fat, the creamier the cheesecake will be.
Using a spring form pan is almost always necessary when making any fully size Keto cheesecake recipe. It allows the sides of the cake to release without crumbling or sticking.
To prevent lumpy cheesecake, set the cream cheese out on the counter and allow it to come completely to room temperature before mixing.
Refrain from over mixing the batter. When you overmix the batter, air pockets will form, which will not only make your Keto cheesecake look unattractive when bubbles rise to the top during baking, the added air can cause them the crack.
Another way to prevent cracking is don't over bake it. This low carb cheesecake will still have a slight jiggle in the center when its done, but the edges will be set.
In order to get clean slices, the most important thing is to allow the cheesecake to cool completely. Cut them with a sharp knife and clean the knife in between cuts.
I hope you have found these Keto recipe ideas helpful! If you decide to make any of these, please leave a comment and let us know how you enjoyed them!
*All photos and recipes in this article are copyrighted by the original food blog author, listed under the title. Please click on the "Get Recipe" button to get the full written recipes with steps, which are the sole property of each respective website.
More Keto Recipe Collections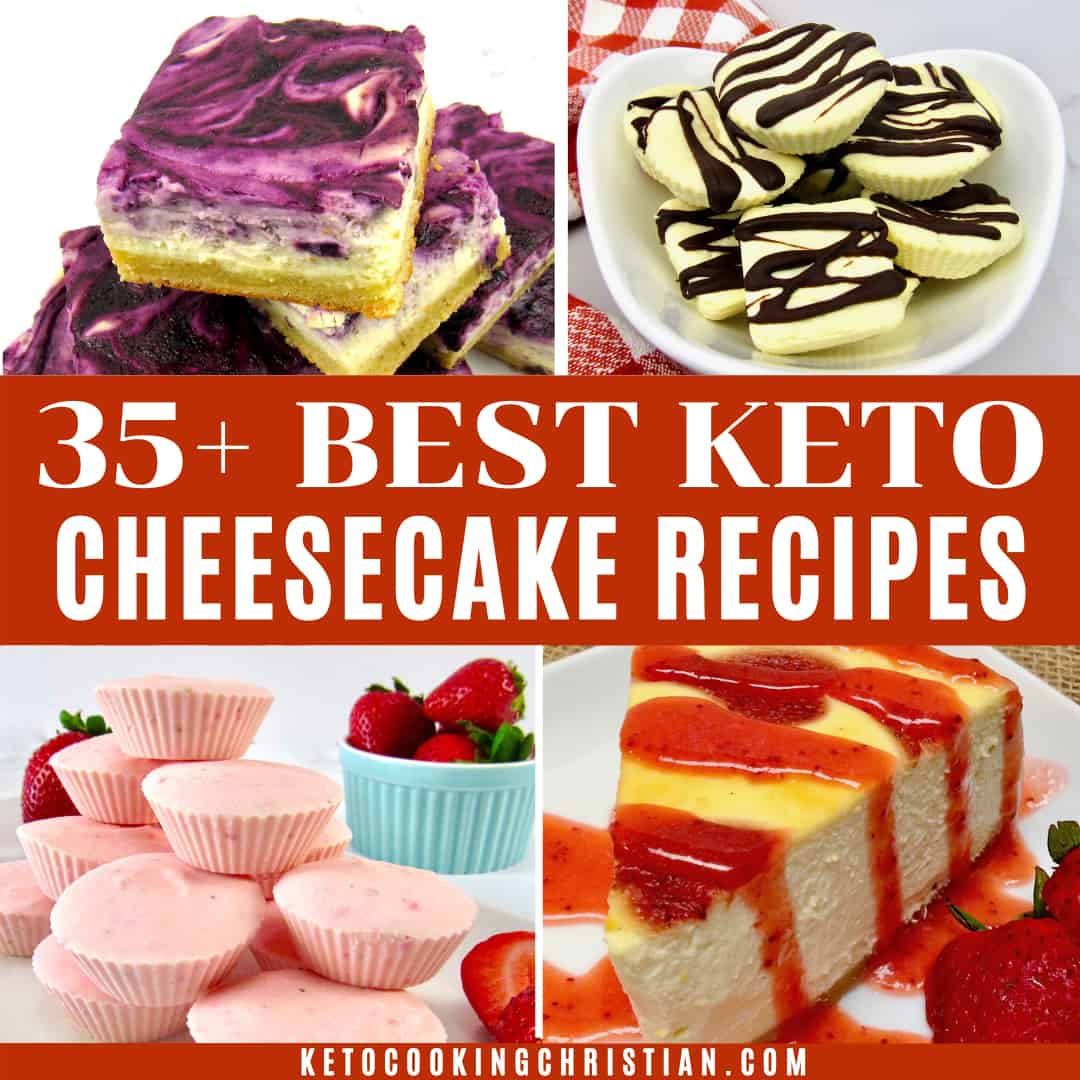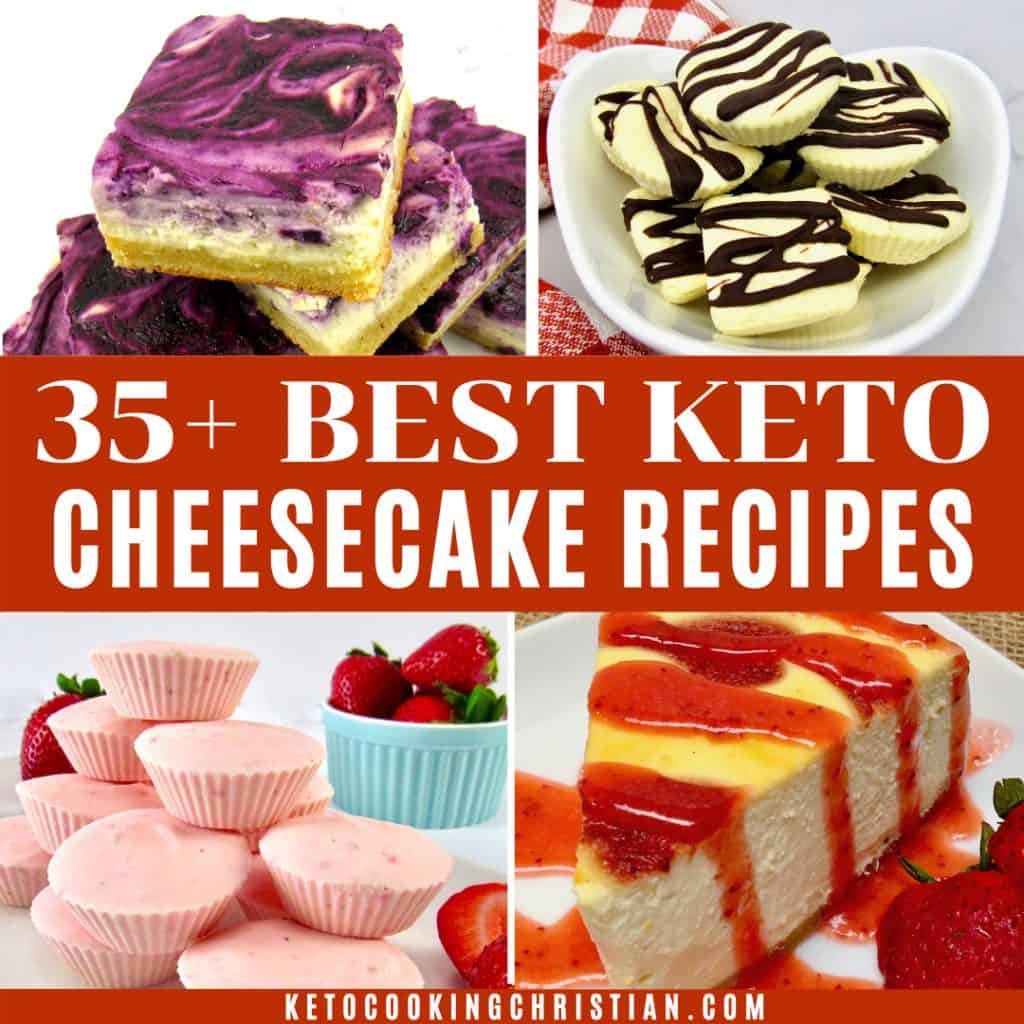 If you'd like to know more about baking on Keto, this article, Keto Baking Made Easy, is loaded with tips and info that you'll find helpful. You might also check out my Keto Sweet Treats eBook that has 50 amazing Keto dessert recipes, all with color pics, macros and more! I'm offering it at 50% off when you subscribe to my free weekly emails here.