Whether it's for a special occasion or a gluten free sweet treat, the very best Keto cake and cupcake recipes are all right here.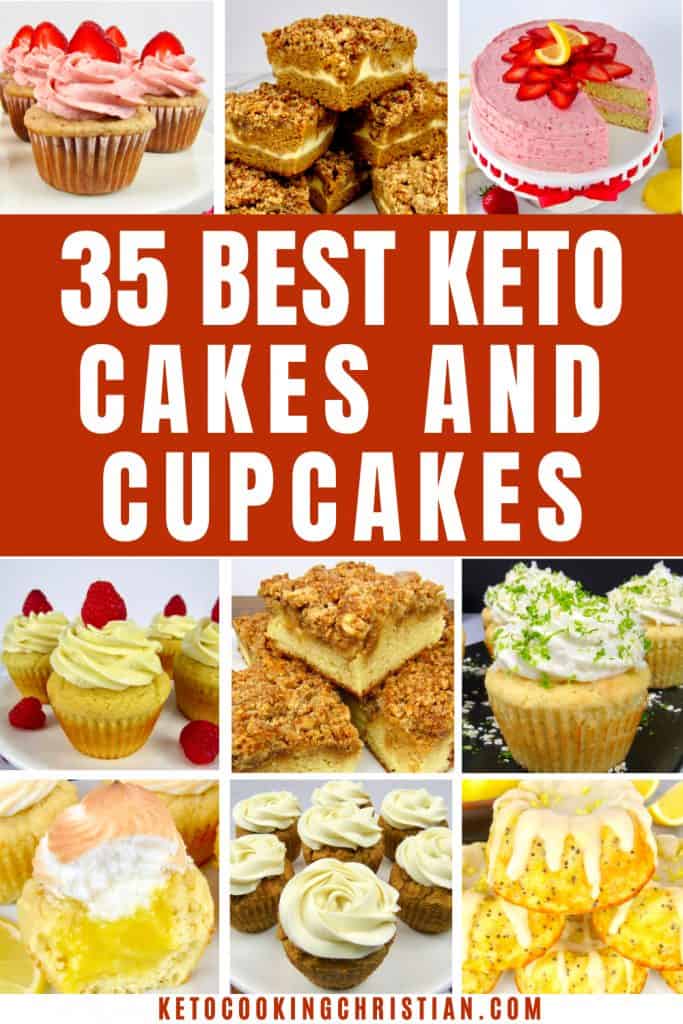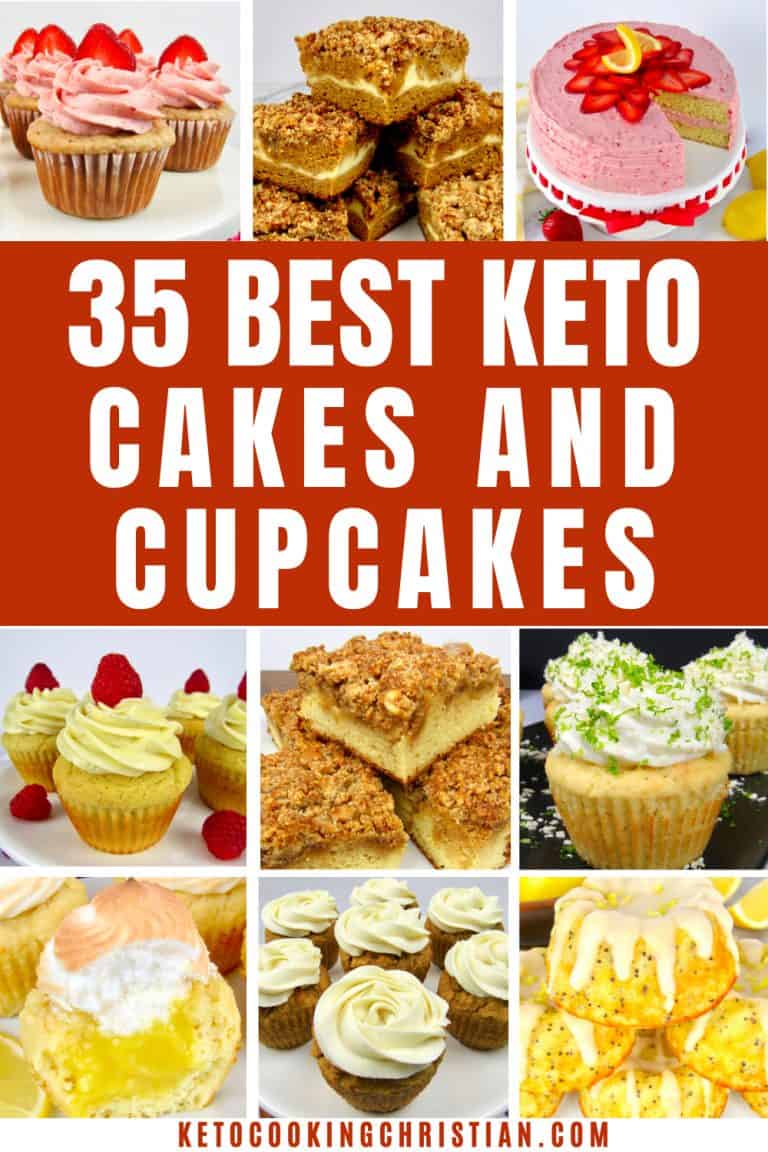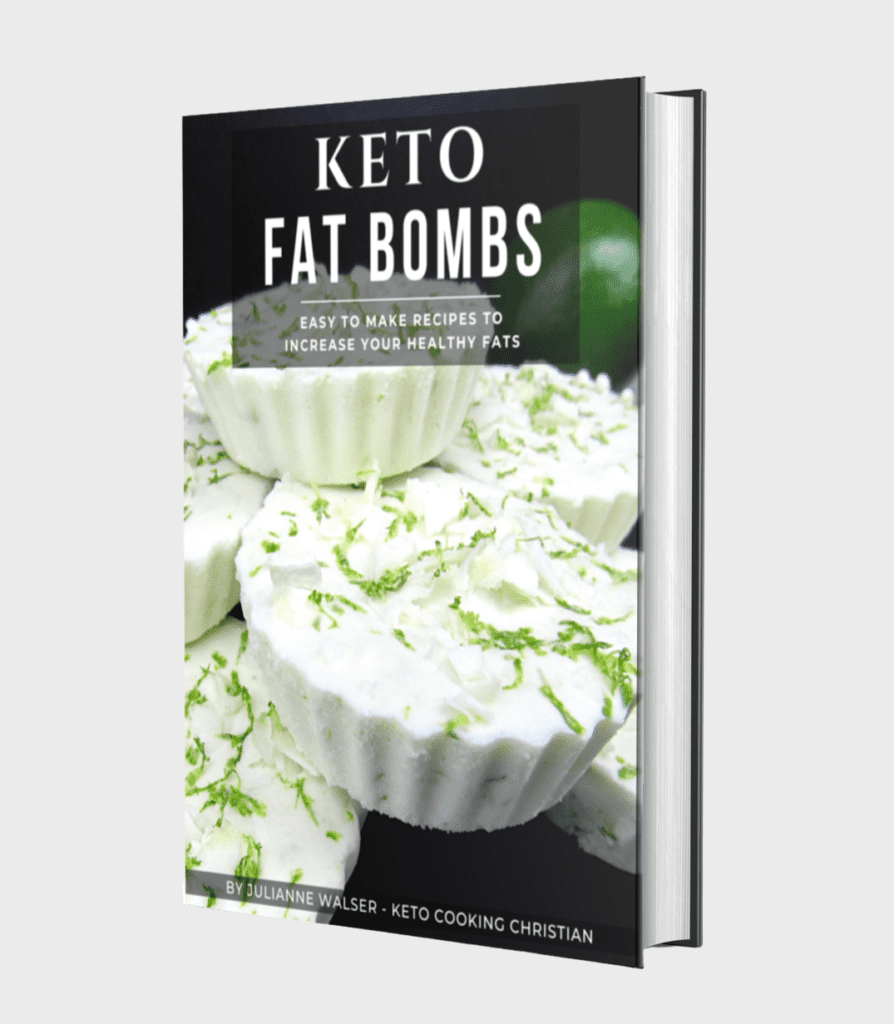 FREE KETO FAT BOMBS EBOOK
Watching your carb intake on Keto or a low carb diet doesn't mean you have to miss out on mouth-watering delectable desserts. All of these Keto cake and cupcake recipes use low carb ingredients, are easy to make and are so tasty, they'll be enjoyed by everyone, even those not on Keto.
This round up of the best Keto cakes and cupcakes include flavors for everyone. If it's quick and easy chocolate cake, Keto coffee cake, fresh berry cakes and cupcakes, gluten free angel food cake, creamy frosted sugar free cupcakes or decadent layered cakes, this collection will be the perfect addition to your Keto dessert recipes.
Tips for Making the Best Keto Cake Recipes
You don't have to be an experienced baker to learn how to use Keto friendly ingredients to make low carb desserts. Here are just a few commonly asked questions about baking with Keto ingredients that you may find helpful.
What Flour is Best for Baking Gluten Free Cakes?
There are several great nut and seed flours that significantly reduce the carbs in baked items compared to those baked with traditional flours. One of the most popular is almond flour. It's a super versatile flour that can be used alone or in combination with other low carb baking ingredients like coconut flour and oat fiber.
What Sweetener Should I Use in Keto Cake and Cupcake Recipes?
Just like gluten free flours, there are some really great sugar substitutes that make baking low carb cakes and cupcakes a breeze. Swerve has a line of sweeteners that bake very well and taste very much like traditional sugar. Monk fruit is another popular sugar alternative that has several types to choose from.
In addition to these, there's a new kid on the block. Besti Sweeteners has a line of sugar substitutes that include blends, which can be really useful when baking different types of Keto desserts.
How do I Prevent My Keto Cupcakes and Cake from Crumbling?
Baking with a gluten free flour renders a much more delicate cake. For that reason, allow the cake layers or cupcakes to sit in the pan you bake them in for 10-20 minutes before transferring them to a cooling rack. Before adding frosting or glaze, its best to let them cool completely.
Can I Make Low Carb Cake and Cupcakes in Advance?
This really depends on the recipe, but generally, cake made with almond flour has a lot of natural fat which helps to keep the cake moist when freezing. If you need to make your Keto cake in advance, you'll just want to make sure you allow the cake or cupcakes to completely cool before freezing them.
For optimal freezing results, you may want to do a quick pre-freeze to keep them from sticking to the plastic wrap. Just place the baked and cooled cakes on a sheet pan and stick them in the freezer for about 20 minutes. Remove them and double wrap them in plastic wrap until you are ready to frost them.
What's the Best Way to Store Gluten Free Cakes and Cupcakes?
If your baked item has a dairy frosting or filling, you'll want to store them in the fridge. Most baked cakes and cupcakes will be good for up to a week in the fridge. About 15 minutes before serving, set them out of the fridge and allow to warm to room temp.
For cakes without a dairy frosting, you can store them in an air tight container or cupcake keeper right on the counter top for up to a week.
More Keto Recipe Round Ups
I hope you've enjoyed this collection of the most delicious Keto cake and cupcake recipes. I think you'll agree low carb has never looked so tasty! If you've made any of these recipes, I would love to hear from you, so please leave a comment!
*All photos and recipes in this article are copyrighted by the original food blog author, listed under the title. Please click on the "Get Recipe" button to get the full written recipes with steps, which are the sole property of each respective website.
If you'd like to know more about baking on Keto, this article, Keto Baking Made Easy, is loaded with tips and info that you'll find helpful. You might also check out my Keto Sweet Treats eBook that has 50 amazing Keto dessert recipes, all with color pics, macros and more! I'm offering it at 50% off when you subscribe to my free weekly emails here.