There's no need to jump off the Keto wagon for one holiday, when you have so many tasty options! With over 50 great Keto and Low Carb recipe ideas, you can enjoy your Thanksgiving dinner without feeling deprived!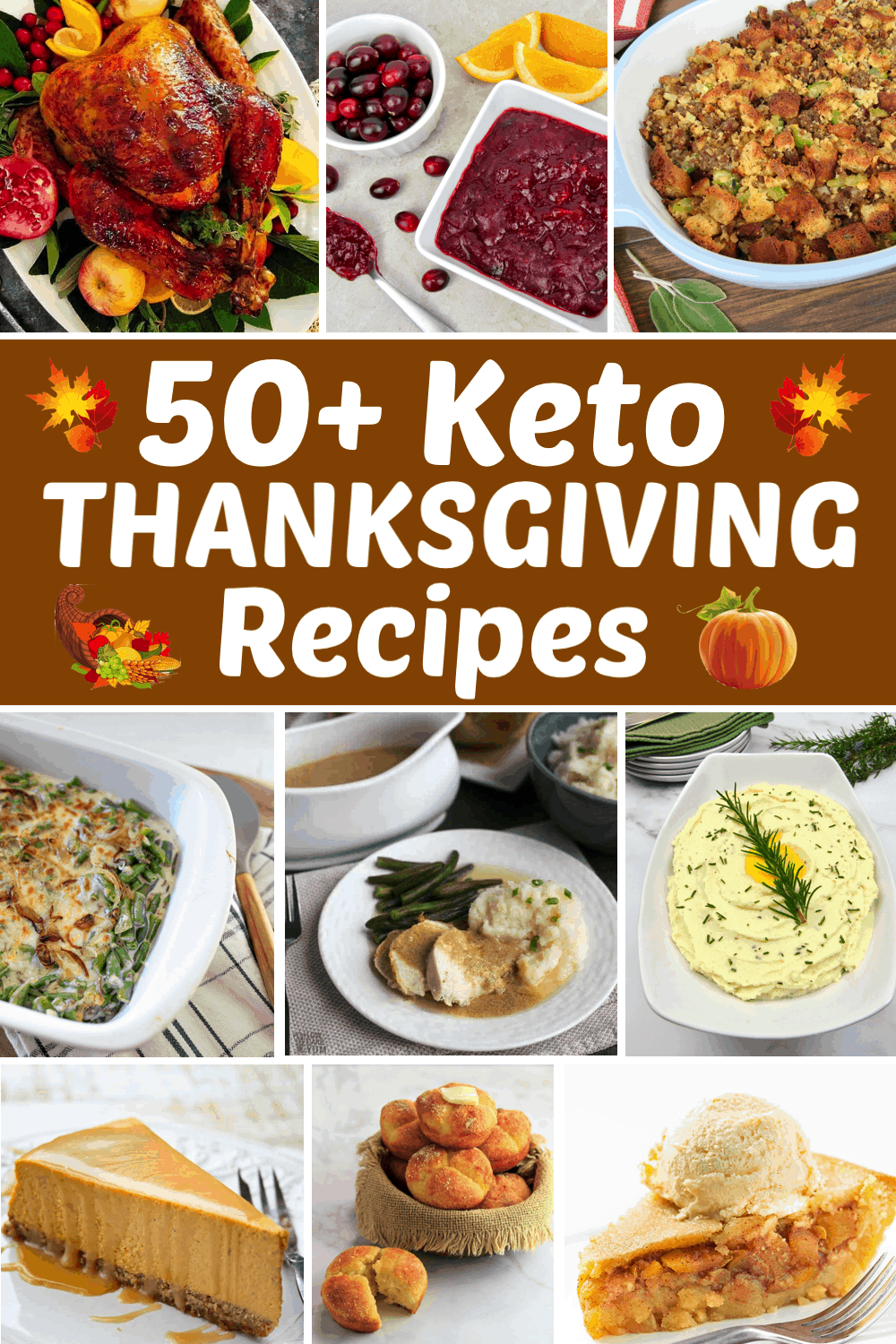 This post may contain Amazon or other affiliate links. As an Amazon Associate I earn from qualifying purchases, through links in this post. See my Disclosure.
If you're new to Keto, I think you'll be pleasantly surprised at just how many wonderfully satisfying options we actually have. There are so many Keto side dishes, Sugar-free desserts, gluten-free stuffing and rolls, gravy and of course turkey!
There are several sugar-free cranberry sauce recipes to choose from that are much better than canned cranberry sauce! And I've even included a few Low Carb leftover cranberry sauce recipes, so you can put your leftovers to good use!
And speaking of leftovers, don't we always have some turkey leftover? Not to worry, also included are several great Keto leftover turkey recipes!
Now let's get to the fun part- desserts! Enjoy several versions of pumpkin pie, cheesecake, mock apple pie, mock apple crumble and more great Keto Thanksgiving desserts!
With this many options, preparing a Low Carb Thanksgiving dinner will be an absolute breeze!
I hope these easy Keto Thanksgiving Recipes have inspired you!
*All photos and recipes in this article are copyrighted by the original food blog author, listed under the title. Please click on the "get recipe" button to get the full written recipes with steps, which are the sole property of each respective website.
More Keto and Low Carb Recipe Roundups...
35 Best Keto Ground Beef Recipes
25 Keto Party Appetizer Recipes
25 Keto Salad Dressing Recipes
50 Keto Ice Cream, Popsicles & Frozen Treats
50 Best Keto Side Dish Recipes
25 Most Decadent Keto Desserts
25 Best Keto and Low Carb Instant Pot Recipes
25 Best Keto and Low Carb Pumpkin Recipes
25 Keto and Low Carb Breakfast Recipes
25 Creative Keto and Low Carb Cauliflower Recipes